Creating a Culture of Accountability
Do you know what your goals are?
As president of a leading franchise technology company, I'm afforded a unique vantage point as I get to study the trends, patterns, habits, and behaviors of hundreds of franchisors. Of all of the trends I'm seeing that can have the greatest impact on a franchise organization's success, it would have to be creating accountability.
Increasing your franchise sales output, improving unit-level economics, out-marketing your competition, or any of the other dozens of items that dominate franchise conference keynote addresses, panels, or training sessions tend to be lagging indicators. Substandard performance in these and most areas can most often be tracked back to an absence of franchisee and employee accountability. Having the best strategies, technologies, products, and systems means nothing if your team "can't knock down the pins" by accepting accountability for their actions. But that's almost impossible when employees and franchisees are uncertain as to what they are really accountable for.
In key studies on organizational change, FranConnect and Bain & Company reported the following findings:
a staggering 81 percent of those surveyed said they were not held accountable for regular progress on the organization's goals, and that the goals were not translated into specific actions (87 percent had no clear idea what they should be doing to achieve their goals);
only 15 percent could name even one of the top three goals their leaders had identified (the other 85 percent named what they thought were the goals, but that often didn't remotely resemble what their leaders had said);
only 51 percent could say they were passionate about the team's goals, leaving half the team simply going through the motions;
46 percent of franchisors don't have strategic plans in writing, nor are they shared with management teams;
25 percent do not have core values/vision/mission statements in writing, nor are they shared;
25 percent of franchise organizations are without detailed job descriptions; and
38 percent have no formal evaluation methods in place.
It's no wonder then, that the two most requested topics franchisors are seeking in a keynote or workshop are "franchisee accountability" and "engagement," according to Katrina Mitchell, CEO of Speak!, the leading speaking bureau for franchising.
Case in point: Marco's Pizza
One franchisor I see looking past the symptoms surrounding subpar performance and focusing on root cause is rapid-growth franchisor Marco's Pizza, which has been working around the clock on creating a "Culture of Accountability." Jack Butorac, CEO and president of Marco's, attended a leadership conference in 2013 with top executives from some of the largest companies in the world. There he was asked, "How do you maintain your culture when you more than double your size in 5 years?"
After speaking with a number of the world-class companies that had successfully implemented similar programs, he reached out to the organization behind the New York Times best-seller The Oz Principle, and asked them to create a program to help Marco's maintain its culture as the company experienced record growth.
Today, Marco's is 18 months into a 10-year commitment they've made around a total system program focused on creating a culture of accountability, which the company sees as its biggest competitive advantage. The goal has been to build a culture of accountability from the top down. So, in addition to rolling out the program to all of its corporate personnel, Marco's has included the brand's more than 8,000 employees. Within months, the brand was seeing significant results in store-level crew performance, store sales, profitability, and store counts.
One of the methods Marco's is employing is PEP rallies (Pizza Evaluation Process), daily and weekly meetings across the country where employees evaluate quality control of their baking and create a structured forum for exchanging feedback. Employees are recognized, coached, and motivated to focus on four key results: 1) PSI (product, service, image), 2) store sales, 3) EBITDA, and 4) new store openings.
To force accountability, many companies make the mistake of trying to change compensation and hiring systems. The philosophy of The Oz Principle has leadership changing the thinking and actions of employees through a culture of accountability. Then, together, they will create the systems at the speed needed to attain the desired team results.
One final thought: Culture change must be led. You cannot delegate the initiative to HR, operations, or anyone else. While these functions play important roles, the executive team must maintain ownership of the process and lead the culture change at every level of the organization, ensuring that the change effort is prioritized correctly at the top of every management team agenda.
Keith Gerson is president of global operations for FranConnect, a leading provider of franchise management systems, with more than 500 franchise brand clients and more than 70,000 franchise locations on its cloud-based platform. Contact him at keith@franconnect.com or 703-390-9300 x159.
Published: April 3rd, 2015
Share this Feature
Recommended Reading:
Comments:
comments powered by

Disqus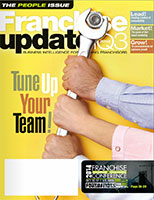 Franchise Update Magazine: Issue 3, 2014
Find the support you need to find success with your small to mid-sized business. Explore the PEO services offered by Integrity Employee Leasing.
Our accounts payable automation platform combines technology with simplicity & affordability. Save time and money, and automate your ap workflows...