Customize It!: 6 Brands Tackle Consumer Marketing Challenges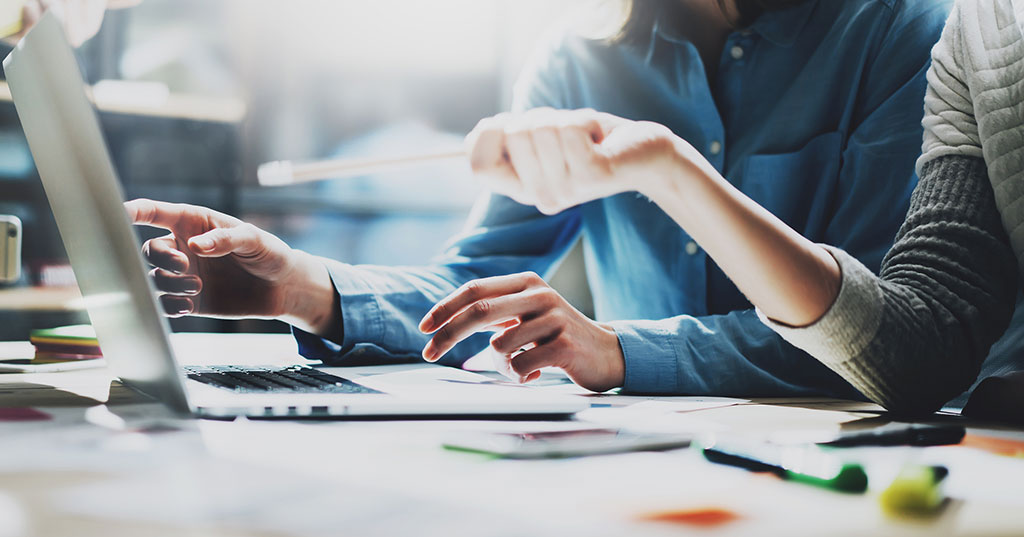 When Scott Hilary arrived at Monster Tree Service in 2014, its website was almost primitively basic: one paragraph and one photograph. With that level of online marketing, it's no surprise that the company had just a handful of franchisees.
It was clear to Hilary, manager of franchisee services and customer relations, that the company needed a new website, and that it had to be mobile-friendly. Nor would it be enough to simply add more information to the site--there also would have to be video showing what the brand's arborists do. "I've never had tree service at my house," says Hilary. "If you haven't, and a lot of us haven't, you don't know the process."
The brand's website now features short, real-life videos of its crews in action, as well as customer reviews. The site also is animated by cartoon characters: a lumberjack holding a chainsaw, a white-jacketed doctor, and a legless, googley-eyed little green monster clasping a tree trimmer in one hand. Social media posts now include before-and-after photographs.
The brand's consumer marketing package also includes a non-digital tool: a calendar of community events where the company will appear, a minimum of once each quarter. At these events, arborists can answer questions, share ideas, and arrange follow-up visits. Visitors can also walk away with Monster Tree stickers, coloring books, and temporary tattoos, all featuring its little green monster. "It's a way to meet people face to face," says Hilary, "and show that we are a staple in their community."
Monster Tree also does direct mail marketing, especially when a neighborhood's trees and bushes have been afflicted by a disease and crews are working in the area, ready to respond to residents who just received a mailer. The brand also practices another non-digital marketing technique: all its vehicles and cranes are branded with Monster Tree wrap--moving billboards, says Hilary. The company also has a $50 Visa gift card referral program, which has proven so popular that some customers earn handfuls of cards each year, he says.
The brand also altered its approach to its website to ensure accuracy and keep it current. Instead of having a website for each location, the company now has one main website that includes all of its locations. "We had created a lot of separate content," Hilary says, "but we weren't updating it all that often." Where Monster Tree had sent a monthly newsletter to its customers, it now has a blog to share informational updates about tree diseases and to keep the content fresh.
"We've hit our marketing on all cylinders," says Hilary, and it has worked well. Monster Tree now has 18 locations in 11 states, all with top-of-the-page Google ranking, and is about to move into new offices twice the size of its old ones. The company has hired two more office staff and, for the first time in its nine-year history, will be hiring another certified arborist. Two or three more may soon follow, Hilary says, "because we are getting more leads than we can handle." Also under discussion is a step toward a 24/7 chat pop-up, available to anyone who visits the company's website.
Providing a MAP
How to choose which of today's innumerable consumer marketing options to use, and learning how to use them effectively is the trick. Who will do what at corporate? How much control should a franchisor exert at the local level? How much, and what, should franchisees be responsible for? For Homewatch Caregivers, founded in 1980, answering these questions and more begins with a detailed look at the numbers.
"We provide franchisees with a fully integrated Market Action Plan--a MAP," says Jennifer Tucker, vice president of marketing and business development for Homewatch. "The MAP is a series of activities that build upon each other to help the franchisee develop a strategy that fits their local market," she says.
The MAP begins with a territory analysis, online and field research, competitive and SWOT analyses, and a detailed go-to-market plan. This process includes consultation on marketing spend, account lists and key messaging. In addition, says Tucker, "We have developed educational tools in a variety of platforms to accommodate different learning styles."
Homewatch's approach is both comprehensive and data-based. "We invest in larger-scale consumer research as well as industry research within home care companies and the broader healthcare continuum," Tucker says. "From this knowledge we identify general audience targets, which are narrowed to a specific local application through the MAP process. For instance, we know from larger-scale research that MDs are a good target in general. Through the local MAP process, we can identify which specific local MDs to target and how to approach them."
Because its service is focused on the supportive care of people whose medical conditions and needs are often complex, the accuracy of the information it shares in its marketing tools requires a greater degree of corporate control than needed in other sectors. Homewatch has an in-house social media content writer who "is always trolling the web for topics that are relevant to us. She has also found experts around the country for oue blog posts," says Tucker. "Nothing compares to an in-house writer with a developed voice and detailed training about what we do and who our franchise partners are."
When Homewatch first established a Facebook presence, Tucker says, "a majority of our network said, 'Hallelujah! Don't ever make me have to think of something clever to say on Facebook!'" That fits with what Homewatch wants its franchisees to focus on: training caregivers. "We don't want them to be a digital agency," she says. "If you do what's best for your consumer, you'll be doing what's best for you, too.
Involve the franchisees
Allison Loehr, director of marketing at Cottage Inn Pizza, has worked to build out the Ann Arbor-based franchise's online and social media profiles so that all the content and platforms consistently reflect Cthe brand's product--and still have lots of local flair.
"We create the local pages and then encourage our franchisees to take ownership of their own social media channels," she says. "We educate them on how to maintain quality photography of the product, but we want them to be spontaneous about posting, too. We want them to have fun."
Cross-channel marketing campaigns also mean that Cottage Inn can see how different locations respond to different approaches and platforms--right down to whether residents are accessing the brand's digital marketing by iPhone or Android. That kind of detail makes it easier to select what tools to use for a truly local feel in the brand's different markets.
"When I meet a new owner they are excited about running their own pages," says Loehr. "Our digital media manager is there to help, and we offer multiple avenues for marketing so we can develop a customized plan of attack for each of our 56 locations."
The brand's digital marketing manager does monitor social media activity. And if there are complaints, says Loehr, "We encourage owners to let us handle responses."
Cottage Inn's marketing techniques are paying off, she says: sales for March were up 19 percent year over year.
Family-friendly fun
The analytics and data that social media provides make it much easier to geo-target, and to compare how each solution performs compared with campaigns past, says Pizza Factory CEO Mary Jane (MJ) Riva. With 110 locations in six states and more to come in Montana and Canada, it's critical to evaluate carefully before investing in any system-wide innovations or changes. And when making marketing decisions, the brand incorporates feedback from its franchisees and franchise advisory council.
At the moment, analytics are showing that Facebook is the franchise's best marketing performer, and Pizza Factory makes sure its posts take advantage of Facebook's inherent tactic--sharing--and its users' fondness for family-friendly fun.
"We are a place where people come with their families, so that platform matches our brand," says Riva. "We are also producing videos--and videos are everywhere--that are fun and lighthearted." The company's New Year's Eve Times Square moon drop video, which replaced the moon with a pizza, was a viral hit on Facebook.
Pizza Factory also knows that community partnerships with entities that share similar values are another powerful form of consumer marketing. "We have just signed to be the official pizza of the San Jose Sharks," says Riva. "The team supports an anti-bullying culture, and that partnership with them tells our customers that we want to be part of their community."
Mobile-friendly website
The Moran Family of Brands operates six different automotive service and repair brands, making it imperative to have a way for customers on the move to connect with its many locations. Once the company made its website mobile-friendly, it added a customer review management platform that triggers a request for a review. Each store now receives an average of four to five new reviews a week, which has boosted search engine rankings for its brands, says Chad Sajovic, director of marketing. The mobile-friendly website also means that customers on the go can now schedule appointments from their smartphones.
To build and maintain its local connections, the company encourages its franchisees to post photos of their community projects. "One of our centers started a 'bikes for tykes' program in which the owner donates a bike to a child in need after every major car repair. We've seen a great deal of social media activity with this program," Sajovic says.
The company also has found a way to use print to increase its personalization of the brand. "Our people include handwritten thank-you cards with every service," he says. "We believe that that personal touch has produced a significant uptick in our customer engagement."
Welcome to the neighborhood
Michael Plummer Jr., CEO of Our Town America, runs a business that helps other businesses connect with people who have just moved into town. Instead receiving an old-school welcome cake from a neighbor, new residents can find a packet of information about their new town's basic services, like doctors, dentists, pizza restaurants, dry cleaners, and car repair.
Founded in 1972, Our Town began franchising in 2005 and now has 50 franchisees, some with multiple territories. The company was once completely paper-dependent, but Plummer has expanded its marketing tools to include email, mobile tracking, loyalty programs, and other digital methods that make sense of the immense stack of information the company gathers--and use it to continue growing the brand by learning more about its customers.
"We have a huge infrastructure of data," says Plummer. While that data helps shape the brand's consumer marketing targets, he is working to digitize everything the company offers its franchisees--while remembering that not everyone has a smartphone.
The brand equips its franchisees with marketing materials, including online tools, and works hard to promote national awareness of its services. It also asks franchisees to share press releases, blog posts, and other downloadable content with their clients and prospects through social media and email. The company also has been successful at winning media coverage in grocery store, restaurant, hair care, and auto dealer trade magazines. Plummer says that coverage has led directly to new sales.
Digital Shift
When print, radio, television, and word of mouth (see sidebar, page xx) were the only marketing options available to franchisors, choices were limited. The rise of digital and social media, with a reach to consumers in staggeringly large numbers, has made those choices far more difficult, since options are plentiful and continually evolving.
Yet franchisors have discovered that some reliable basics are emerging, both in strategy and tactics. "Everyone is moving toward hyper-local and hyper-personal," says Dasch Shenberger, vice president of franchise marketing for Scorpion Internet Marketing. The California-based company, founded 15 years ago, is considered one of the early players in digital and social media marketing. "When people need something, they always want to find what's close, but marketing with paper is becoming a dinosaur," Shenberger says.
Local community events are huge on social media. "People want to see a business sponsoring things in the community," he says. Also, he adds, encouraging online or social media reviews is smart because local reviews convert well.
Videos continue to grow in popularity, he says, while customer loyalty program strength "will never go away, so you must figure out how to attract people into those programs," says Shenberger.
Search engine optimization is important, he says, but needs careful monitoring, as the rules continually change. "The algorithms may be different in three months. Google will never give you specifics, so you can't reverse engineer for it. So watch the trends," he advises. What will not change, he says, is that successful consumer marketing must reflect the core values of your brand.
Published: September 30th, 2017
Share this Feature
Recommended Reading:
Comments:
comments powered by

Disqus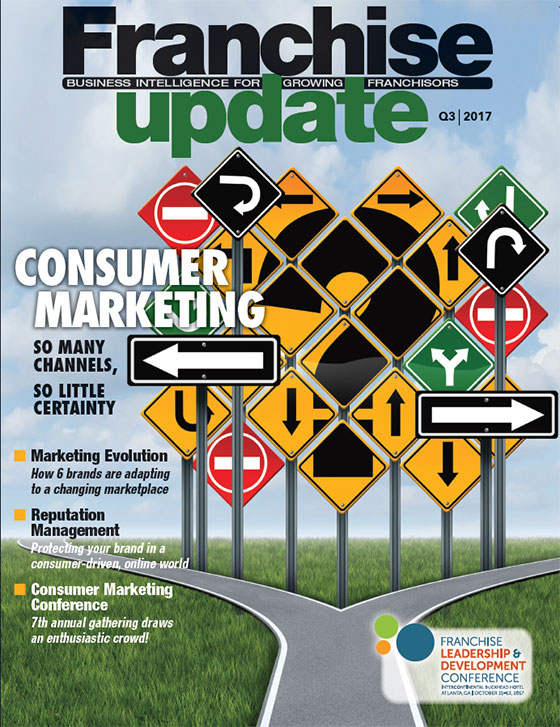 Franchise Update Magazine: Issue 3, 2017
Bring Order to Your Business. All-in-one management, print, and design solutions at your fingertips, on one platform
919 Marketing Co. is a national content marketing, PR and social media agency serving franchise brands. Our proprietary social relations approach...