Marketing Mavens Meet: 2017 Franchise Consumer Marketing Conference Scores
This year's Franchise Consumer Marketing Conference was a superb success, with nearly 350 franchise marketing executives and exhibitors on hand to learn, network, and, hopefully, do a little business. The 165 franchisor marketing executives from more than 125 brands included CEOs, presidents, CMOs, marketing VPs, marketing directors and managers, along with field marketing, communications, technology, and social media experts.
Longtime attendee Susan Boresow, president of Title Boxing Club, was this year's conference chair. Leading up to the conference, she said, "Whether you have been there every year, missed a few years, or are brand new, you won't want to miss this year. I guarantee that this will be a strong investment, not only in your people, but also with your brand." And she was right.
Don't believe us? See what one attendee (Martha France, marketing director at Vya), wrote on her company's blog following the conference: "Hats off to the team at Franchise Update Media for a terrific Franchise Consumer Marketing Conference last week in Atlanta. The Vya team came away from the event with some great connections and an instructive view into the realities faced by today's franchise marketers." (For her full recap, visit the Vya website.)
The conference opened with a presentation by Chipotle Brand Visionary William Espey, called "Build Your Crisis PR Plan." Espey was refreshingly candid in his assessment of what went wrong with the brand--and how the brand has been working to repair its reputation with consumers since the E. coli breakout of 2015. (See story on page 22.) One big factor, he said, was complacency born of success, and not keeping up with the brand's own safety standards following its rapid growth to roughly 2,300 units and 50,000 employees since its start in 1993.
Comparing a brand's relationship with customers to a personal relationship, he said that if you want to make things right you must apologize, come clean, and strive to rebuild trust. Referring to the brand's historically irreverent image, "Funny doesn't work any more. You have to work yourself back," he said. "We learned a lesson, got spanked, and are moving on," he said.
One big lesson, he said, was not to wait for circumstances to force innovation. "Too bad we didn't do it two years ago," he reflected. "Take the time now to audit what's going on in your company. Build your foundation before the storm."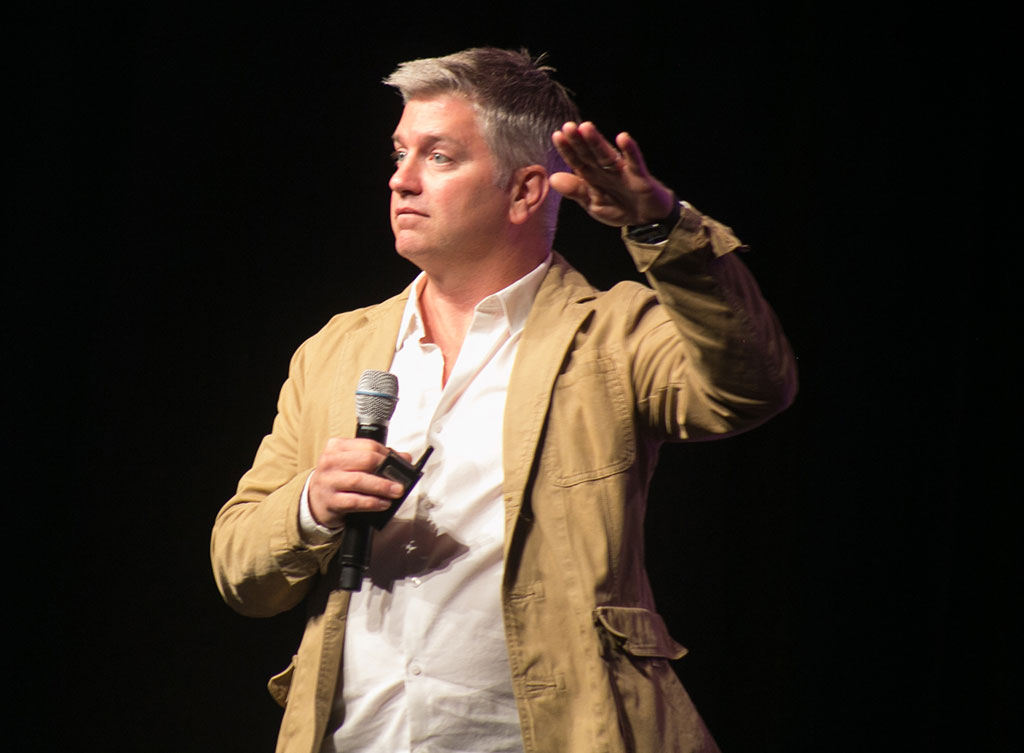 The two other keynote speakers were Robert Stephens, Geek Squad founder and former chief technology officer at Best Buy, who focused his presentation on anticipating change, disruption, and having the courage to move forward with new ideas. The final keynoter was Seth Mattison, workforce strategist and management trendspotter, whose topic was customer experience versus customer service.
Mattison began by exploring the shift from hierarchical thinking to network thinking. Historically, that means moving from a one-way, top-down, authoritarian perspective to one of transparency, information sharing, and collaboration. An excerpt from his most recent book, The War at Work, sums up this new point of view:
"We're entering the age of the Network, a world of hyper-connectivity and constant flux, where disruption is the norm and autonomy, empowerment, and meaning are basic expectations of the new workforce. Organizations are being forced to execute and perform today while simultaneously maintaining the discipline to reinvent themselves for a very different future."
Workshops, panels, talks
The workshops, sessions, and presentations were led by Conference Advisory Board members and franchisors. Day One topics included brand positioning, content marketing, programmatic media, local store marketing, and mobile marketing. Day Two featured succession planning, understanding today's mountains of data, lead generation to drive revenue, digital media, marketing to Hispanics/Latinos, choosing the right technology, disruptive marketing, communications compliance, inter-departmental collaboration, and best practices for ordering and delivery.
Darrell Johnson, CEO and president of FRANdata, presented his annual economic outlook and its likely effects on consumer marketing. He said the economy is continuing its weak recovery, with steady slow growth predicted for the next 18 months or so. Headwinds against continued growth include industry sector disruptions down the road; increased competition for consumer dollars resulting in weak pricing power flexibility; and a generation of Baby Boomers being displaced by Millennials, but with the latter group saddled by debt that will slow spending. In the battle for market share, he suggested brands make their marketing "hyper-personal" (see page 54), focus on their franchisees' financial results, and leverage household data to market more efficiently to their target audiences.
A star-studded panel discussion on succession planning consisted of Craig Ceccanti, co-founder and CEO of Pinot's Palette; Barbara Moran-Goodrich, co-founder and CEO of the Moran Family of Brands; Mike Rotondo, CEO of Tropical Smoothie Cafe; and Steve Schildwachter, CMO of BrightStar Care. The lively discussion, facilitated by Ed Waller, CEO of Paul Davis Restoration and 2012 Conference Chair, focused on the four stages of a brand: the beginning (startup), the boom (growth), the transition (change), and the future (unknown). One useful reminder to avoid complacency, from Moran-Goodrich: "Everything changes. The minute you think you have it figured out you don't."
Another power panel took on the topic of "Disruptive Marketing." Moderated by Wendy Odell Magus, vice president of marketing at Kiddie Academy, the panel consisted of Heather Briggs, senior director of marketing strategy and planning at Great Clips; Rich Hope, CMO at Jersey Mike's; Martha O'Gorman, CMO at Liberty Tax Service; and Jeff Rinke, vice president of marketing at Hungry Howie's Pizza.
O'Gorman said the idea of the Statue of Liberty wavers at Liberty Tax "came about by mistake, like all great ideas." Briggs spoke about the franchisee who came up with the idea to offer free haircuts to active and retired military personnel on Veterans Day. Hope described Jersey Mike's annual Day of Giving, which has raised millions of dollars for charities and communities, and the "halo effect" of increased sales surrounding the event. And in addition to its many charity and community support initiatives, Hungry Howie's celebrates Pi Day with $3.14 pizzas.
"Disruption is really about noticing trends before they happen and taking action," said O'Gorman. "If you see a trend, go after it."
An additional benefit, and a feature of all Franchise Update Media conferences, is ample time and opportunity to network with other franchise marketing executives, including members of the Advisory Board, during the two-day event.
The Sponsor Networking Gallery was packed with vendors, suppliers, and other providers offering a wide variety of solutions including marketing technology, public relations, marketing strategy and planning, hyperlocal media campaigns, media planning/buying/optimization, branding, programmatic and digital marketing, SEO, business intelligence, printing and collateral services, and even outdoor advertising.
Some of the more than 125 brands registered for the conference included Arby's, Bojangles' Capriotti's, Chester's, Del Taco, Driven Brands, Express Employment, Great Clips, Hungry Howie's, Jersey Mike's, Liberty Tax, Primrose Schools, Toppers Pizza, Wayback Burgers, and Wing Zone.
This year's Platinum Sponsors were Silvercrest Advertising and Visualogistix (see page 50). The closing dinner at Maggiano's Little Italy was sponsored by SOCi. The conference had 70 sponsors in all.
The 2018 Franchise Consumer Marketing Conference is planned for June and will be held again at the InterContinental Hotel in Buckhead (Atlanta). This is the only industry conference of its kind that focuses on the most essential topics to franchise consumer marketers. Whether you are in food, retail, or service, you're sure to find value you can take home during the two-day event.
To learn more about next year's conference, visit the website or call 800-289-4232 x202.
See you next year!
FCMC By The Numbers
Attendees
350 Total
265 Franchisors
125 Brands
70 Sponsors
Published: August 12th, 2017
Share this Feature
Recommended Reading:
Comments:
comments powered by

Disqus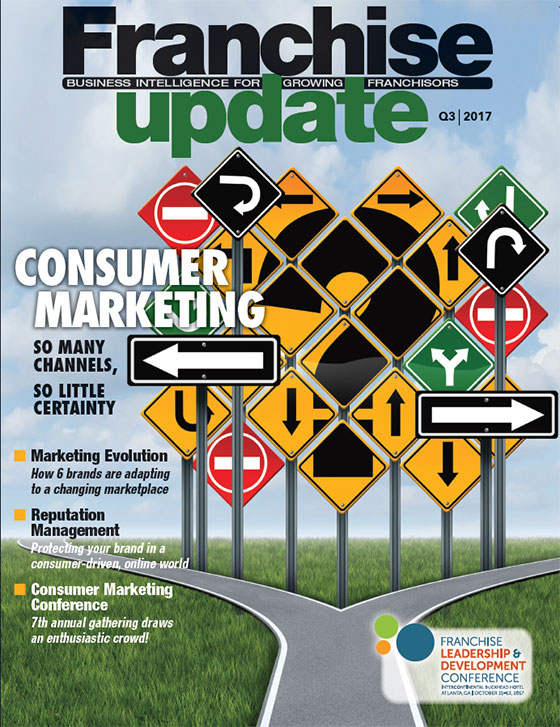 Franchise Update Magazine: Issue 3, 2017
919 Marketing Co. is a national content marketing, PR and social media agency serving franchise brands. Our proprietary social relations approach...
Prisma has reinvented the marketing supply chain with an end-to-end solution that makes it easy to design, customize, order, download, print, kit,...