Developing a Culture of Growth: 2019 FLDC Draws Nearly 500 to Atlanta
Culture and growth ruled at this year's annual Franchise Leadership & Development Conference (FLDC), held in Atlanta this past October 15-17. The theme--Developing a Culture of Growth--said it all, highlighting the value of a strong, growth-oriented culture and the importance of buy-in from top to bottom throughout the organization.
Twenty-one years since it first began hosting the sales- and development-centered event, the Franchise Update Media team and Conference Advisory Board once again raised the bar, bringing in another group of top-notch speakers, knowledgeable and experienced panelists, and some of the industry's most sought-after suppliers for three days of learning, networking, and fun.
This year's conference, held at the InterContinental Buckhead Atlanta, drew 492 total attendees, including 301 franchise professionals representing 183 brands in the food, retail, and service sectors.
Opening keynote speaker Merril Hoge (pronounced Hodge) shared his inspirational life story of determination on the field as an NFL running back and later as a cancer survivor. Closing keynoter John Isbell, former vice president for operations and training for the Improv Comedy Clubs, brought a sense of humor to the serious subjects of teambuilding, training, and operations. Ed Rensi, retired president and CEO of McDonald's USA and chairman of the board of FAT Brands, was a special guest speaker at this year's CEO Summit.
The sold-out Sponsor Networking Gallery provided plenty of opportunities for attendees to socialize and share the highs and lows of life in the franchise development lane with their peers, as exhibitors and suppliers lined up to help them explore and shop for business solutions, strategies, products, and services to help them grow.
In all, 69 sponsors supported the conference this year. Platinum sponsors were Silvercrest and Transitiv. Gold sponsors were 919 Marketing, Hot Dish Advertising, Consumer Fusion, Drive Social Media, PwC FranSuite, and Synuma. ApplePie Capital once again sponsored the annual STAR Awards dinner.
Day 1: Pre-conference workshops
The event kicked off with full day of pre-conference workshops, including the annual CEO Summit for franchise CEOs, presidents, and founders; IFA Fran-Guard (the IFA's sales management and compliance program); and in-depth workshops on sales and development.
Rensi, who left McDonald's about 20 years ago, regaled present-day franchise executives with tales of headier times in franchising, enlivened by his freewheeling, irreverent style as he delivered tale after tale, each rich with lessons and homespun wisdom. After his 2-hour morning presentation at the CEO Summit, he stayed for the entire day, making himself available to anyone who came his way, offering them advice, counseling, and a generally good time.
Meanwhile next door, sales and development professionals had their own special opportunity to participate in all-day pre-conference sessions divided into two tracks: Maximize Sales Performance and Maximize System Growth. These intensive sessions dug into the many ways franchisors can do a better job with their sales process, help franchisees to succeed and grow, and build the system overall.
Jeff Sturgis, a consultant with Fish Consulting (and former chief development officer at Fazoli's and McAlister's Deli), moderated the Position Franchisees for Success session in the System Growth track, alongside panelists Catia Morgan, vice president of operations at The Camp Transformation Center; Amy Somerville, senior vice president of professional development and engagement at RE/MAX; and David McDougall, chief operating officer at Your Pie Franchising. In this operations-heavy session, panelists stressed the many ways brands can help franchisees succeed, such as having the right infrastructure in place, relying on a solid vetting process, setting expectations and guidelines for franchisees to follow, and budgeting for a dedicated field support team. "You've got to look at your franchisees as partners," advised Sturgis.
Next door, in the Sales Performance track, Van Ingram, vice president of franchise development at Golden Corral, moderated and led the panelists through a look into the necessary elements and steps of the sales process. Panelists were Josh Barker, director of operations and franchise development at Christian Brothers Automotive; Keith Dziki, executive director of development at Wireless Zone; Todd Leonard, vice president of operations and franchise development at Executive Home Care; and Stephen Schiller, vice president of franchise development at Neighborly. Each generously shared lessons from their experience, and why every step along the way--from the initial call through discovery day--makes a critical difference in closing the deal with the right candidates for your brand.
The afternoon featured a second set of 3-hour sessions. The Sales Performance Track offered a session called Grow Your Team and Yourself. Matthew Stanton, chief development officer at WellBiz Brands, facilitated a panel consisting of Michael Arrowsmith, chief development officer at Pinch a Penny; Josh Wall, chief franchise officer at Urban Air Adventure Parks; and Brad Fink, vice president of leadership and franchise development at Christian Brothers Automotive. The high-powered panel explored how to hire, nurture, and lead a sales team of high performers who deliver quality deals.
The afternoon session of the System Growth track, Innovative Ideas To Accelerate the New Location Opening Process, was moderated by Shawn Caric, director of development Midwest at Dunkin' Brands. Panelists were Heather Briggs, senior director of marketing planning at Great Clips; John Dawson, senior director of construction for The Krystal Company; Jennifer Ramey, senior director of training and strategic initiatives at Jamba; and Greg Vojnovich, president of Vickery Creek. This session focused on each phase of opening new locations, from financing and real estate to permitting and training. Participants immersed themselves in table exercises throughout the workshop, where they developed solutions to the challenges presented.
As the afternoon's sessions wound down, attendees, panelists, and CEOs headed to the Sponsor Networking Galley for the conference's Welcome Reception. As ever, food and drink were plentiful, and the conversations with exhibitors, suppliers, and fellow franchisors brought the day to a buzz-filled close.
Day 2: Keynotes and sessions
A continental breakfast awaited attendees early on Day 2 before Franchise Update Media Chair Gary Gardner welcomed attendees to the conference at the first general session and introduced the day's keynote speaker, Merril Hoge.
Hoge is a former NFL star running back, cancer survivor, author, and former ESPN analyst who shared his own, very personal story of strength and perseverance in the face of adversity. His talk from the heart inspired attendees to overcome any and all obstacles throughout their lives.
Author of the book Find A Way: Three Words That Changed My Life, Hoge talked about his own cancer battle in vivid detail and encouraged attendees to "find a way" in their own lives. "Each of you has goals, challenges, things you want to change, and you have dreams," he said. "You have the two greatest tools known to mankind at your disposal, your mind and your spirit. That combination is powerful." Hoge finished his presentation to a standing ovation.
Therese Thilgen, CEO of Franchise Update Media, then introduced the 2019 conference chair, Jennifer Durham, chief development officer at Cooper's Hawk Winery & Restaurants. Her upbeat, positive energy was contagious as she encouraged attendees to capitalize on being at the conference. "Leave here with three new friends and three things you learned," she urged.
FRANdata CEO Darrell Johnson took the stage next to deliver his ever-witty, informative take on the state of the economy and its likely effects on franchising in the coming years. "This is a period of significant change," he began, "and we need to be prepared for it."
He presented his assessment in three parts: World View, U.S. Growth, and Implications. Globally, he said, growth continues to slow. "Uncertainty is rising, permeating business worldwide." In addition, the IMF lowered its economic growth estimate for 2019 to 3 percent, the lowest economic expansion level since 2009.
Combined, the U.S. and China account for 35 to 40 percent of global GDP, putting additional pressure--and attention--on the on-again, off-again trade talks between the two countries. While Johnson sees the U.S. economy continuing to trend downward, one ray of light is that there are no bubbles indicating a recession on the horizon--nor a dramatic lift either.
He then listed several "econ-tradictions" in the U.S., such as strong consumer sentiment vs. weak business investment; weak manufacturing vs. flat services; tax cuts vs. a slowing economy; fiscal policy vs. monetary policy; and low unemployment vs. high labor unrest. The 2017 Republican tax cuts, he noted, did not drive the promised investment.
The implications for franchising included a warning to franchisors that strong headwinds will slow growth for franchisees. For example, unit openings declined by 7 percent from 2016 to 2018, while the figures for signed-but-not-open units increased 3 percent in that same period. For franchisors looking to do deals with multi-unit operators, he suggested a greater emphasis on transparency, noting that 47 percent of franchisees consider FPRs most valuable in understanding the opportunity, while 35 percent said FPRs helped with due diligence when evaluating a brand.
Summing it all up, he said the U.S. economy is getting closer to a turning point where more uncertainties and normal economic cycles suggest the next downturn is coming, though no one can reliably say when.
So what should franchisees and franchisors do next? Three things, Johnson said: 1) Understand how fast is too fast, (see his column on this topic, page 61); 2) Evaluate the implications of more underperforming units by examining your operational support, public perception, system culture, and capital providers; and 3) Build more flexibility into your plans and consider how possible long-term trends will affect your brand, since economic change can come unexpectedly, whether from shifts in consumer sentiment in the U.S. or geopolitical events across the world.
AFDR & Mystery Shopping
Therese Thilgen, along with Diane Phibbs, Franchise Update's executive vice president and chief content officer, took the stage to deliver an overview of the 2019 Annual Franchise Development Report (AFDR) and Mystery Shopping survey. (For full coverage, see pages 32 and 42.)
The final morning event was a lively general session called Develop a Culture of Growth. A group of veteran CEOs and development officers, paired by brand, discussed how the right culture can help accelerate growth within a franchise system. Moderated by 2019 FLDC Chair Jennifer Durham, the brands on the big stage included Wild Birds Unlimited founder and CEO Jim Carpenter and Chief Development Officer Paul Pickett; PuroClean CEO and President Steve White and Vice President of Franchise Development Tim Courtney; and Tropical Smoothie Cafe CEO Charles Watson and Senior Vice President of Franchise Development Cheryl Fletcher.
Durham asked the panel about how to manage a culture of growth across the system, the importance of driving franchisee profitability, viewing franchising as a team sport, and demonstrating to franchisees that you, the franchisor, authentically and genuinely care.
The Sponsor Networking Gallery reopened for lunch and fresh opportunities to meet, greet, and do some business. Then it was time for the afternoon's first of four concurrent breakout sessions: Mastering Lead Qualification; Engaging with Next-Gen Prospects; New Franchisee Onboarding Is Critical to Long-Term Growth; and Best Practices for Item 19 & How to Use an Earnings Claim in Lead Generation.
Other afternoon sessions included Components of a Discovery Day; Understand Your Target Audience; Develop Financing Programs To Accelerate Growth; Convert Inquiries Into Active Candidates; Non-Ad Digital Strategies for Growth; and How To Handle Encroachment.
The day closed out with the final keynote speaker, John Isbell, who led a lively challenge session called Nurture Leads To Close the Deal--Be an Influencer with Your Prospects and Team.
Isbell helped to recover and reinvent the Improv Comedy Club culture, and also has helped other iconic brands, like IHOP, grow to new heights in culture, leadership development, and brand awareness. Part speaker, part stand-up comic, he led tables through a number of exercises centered around leadership, culture, learning, and team-building.
That evening, attendees crossed the street to attend the annual STAR Awards dinner and ceremony at Maggiano's Little Italy. This year's winners and their thoughts on why they were recognized begin on page 48.
Day 3: Winding down
The final morning of the conference wrapped up with a session designed to help participants turn the previous two days of information and perspective into an actionable take-home plan they could use when they returned to the office.
Art Coley, CEO of CGI Franchise, led the session, Build Your 2020 Action Plan for Success. Coley was joined by Michael Arrowsmith, chief development officer at Pinch a Penny, Steve Bailey, senior director of franchise sales at Fazoli's, and Christina Chambers, executive vice president for franchise development at InXpress Americas.
The objectives of the session were: 1) discuss key components of planning, 2) gain some insights from others (best practices), and 3) get started to plan for your best year yet.
Participants sorted themselves into smaller groups based on their job titles (development directors/recruiters, CDOs/VPs, CEOs/CFOs, support and other roles) and worked with their peers to create a plan to spur growth when they returned home.
The reviews are in!
"I always enjoying being a part of FLDC and I appreciated the invitation to contribute to the best practices conversation," said Josh Wall, chief franchise officer of Urban Air Adventure Parks.
"I thought the turnout and engagement for our session was good. You guys did a fantastic job on this year's conference and I was honored to be a participant," said Pete Baldine, president at Moran Family of Brands. "The content was excellent and so was the organization. This continues to be my favorite conference of the year. The CEO Summit was very valuable and I thought the former IHOP presenter, Tom Baber, did an excellent job with his exercises."
Plans are already under way for the 2020 Franchise Leadership & Development Conference, October 14-16, 2020 at the same venue. To learn more about this year's FLDC and register for 2020, visit www.franchisedevelopmentconference.com.
Published: November 15th, 2019
Share this Feature
Recommended Reading:
Comments:
comments powered by

Disqus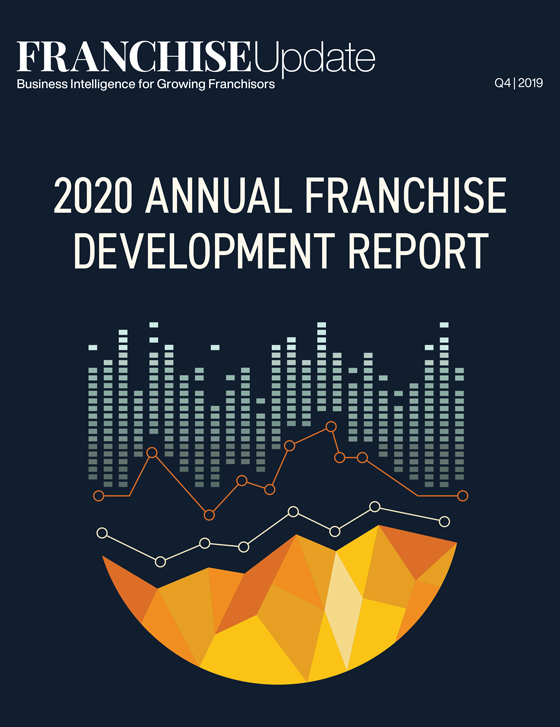 Franchise Update Magazine: Issue 4, 2019
From lead generation to increasing sales, Hot Dish Advertising is the pro at getting your message in front of those who matter most--consumers...
More than 15 years of passion and fascination with the franchise system. Thanks to having met many Franchisees, today I can help new ones and those...