Shopped for Success: Annual Mystery Shop of Recruitment Practices Reveals Strengths and Weaknesses
A solid franchise development program starts with doing the little things right--all the time, every day, with every prospect. Those "little" things are more important than ever because, by the time you hear from them, today's prospects are more educated about your brand than ever before.
This year's annual Mystery Shopping Survey found that while franchisors have more opportunities than ever to connect with qualified prospects, their challenge is making those connections count. To do so, successful franchisors must have systems in place to keep pace in a 24/7 digital world where prospects form opinions about brands long before they make contact.
"The way prospects research brands has evolved. The ability to conduct most of their due diligence online gives them plenty of information to vet brands," says Therese Thilgen, co-founder and CEO of Franchise Update Media, which mystery shops conference attendees each year. "An opportunity exists to engage with prospects before the first phone call takes place."
In the 2019 annual review of franchise recruitment best practices, researchers evaluated brands by directly calling them from information provided on their development websites; submitting online forms from those websites and grading the subsequent phone call response; thoroughly reviewing each brand's development website elements; grading each brand's social media activity and effectiveness; and measuring franchisee satisfaction.
This year's mystery shoppers were Michael Alston at Landmark Interactive (mobile); Art Coley at CGI Franchise (telephone); Rick Batchelor at Qiigo (social media); Don Rush and Ben Foley at Franchise Update (websites); Jayson Pearl at ServiceScore (website response); and Michelle Rowan and Eric Stites at Franchise Business Review (franchisee satisfaction). Culled from their extensive research and analysis, the following is a look at the good, the bad, and the ugly of franchise recruitment today.
Mobile: Landmark Interactive
Smartphones continue to surge as the most popular way for franchise prospects to begin their research. Among Landmark's findings for 2019:
73% of potential investors use a smartphone to connect with brands online, up 12% from a year ago, and nearly double the share of 5 years ago;
the use of desktop and laptop computers by potential franchisees continues to shrink,: down to 23% from a 98% share in 2010; and
prospects turned to their tablets only 4% of the time in 2019.
"To connect with consumers on the ever-changing world of small mobile screens, we have needed to rethink how our websites and mobile apps are designed," says Michael Alston, president of Landmark Interactive. "That quick and reliable connection translates into high-quality prospects who are ready to learn more about exciting franchise concepts."
Landmark's mobile findings also reinforce the need for development teams to have robust systems in place to respond to inquiries whenever they're received. Landmark's study of daypart data suggests that more than two-thirds of prospects are in shopping mode outside of regular business hours. Overall, 67% of new investment prospects researched franchises and initiated contact during nights and weekends. This means that for every 10 daily leads, the odds are that only three are generated during the 9-to-5 workday.
"Knowing that part of the problem is a round-the-clock scheduling challenge, sales teams can adjust their process to better address the daypart differences," Alston advises.
Given the time zone differences in the U.S., the task is even tougher for brands that centralize franchise recruitment. For East Coast prospects, 66% initiated contact on nights and weekends; on the West Coast it was 71%.
"We don't advise texting or calling anyone back at 2 a.m., of course," says Alston. "But knowing when a lead was generated can help sales teams prioritize appropriately so that no one falls through the cracks."
Telephone: CGI Franchise
Recruitment teams continue to struggle with picking up the phone and calling prospects back, according to this year's results gathered by CGI Franchise. "We do the phone mystery shop to analyze the responsiveness of recruitment teams to an actual live person raising their hand and saying 'I want to learn more' about a specific brand," says Art Coley, CEO of CGI.
"Brands have become, more than ever, spoiled and complacent. It takes a lot for someone to pick up the phone and say they want to learn more. Why are we not answering the phone and responding back to them in a timely manner?" he asks.
Overall, CGI's evaluation uncovered lower performance scores for brands responding to telephone inquiries from potential prospects and found less of a personal touch than in previous years. "The big brand websites look like they are too big to care, with no way to reach them," he says. "They shouldn't become too big to grow."
This year the CGI team called 125 franchise brands, each caller posing as a qualified lead seeking information about franchising with the brand. The mystery shoppers measured how brands did with their initial response (receptionist/qualifier/appointment setter/director); information obtained (timing, location, financial, personal, etc.); emails and text communication; and overall responsiveness.
Brands were called three times at all hours at different times of day. Instead of seeing calls returned within the first 24 hours, Coley found an increased use of automated response and texting tools. In some cases during business hours, he says, it appeared that brands intentionally did not answer the call and instead called back within minutes.
In their research, the mystery shoppers at CGI were looking for the following:
Responsiveness with a 24-hour period
Who answered the phone, a live person or auto attendant, and how
How the sales person interacted with the prospect
Did they ask for all contact information, explain next steps, control the conversation, ask financials, location, time frame, experience, enthusiasm?
Did they call back within 24 hours?
Did they send an email and/or a text?
Additional findings from the CGI team included the following:

Brands have become more automated/text-based in the first 24 hours (versus calling back).
Brands are removing a designated phone number from their websites and requiring the prospect to complete a form before providing a phone number.
Online forms were completed immediately before calls were made--and zero brands acknowledged or mentioned content being pre-filled during those calls.
While texting may not be completely mainstream, CGI found that when brands sent a text or email (rather than calling back) the response was more polite, offering the opportunity to schedule a time at the candidate's convenience. Several brands used calendar appointment apps.
Coley offered four recommendations to improve performance in this critical aspect of franchisee recruitment:
Get crystal clear on gaps in your process.
Solve gaps with process and systems (versus personality).
Make sure you have a phone number and form on your website, along with texting and chat features.
Train, coach, and manage your recruitment team.
Social media: Qiigo
The business world is experiencing a massive shift in consumer buying behavior, and franchising is no exception. That's why online brand perception is critical, says Rick Batchelor, CEO of the franchise marketing firm Qiigo.
Batchelor and his team shopped 145 franchise brands and evaluated 2,600 Facebook posts, measuring fan counts, engagements, and posts as they applied to franchise development.
"For example," he says, "we looked at things like fan count--the count of the number of fans a Facebook page has. Then, for comparison, we calculated the national average for all the metrics among the brands."
The general idea, says Batchelor, was to determine how a brand engaged with its consumers, looking at the following factors:
Did they participate in the conversation?
Did consumers engage in the conversation?
Were the conversations positive or negative?
Did their consumers "love" them, or simply "know" them?
What did their posts contain--links, photos, videos, statuses?
Were their posts engaging or "sales-y"? Fun? Serious? Other?
Was the brand sincere in its responses?
Unquestionably, social media continues to change how business is conducted, and franchise recruitment is not immune. Local social media marketing, online reviews, and other consumer opinions affect franchise development efforts. Brands that engage their consumers benefit from more cost-effective franchise development leads.
Recommendations resulting from his research, says Batchelor, include the following:
Monitor your social media; engage in the conversation.
Monitor reviews at the local level; respond to all reviews.
Respond appropriately (to show you care).
Leverage customer insights throughout your organization.
"Franchise prospects are much more sophisticated today," says Batchelor. "Consumers research your brand long before they decide to reach out to you."
Websites: Franchise Update Media
A new pair of mystery shoppers took on the task of measuring franchise recruitment websites this year. Franchise Update's Director of Technology Ben Foley and Web Developer Don Rush expanded how websites were evaluated this year, adding new categories and more granularity to previous years' categories.
By the time today's franchise prospects arrive at a brand's website they already have a lot of information. That's why it's critical for franchise opportunity sites to be performing at optimal levels and providing as much relevant information as possible to potential franchisees.
In addition to researching a brand's franchise opportunity pages, potential prospects also are researching how brands are interacting with their customers. Thus, prospects should be able to move easily between a brand's franchise opportunity site and its consumer site. Amazingly, 100% of brands surveyed had hard-to-find links from the consumer site to the franchise opportunity site.
"Key Content" measurements remained the same this year (including a dedicated About page, an investment chart, benefits of the franchise, earnings claims, FAQs, etc.).
The "SEO Readiness" metric--which includes items such as title tags, meta description, Open Graph tags, and social image--was expanded to include more points of assessment. Likewise for "Website Usability," which included factors such as franchise content accessibility from the home page, process of learning, security and privacy), effective use of technology (video, online chat, responsive website, invasive popups, etc.), and overall site presence.
"We expanded on those last two sections with data that is important in today's web development world," says Foley. "GDPR, privacy, and security concerns are at an all-time high with web users. Mobile is now the dominant player and social media marketing is the latest frontier for generating traffic. And having your site sharable is critical to your digital marketing success."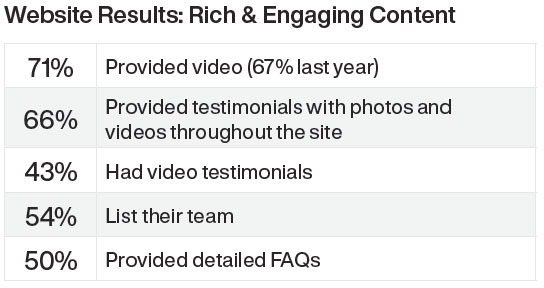 The researchers found near uniformity among brands in three distinct areas. 1) Nearly all websites were responsive (mobile-friendly); only two were not. 2) Nearly all sites were fully secured (https); however, a few had https but also had other unsecured elements that resulted in a non-fully secure site. 3) A majority of the franchisors used a unique website for franchisee recruitment.
Other observations by the website shoppers were that very few brands used a full application form. Instead, most relied on a short form with basic contact information; a few used a short form with a financial qualifier, time frame, or lead source. Nearly all websites were functional and easy to use, but did not have a cookie policy in place. Nearly all websites included links to their social media.
The following is a list of the items that should be included on a brand's website for prospects, and how well the brands shopped by our researchers did this year (by percentage of those who included the items and/or did it well):
In the end, the overall scoring breakdown is as follows, with 89 as the top possible score. Only two brands--Sport Clips and Tropical Smoothie Cafe--scored above 80; and 17 either had no website or were not a franchise.

The good news is that the brands that scored the highest used proper basic search engine optimization and employed good use of technology on their sites, such as video testimonials. Their websites were easy to navigate and content was well laid out.
The commonality among franchises with lower scores was a lack of information provided, such as benefits of their brand, requirements, investment information, franchisee testimonials, and frequently asked questions.
"These are the areas that could use improvement," says Foley.
Website response: ServiceScore
ServiceScore focused on evaluating the website responsiveness of 133 brands or multi-brand franchisor parent companies. Researchers submitted a lead form to each, positioning themselves as a qualified lead. This year a new item was added to get a sense of how frequently brand qualifiers are mentioning at least one differentiator about their brand.
"In other words, giving at least one reason for the prospect to take the next step versus the competition," says Jayson Pearl, president of ServiceScore. "This was based on the observation from years past that often screeners aren't taking advantage of actually having a candidate on the phone to engage with them and share something special about their franchise offering. They're just asking a few screening questions, or worse, just calling a candidate to tell them that an email is coming and ask if they have any questions."
Here are some of the key metrics from ServiceScore's mystery shopping:
46% (61) called back
29% (38) called back within 24 hours
17% (23) called back in more than 24 hours
20% (27) shared a brand differentiator
14% (18) shared a differentiator & called back within 24 hours
"We know that candidates today have researched a brand before they 'raise their hand' to ask it to tell them more through an online form submission or a call to a franchise development line," says Pearl." There's a great opportunity for brands to take advantage of this to find out what sparked the prospect's interest and share and reinforce those attributes that are special and unique."
Additional findings ServiceScore unearthed included the following:
More brands are turning to schedulers or qualifiers for the initial outreach, but they are asking only one or two qualifying questions; or, in some instances, just call to say they are sending an email. Sometimes these qualifiers would ask to schedule a call with a franchise recruiter, but frequently just asked if the prospect (shopper) had any questions. While this seems like an efficient way to qualify prospects out of the development process, it may miss an opportunity to make a real connection. Creating a trusting expert connection is essential for the brand, even if the caller doesn't ultimately proceed through the process.
There is a wide variance of what happens on franchise websites after a prospect submits a contact form. On many sites, after submitting their contact information a candidate viewed a thank-you screen or the opportunity to download information.
"A best practice we're seeing--and a growing trend over last year--is from brands re-directing the site to engaging information that allows the viewer to spend more time on the site learning about the brand," says Pearl.
Franchisee satisfaction: Franchise Business Review
Franchise Business Review (FBR) researched 71 brands representing 25,799 business outlets. A total of 7,894 franchisees completed an independent survey consisting of more than 50 questions related to their business performance, satisfaction with their brand, and general business demographics. Results were compared with benchmark data from about 25,000 franchisees representing more than 330 leading franchise brands across all industry segments.
Satisfaction was measured across eight key areas: training and support, franchise system, leadership, financial opportunity, core values, franchisee community, self-evaluation (franchisee performance), and general overall satisfaction. Overall, the Franchise Satisfaction Index score of the Franchise Update group (69.4) was very close to the FBR Franchise Sector benchmark (71.7), which represents data from those 330-plus franchise brands in the benchmark group.
Nearly 8 in 10 (78.2%) of franchisees in the Franchise Update test group would recommend their brand to others. Brands earned high marks for franchisee enjoyment, general satisfaction, community engagement, and the belief in the honesty and integrity of their franchisor. The group scored lower when it came to the financial opportunity their franchise provides, training and support, innovation and creativity, and how well senior management involves franchisees in important decisions.
Of the three major industry sectors researched (food, retail, and services), FBR found that food franchise brands ran 5% to 10 % lower in franchisee satisfaction overall.
Published: December 27th, 2019
Share this Feature
Recommended Reading:
Comments:
comments powered by

Disqus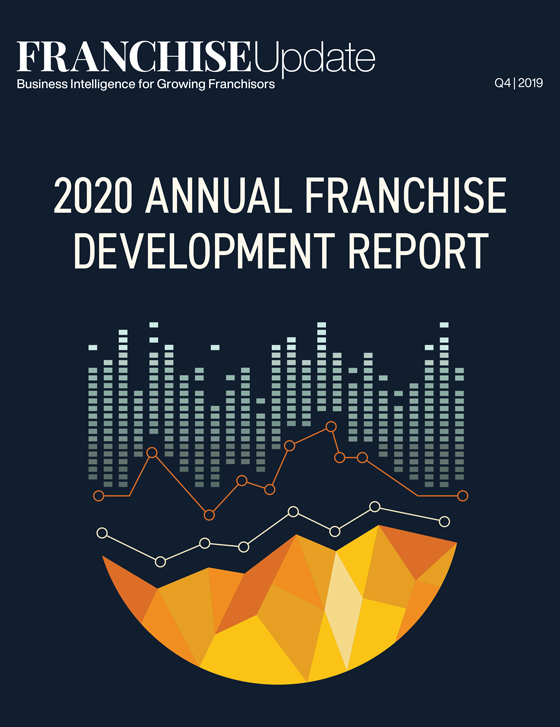 Franchise Update Magazine: Issue 4, 2019
From lead generation to increasing sales, Hot Dish Advertising is the pro at getting your message in front of those who matter most--consumers...
MSA provides domestic and international franchise advisory services to franchisors and companies seeking to establish franchise and licensing systems.