Digital Doyenne: Carissa Ganelli leads Subway's digital transformation
You'd need to look hard and long to find a more passionate Subway fan than Chief Digital Officer Carissa Ganelli--and that was before she began working there.
"When I was pregnant with my second child I craved turkey footlong sandwiches with extra olives. I would eat half for breakfast and then half for lunch for months. That was 11 years ago, and I've only been here 2 years," laughed Ganelli, who joined the company in May 2016 as vice president of marketing technology. Today, she says, "I'm on a first-name basis with my local franchisee."
She's also leading the company's two-year-old initiative to revamp its global digital strategy and transform the customer experience from stem to stern. In June 2016, Subway announced the launch of a new division called Subway Digital, working with Accenture to integrate its digital tools and build "a comprehensive omni-channel strategy and implementation support team to enhance engagement and build loyalty," according to the announcement.
For Ganelli, omni-channel translates to distributed commerce. "There was e-commerce, then m-commerce, so I call it d-commerce for distributed commerce. The idea is I want to be anywhere a consumer is, so that when they're hungry they can order a sandwich at any touchpoint," she says. "Consumers' expectations have changed. They expect things to be personalized, they want what they want when they want it, and for the price they want to pay for it."
Promoted to chief digital officer in July 2017, Ganelli is a key leader in Subway's effort to transform itself after years of declining sales, traffic, and a host of other woes we won't bother to re-enumerate here. With roughly 44,000 restaurants and 21,000 franchises, this is about what Subway's doing today on the digital front to turn the Ship of Sub around.
"Two years ago," says Ganelli, "when we embarked on a whole brand transformation effort we took a look across all elements of the company and said, 'What needs to be refreshed?' The decor in our restaurants, our branding, our new visual identity, our voice in our social media platform? We took a new, fresh look at all of these things." The initiative also included integrating the brand's POS system, email program, remote ordering, in-store kiosks, app, and loyalty program.
So what was wrong with the old loyalty program? "We had a great loyalty program before," says Ganelli. "Our members really loved it, but we were in only one-third of the markets in the United States." The new program, which went live in the U.S. and Canada in March, is now available at all 28,500 stores in the two countries.
Her goal is for every Subway customer to be a member of the new MyWay Rewards program. "There are over 100 million people in the United States who consider themselves Subway customers, and there's no reason there shouldn't be 100 million loyalty members," she says. Key goals for the revamp were customization, personalization, and convenience. Another was to make it simple to join. Customers can sign up in the store, online, or through Subway's mobile app. To receive offers tailored specifically to them, members must provide additional personal information.
"The only requirement is your email address. I'm all about customer focus and frictionless and want to make it as easy as possible," says Ganelli. "I'm a consumer and I don't want to give away a DNA sample and the names of my children just to get a free cookie." However, providing your birth date is worth a free cookie on your birthday. "But we don't require that," she says, "because again, we're putting the customer first."
The MyWay program has several new components. One is that it automatically issues rewards, so a member doesn't have to do anything to redeem their points. Another is a cash value reward, instead of limiting redemption to a free coffee or chips, for example. "When you reach 200 tokens you'll get a $2 reward certificate that you can spend on anything, and that goes to the personalization aspect," she says. "You want a breakfast sandwich? Knock yourself out. Want a salad? Go for it. We are really, truly trying to make it as easy as possible for consumers to be rewarded."
The challenge of change
In addition to the back-end technical challenges of developing and integrating new customer-facing digital programs, the initiative required company-wide collaboration and communication and, importantly, working closely with franchisees.
"I don't want to minimize this. It's a huge organizational shift for many companies, and Subway is not an exception," says Ganelli. "The digital division here at Subway was brand new."
Faced with a set of challenges requiring additional resources, she called in professional help to augment her in-house team. "We were really fortunate to partner with Accenture," she says. Accenture consultants helped set up the new digital division, reporting to the former CIO and Ganelli. The consultants, she says, all experts in their domains, had created the Best Buy and other world-class loyalty programs, and had developed some of the best-in-class mobile apps.
Subway has been able to leverage that experience, and some of the Accenture consultants decided to stay," says Ganelli. "Our global head of loyalty comes from the Hilton Honors program, and her second-in-command comes from the Virgin Atlantic loyalty program. My mobile apps product owner developed the keyless entry app for Starwood. And that is the power of what we're trying to build here; it's the power of the Subway brand and what we're trying to achieve with our brand transformation effort that could attract the caliber of these people."
Sync or sink
"I like to think of myself as an orchestra conductor, says Ganelli, "because what I'm really doing is pulling in the wind section with the brass section with the percussion section to make sure that the piece of music sounds like a symphony, and not a Tiny Desk concert." Making that digital music sing required setting processes in place and ensuring that everyone involved was playing the right notes at the right time.
"You need to make sure you're in sync with different development cycles. We did have some challenges," says Ganelli. For example, she explains, if one area of the company was doing Waterfall development and the mobile app team was doing Agile development, "How do you evolve those dev cycles, how do you sync up when something is done in one area and then they have to do a handoff in mid-sprint?"
Even with all that expertise on hand, this still can be tricky. "I'm not going to lie, we are still working through some of that. But everyone being behind these efforts has gone a long way to make it run more smoothly. So when you ask about which different departments, you name it and we have worked with them."
Speaking of smoothly, she had to ensure that when a customer scanned their loyalty card or used their phone app at the point of sale, the messaging on the sandwich maker's screen included not only the order, but also any customized rewards, coupons, or deals that individual was due--based on the personal data they'd supplied--which is stored in the company's CRM system--and that the customer data was protected through encryption and used only to provide each loyalty club member with a personalized experience every visit--even during the busiest lunch hour. There's more, but you get the point. Not a piece of cake.
The email program also had to be integrated to ensure that when a MyWay member earned a reward, the program could send them an email (if they'd agreed). "They might want to engage with us through SMS or push notification, or just see their rewards in their dashboard in the app," says Ganelli. "We give that flexibility to them, so all of those touchpoints have be coordinated."
Beyond the technology challenges, she says, "The franchisees were architects of pretty much everything that we are doing in digital, not least of all the loyalty program. So from Day 1 we convened a loyalty advisory panel. And it was everything from 'What do you think about these features and benefits?' to the reporting."
Ganelli says her own entrepreneurial background was a huge plus in working with the franchisees because she still thinks like an owner. "We had mocked-up versions of reports and shared them with our advisory panel and said, 'Is this intuitive? If you were going to look to see how many redemptions you did this week, can you find it?' That was truly valuable, and it's been incredibly rewarding to have so many people involved."
As the founder and former CEO of LightningBuy, a mobile commerce platform startup, Ganelli says her focus on the bottom line has helped her view things through the lens of the franchisees: "Does it increase costs? What is the ROI? How can we operationalize it through the field? You cannot minimize the details around the operationalization of any of the things we're trying to do. Is it driving business? Is it driving traffic? Are we meeting the needs of our franchisees?"
All that, plus having to raise money for her startup, "only helps when you're trying to get franchisees to get on board with your program," she says. "Subway was founded by an entrepreneur, and our biggest internal customers are a network of tens of thousands of entrepreneurs."
Subway 2070?
So what does the digital future hold for Subway? The possibilities are practically endless, and Ganelli is enthusiastic about emerging technologies and their potential applications for the brand. "There are technologies that are available today that I'm not sure are going to get wide consumer adoption. But I notice them and they're on my radar screen, and we potentially are planning for some of those," she says.
"I have a team of people and that's what we do: we look at trends, we go to trade shows, and we start planning for the future because we're going to be there. Subway's been around for 52 years, almost 53--and we're going to be around for another 52, and another 52 after that." As we said at the beginning, you'd have to look long and hard to find a bigger fan.
Published: May 5th, 2018
Share this Feature
Recommended Reading:
Comments:
comments powered by

Disqus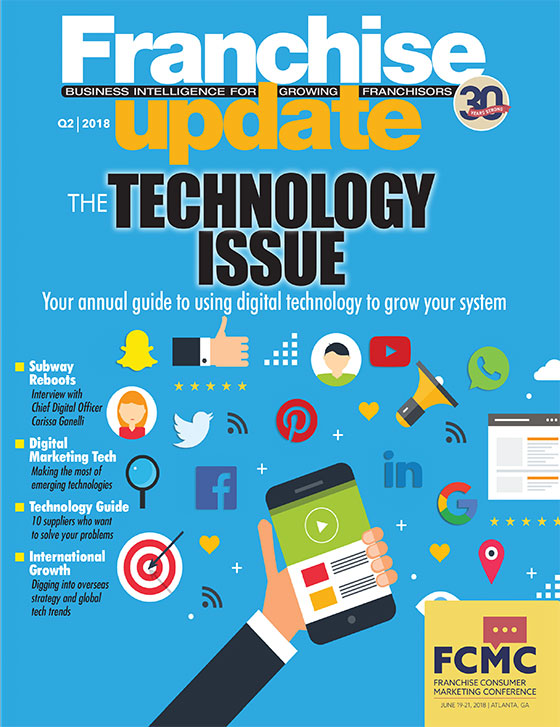 Franchise Update Magazine: Issue 2, 2018
Qiigo unifies digital marketing for national brands and their locations, building brand unity and success helping businesses get found locally....
Our accounts payable automation platform combines technology with simplicity & affordability. Save time and money, and automate your ap workflows...