Starting with Why: SpeedPro's New CEO has Big Plans for the Brand
Larry Oberly, president and CEO of SpeedPro Imaging, knows from personal experience what it's like to be a franchisee. This provides him with an additional level of insight as he grows into his new role at SpeedPro. He's still relatively new at the brand, having started last November--and he has big aspirations for the future.
Oberly says that in his new role he's drawing on his nearly 20 years at RE/MAX, where he served as vice president of U.S. and global development. "At RE/MAX I headed growth, development, technology, and training for more than 100 countries and territories that included 3,850 offices and 54,000 agents," he says.
His time as a franchisee came in the early 1990s as a successful multi-unit Baskin-Robbins operator in St. Louis. That's where he learned firsthand about P&L statements and responsibility for marketing, sales, customer service, team development, purchasing, and accounting.
He was elected to serve on the Baskin-Robbins National Marketing Committee, where he helped create pricing models and communications programs and played a role in helping align 2,300 franchisees with the brand's goals and strategies. After six years, he says, "I sold the businesses at a substantial profit."
Oberly clearly understands the metrics of franchising and believes strongly in the brand's mission and vision. He keeps a sharp eye on sales and profits, unit economics, and ROI--and says to look for growth in the number of SpeedPro studios in the coming years. "More studios with better same-studio metrics will make it easier to reach and serve the end user and provide more muscle for our brand marketing and awareness campaigns," he says.
As a leader, Oberly says, he's open to new ideas and doesn't ever want to be the bottleneck to solving challenges. That's one reason he makes himself available at any time with his "no-door" policy.
Oberly is a fan of author, motivational speaker, and marketing consultant Simon Sinek, who espouses two central rules of good leadership in his books Start with Why and Leaders Eat Last. "I think he's spot-on," says Oberly. "These are two good rules to lead by."
Name: Larry Oberly
Title: President and CEO
Company: SF Franchising (SpeedPro Imaging)
Units: 135+ open or to be opened
Age: 61
Years in franchising: 26
Years in current position: Since November 2017
Leadership
What is your role as CEO?
I have three major roles. 1) Be the face of the organization and set and communicate the SpeedPro Imaging mission and vision for the network. It's my role to think about immediate needs, but also five or more years ahead. Our regional developers and studio owners have invested in the brand, and it's my role to help them maximize the return on their investment and help ensure we are positioned to provide the best, most creative and responsive products and services to our customers. 2) Grow existing SpeedPro studio sales and profits. This goes hand in hand with the first point as we need to leverage more from what we do today and also look at innovation as an important growth vehicle for our studio owners. Without successful and growing studios, we could never achieve our collective goals. 3) Increase the number of SpeedPro studios. Adding more studios works along with better, same-studio metrics. Having more studios makes it easier to reach and serve the end user and provides more muscle for our brand marketing and awareness campaigns.
Describe your leadership style.
I have a collaborative and consultative style. I encourage my team to set objectives and then provide the support they need to achieve them. I also like to be a devil's advocate by challenging assumptions and pushing the outcomes with the most impact. I don't have an open-door policy, I have a no-door policy. I will almost always drop what I'm doing to answer a question or tackle an issue with the team or a customer. I don't ever want to be the bottleneck.
What has inspired your leadership style?
First, it was my time at Baskin-Robbins as a franchisee in the St. Louis area in 1992. I learned very quickly that I wasn't going to be able to pay my employees more than the McDonald's down the street, but if I didn't have happy employees, they would leave me to earn even a nickel an hour more. I had to build camaraderie, culture, and an environment where my best employees would refer their friends to the company. Second was Disney. I loved the way they engaged their employees. I quickly shifted from calling my team "employees" and changed to "cast members" in my stores. This especially resonated with the teenagers on my team, and they "performed" every day for our customers. Finally, Simon Sinek. I've seen him speak at two conventions, and I think he's spot-on. "Start with why" and "Leaders eat last" are two good rules to lead by. I firmly believe in the "why" behind everything we do.
What is your biggest leadership challenge?
Trying to persuade the un-persuaded into thinking differently, or at least with an open mind. The status quo doesn't work. Business moves too fast. I like to push and engage. This gets people talking and inspires action. We usually end at a common ground, although it doesn't always appear so in the beginning.
How do you transmit your culture from your office to front-line employees?
Our home team is located Centennial, Colorado. There are only 16 of us. Our front line is our entrepreneurial studio owners and their team members. Most of what I've done in my first months is travel to as many of our markets and locations as possible. I'm going to continue to learn the business, the challenges, and the opportunities as I continue to travel to our studios. I'm absorbing the culture and learning what works and what needs to be improved for the future. I'm doing, on average, one webinar every three weeks for our regional developers and our studio owners. These webinars are geared toward sharing ideas and providing education in the attempt to reach common understandings.
Where is the best place to prepare for leadership:
an MBA school or OTJ? I think both are important. I feel my MBA education helped add to what I had already learned and gave me a new set of tools that I would need after I sold my Baskin-Robbins stores and joined RE/MAX in the corporate franchise operation. I feel the transition would have been much more difficult after stepping away from the "office" for the six years I ran my BR stores. My advice to aspiring leaders would be to first get an undergraduate degree, then work in your first "real" job or two. Then go back for the MBA. That timeline really worked for me. However, the experience and benefits will be different for each person.
Are tough decisions best taken by one person? How do you make tough decisions?
Harry Truman once said, "The buck stops here." That's fine on the surface, but I like to collaborate as much as possible, to diagnose problems and not just treat symptoms. Usually the identification of the issues and the options and solutions come from the team. My role is to challenge the assumptions and perhaps apply past experience. After vetting all the options, it's my role to make the final decision.
Do you want to be liked or respected?
I never really liked this question. It reminds me of interviewing for some of my first jobs back in the day. The interviewer would ask, "Are you a thinker or a doer?" I think as the role changes as one goes up the ladder, so to speak, the needs and perspectives change too. One can be liked by everyone on the front line. But it's really hard to continue that type of relationship at different positions. Respect is an absolute necessity in business. Having close, personal relationships is a bonus. I always still try to go for the bonus. I like to get to know the people I work with and serve at a deep, personal level.
Advice to CEO wannabes:
Don't give up, keep learning new skills, and keep networking. I had aspired to earn this opportunity for many years. After 19 years and many promotions at RE/MAX, I had to accept the fact that I wasn't going to be the next president. However, I always treated what I did as if I was and used that mentality to stretch and push myself. I engaged in other activities such as teaching franchising and entrepreneurship and taking franchising classes to further sharpen my skills. I attended the IFA conventions to learn and network. I'm blessed I was given the opportunity at SpeedPro Imaging and hope to make a positive, meaningful impact on the organization.
Management
Describe your management style:
I manage by example. I'm present, I'm engaged, and I'm all-in--always.
What do you think makes up a good management team?
Everyone wants to make a difference. They want to and can work within a team environment, building synergy and demonstrating positive thinking and actions; thinking team first, yet working effectively on one's own.
How does your management team help you lead?
They communicate very well. And when they see challenges to be addressed, they come with solutions. We work cohesively as a single unit as much as possible, all with the same goals. I've been on the job for less than half a year, so the team and I will get to know each other even better. I look forward to the time when we're finishing each other's statements and we can look at each other and read each other's minds. That comfort level with each other allows for frank, open discussion and brainstorming.
Favorite management gurus: Do you read management books?
I really connect with Simon Sinek. He's my hero from a leadership perspective. I like that he's young too. That adds to the difference in how he and I look at business, which I think is very healthy. I mix reading books with reading periodicals, listening to podcasts, and watching inspiring YouTube videos. My favorite magazines are Entrepreneur and Success. I listen to "Freakonomics" and TED podcasts when I run or am waiting for a flight. I always get interesting new ideas from those. Several of the books I read come from listening to TED speakers. For pure entertainment, I listen to the Stuff You Should Know podcasts. Monday through Friday I watch a video series called "Daily Mentoring" by Darren Hardy, who usually has some excellent ideas and tips in a compact two- to six-minute format. Books that have helped me be who I am include Think and Grow Rich by Napoleon Hill, the Steve Jobs biography, a few biographies of Walt Disney, John Wooden's Wooden on Leadership, and Grit by Angela Duckworth. For fun, I've really enjoyed Traffic by Tom Vanderbilt and Ten Men You Meet in the Huddle by former NFL lineman Bill Curry. My new favorite topic of study is behavioral economics, which I was introduced to by the TED podcasts. I really enjoyed the book Predictably Irrational by Dan Ariely.
What makes you say, "Yes, now that's why I do what I do!"?
I love being emotional about business. Good decisions, good actions, good results, and good people--all are worth yelling about.
Operations
Are there any trends in the printing industry that you foresee having an impact on SpeedPro?
Ha! Change is coming. New printers, faster and bigger. New media and materials. New applications and new shapes, perhaps applying print where we haven't before. Perhaps even new regulations and rules that might limit today's printing, yet open opportunities elsewhere. Then there's digital, the e-form of printing, which is always developing. I'm not sure if we're at a stage of increased consolidation, but perhaps so. I could see M&A activity becoming a bigger issue in the future. Finally, being innovative and leveraging new opportunities is critically important to the future. We're engaging our studio owners to help us look at market trends and try to be on the front foot, leading the changes.
Personal
What time do you like to be at your desk?
I like the early mornings, usually before most of the team arrives. I call it "my time," and it truly is my time to work on projects. I feel that the time during the meat of the day is for my team and my customers. I want to be available to their needs. I believe in being a servant leader. I'm primarily here for others. By scheduling my time as I do, I can be there for them.
Exercise in the morning? Wine with lunch?
I love a lunchtime run on a gravel trail or some strength training. This is why I love Colorado so much--there are trails everywhere. Exercise over the lunch hour is my time to recharge and free up my time at home with my wife and son. A drink with lunch, rarely, and certainly not while I'm running!
Do you socialize with your team after work/outside the office?
As much as possible. I always have, ever since my Baskin-Robbins days. Back at BR, we'd have parties at our home including several interesting games that my cast members created. The one I most remember is a team of six would each be given a number. Then someone from another team would shout out a number like 423,453, and the six had to order themselves in a line to show that number in the fastest time possible. It was so much fun seeing the teens crashing into each other to win. At RE/MAX, the team always celebrated big wins, and we were also big on hosting each other in our homes. When new global master franchises came to Denver for training, we'd often have a welcome reception at my home and the team always attended. It was a great way to build relationships. At SpeedPro, I joined a very close and engaged team that found reasons to socialize nearly weekly. It's taken what I've experienced and made it even closer. Whether we take a late Friday afternoon in the office to have a laugh or two, or go tubing down a mountain slope, it's great to continually bond with each other.
Last two books read:
I think I answered this above. But, I will say that I've really enjoyed the recent series on being a CEO on the "Freakonomics" podcasts. They've been educational and entertaining. I'd recommend them to any economists or entrepreneurs.
What technology do you take on the road?
My iPhone 7 Plus and my MacBook Pro. I gave up a tablet about a year ago and don't miss it. I travel with an AT&T hotspot and Bose noise canceling earbuds.
How do you relax/balance life and work?
I have no problem relaxing. I can turn it off, even when I'm responding to emails over the weekend. It's never bothered me as I feel it's necessary to be responsive. If someone in the organization has a need, I want to be able to quickly address it. Nevertheless, I do enjoy my evenings, weekends, and vacations. The adage of "work hard, play hard" is certainly part of my life. Balance really doesn't exist. I agree with Darren Hardy on that after hearing his take on the subject just a week ago. I like business and make it personal so it's fun and energizing. I'm not a big doer on the weekends for personal stuff, but as a family we love to travel and do big trips. We like to focus on the quality of what we do, rather than the quantity.
Favorite vacation destination:
Bermuda. My wife and I were married in Bermuda, and we've taken our son there for our 5-, 10-, and 15-year anniversaries. In fact, on our first date, my wife asked about my favorite place. I answered Bermuda. I'd been there twice before. She cruised there often as a nurse with Royal Caribbean, and after living there one summer between cruise contracts it was hers as well. This year, we're planning a family vacation to Italy--our son's choice.
Favorite occasions to send employees notes:
Anytime. I'll admit that I'm not as consistent as I plan. I seem to send in spurts, recognizing successes and major events for a few months. I'm working on improving on this.
Bottom Line
What are your long-term goals for the company?
Ultimately, I want to build the SpeedPro network into an even higher-performing group of happy franchisees, growing the fastest in same-studio sales in our segment. Profitable franchisees generally make happy franchisees. To do this we need to work well together, focused on the same goals and working cohesively to leverage the right strategies and initiatives. We have plans in place to effectively build future strategic plans together.
How has the economy changed your goals for your company?
I always believe in running a company with the worst headwinds ahead in mind. Don't get sloppy, don't spend needlessly, and stay focused on doing the right things at the right time.
How do you measure success?
It's never done, right? Success is in degrees. Personal fulfillment is most important. I think the best measure of success is seeing it through the eyes of others. I love when my wife, son, and team all succeed. It makes me a proud husband, father, and team leader.
What has been your greatest success?
I'd like to think that I've helped thousands of people have a better life. I've worked with tremendous employees, cast members, team members, partners, and customers, and it's been a great ride. What I'm most proud of is how many of the people I've worked with have achieved amazing things both personally and professionally. It's satisfying to think about all of the people I now have great personal relationships with.
Any regrets?
Never. It's been a great career and a great life. Let's keep rolling.
What can we expect from your company in the next 12 to 18 months?
The two leading expectations are growth and innovation. We'll do both. We'll focus on existing studio sales and performance and look at innovative and new opportunities to give our customers more products and services to choose from.
Published: May 19th, 2018
Share this Feature
Recommended Reading:
Comments:
comments powered by

Disqus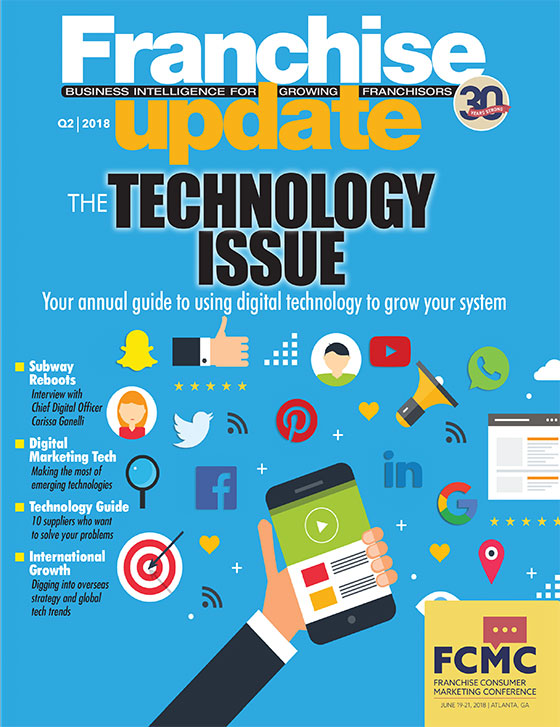 Franchise Update Magazine: Issue 2, 2018
Conferences
InterContinental, Atlanta
OCT 18-20TH, 2023
Our franchise management software helps increase unit growth, reduce opening time, track and improve unit performance, automate financial reporting...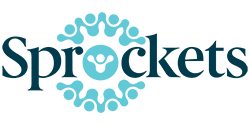 Sprockets is an AI-powered platform that helps franchisees maintain healthy staffing levels and improve employee retention. Our sophisticated...