Driving Profitability: Multi-Unit Franchisees Bring Spirit Of Optimism to Las Vegas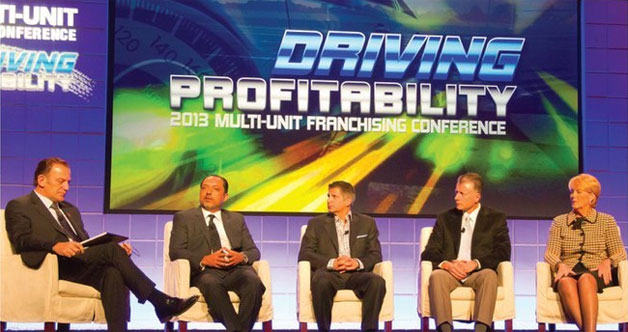 Resiliency and optimism permeated the air at this year's Multi-Unit Franchising Conference, held at Caesars Palace in Las Vegas March 27-29. In tune with this year's theme--Driving Profitability--these individuals are not only driven, they believe the best is still ahead.
In her opening remarks on Wednesday morning, Franchise Update CEO Therese Thilgen welcomed attendees, saying, "Multi-unit franchisees continue to evolve by facing reality. They're a resilient group that succeeds because optimism is part of their nature."
That set the tone for the next two-and-a-half days, which were filled with high-octane panels and educational presentations and participative sessions--along with hours of networking possibilities.
Once again, the event set several new records. More than 1,200 attendees flocked to Vegas for the event, more than 450 of them franchisees. Thilgen noted that three quarters of the franchisees in attendance said they were looking for additional brands. The sold-out Expo Hall, featuring a record 200 booths, provided plenty of opportunity of all kinds, as well as suppliers offering solutions for problems ranging from social media and mobile to accounting and financial services.
Thilgen was followed by 2013 Conference Chair Sean Falk, a multi-unit franchisee with four different food brands. Recalling his years as a U.S. Marine, Falk cited the force's motto "Semper fidelis" (Always faithful) to encourage his fellow multi-unit operators to choose a brand and believe in it. He also noted some potential threats looming for franchising: the Affordable Care Act, a minimum wage hike, and the increasing cost of fuel and commodities. "As small-business owners, we have no idea how we're going to be taxed in 9 months, much less 5 years," he said. "All these challenges cannot be met by raising prices." He encouraged the audience "to be more efficient, find vendors who can do things better and more efficiently than we can." And he continued to urge franchisors to develop programs to help their successful franchisees manage more units.
For the past decade, the conference has supported the Little Rock Foundation, which is dedicated to improving the lives of the blind and visually impaired from early childhood through adulthood--offered something new this year.
Gary Gardner, chair of Franchise Update Media Group, took the stage to introduce Franchising Cares, a new franchise charitable giving initiative. As chair, Falk was encouraged to name a charitable organization to add as a beneficiary of this year's fundraising efforts. He chose the Semper Fi Fund, which provides financial assistance to wounded Marines and their families as they recover.
Gardner reported that the previous day's charity golf tournament raised almost $5,000. The conference also featured its regular Silent Auction, with about $50,000 of donated items this year. And Thursday night's Chairman's Dinner raised an additional $15,000, boosting total charitable donations at the conference to about $65,000.
Day 1: Annnnd they're off!
Wednesday morning's general session kicked off with a keynote from Hollywood and sports mogul Peter Guber. The former studio chief at Columbia Pictures and co-chair of Casablanca Records today heads up Mandalay Entertainment. The fast-paced talk by the New York Times number-one best-selling author ("Tell To Win") focused on the importance of "reaching your customers' hearts," and he spoke like a man who has learned how to do just that. He gave the crowd several tips for identifying what their customers are looking for--and how to give it to them.
"Success is the ability to go from failure to failure without losing your enthusiasm," he said. Speaking of his own many failures, he said "Success and failure are handmaidens on the journey." To illustrate, he told a story about Michael Jordan, one of the greatest basketball players ever, emphasizing the fact that Jordan missed 26 game-winning shots--among the 9,000 he missed--in his career.
The "secret sauce of success," he told the room, is "your innate ability to move other people to action." And while each person has a different call to action, the most effective way he's found to reach people is through the power of narrative.
"I'm a storyteller--that's the secret sauce," said Guber, 71, a lesson he learned only in what he described as "the third act" of his life. We're all emotional creatures, he said, and a good story has the power to "emotionalize" the audience you're trying to reach, whether in movies, sports, or franchising. "You want people to feel it," he said. "That's the way we're wired. Hits are born in the heart--not the head, and not the wallet."
Guber, who is involved in the food business at his sports arenas as co-owner of the Golden State Warriors and Los Angeles Dodgers, had some relevant advice for the attendees. Answering his own question about how he sells out games at his arenas, he said, "It's not the food, it's the experience," he said. He has the players meet the fans when they come in, and he focuses on perfecting each moment of a customer's visit. "At a restaurant, every detail counts; the total experience counts," he said, adding that for Wolfgang Puck, every night is opening night.
Guber also cautioned against over-reliance on digital technology--something he knows plenty about as a movie industry executive and producer. "You have to move people to action, and digital technology will not do it. Don't surrender your humanness to digital technology. You will lose over time."
Next on the agenda was an in-depth session on the Affordable Care Act. Panelists included Jeff Lungren, director of congressional and public affairs for the U.S. Chamber of Commerce; Christy Williams, COO of the National Association Management Group; and Mike Kahley, senior vice president of the Lockton Companies, which provides insurance, benefits, and risk management services. The panelists explained various aspects of the law as it stands today, how and when it will be implemented, the upsides and downsides of different responses to the "play or pay" option, and the effects the act will have on franchisees, depending on how the regulations are eventually written.
The panel also included David Barr, chair of PMTD Restaurants, which operates 23 restaurants. He presented different scenarios he's been exploring for his 412 employees (109 full-time, 303 part-time). In one scenario, the act's regulations would have cost him $750,000 annually. After studying different scenarios, he managed to reduce his initial estimates of what the act would cost him from $750,000 to $444,000; and in an ideal scenario, where employees don't sign up because they went on their spouse's plan, that cost could come down to $136,000. He said that in any scenario that came in at less than $200,000, it was worth it for him to play, instead of pay the penalties. He did express concern about the effects of employee cutbacks on the quality of service at his restaurants, and how that must be balanced against the purely monetary aspects of any decision. "Reducing FTEs has to be completed with one eye toward customer service," he said.
After that session, filled with dense, detailed charts and diagrams explaining the rules, current options for franchisees, and seemingly endless ways to work the numbers in an uncertain environment (implementation is still in the works), the morning's general session broke p into two separate luncheons, one for franchisees and one for franchisors and suppliers.
Franchisees gathered to continue networking with peers and enjoy a fast-paced, humorous magic show by motivational speaker, magician, and former NFL player Jon Dorenbos, who was a long snapper for the Philadelphia Eagles and a 2010 Pro Bowl selection. After that, the panelists from the healthcare discussion fielded questions from the audience.
In a separate room, the franchisor luncheon focused on lead generation, recruitment, and qualification. Facilitated by Lane Fisher, partner at franchise law firm FisherZucker, the panel consisted of Steve Dunn, vice president of global development at Denny's; Pete Lindsey, vice president of franchising at Sport Clips; Dan Collins, senior vice president of brand development at East Coast Wings & Grill; Greg Tanner, national director of franchise sales at Aaron's; and Scott Mellon, vice president of franchise sales at Papa Murphy's (see "What's Your Development Speed?").
The discussion included topics such as the ideal franchise candidate, profiling tools, the award process, recruitment budgets, conversion rates, cost per sale, and the importance of adapting all of those into a strategic development plan--and sticking to it. Tanner won the panel's "best quip" honors with his response to a question on how to create a recruitment budget. "Setting a budget is like carving Jell-O," he said.
Day 1, Wednesday afternoon
Wednesday afternoon saw the launch of educational breakout sessions. A unique twist this year featured a group of heavy-hitting multi-unit franchisees on stage discussing hot topics as the audience listened in. Multi-unit operator Aziz Hashim (Popeyes, Domino's, Checkers/Rally's, and PetValu) facilitated the session, which delved into topics as diverse as employee retention, upselling customers, and maintaining brand culture during growth, to closing units and working more closely with franchisors.
The "Growing to 10 Units" breakout session, facilitated by Sean Falk, featured Randy Allen, CFO at the Morelock-Ross Group of Companies; Dan Burrell, an area director for Jersey Mike's; Gary Avants, a Zaxby's franchisee, and Karim Khoja, a Dunkin' Donuts and Baskin-Robbins franchisee. In this wide-ranging, fast-paced 75-minutes panel, they discussed the pros and cons of outsourcing, maintenance and repair, insurance, the value of constantly interviewing for new talent, real estate and leases, lending relationships, and how to manage the complexity that comes with growth.
Other afternoon sessions included "Creating Infrastructure To Support 20-30 Units," "Building Customer Loyalty and Profits," "Franchisee Exit Strategies and Succession Planning," and "Show Me the Money: Franchise Finance Pitch Session," featuring a panel of franchise lenders.
The Expo Hall officially opened on Wednesday afternoon, providing a venue for attendees to gather several times during the conference, attracted by suppliers offering solutions for both franchisors and franchisees--as well as by ample food and drink. Suppliers and franchise brands in the 200 booths rubbed elbows with franchisees, pitching their wares and answering questions. The Expo Hall was a sold-out success, the largest ever for the annual conference.
Thursday, Day 2
A continental breakfast began the day, followed by a general session and more details about the new "Franchising Cares" initiative. Conference Chair Sean Falk introduced Laura Castelvi, senior manager for community outreach at the Semper Fi Fund, who provided more details about the organization. Since its establishment in 2004, Semper Fi has issued more than 56,000 grants totaling more than $74 million to more than 9,300 injured Marines and their families.
NFL kicker and four-time Pro Bowler David Akers took the stage and encouraged the audience to "get outside of yourself." He said this was possible by giving "money, time, resources, and passion." Akers, who has scored more points than anyone in the NFL since 2000 (although he had a terrible 2012), said he'd planned to be a teacher before finding his way to an NFL career. His interest in helping children led him to establish the David Akers Kicks for Kids organization in 2001. Soft-spoken, and not nearly as big as most expected for an NFL player, Akers urged the audience to "invest in someone." He's adopted three children overseas, and said people don't have to change the world, "but you can change one person's world."
Next up was franchise economist Darrell Johnson, CEO of FRANdata, who delivered his assessment of the state of the current economy and how it is affecting consumers and business owners. "There's still consumer debt, recovery takes time," he said. Despite the persistence of consumer debt, a slow housing market, and weak consumer confidence, he said the economy is improving "slowly and fitfully." Addressing the paralysis in Congress, he made what he called a "bold prediction" that Congress will strike a grand bargain this year on the economy. Citing Winston Churchill's observation that the U.S. will do the right thing--only after exhausting all other possibilities--he added that if the Congress acts decisively, consumer confidence will improve in the coming year. If not, he cautioned, 18 to 36 months of further uncertainty are in store.
The outlook for franchise lending is good he said--as long as franchisees are top performers or associated with top-performing brands. He noted that with many private equity funds nearing the end of their run, transfers and M&A activity will increase, providing plentiful opportunities for larger multi-unit organizations to acquire units from smaller (1-3 unit) franchisees. In summary he said, "It's a period of slow growth, but the economy is improving."
That was followed by the announcement of Multi-Unit Franchisee magazine's 2013 MVP Award winners.
Most dramatic presentation
Thursday morning's general session saved the most dramatic and moving for last as Mark Kelly, former astronaut and Navy pilot, and husband of former U.S. Congress member Gabrielle Giffords, took the stage for an inspiring keynote speech. He told tales of his aerial combat and space missions with a behind-the-scenes look at what happened--and what could have happened. He called every successful launch of the Space Shuttle (he went up four times) as a "minor miracle," and said that at takeoff the Shuttle "is like a butterfly bolted to a bullet." At takeoff, the Shuttle accelerated from zero to 17,500 mph, creating tremendous g-force stresses. Re-entry is no picnic either: temperatures reach 5,000 degrees and astronauts must wear a liquid cooling suit to survive. In between, though, up in orbit, he said, "It's amazing to see this big blue marble floating in the black."
Kelly also shared the heroic story of his wife Gabby, who was shot in the head at a political rally in her home district near Tucson in 2011. Kelly said Giffords--who at 26 was CEO of El Campo Tire Warehouses, a 15-unit automotive chain founded by her grandfather--has been strong and determined throughout the ordeal, and he spoke of her bravery in facing what appears to be a lifetime of rehabilitation. Kelly said that every morning as his wife heads out the door to rehab, she looks at him and says "Fight, fight, fight." He said her attitude remains a daily inspiration to him. "The power of the human spirit is an incredible thing. She reminds me every day to deny the acceptance of failure."
At the conclusion of the general session, franchisees gathered roundtable discussions, each with a different topic and hosted by a subject expert. This format, offering something for everyone, allows small groups of people to discuss specific strategies, tactics, problems, and solutions. Topics included technology, customer retention, new store openings, and a perennial challenge: finding and keeping great employees.
Attendees then moved on to lunch and more networking in the Expo Hall.
After lunch, attendees gathered for the final general session of the conference, featuring a panel led by multi-unit franchisee Aziz Hashim, who queried two successful multi-unit franchisees (Rob Branca, Dunkin' Donuts and Gary Robins, Supercuts) and two brand executives (Kathleen Gilmartin, CEO of Interim HealthCare and Jim Lyons, COO of Quiznos) about private equity funding and its role in franchising. The conversation ran the gamut from the pros and cons of PE money to due diligence and contracts. "Due diligence should go beyond just the financial side of things to include really understanding the franchise brand," said Hashim. That includes the brand's culture--something panelists agreed most PE firms don't do sufficiently.
Two rounds of breakout sessions filled the rest of the afternoon. Sessions covered timely topics such as cost control, negotiating leases, adding brands, local store marketing, and unit profitability. The session on driving profitability by controlling costs delved into how franchisees can maximize their strengths and save time by automating processes for sorting, managing, and paying bills, for example. Elsewhere, seasoned franchisees talked about avoiding and dealing with lease negotiation pitfalls. Franchisees Gary Grace (Supercuts) and Laurel Wilkerson (Marco's Pizza) shared firsthand stories of how they deal with landlords, fixed renewal rates, personal guarantees, and more.
Attendees had one final chance to visit with the exhibitors on Thursday evening. Judging from the crowds, the level of activity, and the buzz in the room, franchisees and exhibitors alike appeared pleased with how business had gone inside the Expo Hall during the week.
Day 3, the checkered flag
As the conference drew to a close Friday morning, Russ Umphenour led a closing session entitled "Great Brands + Great Franchise Partners = Franchise Partner Profitability." Umphenour, who once operated 775 Arby's, today is CEO of Focus Brands. His long and successful history in franchising provided him with many personal examples of success and failure he used to illustrate his points. Umphenour spoke about the importance of setting and achieving goals, and how franchise brands and their franchisees are partners and should be working together to create great brands. "Always do what's best for the brand," he advised. "This benefits all." It was the perfect finale to a fantastic week.

Driving profitability requires a steady hand and a foot on the accelerator. Those who succeed in franchising do so through dedication, hard work, smarts, and being in the right place at the right time. That's just the kind of franchisee who attends the annual Multi-Unit Franchising Conference. Based on the buzz, the talk of deals in the making, operating tips, and record attendance, these franchisees are passing the checkered flag as winners

.

Find out more about this year's event online at www.multiunitfranchisingconference.com and watch for details of next year's conference to be announced soon.
---
MVP Awards Honor Franchisees
Each year, Multi-Unit Franchisee magazine honors a select group of franchisees who have demonstrated outstanding performance in building their businesses, growing their brands, and serving their communities. This year's MVP winners were selected in seven distinct categories and presented during one of the general sessions.
"We congratulate these seven dedicated and outstanding franchisees," said Therese Thilgen, CEO of Franchise Update Media Group. "These are the kinds of business operators who inspire others with their vision, leadership, and success."
The 2013 winners are:
Noble Cause Award: William Ray Bruce, COO at Abundant Brands; franchisee of Subway, Costa Vida, Roxberry Juice, and Big Al's BBQ;
Noble Cause Award (Hurricane Sandy): Steve Baliva, partner at Metz Culinary; franchisee of T.G.I. Friday's, Ruth's Chris Steak House, and Wolfgang Puck Express;
 Influencer Award: Samantha Goldsmith, founder of Goldsmith Companies; franchisee of Red Mango;
Innovation Award: Joe Hertzman, founder of the Radcliff Group; franchisee of Rally's;
 American Dream Award: Guillermo Perales, founder of Sun Holdings; franchisee of Burger King, Popeyes, Arby's Golden Corral, and CiCi's;
Role Model Award: Spencer Smith, founder of the Smith Group; franchisee of Aaron's, Rimco, and Big O Tires;
Spirit of Franchising Leadership Award: Danny Sonenshine, founder of Far West Restaurant Group; franchisee of Wingstop; and
Veteran Entrepreneurship Award: Kevin and Laurel Wilkerson, franchisees of Marco's Pizza.
---
Conference by the Numbers
Franchisees, franchisors, and suppliers from across the U.S. and Canada gathered in Las Vegas for Franchise Update's 12th annual Multi-Unit Franchising Conference. The event continues to grow each year, setting new attendance records. This year, more than 450 franchisees representing 333 franchise organizations attended--50 more than in 2012.
A quick rundown of the aggregated statistics from the 450-plus franchisees who attended shows the following impressive figures:
9,400+ operating units
180,000+ employees
$7.5+ billion in annual system-wide revenues
200+ brands in all business categories
 38% have 2 or more brands
47% operate in 2 or more states encompassing more than 40 U.S. states and Canada
 70% are seeking additional brands
 50 companies came seeking specific brands
Published: May 29th, 2013
Share this Feature
Recommended Reading:
Comments:
comments powered by

Disqus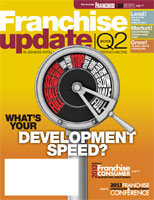 Franchise Update Magazine: Issue 2, 2013
Conferences
InterContinental, Atlanta
OCT 18-20TH, 2023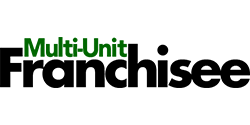 Published quarterly, Multi-Unit Franchisee Magazine is dedicated exclusively to Multi-Unit Franchisees. It delivers vital information and business...
Prisma has reinvented the marketing supply chain with an end-to-end solution that makes it easy to design, customize, order, download, print, kit,...