Eco-Pizza Pioneers:
Pizza Fusion, a growing chain of organic pizza restaurants, was born from three passions shared by co-founders Vaughan Lazar and Michael Gordon: food, healthy eating, and the environment.

As they take their vision global, Vaughan, president, and Lazar, COO, are finding a ready audience of both consumers and franchisees in the niche they staked out when these college buddies started the business in July 2006: "Pioneering the organic and environmental restaurant movement as the most eco-friendly restaurant in America."

Pizza Fusion began franchising in 2007 and now has 22 restaurants open, with more than 75 additional franchise commitments in 15 states. The development schedule calls for 28 to 30 units by year-end and 250 in 5 years.

The young brand has attracted some heavy hitters to its Fort Lauderdale offices. CEO Mark Begelman co-founded Office Club in 1986. After taking it public in 1989, he merged with Office Depot, where he was president and COO from 1991 to 1995. During that time the chain expanded from 127 to 460 stores and revenues rose from $900 million to $4.5 billion.

Randy Romano, executive vice president of franchise development, started American College Planning Service, which began franchising in 1986, and in 2000 played a key role in the launch of EmbroidMe (part of United Franchise Group), which today has 450 retail outlets in 12 countries.

Romano saw potential early, in August 2006, when he strolled into the original store in Deerfield Beach, Fla. "I went in, tasted the pizza, saw what they were doing, and my franchising antenna went up," he says. "I saw a niche in the market not being served."

Begelman, who hired on as CEO last October, was a managing director at a private equity firm. A partner who was a huge fan of the restaurant approached Gordon and Lazar and asked if they needed growth capital. "Then he asked me if I had any interest. I'm an entrepreneur at heart, and the opportunity to get involved with these guys was exciting," he says.
Recipe for success
Pizza Fusion specializes in fresh, all-natural, and organic gourmet pizza, focaccia sandwiches, salads, and desserts, and drinks that include organic beer and wine. The price difference between organic and nonorganic food is shrinking, says Begelman. At Pizza Fusion, he says, an 18-inch pizza costs $12, and the average ticket is a little over $26.50 for a meal that feeds two to three. "Affordability is coming to the organic market," he says.

So is eco-friendliness, where Pizza Fusion is leading the way. The chain's eco-efficient restaurants are powered by 100% renewable wind energy, water is heated from the pizza ovens, counters are made from recycled glass bottles, floors from bamboo, and the walls are insulated with recycled blue jeans. Delivery vehicles are Toyota Priuses and Camry hybrids.

This past March, the company was awarded Gold and Silver certifications by the U.S. Green Building Council for its first two restaurants built to LEED (Leadership in Energy and Environmental Design) specifications, making Pizza Fusion the world's first LEED-certified pizzeria.

"It costs green to be green," Begelman acknowledges. "You're still laying out more capital up front, but at the end of the day it doesn't cost all that much more to be green." He estimates it costs 10 to 15 percent more to build out a green store, and that the payback is a little shy of a typical first-round lease, with payback in the next round.

"Our franchisees understand the culture when they walk through the door," he says. "If you're not prepared to print your menu on recycled paper with soy ink, don't sign up."

Organic food and LEED-certified stores are all part of an organic vision as Pizza Fusion brings its message--and its pizzas--to a world they say is hungry for the changes they offer. As the economic slowdown in the U.S. drags on, Pizza Fusion is looking overseas. In late March, the company announced a master franchise development agreement in Saudi Arabia. The first restaurant is set to open in Jeddah in late June. Additional locations are planned for Jeddah, Riyadh City, and Kingdom-wide. "We've seen a lot of interest in other countries," says Begelman, including the U.K.

In the U.S., Pizza Fusion is looking for seasoned multi-unit operators who want to add 5 to 10 stores to their portfolio. "We can train the trainer a lot easier than 20 different franchisees," says Begelman.

"We see sales on a daily basis by store, and they're as good as anybody in the industry, if not better," says Romano. "If we can do this kind of business in this economy," he says that in a robust economy it can only be better.

"We're off to a good start," says Begelman. "We're getting a lot of prospective franchisees attracted to a green business. Couple that with an industry that's debatably the number one or number two fast food in the world," he says, and the green will come around for franchisor and franchisees alike.
Published: June 8th, 2009
Share this Feature
Recommended Reading:
Comments:
comments powered by

Disqus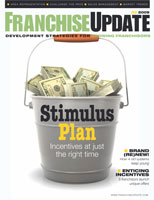 Franchise Update Magazine: Issue 2, 2009
UMI has over 23 years of experience supporting fast-growing multi-unit brands. From strategic planning to design, execution to analysis, UMI...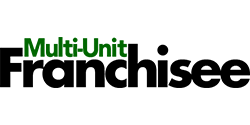 Published quarterly, Multi-Unit Franchisee Magazine is dedicated exclusively to Multi-Unit Franchisees. It delivers vital information and business...