Enjoying Success: Working Hard - and Enjoying It - Spells Success for Mike Treadwell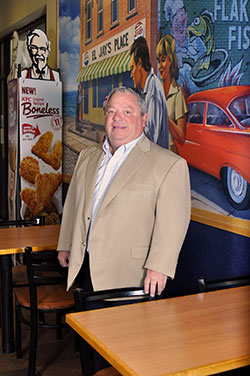 Growing up on a farm in the Texas panhandle, Mike Treadwell was looking for a way to stretch his entrepreneurial wings. He thought of opening a restaurant. His first was Alfie's Fish 'n Chips in Amarillo, next came Mike's Fried Chicken & Fish.
But an eye-opening moment came one day when a friend who operated a nearby taco stand came over and asked Treadwell about his food and labor costs. "I said, 'Heck, I don't know. I've got money in the bank so I guess I'm doing okay.' He said, 'Oh Mike, you've got to know your food and labor costs if you're going to be in this long term,'" Treadwell recalls. "I thought at the time that I wasn't smart enough to do this."
Deciding he need to educate himself about the food and franchising business, he sold both of his restaurants and moved to Little Rock to manage a KFC restaurant for a franchisee.
That franchisee sold out to a bigger franchisee, Scott's Foods, and Treadwell went along as director of operations. When Scott's sold out to PepsiCo, he stayed again, as operations director. After spending time as a division training leader in Dallas for KFC Corp., he was given an opportunity to work for Restaurant Systems in Springfield, Mo., which had started building KFC restaurants there.
"The only way I'd go, I told them, was if they gave me a chance at sweat equity, and they agreed," Treadwell says. After opening 18 KFCs across Texas, he became president of the company and a full partner with the owner. When his partner decided to retire, they sold off 18 stores and Treadwell used his share to buy him out. Treadwell was left with about 3 dozen restaurants, and in the late 1990s formed Treadwell Enterprises, which today has nearly 100 restaurants encompassing five brands across eight states.
If all that sounds like hard work, it was, Treadwell says, but there's more to it for him than the bottom line. "I get up every day excited about what I'm going to do today to improve the business or different restaurants. I get a kick out of it. If I'd done it just for the money, I'd have been bored long ago. I do it for the fun. I love what I do and I have a great team," he says.
Treadwell, still going strong at 65, says his favorite thing to do outside the office is to take exotic fishing trips on the Amazon River, and offers his own "formula" for building a successful multi-unit business. "I've always thought that the trick to this business is to have three restaurants. After you've done your homework, you can make a living from one, grow from the second, and do remodels and new equipment purchases out of the third," he says. "But you've got to enjoy it or it won't be successful."
Name: Mike Treadwell
Title: Owner & CEO
Company: Treadwell Enterprises
No. of units by brand: 75 KFCs, 13 KFC/Taco Bells, 2 KFC/Long John Silver's, 2 Ruby Tuesdays, 2 HuHot Mongolian Grills
Age: 65
Family: Married to Marla, 2 daughters and 3 grandsons
Years in franchising: 25
Years in current position: 11
Published: March 5th, 2014
Share this Feature
Recommended Reading:
Comments:
comments powered by

Disqus
Shakeaway is a unique global company with stores popping up all over the world! Get involved in this fun, fast growing and profitable franchise now...
Invest in healthy food with healthy economics. We are the next generation of the bakery café concept making nourishing, delicious,...