Expansion Analysis: Sales Are Only Half The Answer
Growth: the all-American measure of success. But what kind of growth? And how do you measure growth in relation to success? For too many businesses, intelligent and well-intended owners settle for sales volume alone as the primary indicator of achievement.
Don't get me wrong, sales are important. I'm not trying to appear un-American or anything, but my premise here is that often growth--or expansion--occurs without an effective analysis or understanding of the underlying costs.
For most businesses, growth means expanding existing facilities or opening additional outlets. However, expansion costs money and the analysis has two aspects: financial and marketing. Financial answers the question: "What do we need?" Marketing answers the question: "What will we get?"
Here's an example from the folks who are best at this: the Golden Arches. Do they know their costs? Down to the last McCrumb. Suppose they are looking at a new location. By knowing accurately their fixed and variable costs, they can calculate a break-even sales volume level. Where do they find this accurate cost information for the new store? They have thousands of existing outlets to use as models, so by knowing how much they need to invest and their target ROI they can calculate the required profit. Then, considering the target profit as "fixed"--the cost of money--they can easily calculate the required sales to cover the costs and supply the necessary profits. Okay, halfway there.
Simultaneously, the marketing folks are conducting a demographic survey, researching and analyzing the target market area. By projecting most likely customer volume and knowing the average customer spend they can accurately predict sales ("What will we get?"). Now it's complete.
Next, the marketing and finance people meet and put the puzzle together. If what you will get is greater than what you need, it's a "go." The other way around, and it's a "no-go." I leave it to you to assess how often they're right. However, I make the following observation: such an analysis is not possible unless you know your costs.
Several years ago, one of my clients came to me ready to expand. He had four stores and was opening a fifth. Naturally, I asked him: "What are your fixed costs?" His answer: "I don't have the foggiest idea. How can I find out?" My suggestion, of course, was to look at his other four stores. He told me annual fixed costs were $220,000. Knowing this client, I applied Murphy's Law and arrived at a figure of $250,000.
Next, I asked him what his variable cost percentage was. Same answer. Naturally, you find the variable cost percentage the same way. He told me his variable costs were 60 percent of sales.
Now all I needed to know was how much he would need to invest and his required ROI. He planned to invest $1 million and his required ROI was 20 percent. Therefore, of course, he needed to make $200,000 per year. I've diagramed the financial analysis: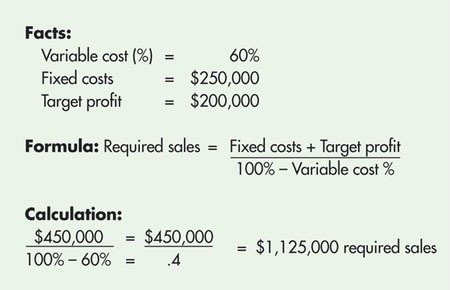 What this says in words is: With a variable cost percentage of 60 percent, my client must achieve sales of $1,125,000 to cover fixed costs and produce the target profit. His comment to me: "That sounds okay, but can I do it?"
My answer: "How should I know? I'm just a finance guy!" To do the other half of the analysis (the marketing part) required additional effort. So I dispatched myself to the small town he'd targeted for expansion and reviewed the market. My competitor analysis is outlined as follows: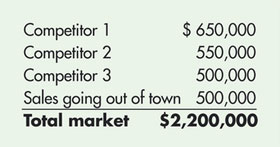 As I saw it, my client needed a 50 percent market share. What's the likelihood of getting that in a small market where he's unknown and all three competitors are both known and well-established? About the same as the proverbial snowball!
Do it yourself
Who can use this expansion analysis process? Anyone--and for any kind of growth, be it expanding existing facilities or opening new ones. A sales analysis is only half the story. An accurate knowledge of your costs and how they behave is really "the rest of the story." Further, expansion is not the only story. The analysis works just as well in the decision to sell locations--"degrowth," you might say.
Admittedly, the process isn't perfect, and the risks are several: only doing half the analysis, being wrong anyway, and not evaluating whether the growth is accomplished at the expense of increasing levels of debt. Nevertheless, the process is better than proceeding blindly. Indeed, sometimes it's most useful in predicting what won't work, rather than what will. Always keep this in mind: sales alone are not an adequate predictor; don't go after volume for volume's sake.
My client's decision? "Well," he said, "I'll admit that the sales volume and market share projections make this look pretty risky, but I'm not worried… because I can borrow all the money!" My response? I offered him a huge discount for immediate cash payment of our bill.
Steve LeFever is chair of Business Resource Services (BRS), where he guides business networks from "Profit Mystery" to "Profit Mastery." For more than 10 years, franchisors and franchisees have improved their financial performance by following the BRS Profit Mastery process: financial training, performance benchmarking, and accountability/bankability modeling. Contact BRS at 800-488-3520 x14 or lefever@brs-seattle.com.
Published: August 5th, 2011
Share this Feature
Recommended Reading:
Comments:
comments powered by

Disqus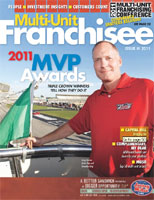 Multi-Unit Franchisee Magazine: Issue 3, 2011
The Walk-On's Sports Bistreaux delivers authentic Louisiana flavors and a winning guest experience for friends and families alike. With a commitment...
Cash Required:
$500,000
Minuteman Press is the world's largest & number 1 rated printing & marketing franchise. Our business model features multiple revenue streams,...
Cash Required:
$30,000