Flight Path: Air Force Couple Splits Time Between Flying and Operating Mosquito Joe Franchise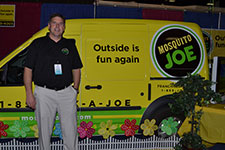 Jeff Deiters, 50, is a Chicago-native who has been flying planes for as long as he can remember and spends a bulk of his time up in the sky. He and his wife, Annette, met at the Air Force Academy in Colorado Springs, CO, and are both veterans. After 22 years of flying for the United States Air Force out of Andrews Air Force base in Maryland - including flying Air Force One and many senator and cabinet members - Jeff is now a corporate pilot, flying for brands such as Under Armour and Choice Hotels. Annette flies Boeing 767s internationally out of Washington-Dulles airport for United Airlines.
While the couple still flies extensively, they wanted to fill their time on the ground with a supplemental business opportunity and started exploring new ventures for ownership. Jeff was introduced to Mosquito Joe by his fellow pilot friend and Mosquito Joe franchisee, Kurt Godwin. Jeff immediately gravitated toward the concept, as it was not only a good business model, but also provided massive benefits to his community.
The couple purchased the Fredericksburg and Stafford territory, which they own and operate while remaining full-time pilots by trade. The territory is extensive which makes for a challenge but they are excited for the challenges that lie ahead. Jeff jokes his office of eight employees is like a small air force squadron and he enjoys the aspect of meeting people, going out on jobs, and seeing the brand grow and develop in the area.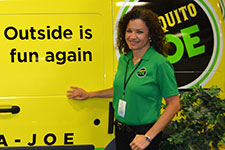 Name: Jeffery and Annette Deiters
Title: Mosquito Joe Franchisees
Company: Mosquito Joe
No. of units by brand: 3 Units - Mosquito Joe of Fredericksburg (Fredericksburg, Spotsylvania, and Stafford Virginia)
Age: Jeff - 51 years old. Annette - 51 years old.
Family: Three kids: Alyssa, Danielle, Matthew.
Years in franchising: Founded last year in 2013, we had 5 employees plus owners. In 2014, we added 3 more employees.
Years in current position: A season and a half.

Formative influences/events:
Jeff retired from the Air Force in 2006 as a Lt. Col. after 21 years of service. Annette spent 7 years in the Air Force and left as a Captain in 1992. Both are 1985 Air Force Academy graduates, and flew C-141 transport jets at Charleston AFB SC until 1992. Jeff went on to fly VIP transport at Andrews AFB, and also C-141s again at Andrews AFB, which is outside Washington DC. We are both veterans of the Operation Desert Shield/Desert Storm, and Jeff is also a veteran of the Persian Gulf Conflict.

Key accomplishments:
Our fondest memory of the Air Force was in 1989 when we both were promoted to Aircraft Commander on the C-141, after our first mission flying together as husband and wife.

How do you spend a typical day?
Our typical day starts at 7:00 am getting the vans ready and making sure the technicians are briefed on their routes and customers and sent on their way by 8:00 am. We then answer any missed calls and emails since the evening before. Our operations manager starts early also and answers the phone and schedules new customers. In the evening, we collaborate on the next day's routes and coordinate with our technicians.

What's your passion in business?
A friend of ours once told us that you should only get into a business that you are passionate about. In the long run, we believe that having a personal interest in your business concept is extremely important in being successful. It motivates you, excites you, and your customers will notice that. This is an up-and-coming industry that we take pleasure in as a customer and as the owners. It is a "quality of life service" that we will appreciate for many years, as we hope our customers do as well.

How do you balance life and work?
The transition from military to civilian life, and eventually owning our own business was seamless. We were fortunate enough to take our military training and experience as pilots into the civilian workforce. Annette still flies for United Airlines and Jeff is a corporate pilot. Many civilian companies consider military experience as a major asset when looking to hire employees and the aviation field is a good example. For years, we had been looking for franchise opportunities that appealed to us. We had very limited business experience and franchising made the most sense for us. The Mosquito Joe franchise was a perfect fit. When we heard about the incredible effectiveness of Mosquito Joe from a friend, we immediately looked into it. We honestly had no idea that this type of service, one that can mosquito and tick proof your entire yard, was even available. We have a medium sized back yard and use it every day. Our kids and dog play back there and we enjoy hosting parties, barbequing, and relaxing on our back deck. To do that without having to worry about bugs really interested us.

Business philosophy:
Our primary customers are mirror images of ourselves - families that love the outdoors, and spend a lot of time in their yards. Whether they are grilling out, gardening, playing with their kids or dogs, or just relaxing with friends on the back deck, our service "makes outside fun again."

Management method or style:
The training, personal attributes, and experiences you develop in the military are all assets in the civilian business world, especially when franchising. If you consider the U.S. Military as the world's largest service industry, owning a service-based business has a lot in common with it.  In the military, you deal with superiors, peers, subordinates, and your customers are your users.  The dedication, people skills, and work ethic that the military instills in you, directly relate to the civilian world as you deal with customers, corporate headquarters, and employees.  The mission and your user's needs are now civilian customer service, which is the key to success in any service-based franchise.

Greatest challenge:
The most interesting and surprising aspect of our Mosquito Joe service is that most people don't really know yet that this type of service exists and is extremely effective. I know I didn't until just last year.

What are the two most important things you rely on from your franchisor?
For me, the Mosquito Joe corporate team helped me set up all aspects of my business. Their training, financial advice, logistics, marketing strategies, and constant availability to answer questions and help out, were paramount in the successful launching of our Mosquito Joe business. They also provide marketing plans and critical IT equipment and software, and support each franchisee throughout the year to make owning one of their franchises a turn-key operation. That is what a good franchise will do for you.  From there you learn, improve, and develop your own style of business ownership. It's very rewarding.

How is social media affecting your business?
Many economic and social conditions affect our business. Social media has opened up new and efficient ways to market and a growing economy has provided a boost to consumer confidence.

Growth meter: How do you measure your growth?
We have already surpassed our goals for 2014 in revenue and customer count and hope to add 2 new territories next year in Northern Virginia.

Vision meter: Where do you want to be in 5 years? 10 years?
Our vision is to manage 4 territories total and continuously grow them throughout

the next 5 to 10 years.

Is capital getting easier to access? Why/why not?
Capital to use for investment is easier to receive now that we have proven to be a profitable venture after just a season and a half.

What are you doing to take care of your employees?
Trustworthy, knowledgeable, hard-working, and personable employees are the key to success in any business, but in this industry where they are the ones who meet and interact with the customers, they are imperative. We have been lucky to hire experienced and well-rounded technicians. In a seasonal business, it's sometimes difficult to keep those types of employees because they are sought after.

How do you reward/recognize top-performing employees?
We offer bonuses if they return the next season, and flexible schedules so they can earn money outside of Mosquito Joe.

Published: September 17th, 2014
Share this Feature
Recommended Reading:
Comments:
comments powered by

Disqus
Join the World's Largest Hot Dog Chain. As a successful and iconic franchise of over 60-years, we OWN the hot dog category and want to share...
Cash Required:
$250,000
With many attractive development territories available for multi-unit growth, there has never been a better time to become a Penn Station franchisee.
Cash Required:
$300,000