Four developments to watch
This issue's Tech Talk takes a look into four ways franchise companies are using technology to improve their business:

integrating digital surveillance with POS systems;
contactless retailing;
protecting the brand in the online era; and
using an online service to track promotions and referrals.
Digital surveillance-plus
Surveillance conjures images of cameras sweeping a room, and endless tapes that can be reviewed. But that stereotype is quickly changing. DTT, a provider and manufacturer of digital surveillance products for the restaurant and hospitality industries, has integrated video into other interesting data sources.

"The POS machine is the starting point," says Sam Naficy, CEO of DTT. "Historically, a lot of data is gathered from that machine. We now have integrated that with video, so not only can you search that data, you can also match it to the surveillance data."

The company's largest client is Subway, says Naficy. DTT sold its 1,000th Subway location in 2006. "They wanted time and attendance for their employees, and they use the same POS machine for time and attendance. Suppose they had a manager clock out four employees that had left an hour before. Now the video of that transaction is captured."

There are a surprising number of useful tasks beyond the obvious that the system can provide - or be programmed to provide. Steak n Shake, for example, "came to us and wanted weather information included in 500 locations, so that if a weather pattern is coming that is cold, the store can add a soup," says Naficy.

"A McDonald's in Orlando wanted real-time traffic reports so they can know if there's a traffic reason for sales being down." Surveillance also can be tied to whether food temperatures are correct, and employees can be notified to change that - with proof that they have made the change.

"It has a deterrent effect," Naficy says, "but also a support effect. It can benefit employees when there is a dispute with a customer: the transaction is captured and can exonerate an employee unfairly accused by a customer."

After eight years in business, DTT has about 19,000 installations at many other well-known franchise systems - Burger King, 7-Eleven, Taco Bell, KFC, Holiday Inn Hotels, and T.G.I. Friday's, for example. www.dttusa.com.

Contactless commerce
Taco Bell plans to equip all of its company stores and any participating franchise locations with contactless card readers next year. The company is among an increasing number of retailers working with Visa to promote this emerging technology to its customers.

Contactless cards have a smart chip that allows a customer simply to move the card near the reader for approval. No swipe or signature is required for purchases less than $25.

"When faced with the choice between paper or plastic, consumers are increasingly turning to plastic for everyday purchases at grocery stores, fast-food restaurants, and convenience stores," says Brian Triplett, senior vice president, Emerging Product Development at Visa USA. "And Visa cardholders consistently voice their preference for merchants that offer fast and convenient transactions."

Taco Bell will begin a test later this year at 100 stores. If successful, the fast-food chain will roll out the program in 2008.

Brand protection online
Copyright law requires a brand holder to do its own policing of possible infringements. That has been relatively easy in the paper and brick-and-mortar worlds, but is proving to be much more difficult in the age of the World Wide Web.

The overwhelming amount of information, as well as the popularity and openness of the Internet, have created huge opportunities for infringers, gray marketers, and any number of ways in which a brand can be diluted, subverted, or outright hijacked.

Hackers and thieves can use slightly misspelled domain names, put the domain name in places on a site that a spider will pick up, use a site for identity theft and fraud ("phishing"), encourage unfounded complaints, create mock sites that will contain offensive content, and so on.

There was a time when you could monitor this yourself, or your IT department could. Now, however, with terabytes of data and millions of sites - not to mention hundreds of franchisees (some of whom might become discontented enough to try to do damage) - in-house monitoring may no longer be enough.

NameProtect, which calls itself a "digital brand management company," offers a combination of automated spiders, filters, and analysts to uncover and report to its clients possible brand infringements and notify them of serious breaches. It would, the company says, be counterproductive to track down every violation, because many are simple e-mail references that don't harm the brand.

Top names like Dell, Nestle, MasterCard, Louis Vuitton, and 3M use NameProtect's services. And if a spoofing website is extremely dangerous, NameProtect will work with ISPs around the world to take the offending site down. www.nameprotect.com.

Promotions and referrals online
It's a well-worn observation that your best source of new business is existing customers. And one of the best ways to encourage customers to return and refer is to offer gift cards, free iPods, two-for-ones, and other motivational rewards.

Organizing and keeping track of these promotions can be complex. A new web business, ReferNow.com, has started offering a simple and inexpensive way to track these programs online.

The company provides a tool that tracks all referrals, points, and rewards for a company's customers. And it offers a guarantee that users will win new customers within the first month of using the service or get their money back. (At $19.95 a month, the risk is low on both sides.)

"The Internet will move referral marketing forward at a speed and effectiveness that we have yet to imagine," says Kevin DeMeritt, founder of ReferNow.

One early user, Thom O'Bryon, president of Los Angeles-based TucanWebWorld, says that a marketing campaign he created increased web traffic by 70 percent, and referral business by 500 percent over six months at his company, which helps small and medium-sized businesses develop web sites.

ReferNow is available for a 30-day free trial at www.refernow.com.
Published: July 24th, 2007
Share this Feature
Recommended Reading:
Comments:
comments powered by

Disqus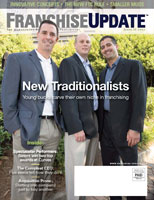 Franchise Update Magazine: Issue 2, 2007
Franchise Update Media (FUM) is the trusted resource for the franchise industry. For 30+ years, FUM has been the leader in providing valuable...
Our franchise management software helps increase unit growth, reduce opening time, track and improve unit performance, automate financial reporting...