Franchise Finance: How 9 Franchisors Help Operators Find Capital
Franchisors offer all kinds of assistance to help franchisees find funding. Among the dozen we spoke with, the most common types included waiving or reducing franchise fees and/or royalties for the first year or more; connecting franchisees with approved banks and other lending sources that have already vetted the brand; and offering discounts and financial incentives for additional units and accelerated openings. Simply put, lenders want to lend, franchisors want to grow, and franchisees want to start their own business or expand the one they have.
"It's a three-legged stool: franchisor, franchisee, and bank. They have to line up," says James Short, executive vice president and director of food franchise finance at BBVA Compass. "If I were a franchisor looking for new franchisees, there are things I'd want to think about, the same criteria banks look for." These include asking the following questions:
Are they a true restaurant operator or a private equity firm or investor that needs one?
Does the new franchisee have the back office personnel to facilitate additional growth? Do they have the finance, real estate, HR, and operational capacity to handle it? Or the ability to grow their back office and operational sides?
What segment does the franchisee have experience in? For example, are they a QSR operator looking at a casual chain? "We've financed QSR operators into casual, but we require an operating officer with experience in that new segment so the operator doesn't have a 1- or 2-year learning curve," says Short.
Do they have development experience, or someone on their team who is a chief development officer type? If a franchisor wants a franchisee to build 20 or 30 units in the next 5 years, they first must feel confident that franchisee can find the financing to do that. "We'll look at the development agreement and the capex schedule hand in hand, and make a determination as to whether they have the capability and capacity to adhere to that development schedule," he says.
As for size (see sidebar), "While we primarily focus on larger national and regional brands, we are willing to finance local and smaller brands if we have the right operator and that brand is relevant to the geography in which they're operating," says Short. This runs the gamut from SBA financing for single-unit operators to multi-bank syndicated finance for 100-plus unit operators; and for purposes that include enterprise franchising, real estate financing and refinancing, acquisitions, remodels, and new unit development.
Asked for his take on the current franchise lending environment, Short cited a few potential headwinds. "Are we getting to a peak in the economy where discretionary spending and consumer sentiment will be affected?" He's also keeping any eye on new development feasibility. Because so many restaurants have been built in the past 8 years, he looks at where new ones are proposed to see if the area is overbuilt and can support additional restaurants. Minimum wage hikes, he says, have significantly affected many state and local businesses and will continue to squeeze margins and increase the percentage of labor costs, leaving operators no choice but to raise prices. However, he says, in today's economy, will consumers be willing to pay?
A&W Restaurants
A&W, which celebrated 100 years in business in 2019, offers reduced royalties for new franchisees and an incentive program for existing ones. Under its Second-Century Growth Incentive program, A&W offers a "stair-step" royalty program starting with a reduced royalty of 2 percent for the first year, with 1 percent increases each year until royalties reach 5 percent.
"It could be worth up to $50,000 or more over 5 years, based on what their sales are," says Paul Martino, president and COO of A&W Restaurants. "It allows for these folks to get started the first 3-plus years."
As an older brand, A&W has third-generation operators, with a single unit in the family for 40, 50, even 60 years. "Now their kids are growing up and we're providing an avenue not only to transition to their children, but also for them to open additional restaurants to pass on," he says.
Historically, most of the brand's franchisees have been single-unit operators, but that's changing. About 60 percent of A&W's recent growth has been organic, he says, with existing franchisees adding units and new franchisees looking to start with 3 or more units. "This is a shift that needed to happen," says Martino.
Over the past couple of years, A&W has started to focus on helping those single-unit legacy franchisees build the infrastructure to handle growth. To help get them organized for potential multi-unit development, he says, A&W has partnered with some financial service providers and advisors expert in structuring, financial support, and guidance. This initiative includes finding the best financial fit options to secure funding for expansion.
"We're not experts in financing, so we've found partners to work with them to find the best deal," he says. "First and foremost, it's important that these third parties understand our business, and then provide support and guidance to our franchisees." The same holds for banks, he says, which have to understand the business before they feel comfortable enough to lend.
"We're positioned to do 10-plus new restaurants this year and 20 or so next year," says Martino, adding that A&W is not pushing to grow too rapidly as it builds for the next 100 years.
Golden Corral
"With the continuing escalation of costs, we recognize the need to help our existing franchisees by reducing our initial franchise fee to help on the up-front development costs. Instead of $50,000, we reduce it to $15,000," says Van Ingram, vice president of franchise development at Golden Corral. "It's strictly for them and a nice incentive that has been well-received by operators, who recognize that we are participating in the up-front costs," such as permitting and development fees.
One caveat: time. After paying the $15,000, franchisees have 18 months to open. After that, the $35,000 kicks in. "We have the option to extend the timeline, and we will if they're close," says Ingram.
The program has been in place for just a few years and is reviewed annually to see if it will continue. So how is it working? "Our existing franchisees have responded very well, opening 8 to 10 per year, and all qualified for this incentive," he says.
One thing Golden Corral does differently is to have a long-term, in-house finance specialist who works with both franchisees and lenders. At most brands, says Ingram, that role usually is filled as an offshoot of another department, or franchisees are pointed to a list of lenders who have worked with the brand before.
At Golden Corral that person is Sam Starling, vice president of special financing, who's been with the brand for nearly 30 years. In our "Challenge the Pros" article elsewhere in this issue, Ingram says, "Sam maintains relationships with an approved list of more than 40 lenders whom he uses to assist franchisees in creating a financing plan tailored to their individual business needs." Starling also is actively involved with franchisees and lending institutions to restructure debt.
Ingram emphasizes that the reduced fee does not reduce the training and support provided. Franchisees still get all the usual support in critical start-up areas such as real estate, construction, and operations.
For legacy brands like Golden Corral, or any mature brand, says Ingram, a little education and updating is needed when longtime franchisees look to expand. "A lot of our franchisees have been in our system 25 or 30 years and may have not developed a store recently," he says. "Things have changed. Zoning and permitting are now so much more difficult."
There's also the size and complexity of financing a Golden Corral. The average investment, he says, is $3.5 million to $5.5 million, with a 10,000-sq.ft. building, a large parking lot, a kitchen to cook 150 items, and seating for 400. Having an in-house financing specialist goes a long way to making deals happen.
DQ Grill & Chill
ADQ is targeting 10 major metropolitan markets across the U.S. this year and next. This past February, American Dairy Queen (ADQ) unveiled four new incentive programs intended to motivate current and prospective franchisees to open more DQ Grill & Chill restaurants. The programs are designed to reward franchisees for on-time development, with bonuses for meeting--and beating--the opening schedule.
Timeline incentives. A fixed incentive payment of $30,000 if franchisees open a new DQ Grill & Chill restaurant within 32 weeks from the date of the consent letter; those opening within 40 weeks receive $15,000.
Multi-unit opening incentives. Franchisees who open multiple DQ Grill & Chills within the same calendar year are eligible for an additional $10,000 per opening.
Year-on-year incentives. Franchisees opening new DQ Grill & Chills in consecutive years are eligible for an additional $10,000 on their first opening in the second calendar year.
Re-purpose incentives. Franchisees that develop and open a DQ Grill & Chill by expediting the conversion of a closed, former DQ, or other QSR restaurant facility are eligible for $10,000.
The thinking behind this is to "keep the ball rolling," says Julie Davis, ADQ's director of U.S. franchise sales and development, who joined the company last October. "It aims to keep franchisees focused on incentives, to encourage today's growth, and carry over for future years."
This program marks a shift for the brand, which was founded in 1940. "Our legacy operators were mom-and-pop," she says. "As business has become more sophisticated we're looking for multi-unit and multi-brand operators."
Finding cooperative lending partners is not a problem for the nearly 80-year-old brand. "We're not a finance house, but with all our experience building Grill & Chills for the past 20 years, the unit economics are well established, and we have lenders come to us to be on our preferred lender list," Davis says.
Fazoli's
Fazoli's offers franchisees a development incentive that includes a guarantee of at least $125,000 in savings for franchisees who develop at least three locations. Franchisees developing more than five locations will save more than $200,000. Initial franchisee fees are reduced depending on the number of units, and royalties are reduced 2 percent during the restaurant's first year open.
"We've put a little twist on a typical incentive, adding that guarantee," says Doug Bostick, senior vice president of operations and franchise development. "After the third one is open for a full year, we go back and calculate the savings through royalty reduction and initial franchise fees," he says. "If they didn't realize the guaranteed savings, we'll either write a check or reduce royalties some more."
So far, so good: "If anyone falls short, we offset it. We haven't had to do that yet, thankfully." This is the second incentive Fazoli's has rolled out in the past 4 years, and has no set date to pull it back.
As for financing, "We really have only one preferred lender: we recommend ApplePie Capital," he says. "We offer it as a service to our franchisees." He's brought the company to franchisee conferences to speak directly with operators. ApplePie has worked not only with new franchisees, but also with existing ones to finance remodels and upgrades of their POS systems, for example. In the past six months, Fazoli's also has begun working with Boefly, looking to leverage its connections with hundreds of lenders.
However, he says, "There hasn't been as much of a need for the groups we've been talking to in the past 5 years." Why? "We've been able to attract some pretty sophisticated groups, people who already have restaurant experience and other brands they're working with. They usually bring in their own sources," he says. And from a financing standpoint, he adds, there haven't been many franchisees unable to honor their commitment because they couldn't find financing.
Twin Peaks
When we spoke with Joe Hummel, president and CEO of Twin Peaks, he was preparing to roll out new incentive programs at the brand's national franchise conference the following week. "We put together resources with traditional lending banks that will be available to franchisees with our support behind them. It's been a project for us in the last 90 to 120 days," he says. The brand has 85 stores with 4 more under construction.
Hummel says he was looking to create incentives for development agreements to accelerate openings and boost referrals. "We're finalizing it this week, with input from franchisees," he says.
He planned to meet with franchisees and the brand's business council (franchisee and franchisor representatives) at the conference to finalize the specifics. With the pieces in place, Hummel was looking forward to collaborating with franchisees to nail down what would be most attractive to them as a way to accelerate openings, what would be a fair incentive for referrals, and more.
Coolgreens
Coolgreens is a young brand with big plans. Today it has 7 franchisees and 7 locations open, with 5 more under construction and contracts for another 25 to 30, says CEO Robert Lee.
Coolgreens had recently opened when Lee ate at a restaurant. He liked it and asked if they were thinking of franchising. A few years later he purchased majority control with plans to franchise the concept. "I wanted to take lot of what I'd learned as a franchisee and apply it as a franchisor," he says. "I preferred to build as a franchisor, rather than re-up as a franchisee." Lee, a franchisee of Phenix Salon Suites at the time, has sold his Texas units and still has some in California.
To help franchisees solve the funding challenge, Coolgreens has partnered with Boefly. "We started working with them when we started franchising toward the end of 2017 and signed up with them shortly afterward," he says. "It's been a great experience on the filter side to vet franchise prospects directly, then point them in the right direction."
The relationship with Boefly is not only beneficial on the vetting side, but also as a liaison for franchisees to find the best funding source. Boefly-connected lenders, he says, have come through in different, creative ways for new franchisees, including 401(k) financing. "One franchisee went the SBA route, which definitely has its place, despite a lot of hoops and hurdles, and some franchisees preferred to go the bank or a private route."
The brand has a 3-store minimum because, he says, "We never want to have a franchisee with a one-store island." With Coolgreens still a young brand in the franchise arena, that policy may change, he says. "What makes sense for us today probably won't make sense in 6 months. We're always evolving so it's tough to have a static program. The best solution for one individual may not be best for others."
Tough Mudder Bootcamp
Tough Mudder is another new brand with big ambitions. When we spoke with Dan Henry, vice president of sales and operations, the brand was about to open its fifth location, with another in July. Henry says he expects to have about 10 by year-end.
"We signed our first franchise agreement in 2017, but didn't really award franchises until 2018," he says. "We wanted to get it right before rapidly expanding," he added with a nod toward Item 4 in the FDD.
Tough Mudder's first endurance event was held in 2010, the year it was founded. A typical course is about 10 miles long and has a couple of dozen obstacles to overcome. And while this may seem a tough sell to lenders, Henry says they have figured out the fitness space, which is "pretty established now among lenders and banks. Money's going heavily into the fitness space."
He says the brand is working with Benetrends during the evaluation and exploration period, with the hope that candidates can walk into discovery day with pre-approval. "We listen very closely during the first stages of the evaluation process about when to get them in touch with lenders," he says.
His long-term objective is to find a single lender for all the brand's needs who would, after due diligence, approve anyone he sends them. "We always have our eye out, constantly looking at different options for our franchisees," he says. "We don't want to be aligned with a group that recommends only one option. Benetrends, known for 401(k) IRA rollover funding, does more than that, he says, offering a full suite of lending opportunities.
Nestle Toll House Café
At Nestle Toll House Café by Chip, the go-to person for franchise finance is Paul Bosley, founder of Business Finance Depot. "I will entertain other sources and have used them in the past," says Benjamin Padilla, vice president of franchise development for Crest Foods, franchisor of the brand. "Right now, he's my go-to guy. I'm not working with others."
Business Finance Depot specializes in packaging SBA Express loans for working capital up to $150,000 and SBA 7(a) loans for projects from $250,000 to $5 million; and in packaging loans for equipment leases--and will offer alternate lending sources if a candidate wishes to self-fund or doesn't qualify for an SBA loan. The company launched in 2015, after being chosen by United Franchise Group to provide financing to all its franchise brands.
"He'll work very closely with franchisees, help with business plans, and has a large resource of a number of banks, particularly in the Southeast," says Padilla. "He'll try to line up a franchisee personality-wise with lenders. There's plenty of financing out there, but is it the best deal for our franchisees?"
For Padilla, the deal goes beyond the numbers. "I think there needs to be some emotion in lending. To do business with people, you have to like, respect, and trust them," he says. "Our philosophy is that we do not sell franchises, we award them, and we truly look for franchise partners who will embrace that philosophy."
Historically, this also has been a single-unit brand. That's changing here, too, but not without a certain level of caution. "Everybody wants to be a multi-unit operator. They buy five, open the first, and say, 'Holy cow, this is so much work!" says Padilla.
"I can train anybody to run one store if they'll just listen to me and follow the program," he says. "But in 35 years in franchising, I've seen more fail who had a successful single store but couldn't make that big change to be a multi-unit operator."
To help develop a successful long-term relationship with multi-unit operators, the brand has a "buy 3 get 2 free" program saving franchisees $37,500 in franchise fees they can use to fund the first 3 units and improve their chances of building out units 4 and 5. "We try to be lenient on opening schedules," says Padilla. "If you're truly looking after the best interests of your franchisees," he says, sticking rigidly to schedules is not good for the franchisee-franchisor relationship.
And, like Dairy Queen, there are advantages to being an established brand with a well-known name, in this case on the real estate side. "Our doors are beaten down by landlords who want the Nestle brand in their centers. So we do a lot to help our existing franchisees get a good location in a good center."
Yogi Bear's Jellystone Park
Jim Westover, vice president of product development and sales at Yogi Bear's Jellystone Park, emphasized the importance of aligning with the right financing people to secure funding for their franchisees, small or large. The brand has more than 80 locations in the U.S. and Canada.
"We have worked with a couple of folks for financing," says Westover. He also had good things to say about Paul Bosley and Business Finance Depot, whose connections with lenders not only include finding the best rates and terms, but also knowing the brand and its processes--especially important in the campground industry. "Most folks understand restaurants, but not campgrounds. You're never done adding to your campground--you can always add amenities, cabins, and more," he says.
"He first helps put together a business plan to present to the bank," says Westover. He says Bosley starts with Bruce Hurta at Lion Bank (aka Fidelity Southern Corp., whose acquisition by Ameris Bancorp was completed July 1). That bank, says Westover, is his brand's top funder. "The relationship helps franchisees because they understand our business model and what the SBA wants."
3 Stages of Borrowers
James Short, executive vice president and director of food franchise finance at BBVA Compass, breaks down borrowers into three baskets.
For smaller, new franchisees just getting into franchising, he says the SBA route is a great way to start. Many community banks have SBA divisions and often an approved brand list to help operators with 1, 2, or 5 units get off the ground.
For operators with 5, 10, or 15 units, the next step is a regional or local bank. This group is always hardest to finance, he says, because, for example, if road construction or another external event causes a significant drop in revenue, there will be cash flow problems that might endanger repayment or other terms of the loan.
At 10 to 15 units, Short says, "The world opens up for larger banks and restaurant shops with a specialty group. Once you get to that level, a restaurant shop like ours will refinance all that existing debt into one term loan, and consolidate and use the embedded equity the operator has established to develop a line of credit."
For franchisors, what's important about this, he says, is that the line of credit can be used for remodels, new store development, and potentially for acquisitions. "It's very streamlined financing using the equity they've built up, and the cash flow they're going to be generating through the new units," he says. It's also much more efficient for both the operator and the bank, compared with having to provide financing for each project. The availability under that line, he says, is based on the borrower's leverage metrics--the amount of debt versus the amount of cash flow.
Published: September 14th, 2019
Share this Feature
Recommended Reading:
Comments:
comments powered by

Disqus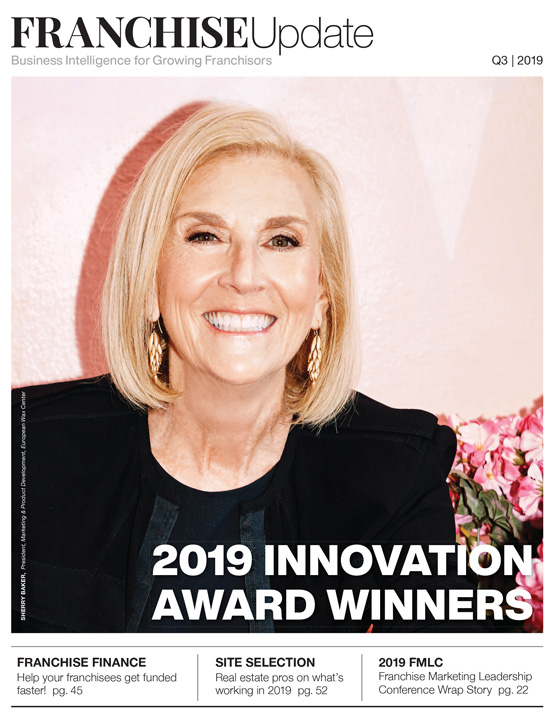 Franchise Update Magazine: Issue 3, 2019
Conferences
InterContinental, Atlanta
OCT 18-20TH, 2023
Prisma has reinvented the marketing supply chain with an end-to-end solution that makes it easy to design, customize, order, download, print, kit,...
June 18-20, 2024 Marketing-Operations-Technology. Be a part of this ground-breaking new space for ideas, inspiration and networking for Franchise...