Selection Perfection: To find the Best Sites, Combine Data with Experience
Finding the perfect franchise location--one that increases the odds of success and reduces the chance of failure--requires the combination of data and factual information with experiential know-how and local knowledge. It's not rocket science, but it does require the right stuff. We asked franchise real estate pros how they're finding the best sites for their brands.
What comes first?
Carl Jenkins is director of real estate for the 350+-unit Huddle House. His decades in franchising includes time working in real estate for McDonald's, and he still depends on the acumen that directs that franchisor's site selection. "I always start by looking at where the McDonald's are," he says. "They usually have the best locations, especially for restaurants. Then I look for the best location nearby." For Huddle House that means good locations close to commercial and residential retail businesses that offer parking and are accessible from primary and secondary roads.
Eve Sembler is director of peripheral leasing for Brixmor Property Group, which owns and operates more than 400 retail centers across the U.S. The first thing she considers is who will interact with the business at a new location. "I want to know who will see the site when driving by, who shops at the property, and who lives in the area. This is so important, because the best operators know exactly whom they are trying to serve. When the operator's target customer aligns with the consumer shopping at the center, that's great real estate."
At PuroClean--which provides remediation for water and fire and smoke damage, mold removal, and biohazard cleanup to commercial and residential customers--site selection doesn't depend on a strong retail presence. "As an emergency restoration company, a key factor that contributes to our site selection process is the ability to respond to customers within an hour," says Tim Courtney, vice president of franchise development.
"We have large, open territories in which franchise owners are assigned a protected office location signifying their dedicated service area and consisting of 100,000 in population by ZIP code. Also, we have established relationships with national accounts within the insurance industry, and we select sites based on the areas where they receive claims requiring fulfillment."
Customer profiles do change, however, as do franchises. "Usually a franchise knows who their customer is," says Emily Durham, partner and director of hospitality services for Houston-based Waterman Steele Real Estate Advisors. "That doesn't mean this doesn't evolve, and you need a critical mass of units for good data. The older franchises have more data."
In Durham's 30-year career in the restaurant industry, she also has witnessed many changes. "You find that some of the older franchises are being replaced by newer ones. You can assume a lot about the transfer of a customer from one franchise to another, but we're in a time when it's all evolving."
Amy Hunn, vice president of construction and facilities for Floyd's 99 Barbershop, wants to know as much as she can about the franchisor's customers and where they live. "The first thing we research and consider is the demographics of the neighborhood. We look at population density, income levels, and past and projected stats. Understanding these key pieces of information helps us determine if a community can support a successful Floyd's 99 location."
Dunkin' Brands also considers several factors in site selection, focusing on one in particular. "The most important is the convenience the site provides," says Ian Poole, director of real estate development (West). "Dunkin's core consumers are people who are on the go and looking for speed and convenience in their coffee and food orders. So all of our sites strive to offer quick service, whether our guests order in-store or in the drive-thru."
Dunkin' also strives to be as flexible as possible, says Poole. "We offer our franchisees a variety of flexible concepts for any real estate format, including freestanding restaurants, end caps, in-line sites, gas and convenience, travel plazas, and universities, as well as other retail environments--in addition to the opportunity to co-brand alongside Baskin-Robbins."
What matters?
At Huddle House, Jenkins likes to look for areas in flux--markets that are changing because of new business activity. "You can get a shift in the market and some areas that once were strong become less so," he says. "That means asking where are the new jobs coming from? Where is the new housing? Pay attention to those things."
Brixmor's Sembler wants to know more details about an area too. "I start by thinking about the community," she says. "Who lives in it, what needs do they have, and how can we best serve them? From there, it's great to get a feel for the operators currently in the market and how they are performing. This gives me a good sense for the demand and what the community responds to. The best way to get a sense for these questions is to spend time at the center, seeing with your own eyes while using market research data."
Matt Stanton, chief development officer at Wellbiz Brands (Elements Massage, Amazing Lash, Fit36, Fitness Together), agrees. "The first thing to consider is market research," he says. "You want to know everything from demographics to shopping patterns in the area. You should also consult the franchisor for what data they are able to provide based on what has worked and what hasn't for other units in the system. If you jump right into looking at what's available without doing your due diligence and market strategy, you might get sucked into the trap of taking whatever is available at that moment, when it might be more beneficial to be a little more patient and get the right real estate."
Typically, he says, franchisors have likely invested in a research firm to help with real estate analytics to discern which markets are the best to target for expansion. This research can vary from basic customer demographics to psychographics, co-tenancy statistics, competition, and site attributes.
At PuroClean, Courtney says he finds useful data in reports and data from the U.S Census Bureau, and uses a mapping program to analyze area details. In addition, his team reviews national insurance data, which shares per capita losses on claims in the water, fire, and mold restoration industry.
At Floyd's 99, "We are constantly evaluating the business to better understand trends and who our customers are to ensure our demographics are current," says Hunn. "We then partner with a local broker, who uses this information and their local knowledge to help us determine what areas would be the best fit. Once we have identified an area or neighborhood that meets the demographic requirements, we begin searching for a space that meets the physical requirements such as visibility, parking, utilities, and other criteria."
Hunn says visibility plays a big role in the brand's site selection process. "The biggest difference for us is we are not looking for sites that would fall into a destination trip, like a mall," she says. "We are looking for locations that are part of the community and our clients' everyday business or shopping habits. Getting your hair cut is usually considered a chore or errand, and we want to make it as easy, fun, and convenient as possible."
Dunkin' uses multiple techniques to assess a site, including analytics, market knowledge, and previous stores' performance. Says Poole, "We strive to be very thorough in our site selection process, leveraging technology such as software programs that aggregate data on demographics, competition, and traffic to help us select the best locations."
And with all Dunkin' openings, he says, "We work closely with our local franchisees to strategically select the best sites. Our franchisees live and work in their local communities and know the pulse of the market regarding optimum locations that might open up in the neighborhoods they represent."
Dunkin' also has team members on the ground across the country who work with franchisees to determine the best sites. "Collaboration with our franchisees in all respects, including site selection, is key as we are a 100 percent franchised brand," he says. "We always keep in mind our core consumers of on-the-go coffee drinkers, so we look for locations with strong foot traffic or that are on people's commutes."
Franchise type matters
"As a restoration franchise company, PuroClean operates out of a vehicle and requires a commercial storage space to house and maintain equipment," says Courtney. "So our site selection focuses on identifying a place that allows us to properly store and maintain our equipment within our protected office location. It should also provide ample space for the franchise owner, operating team, and technicians to serve their customers. Thinking ahead is also recommended. "You should also consider if there is an opportunity to expand your space and services, depending on desired revenue streams," he says.
Brixmor's Sembler agrees that the type of franchise and sector a brand operates in play a huge role in site selection. "Each category attracts a different kind of customer," she says. Risk plays a part, too. For example, a fast food operator looking to open their first site in a new city may want to position their new restaurant in the heart of a retail node as close to a Chick-fil-A or McDonald's as possible. "This strategy places the new concept in proximity to established peers where customers are already going. It can elevate a new concept."
However, she adds, this strategy can be risky because the new concept is competing head to head with a best-in-class operator and paying a premium for the real estate. "Each franchise concept and each franchisee will have a unique strategy as it approaches a market. Having a clear sense of the goals before even starting the site selection process is very important," Sembler advises.
A role for brokers?
Depending on the brand and its development goals, Sembler also is a believer in working with brokers. "A broker can provide a huge value to a franchisee during site selection," she says. "Brokers know their markets, have established relationships with landlords, and may be aware of upcoming vacancy opportunities that are not yet advertised." She says sophisticated brokers also have access to a large amount of data about market rents and how major retailers in the market are performing. "Finding the right broker who will give you attention and clearly understand your strategy can have a huge impact on your success," she says.
To find the best sites for Floyd's 99 Barbershops, Hunn sees the value of working with local, experienced, knowledgeable brokers. "They understand the trends of the community and what areas meet the requirements of the business," she says. "A good broker also will have knowledge not only of what is currently available for lease, but what might be coming up in the market that would be a good fit." And during lease negotiations, she says, local brokers will have a stronger knowledge of local rents, what other tenants have been able to negotiate, and have established relationships with area landlords.
While Waterman Steele acts as a master broker for franchises who want to roll out across the country, "We don't do anything without local people," says Durham. "Nothing compares with someone who lives across the street. You may have all kinds of resources, but we get local folks involved. Because while there are patterns and correlations, it's not the same in every market."
Again, it's different for PuroClean. While they're establishing their business, most franchisees choose to lease a property, says Courtney. "As they begin to thrive, they often choose to move into a space to house their vehicles and equipment, or determine they would like to purchase the property when they build sufficient capital. This increases their company's overall value."
Value engineering
Vitality Bowl co-founder Tara Gilad has developed a focus on efficiency. "Right now we're working on value engineering each location," she says. "Costs are rising, so we are trying to identify locations that don't have such high initial construction costs. We're going for smaller locations, trying to value engineer our design, bundling, and equipment costs."
Founded in 2011, Vitality Bowls began franchising in 2014. Its growth since then has been striking: more than 100 cafes are open or in development. That rapid growth curve has meant a concerted focus on the criteria that work for a site.
"We want to make sure we get the right site, but we are not a dictatorship," says Gilad. "We don't tell franchisees they have to get this location. We always give yhem a choice. A master broker will identify the right locations and, ideally, we want to have three top locations in a market. We like to have a Plan A, Plan B, and Plan C. We are also patient and we want our franchisees to be patient for the right location. We don't want them settling."
Lessons earned
"We learn from every store we open," says Poole. "As consumer preferences change, so must we. Dunkin' is constantly evolving, as evidenced by our recent transformation to simply Dunkin' and positioning ourselves as a premier beverage-led, on-the-go brand."
As an example, Poole points to the recent rollout of Dunkin's "Faster than Ever Drive-thru Experience," which features an "On-the-Go" drive-thru lane for DD Perks members who order ahead using Dunkin's mobile app. This feature, which can be found in select NextGen locations, "is something we take into consideration now during the site selection process," he says.
At Huddle House, Jenkins' experience has shown him he can trust his gut, and he is cautious about how much data he relies on before making a decision. "I don't rest my hat on technology. You can get so much data that you develop analysis paralysis," he says.
"We focus on systematizing the real estate process," says Waterman Steele's Durham. "It cannot be just a one-off, it can't be just made up as you go. You want a standard LOI process so that no matter whose hands it's in, it can't be messed up, particularly if we're going to plan out 30 at once. The only way to control it is to make it a system; create site approval packets, for instance, so no matter where brokers come from, they get same information in the same order. Otherwise it's all over the place."
Time also proves whether site location choices were good ones or not. "More experience means more information comes in that is not on the market. That is invaluable," she says. "The longer you do site selection for people, the more opportunity you have to see how the choices have turned out."
AI's Growing Role in Site Selection
The rise of artificial intelligence for business is upon us, but while it has become a popular buzzword, the powerful new tool is still young, says Navin Bhutani, director of development for LocateAI, a company founded 5 years ago by three Stanford University computer science grads who wanted to take AI-driven data collection and analysis to a higher level.
"We don't want to take away the local market knowledge," he says. Local brokers often have historical knowledge that hasn't been incorporated into the current state of data collection, or perhaps never can be. And despite increased use of AI in the coming years, local knowledge will remain invaluable.
"Data might say, for example, that one location in a neighborhood is better than another, but a local broker can tell us that there is customer traffic for a certain franchise type that flows in one direction or toward another franchise, but not in reverse," he says. "For our AI to pick that up, we would have needed to commingle sales data."
The real world does produce behavior that might not, or cannot, be anticipated and incorporated into a computer model. "Unless you see real-life examples, you can't imagine the various possibilities of things that affect performance," he says.
Machine learning can broaden and speed data analysis, offering more nuanced conclusions, but it remains a work in progress. What is undeniable, says Bhutani, is that the future state of franchise site selection will become more objective and include more combinations of key variables.
"Franchisors, franchisees, and private equity companies want to know where they can be successful--they want to be smarter, with useful, actionable data," he says.
Published: September 7th, 2019
Share this Feature
Recommended Reading:
Comments:
comments powered by

Disqus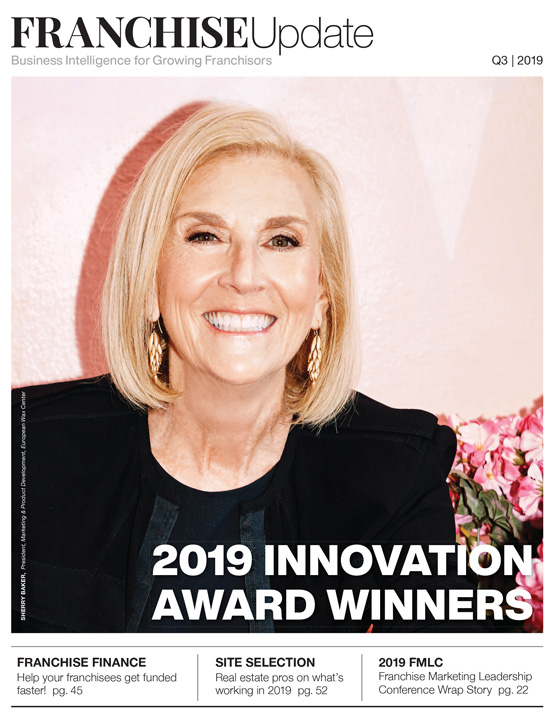 Franchise Update Magazine: Issue 3, 2019
Clayton Kendall provides franchise communities nationwide with comprehensive branded merchandise programs leading to greater brand exposure,...
UMI has over 23 years of experience supporting fast-growing multi-unit brands. From strategic planning to design, execution to analysis, UMI...