Franchise Partnership: Franchisee Satisfaction Is Key At Auntie Anne's
Defining and executing brand strategy for more than 1,150 domestic and international Auntie Anne's franchise locations is no small task. But that's exactly what Heather Neary does as chief marketing officer for Auntie Anne's (acquired by Focus Brands in 2010). As a result, Neary has learned that happy franchisees make satisfied franchisees, and that makes everyone more successful.

Neary has been a part of Auntie Anne's marketing department since 2005, and under her leadership, sales grew from $275 million in 2006 to more than $370 million in 2010. We asked her to discuss franchisee satisfaction within Auntie Anne's and the types of business consultation and support services the brand provides for its franchisees.

What is your role as CMO?
As a chief marketing officer, it is important for my role to work collaboratively with all internal departments to ensure that every decision we are making is in the best interest of our franchise partners' long-term success. It can be easy for organizations to fall into the trap of working in silos and developing territorial boundaries. A multidisciplinary approach is critical to having the best outcome of business strategies.

What does "franchisee satisfaction" mean at Auntie Anne's?
Our franchise partners are truly our partners. For them to be satisfied, we need to go above and beyond on every facet of our business operations. When our franchise partners are satisfied, they are able to focus on their day-to-day operations in their store(s) and can better serve our customers, which means greater success and profitability for all parties.

What factors most determine franchisee satisfaction at Auntie Anne's?
At the root of franchisee satisfaction is knowing our franchise partners are happy with the level of service we're providing them, whether it's in our responsiveness to a POS issue, our level of sophistication in our marketing efforts and reaching our target audience, or the expertise provided by our field operations/business consultants. These components, and more, lead to highly satisfied franchise partners

.

How do "happy customers" affect franchisee satisfaction?
Happy customers--those at the store level--are happy, no doubt, because the franchise partner is satisfied and is able to focus on service to the customers because of the high level of service they receive from the franchisor. It's a cyclical relationship: one misstep on any of three fronts (franchisor, franchise partner, customer) can cause an upset in the equilibrium of the service provided to the franchise partner and to the customer.

What are you doing to create happy customers?
Fulfilling our founder's threefold philosophy of service, quality, and cleanliness. When we can serve our customers a great-tasting product with a smiling face and a clean store, we will continue to create a lifetime of happy customers.

How are you creating satisfied franchisees?
By providing them with the same service we hope they provide to their customers. We treat them as true partners, offering them respect and timely responses to their concerns. Since 2006 we have partnered with The Franchise Research Institute and implemented its confidential FranSurvey evaluation tool to gain feedback from our franchise partner community. Auntie Anne's has received the World-Class Franchise distinction for its high marks in franchise satisfaction for the last five years. Key categories where we have consistently experienced high marks include overall quality of your franchisor; initial training and support supplied; quality of products and/or services from your franchisor; and "My franchisor and I are committed to a positive, long-term relationship." We closely evaluate this feedback on an annual basis and determine the areas where we can continue to challenge ourselves to improve in delivering support and services.

How does having satisfied franchisees affect your long-term success as a brand?
The benefits are immense. We are a far more effective system when we are proactive in our relationships than when we are "fixing" issues. We listen to our franchise partners and work very diligently to create a relationship that allows us all to speak frankly about what's working and what's not working. This open dialogue allows us to focus on the future and continuous improvement all around.

How is your operational support strategy helping to create satisfied franchisees?
Our field operations team spends their time in the stores every day, allowing them to truly appreciate what's happening at the store level. Our operational support strategy focuses on giving our franchise partners the tools they need to be their best. Each is at a different place in their Auntie Anne's journey. Our field team is trained to recognize this and appreciate that while one might want some additional operational training, another might want additional guidance on managing their cost of goods or labor rates, while still another might be seeking ways to better reach their target audience through local marketing. Our field team each has a set of stores, and each store is visited about five times a year with additional standard communications occurring between visits.

Do you require your franchisees to participate in local level marketing? How does this help with franchisee satisfaction?
We provide several different tools to aid our franchise partners with their local marketing efforts. We do request that each spend 1 percent of their annual sales on local marketing efforts. To assist them in this effort, we provide a team of local marketing specialists who are available to help them create tactics that meet their defined strategies. We also have an "Idea Generator" resource binder each possesses and is encouraged to use that offers a plethora of tactical ideas for ways to increase sales at the store level. We also offer an online local marketing toolbox that gives them the opportunity to customize elements of our POP to meet their local needs. All these tools, as well as the collaborative nature we demonstrate with our leadership franchise partner group on constructing multi-layered marketing campaigns, help to drive franchisee satisfaction.

What role does your franchise advisory councils play in franchisee satisfaction?
Auntie Anne's has a unique approach to the role of our franchise advisory council. We engage with our council on every facet of our business. Weekly conference calls and email dialogues are supplemented by quarterly in-person meetings where the two-day agenda is jam-packed to discuss every topic, from equipment and distribution concerns to cost of goods and marketing efforts. Our level of engagement with our franchise partners, we believe, has had a direct impact on their satisfaction.

How does having satisfied franchisees affect your referral program?
Our formal referral program is just getting started this year. In the past, however, many have joined our system as the result of a more informal referral from someone already involved with the brand. Across the system, many of our strongest franchise partners nurture and develop strong managers to eventually become franchise partners. In addition, we have several families who have all become active franchise partners.

How do you measure, determine, or monitor franchisee satisfaction over time?
As I described earlier, we have found it beneficial to partner with an independent franchise research firm to conduct confidential surveys with our franchise community on an annual basis. We are able to secure a report of the cumulative experiences of our current franchisees. This information helps determine the areas where we need to focus our attention and/or have additional open dialogue with our franchise partners on specific topics. Taking this approach consistently gives us a solid snapshot of how they are feeling in terms of satisfaction with us as the franchisor.

Happy customers and satisfied franchisees result from a healthy and successful brand. What are you doing to create and maintain this?
We focus on continuous improvement. Our processes are by no means perfect and are constantly evolving to meet the needs of a growing and diverse franchise organization. By being open to evolution, we are able to maintain satisfaction from our franchise partners, which leads to happy customers. We are accessible to our franchise partners and they know they can reach out to any individual on the corporate team if they have concerns or a question. We pride ourselves on providing the same level of care that Auntie Anne herself first demonstrated when she began the organization in 1988.

What is your single biggest challenge with respect to franchisee satisfaction, and how are you dealing with it?
In general, we are burdened by factors that are outside of our control. The economy and the changing landscape of the malls (where we have our largest presence) have both presented challenges to our franchise partners and, in turn, to Auntie Anne's as the franchisor. We are addressing the poor economy by continuing to be innovative in our marketing and menu development efforts to make sure we are the number-one option for our target market. On the leasing front, we have continued to engage with our landlords and develop relationships with them so we can better understand where they are coming from when they make leasing decisions. By nurturing these relationships, we are able to work with our landlords and franchise partners to secure successful locations. At the end of the day, as a franchisor, we need to consistently make sure we are placing ourselves in our franchise partners' shoes and fully understanding the challenges they are facing. We can then together work on strategies to overcome the challenges.

Published: April 23rd, 2012
Share this Feature
Recommended Reading:
Comments:
comments powered by

Disqus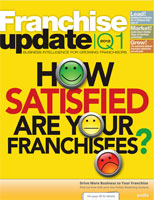 Franchise Update Magazine: Issue 1, 2012
Conferences
InterContinental, Atlanta
OCT 18-21ST, 2021
Clayton Kendall provides franchise communities nationwide with comprehensive branded merchandise programs leading to greater brand exposure,...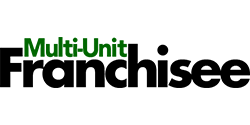 Published quarterly, Multi-Unit Franchisee Magazine is dedicated exclusively to Multi-Unit Franchisees. It delivers vital information and business...