Franchise UPDATE's 8th annual lead generation survey: Another good year for the Internet and for brokers
This fall, Franchise UPDATE conducted its eighth annual lead generation and sales survey. Once again, the Internet received the lion's share of budgets and generated the most leads. We are noting the continuing strong trend toward broker networks-almost everyone is making some use of these networks.

Sixty-one franchise organizations participated in this year's survey out of a total of approximately 350 franchise systems that Franchise UPDATE has identified as growth-oriented companies over the last six years. These companies represent a broad cross-section of industries, investment levels and number of years in franchising.

As of September 2005, these companies represented 1,261 company-owned units, 29,967 franchise units and 8,526 international units. In 2006, they plan to add 40 company-owned units, 3,976 franchise units and 421 international units. Thirty-one percent of respondents have plans to add international units. Franchisors project an average of 13 percent domestic franchise unit growth in 2004 (2 percent lower than last year).

The results for this year:

Broker Referral Networks Continue to Grow
2005 survey results: 48 percent of respondents use broker referral networks, 70 percent closed deals with them in 2005.

2004 survey results: 60 percent of respondents use broker referral networks, 93 percent closed deals with them in 2004.

2003 survey results: 44 percent of respondents used broker referral networks, 71 percent closed deals with them (up 21percent over 2002.).

The commission to brokers is averaging $12,944 per signed franchise agreement, a slight increase over the previous year..

Public Relations
Of all the respondents, 95 percent have either in-house, outside, or both types of public relations support (a slight decrease from the previous year). Thirty-six percent of this group have in-house public relations staff, 40 percent use outside public relations firms, and 24 percent have inside and outside public relations support.

Leads Up or Down over 2003
According to 60 percent of the respondents, leads in 2005 were up over 2004 by 42 percent; 58 percent of this group indicated that lead quality is up this year.

Sixty-six percent of respondents track cost per lead.

Only 56 percent of the respondents track cost per closure.

2005 Economic Indicators
Eighty-four percent of respondents said current business conditions at the unit level are good, and 12 percent indicated they were neutral. Last year 89 Percent expected to see an improvement over time; this year it is 84 percent.

Pre 9/11, 77 percent indicated business conditions were good and 81 percent of these expected to see an improvement.

UFOC Delivery
Of responding franchisors, 76 percent will mail the UFOC prior to a first personal meeting if requested, up 20 percent over four years ago. Only 13 percent deliver their UFOCs electronically, down 7 percent from last year.

Results on Closing
From the first contact with a franchise prospect, the average closing period is 12 weeks, the same as last year. Two years ago, it was reported at 10 weeks- the first time in 5 years the closing period had dropped below 12 weeks.

The median of reported closings on leads is 3 percent, up 1 percent from last year.

Franchisor respondents indicated they are closing 20 percent of applications received, down 6 percent from last year.

Respondents reported that they are converting 63 percent of discovery day attendees into franchisees, down from 73 percent last year.

And What It All Costs
More than 50 percent of franchisor respondents provided information on cost per lead and cost per closure.

Respondents indicated their median cost per lead was $34. The average cost per closure is $8,033. The median cost per closure this year is reported as $5,150, down 44 percent from $11,700 last year.

Franchise Sales Compensation
Ninety-three percent of respondents compensate sales people with both a salary and commission per franchise sold.
Published: December 27th, 2005
Share this Feature
Recommended Reading:
Comments:
comments powered by

Disqus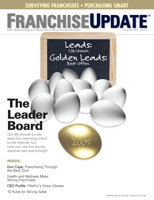 Franchise Update Magazine: Issue 3, 2005
Oct. 18-20, Atlanta, GA. An exclusive event for franchisor CEOs, Presidents, COOs, CDOs and Franchise Development Executives.
Clayton Kendall provides franchise communities nationwide with comprehensive branded merchandise programs leading to greater brand exposure,...