Franchising Without Walls: Closets By Design Franchisee Leaves Fortune 500 World For Franchising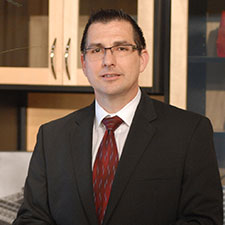 A couple of months back we began occasionally profiling franchisees who have chosen to operate in brands that don't require a "brick and mortar" location. These service-oriented brands typically allow individuals to be a part of franchising without needing to build, purchase, or operate from a retail location. It's a franchise business model that is becoming more and more popular.
This time we caught up with Charles Waterman, a Closets by Design franchisee in Southeast Pennsylvania. He's been with the brand about 10 years now and as we found out this is not his first foray into franchising. Here's more of what we discovered about Waterman.

Name: Charles Waterman
Title: President
Company: Closets by Design of Southeast Pennsylvania
No. of units by brand: 1
Age: 10 yrs
Years in franchising: I have been in franchising for 15 years. Before Closets by Design, I was a general manager and director of training for Certa ProPainters.
Years in current position: 10
Personal:
Formative influences/events:
At my previous position I was told by a VP of a Fortune 500 company that I could teach my process improvement classes but production was behind and they had no time for that improvement "stuff." Shortly after that, I quit my corporate career and bought a franchise.
Key accomplishments:
Achieving my Six Sigma Black Belt was a key accomplishment because it brought together so many of the tools and philosophies that I had believed were necessary to create a world class company.
Smartest mistake:
It was completely by chance that I chose to purchase an in-home service franchise. As it turned out, most in-home services focus on the tangible items that they deliver, install, or repair and never focus on the service aspect. My background in quality improvement helped me to identify that how we interact with the customer, their family, and their belongings is just as important as the job that we are there to do.
Work week:
I generally work 40 to 45 hours per week. I use a block agenda to assure standing meetings with each manager and the weekly staff meetings happen. These meetings provide time for each manager to step back from working "in" their departments and assure they are working "on" their departments. We also have a weekly staff meeting to assure everyone has an eye on their goals. Once again, time set aside for the team to work "on" the business.
What's your passion in business?
I truly believe that it is about the people. Yes, we do supply superb home organizing products but the team that we have assembled is what differentiates us from the competition. In other words, all of my competitors have access to the same suppliers but they do not have access to the synergy that we have here.
How do you balance life and work?
I try to exercise three days a week and eat a balanced diet. I have a group of friends that I exercise with. I find that I need the commitment to them to assure I leave work to workout.
Management
Business philosophy:
We are in the people business. Sending people into our clients' homes is a privilege and should not be taken lightly. Everyone who works in our offices and factory are treated like they are our customers. I find that is the best way to role model how we want our customers treated.
Management method or style:
Participative when needed. I generally stand back and monitor the behaviors and products. When an improvement needs to be made and my assistance is needed, I'll participate.
Greatest challenge:
Our greatest challenge will always be finding the right people. When that challenge ceases to exist, we will be in trouble. We are very selective with who we hire to be on our team. We want to hire those that have the discipline to learn our processes and procedures and open to continuously improving themselves. Hiring someone who has been doing it wrong for 20 years and trying to change them is a battle not likely won. Believe me, we've tried!
How close are you to operations?
I am very close to the operations. I am not always hands-on but I am certainly eyes-on. I am a strong believer in line of sight management. We tend to set goals and use graphs to track our progress. There is power in the belief that what gets measured gets managed.
What are the two most important things you rely on from your franchisor?
We rely on our franchisor to provide world-class marketing collateral, website, and negotiated discounts from our vendors.
Have you changed your marketing strategy in response to the economy? How?
Our marketing strategy has always allowed our customers to be in control of the price. During 2009/2010, our customers still called us and still purchased but spent a little less.
How is social media affecting your business?
Our product is very visual and people want it when they see it. We will continue to increase our social media presence. Closets by Design also uses social media to establish the brand as a leader in the home organization industry by posting relevant content.
How do you deal with problem employees?
As previously mentioned, we are very selective of who will be invited to join our team. Once onboard, we are very specific about the behaviors and quality of the deliverables that we expect. If it appears that either area is unacceptable, we will sit with the individual and let them know what is unacceptable, what the desired change needs to be, and deadline to achieve the change. Then we work with the individual to assure every opportunity is made to change the behavior. If the behavior does not change, we will let the person go.
Bottom Line
Annual revenue:
$7.5 million
2014 goals:
$8.1 million
Growth meter:
How do you measure your growth? We measure growth in terms of overall gross sales and net revenue. These numbers are reviewed by each department quarterly.
Vision meter:
Where do you want to be in 5 years? 10 years? In five years, we would like to be at $11 million in gross sales. We are also looking forward to building a state-of-the art facility that will provide our customers with a wider range of products and the best quality available.
How do you forecast for your business?
Our forecast is based on the predicted growth of the regional economy, plus the additional growth committed to by each department. Then, we review the monies needed for the necessary marketing and negotiate internally what the final number will be.
Where do you find capital for expansion? Have you used private equity, local banks, national banks, other institutions? Why/why not?
We have never had to access capital. We typically plan to purchase new equipment at the end of the year to take full advantage of Section 179.
What are you doing to take care of your employees?
We offer competitive pay and benefits. In addition, we offer an environment where your opinions matter. Where you can be part of something bigger than the individual. We also have many formal and informal social functions that our employees can attend and get to know another side of their team members. I have always found that when you know someone on a personal level you will be more productive on a professional level.
How do you reward/recognize top-performing employees?
I believe that the little and more frequent opportunities for recognition are more important that the annual award banquets that some companies have. Whether it is a certificate, plaque, or gift certificate, strive to recognize employees as close to the event that you are celebrating as possible.
What kind of exit strategy do you have in place?
I am sure that I will be helping customers with their home organizational needs for quite some time. However, I could see myself taking a backseat to a general manager.
Published: June 11th, 2014
Share this Feature
Recommended Reading:
Comments:
comments powered by

Disqus
810's mission is to bring there premium entertainment experience, traditionally available in large metropolitan markets, and makes it available...
Cash Required:
$550,000
Slim Chickens: Breakthrough Brand. Breathtaking Numbers.