Gentle Giant: Mary Lynne Carraway's Domino's Operation Rules with Compassion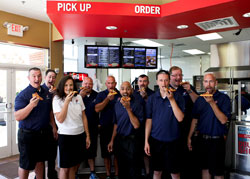 Mary Lynn Carraway is a successful Domino's franchisee with 74 locations in the Washington, D.C., area. But she may be even more well-known for the way she treats her 1,800 employees - with a kind and nurturing approach. It's a formula that spells success anyway you looks at it.
For example, the mother of four--who stepped into the company's leadership position after the death of her husband David from brain cancer--was the first to comfort the family members of two employees who were shot on the job and to assure nervous employees that all possible safety measures were being taken to ensure their well-being.
"Since I've been doing this job, there have been deep, hard places I've had to go. When someone gets hurt, it's crushing," she says. "You go on, but your heart never stops feeling the sadness for the others going through such difficult things."
Carraway was still mourning the loss of her husband when she took over the operation he'd built with Frank Meeks. "Before he started losing his memory, David told me he wanted me to take over and continue this legacy for our children. I knew it was the right thing to do and that there were great people on the job to help me, but it was quite a tender time. I had some background working in restaurants and had been a manager for Marriott Hotels and thought my people skills would serve me well," she says. "It was a challenge to learn the business and the people, and my ability to do that came to me through a higher power. I learned to do as much as I could in a day and then come to a peaceful place with knowing I'd start back tomorrow."
Carraway's situation was a first for Domino's. "I understood that they might be hesitant about having a stay-at-home mom take over the running of this large organization. When they agreed, it set a precedent. I was thankful to be part of that change," she says.
Though she went from being a stay-at-home mom to being a full-time executive, Carraway refused to hire a nanny for her children. "I knew that David wouldn't want me to continue to grow the business at the expense of our children, so I learned to work while they were asleep and at school," she says, adding that both of her sons are interested in working in the business.
Eight years later, Domino's Team Washington is number-two in the system in profitability, second only to an organization with more than double her number of stores. Carraway sits on Domino's Pizza Board Worldwide and is the recipient of both franchisor and IFA awards. "I'm not this highly intelligent person with business degrees, but I came with a different perspective, no politics. I just said what I believed was right," she says.
Carraway encourages other women to take a good look at franchising. "I tell women: 'You have a special strength that comes through the creative, gentle way we use our power. Integrity will get you further and help you accomplish things that others may not. There's power in being a leader who has compassion and can even cry with employees about something. We're still competitive at Team Washington, but we're like a family.'"
A devout Mormon, Carraway says that some of her most rewarding times come from reading about spirituality, spending time with her children, volunteering in the community, and chatting with employees about their families. She believes David would be proud of what she and Team Washington have accomplished. "But I think he'd be even more proud of the work/life balance I've worked hard to strike. In the end, relationships are what matters most."
Name: Mary Lynne Carraway
Title: President and majority owner
Company: Domino's Pizza Team Washington
No. of units: 74 Domino's Pizza
Age: 48
Family: Four children
Years in franchising: I was married to someone in franchising for 27 years and I've been the franchisee for 8 years.
Years in current position: 8
Published: December 11th, 2013
Share this Feature
Recommended Reading:
Comments:
comments powered by

Disqus
Heyday is a fast-growing skincare company on a mission to provide expert skincare that empowers everyone to be their best self. Heyday is reframing...
Cash Required:
$350,000
PetWellClinic is a walk-in veterinary clinic offering basic health and wellness services to dogs and cats. PetWellClinic is the first vet clinic...
Cash Required:
$250,000