Get the Word Out!: Using PR as Part of Your Sales Process
We're all in search of the "golden leads" year after year. We all say we are willing to pay whatever it takes to speak with qualified candidates who have an interest in our business. And we know that franchisee referrals and the customers who use our products or services rank as the top leads in any franchise organization. Getting the word out in the community is a great way to get more customers for your franchisees, make your franchisees feel good about being known, and to create a system with great validation and attitude.
PR is a great opportunity to promote your franchisees and build franchise sales. Public relations efforts have always been thought of as an expense, rather than an investment in your franchise system's branding and expansion. Franchises are purchased because candidates spoke with happy franchisees.
When your brand and local franchisees are featured in the media, everyone wins! The cost of a PR firm producing quality inquiries is not that far off from other lead generation techniques! It doesn't produce as many leads, but the cost per sale is very much in line with others. If you are considering a PR firm I would suggest you include the following in your research:
Interview PR firms that understand franchising.
Prepare for these calls as if you were selling a prospect on the excitement of your business. They need to know why people want to be part of your system. Yes, speak with the PR firms about how they can best promote new openings and human interest stories. But most important, can they spin those into development and recruitment stories to help build your brand with increased unit sales?
The interview
Over my years in franchising I've worked with numerous PR firms. I've found that local PR firms are less expensive, but they are stretched and out of their league on a regional or national campaign. National PR firms not affiliated with franchising are generally more expensive than franchise-focused ones, but since they may not understand franchise recruitment messaging they will need more education. Franchise PR firms have years of experience working with several different types of franchises, and they have the media contacts needed to get stories in front of the right audiences.
Ask for references of past articles and of companies they've worked with, both previously and currently. When asking for past articles, request articles that have produced franchise inquiries, and the publications in which they appeared. For references, ask to speak with companies that are in the same business sector as yours. If you are in the home cleaning business ask for referrals from other home service providers such as painters, handymen, etc.
Finally, check with the IFA Supplier members for firms affiliated with franchising.
Before the interview
Make sure you are prepared to tell your brand's story and history. The PR firm will supply you with a document to prepare for the call. You should talk about what your service does to change people's lives; how it frees up their time to be with their families; and how your brand is active in their communities. Also be sure to tell any family or career stories about your franchisees that are unique, and how the business has positively affected their life and the lives of others.
Because development is one of your goals, make sure you have information prepared regarding expansion plans, target markets, and any new openings on the horizon. Gathering all this information--and much more once you engage a firm--takes a lot of time and resources. It is well worth the effort at the end.
Don't expect instant success! As with any project done correctly, the PR firm first has to assemble the information about your company and franchisees, and then start contacting the media to secure placement of articles.
Once you've engaged a PR firm you need to make the best use of the articles that have been secured. PR stories have a shelf life of at least one year, and keeping them organized and available to send to candidates is 80 percent of why you are using a PR agency. An article in the media is not a one-time shot! If used correctly, hundreds of candidates can view these on your website, on blogs, or in emails during the qualification process.
Successful lead generation campaigns incorporate several strategies. PR is one of the many lead sources we need to use in our efforts to find the best candidates for our franchise systems.
Published: August 8th, 2012
Share this Feature
Recommended Reading:
Comments:
comments powered by

Disqus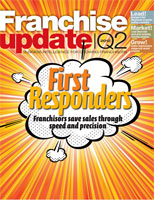 Franchise Update Magazine: Issue 2, 2012
Conferences
InterContinental, Atlanta
OCT 18-20TH, 2023
919 Marketing Co. is a national content marketing, PR and social media agency serving franchise brands. Our proprietary social relations approach...
Bring Order to Your Business. All-in-one management, print, and design solutions at your fingertips, on one platform