Growing Up Pizza: Franchising Beats Out Med School For This Entrepreneur
Jason Shifflett learned early in life that Domino's Pizza could offer him the keys to a successful life--and that he plans you make in your youth don't always come to pass.

"I started with Domino's at age 14 and worked my way up in high school," says Shifflett. In college, he was a biology student and planned to attend medical school. He continued to work at Domino's as a general manager--and learned a few things there too.

"I learned as a GM that I could become a franchisee after a year. I changed my major from pre-med to business and graduated from the University of Mississippi in 1998. I graduated from school in August and had my first store in October."

Shifflett and Domino's were a perfect match. He was looking to grow his award-winning operation at a fast pace, and Domino's needed new locations--as well as a hardworking entrepreneur able to take underperforming stores and turn them into star locations.

Fast track? In a stretch of just over two years, Shifflett almost quintupled the number of locations he owned and managed. And at the age of 32 he's nowhere close to the finish line: in 10 years he sees himself leading a franchise group with 100 locations.

Shifflett clearly has high expectations, both of himself and of the people who work with him. Yet improving his operations starts with a commitment to his personal improvement. It may not always be easy for everyone to keep up, but those who do will be rewarded with new opportunities.

By staying focused on creating a world-class organization, Shifflett has built a string of stores that generate enough money to finance his growth--which has allowed him to operate and grow without being shackled to the swings of the credit markets. And don't expect this franchisee to slow down just because the economy has. Says Shifflett, "We have high expectations in the worst times."

Name: Jason Shifflett
Title: Owner
Company: Shifflett Companies
No. of units by brand: 30 Domino's Pizza
PERSONAL
Age: 32
Family: Married, two children

Years in current position: 11
Years in franchising: 11

Key accomplishments: Our company has grown significantly in the 10-plus years I've been a franchisee. We grew from 7 to 20 stores almost overnight. And two years later we were at 30 stores. We took over underperforming stores and significantly improved them in a short period.

Biggest mistake: Not getting rid of bad apples soon enough within the organization.

How do you spend a day, typically? I concentrate most of my energy on training the management team. I also spend time on operations, visiting stores, and interacting with people.

Work week: I want to touch several stores and communicate clearly with members of my team. We want to continuously improve, be better tomorrow than we are today.

Favorite fun activities: Spending time with family is number one. And I'm involved in the church. As for fun, I like fast cars.

Exercise/workout: I'm working on a consistent routine for that. Newborn children prevent that somewhat.

Favorite stuff/tech toys: I carry a BlackBerry and I'm migrating to an iPhone.

What are you reading? Hire the American Dream by Dave Melton and Tim McIntyre, and Firms of Endearment.

Do you have a favorite quote or advice you give? If you always do what you've always done, you're always going to get what you've always got.

Best advice you ever got: Treat people the way you want to be treated. Make sure you strive to be the best in every aspect of operations.

Formative influences/events: Certainly my Domino's Pizza experience. It's a great franchise. They've given me the opportunity to spread my wings, to take on more responsibility. They encouraged me to become a franchisee, and buying my first store and building my second was significant. The great thing about the franchise network is that it's a big fraternity. We share information, encourage each other to be successful.

How do you balance life and work? First off, I have priorities: God, family, and work, in that order. I have a wonderful spouse who understands my business and understands me and helps me obtain those goals in that order. Also, I have a great team on board. We've assimilated a great number of people, with a wide array of skill sets who are very versatile in the business.
MANAGEMENT
Business philosophy: We operate with integrity. We put people first and take great care of our customers. We want to be the best. We want to have a world-class organization so that we can be the benchmark in our business.

Would you say you are in the franchising, real estate, or customer service business? Why? We're in the people business. We're a people-driven business, with internal (employees) and external customers. We can't have one without the other.

What gets you out of bed in the morning? The motivation to continue to excel and improve every day.

What's your passion in business? To be the best.

Management method or style: I guess that depends on who I'm leading. But I would say I'm a very hands-on leader. I consider myself expert and professional in all areas of operations, but once I put people in position it's more a mentoring and encouraging style of management.

Greatest challenge: People. Continuing to recruit select and retain top talent to keep up with an extremely fast pace of growth.

How close are you to operations? Extremely close.

How do others describe you? Aggressive. Enthusiastic. Passionate. Caring.

How do you hire and fire? I'm always looking for top talent that piques my interest. This is a people business, and making the right hires determines success. I've made a couple of bad hiring decisions, and that can bite you. You have to stick to the highest standards. We hire people with integrity who are looking for an opportunity to grow. You can be anything you want to be in this organization. As for firing, people fire themselves.

How do you train and retain? That's a pretty complex answer. We share systems and applications with Domino's. We have a multi-step approach to the operational aspects of the business. On-the-job training is 95 percent of it, and there's 5 percent in the classroom. And of course there's consistent feedback and evaluation.
BOTTOM LINE
Annual revenue: We don't give that out.

2009 goals: We want the best manager in every store. We also have certain sales targets, with a goal of having turnover of less than 80 percent.

Growth meter: How do you measure your growth? Order count growth, sales growth, profit growth, and people growth.

Vision meter: Where do you want to be in 5 years? 10 years? In 5 years we want to be at 50 stores, in 10 years at 100. And we want those stores to have very, very high volumes. Bigger is not always better. Better is better, guided by internal metrics.

How is this economic cycle affecting you, your employees, your customers? As costs go up, it becomes very challenging to maintain margins. With the economy not being strong, people aren't spending as much. So we focus on great customer service, a great product, and a great image. We want to be better than the next guy.

What are you doing different in this economy? I think we're offering extreme value to our customer. We want the nicest people delivering the fastest pizza to people, safely. And we have a variety of new products--sandwiches, new pizzas--and we've expanded the menu considerably.

How do you forecast for your business during these trying times? Can you even forecast at all? I think it's pretty much impossible to forecast. But we expect growth in the worst times. I'm not an incremental guy. We take over underperforming stores and look for 100 percent growth in order count right away.

Where do you find capital for expansion? We want all solid, strong stores. And we expect those stores to be highly profitable. Our goal is to be self-funded and have great relationships in the banking industry.
Published: December 21st, 2009
Share this Feature
Recommended Reading:
Comments:
comments powered by

Disqus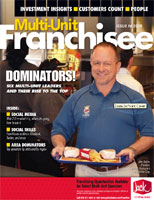 Multi-Unit Franchisee Magazine: Issue 4, 2009
Own a rewarding business and help children develop skills for life with The Little Gym, the world's largest children's motor skill development...
Cash Required:
$100,000
Hungry Howie's is currently EXPANDING! Top Markets are available for single or multiple unit development. Get the EDGE over the competition with...
Cash Required:
$200,000