Heart & Home: For Shirin Behzadi, Caring is at The Core
Earlier this year, Home Franchise Concepts (HFC) acquired AdvantaClean. The move provided the 26-year-old company with a fourth, complementary concept for its Budget Blinds, Tailored Living, and Concrete Craft brands. At the time, HFC CEO Shirin Behzadi said, "AdvantaClean is a perfect fit with the HFC family and spreads our mission of being a whole-home solution provider with a growing suite of best-in-class home products and services."
Behzadi leads a company with more than 1,700 franchise territories operating in 11,000 cities throughout North America. Under her direction, HFC has grown into one of the country's largest franchisors, with more than $740 million in sales in 2018. As CEO since 2015, she leads an executive team and a flourishing company by leveraging her financial, operational, and franchising experience, while also drawing on her passion for giving back and helping franchisees realize their financial and personal dreams.
Behzadi began her career with Budget Blinds in 1999, serving as CFO and becoming one of its principals. As Budget Blinds grew, the company established HFC as its parent and began adding subsidiary home improvement franchise businesses including Tailored Living and Concrete Craft.
Caring is a big part of everything Behzadi does. "I truly care about HFC's different publics: employees, franchisees, customers, and partners," she says. This approach is at the core of her life. The company's Heart & Home initiative is a prime example of how the company gives back to its communities, contributing to organizations such as Wounded Warriors Canada and Second Harvest Food Bank.
Leading a large franchise company also gives Behzadi the opportunity to help people "own their own lives" as franchisees or employees of franchisees. It also gives her the opportunity to demonstrate a caring philosophy within a business model that is also successful. "When I see proof of all of this coming together, I'm reminded why I do what I do," she says.
Behzadi says the company is focused on growing Budget Blinds, Tailored Living, Concrete Craft, AdvantaClean, and any other brands it may develop or acquire. Her goal is to become the go-to source for all home improvement needs. And she also knows that helping franchisees be as successful as they want to be is another important function that remains a top priority.
Of course, she says, along the way there will be "lots of caring and give-back work by employees and franchisees who are making a difference in their communities and in the world."
Name:
Shirin Behzadi
Title: CEO
Company: Home Franchise Concepts
Units/brands: 1,700 Budget Blinds, Tailored Living, Concrete Craft, AdvantaClean
Age: 53
Years in franchising: 20
Years in current position: 3.5
Leadership
What is your role as CEO?
I consider myself to be a conductor. My job is to identify what people are good at and help them grow their talents, while providing the environment that allows everyone to work and perform in concert with others. If I can help each person nurture their talents while creating harmony across the organization, I've done my job well. While being the CEO of a large franchisor involves seemingly unlimited job responsibilities, the common thread is nurturing people.
Describe your leadership style.
I'm collaborative, respectful of others, and a listener who wants to hear other opinions. In my position, I have to make decisions and do so after studying the situation and hearing different options and viewpoints. I own mistakes and learn from them. I truly care about HFC's different publics--employees, franchisees, customers, and partners--as well as our local community. I try to do my best to do good in the world and to lead our company and franchisees to do the same. I've been able to channel this through our Heart & Home initiative, which gives back to those in need in our community and encourages our franchisees to do the same. This philosophy starts with our ongoing commitment to helping people from all walks of life realize the dream of owning their own business and controlling their own life. But it transcends the business world by allowing us to give back in our communities and to organizations like Home for Our Troops, Wounded Warriors Canada, and Working Wardrobes, among others.
What has inspired your leadership style?
Truly caring for all those who come in contact with Home Franchise Concepts, especially our employees. After being on the receiving end of some very challenging leadership styles and personalities in the past, I'm even more passionate about adopting a positive approach and showing people that you can be a good CEO and a caring, nurturing leader at the same time.
What is your biggest leadership challenge?
It's hard for me at times to acknowledge weaknesses in people on my team and accept the simple fact that some people just won't be a right fit. I have a hard time moving people out. However, I've learned that letting them go in a timely and respectful manner is better for everyone in the long run, especially them.
How do you transmit your culture from your office to front-line employees?
We continually invest in the process of defining and communicating our core values to everyone on our teams. We make it a point to evaluate all major decisions and initiatives against those core values so that employees see them being practiced in action. And then we repeat the process again and again, ensuring it becomes a major part of the culture.
Where is the best place to prepare for leadership: an MBA school or OTJ?
Knowledge is important regardless of how you acquire it, and it's essential to stay on top of trends, especially in this field. But, if given the choice, I value on-the-job and in-the-field experience as well a person's desire to continue learning the industry.
Are tough decisions best taken by one person?
How do you make tough decisions? Someone needs to ultimately own decision-making. I study, listen, and solicit various points of view and then make a decision without letting too much time go by. I've found that the delay is often worse than the consequences of the decision itself.
Do you want to be liked or respected?
I think a person who treats others well, with respect, and makes it obvious they care can be both liked and respected--especially when employees and partners experience firsthand the core values of trust, transparency, collaboration, and caring.
Advice to CEO wannabes?
You can be a CEO. Visualize it, own it, make a plan, and do the hard work to get there.
Management
Describe your management style:
I'm collaborative and caring and try to model the same style to those on my team and our business owners. It is from this collaborative place that I seek others' opinions, whenever possible, to stay informed to be able to be decisive. Having the information necessary to make smart decisions is one of the hallmarks of a successful CEO.
What do you think makes up a good management team?
I'm looking for those who are competent, good managers, and proven team players. Beyond that, I need people who are a good cultural fit and who subscribe to our core values, especially caring about our employees, franchisees, and local community. They need to be wholly committed to our mission to empower business owners to be as successful as they want to be.
How does your management team help you lead?
They're equally collaborative, smart, nice, honest, caring, and just good people. I trust them to problem-solve and help guide our franchise owners to be as successful as they want to be.
Favorite management gurus: Do you read management books?
While some folks find inspiration from their favorite gurus or management books, which are both great, I personally find inspiration learning from business and management leaders who are making a direct, real-time impact in their industry. Seeing these people affect their company's growth and make positive change in the community, as well as in the world, is quite inspiring.
What makes you say, "Yes, now that's why I do what I do!"?
I care... and want to bring people a chance to own their own lives, either as employees or as business owners. I want to spread the message of caring, especially to our communities and to the world. I want people to know good companies and good people can be successful--and ultimately more successful than other companies. When I see proof of all of this coming together, which is more and more lately, it's then I'm reminded of why I do what I do.
Personal
What time do you like to be at your desk?
9 to 9:30 a.m.
Exercise in the morning? Wine with lunch?
Yes on the exercise. I work out at 6 or 7 a.m. depending on the day. No on the wine. I can't drink it. I prefer tequila, but not usually at lunch!
Do you socialize with your team after work/outside the office?
Sometimes, but the best social times come after we accomplish something as a team or volunteer together in the community as part our Heart & Home initiative.
Last two books read:
The Art of Joyful Living by Swami Rama and Perfect Health Diet by Paul Jaminet and Shou-Ching Jaminet.
What technology do you take on the road?
My phone.
How do you relax/balance life and work?
I work out, meditate, watch lots of documentaries, socialize, travel, attend lots of seminars, enjoy my husband, spend time with my children, and stay focused on those I love.
Favorite vacation destination:
Bora Bora.
Favorite occasions to send employees notes:
Birthdays or just an impromptu thank-you, especially when I see someone on my team go above and beyond. We have a lot of good folks contributing behind the scenes who I appreciate and want to acknowledge.
Bottom Line
What are your long-term goals for the company?
On the consumer front, to grow Budget Blinds, Tailored Living, Concrete Craft, AdvantaClean, and any other brands we develop or acquire to become the "go-to" brands for all home improvement needs. For franchisees, to help even more business owners be as successful as they want to be.
How has the economy changed your goals for your company?
More people are seeking high-quality, do-it-for-me solutions with the proven system, expertise, training, and support we offer. It's a perfect tailwind for us.
How do you measure success?
Bringing success to our franchisees by allowing them to be as successful as they want to be; growing our footprint of brands and franchise territories; and making customers' homes into their dreams--all while spreading the idea of good and giving back that becomes contagious to everyone in the HFC universe.
What has been your greatest success?
My family and the close relationships in my life.
Any regrets?
Not owning my place, speaking up, and taking credit for the value I bring earlier in my career.
What can we expect from your company in the next 12 to 18 months?
Continued growth of our current brands, the development and acquisition of new home improvement goods and services, and lots more caring and give-back work by employees and franchisees who are making a difference in their communities and in the world.
Published: August 31st, 2019
Share this Feature
Recommended Reading:
Comments:
comments powered by

Disqus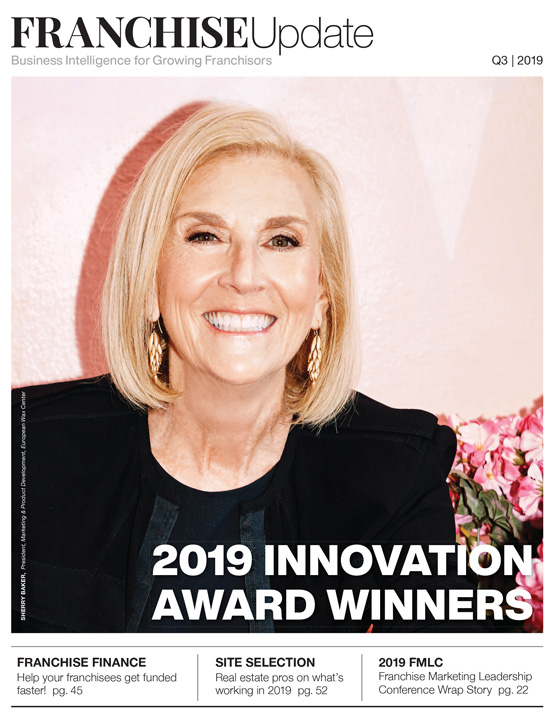 Franchise Update Magazine: Issue 3, 2019
Conferences
InterContinental, Atlanta
OCT 18-20TH, 2023
In 2022 Empower Brands emerged when Lynx Franchising and Outdoor Living Brands united. Empower consists of JAN-PRO, Intelligent Office, FRSTeam,...
Hub by Thryv is an end-to-end client experience platform custom-built for franchises. Its ready-to-use business apps help franchisees view their...