Holding Court: Food Court Pioneer Makes All His Brands Work Together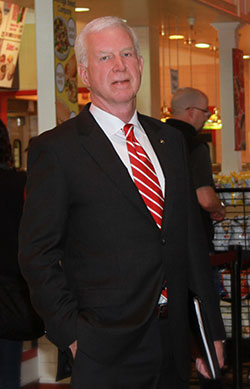 Jack Hough has never been limited by space. Back in 1996, he was trying to figure out which restaurants to place where in a somewhat limited space at the North Georgia Premium Outlets mall.
"It was our first outlet, and space for everything was an issue," says the Alabama native. "So I said, 'Why can't we run nine separate concepts out of the same kitchen with one GM?' A few of my franchise friends had a fit because it had never been done before, but after I explained that it would not interfere with their menus and concepts, we were able to get it done."
Over the years, Hough has extended that consolidated food court model into 14 airports, outlet malls, universities, and other "non-traditional" settings across 12 states. Today his company, MSE Branded Foods, represents more than a dozen national franchise brands, including Arby's, Sbarro, Subway, Steak 'n Shake, and signature concepts such as JJ's Sports Bar & Grill and the Buckhead Grill.
When Hough explains how all his brands work together, he makes it sound simple. He says the cooking and presentation of most of his brands are done ahead of time. "The only thing we have in the kitchen is prep. That really streamlines things," he says. "If I brought in a concept with a kitchen in the back room, that could be problematic, but we have operated licensed Chick-fil-A units in a consolidated format by making accommodations in the kitchen."
When considering additional brands, Hough says that instead of looking at the hot, new concepts, "We decide what type of food we need for a particular location. Each of our locations is different. Even if we're talking about regional airports, we can be talking about one that is business-focused and another that's a tourist airport. We select concepts based on what we perceive consumer demand to be."
Another factor that makes this model so successful is that restaurants in airports and malls have a built-in clientele. "We don't have to generate customers through special marketing. They are generated for us," says Hough. The same is true at universities, where students supply a steady stream of customers.
Nearly 20 years after his first consolidated food court model, however, everyone's gotten in on the action. "Every location we look at, we're competing with somebody. You win some and you lose some. If you look at nine or 10 locations, you may end up with one or two," Hough says.
His company, based in Gainesville, Ga., must remain nimble, he says. For example, since 9/11, MSE employees who work in the six regional airports must undergo TSA background checks and wear special identification badges.
MSE, which has found its niche--created it in fact--strives to maintain the quality of the franchised product, says Hough. "Everything runs so the brand integrity is protected, but behind the line is a shared functionality. The various brands share sinks, coolers, prep space, and dishwashing facilities."
In addition to his franchised brands, Hough is especially proud of his signature brands. For example, Buckhead Grill specializes in top-quality Black Angus beef burgers. "We must have tested 40 different suppliers to come up with the best burger on the market," he says.
Name: Jack Hough
Title: President and founder
Company: MSE Branded Foods
No. of units: 5 Caribou Coffee; 4 Jump Asian Express; 4 Sbarro; 4 Villa Fresh Italian Kitchen; 3 Subway; 3 Green Leaf Café; 3 Bananas; 2 Arby's; 1 Cinnabon; 1 Steak 'n Shake; 1 Auntie Anne's Pretzels; 1 Freshens Yogurt; 1 Jamba Juice; and 1 PJ's Coffee. Signature concepts include JJ's Sports Bar & Grill, Buckhead Grill, Gateway Grille, and Blue Ridge Bakery
Age: 65
Family: Son, Brandon
Years in franchising: 23 as an operator
Years in current position: 28. I worked signature concepts at first, including Main Street Eateries, which is where MSE comes from
Published: June 4th, 2014
Share this Feature
Recommended Reading:
Comments:
comments powered by

Disqus
Bad Ass Coffee of Hawaii brings an unforgettable brand, premium coffee products, and a proven business model to a booming coffee scene. We want...
Cash Required:
$200,000
Checkers Drive-In restaurant franchises are small but efficient making our restaurants easy to operate and typically reduced overhead costs.
Cash Required:
$250,000