How Franchise Brands Are Dealing with their Disrupted Supply Chains 
From the first reported outbreaks of Covid-19, franchisors and franchisees providing products and services to their customers have had their supply chain arrangements disrupted – in effect, turned on their proverbial heads. Long-term manufacturing, distribution, and other supply relationships can no longer provide certain products, are delayed in providing products, or go out of business because others they depend on in their supply chains can no longer provide critical components or ingredients. Buyers including franchisors and franchisees cannot maintain purchase commitments because they are closed or cannot open because inventory is too low.
Various approaches to weathering the disrupted supply chain have been used by companies to stay in business and not be in breach of their contractual obligations. These include ceasing to offer certain products, modifying specifications and menus, finding alternative suppliers, canceling orders, and reaching the customer in new ways.
What can we learn from the businesses that have responded to Covid-19 supply chain issues? What options do franchisors and franchisees have to deal with uncertainty and risk in their supply chains? In this article we discuss how some companies have dealt with the effects of Covid-19, and propose recommendations for those continuing to face supply chain disruptions.
1) Maintain frequent communications
Franchisors will likely need weekly or even daily communication with suppliers to stay apprised of any predicted product shortages or bottlenecks in production or delivery. Papa John's CEO Rob Lynch credits "work[ing] very closely with [its] supply partners" for the company's ability to withstand supply chain fluctuations. Lynch noted that Papa John's "knew a lot about how [Covid-19] was going to play out from our markets in Asia – particularly China, Korea – and we got out in front of it." Open communication with suppliers has allowed Papa John's to reinforce its supply chain, double inventory, and create redundancies by engaging new suppliers.
Franchisors should maintain frequent, proactive communication with franchisees who are dependent on the supply chain by providing updates to changes in goods and services from supply chain issues. For example, Qdoba has been hosting daily webinars to keep in touch with its franchisees. Businesses may consider increasing their use of data and analytics to predict and model the impact of supply chain disruptions and share this data with franchisees to ensure system-wide updates on product availability and estimates. Franchisors should prepare and guide franchisees for reopening once government restrictions are lifted or as thresholds for open businesses increase, including operational and financial guidance. Hand & Stone has been holding weekly calls with franchisees to discuss the "market by market, county by county" approach to reopening franchised locations, with the franchisor supporting the decision of four of its eight Georgia franchisees to reopen as early as April 24.
Franchisors should also maintain open communications with customers to keep them informed of any changes to products and services normally offered, how long changes are expected to last, and the substitute products or services now available. For example, Planet Fitness launched a United We Move campaign and has been offering users live online "work-in" fitness classes as a substitute for going to Planet Fitness gyms.
2) Adopt flexibility in brand standards and requirements
Franchisors should be flexible in establishing and enforcing their standards and requirements to deal with supply chain issues. This may involve relaxing certain brand standards during the period in which they re-enter the market. For example, Marriott International has deferred renovations for 2020 by one year, has deferred required expenditures for franchisees to update furniture, fixtures, and equipment, and has ceased conducting brand audits.
Franchisors also should consider sourcing alternative suppliers to preserve continuity of supply. Approved supplier/supply provisions in franchise agreements should be carefully reviewed, and franchisors must consider whether their current approved suppliers will be able to meet demands. Some franchisors may allow franchisees to propose alternative suppliers or source goods from local, alternative suppliers – especially for high-demand items – with franchisor approval.
Recently, home health franchise system BrightStar Care and consulting firm FranWorth established an online fulfillment center for BrightStar franchisees that permits them to request personal protective equipment (PPE), including hand sanitizer, gloves, masks, and thermometers. Before FranWorth got involved, BrightStar had difficulty sourcing PPE. Because BrightStar and FranWorth identified alternative supply chains, BrightStar has been able to invest in PPE and provide its surplus of PPE at cost to other businesses in need.
3) Consider and negotiate alternative payment arrangements
The Covid-19 pandemic has severely affected cash flow for franchisors and their supply chain partners alike. Businesses that are not experiencing immediate cash flow issues have reportedly accelerated payments to their suppliers to help them stay solvent during the pandemic. Lockheed Martin advanced more than $155 million to its "small and vulnerable" suppliers. As truck stops were recognized as essential businesses by the federal government, Love's Travel Stops has been able to add new locations, increase hourly pay and bonuses for employees, and provide free meals for employees, therefore increasing overall credibility in the supply chain.
Many franchisors have deferred their franchisees' royalty and marketing obligations. Fazoli's waived royalties for March and suspended monthly marketing fees, instead focusing on providing franchisees with local marketing strategies to emphasize contactless service options. Restaurant Brands International, which owns Burger King, Tim Hortons, and Popeyes, and is the landlord for thousands of these franchised locations, has provided cash advances to franchisees and is now basing rent payments on sales.
Franchisors are also advising franchisees on government support programs. Yum Brands, which owns Taco Bell, Pizza Hut, and KFC, actively lobbied for franchisees to be eligible for the Paycheck Protection Program (PPP), and Denny's estimated that more than half of its restaurants have been approved for PPP loans. Other franchisors are using shared services arrangements, or other forms of collaboration with other brands, to maximize efficiency and reduce costs across the system. BurgerFi International recently partnered with Reef Kitchens (a network of neighborhood kitchens that helps restaurants rapidly enter new markets) to expand BurgerFi to Seattle, Nashville, Minneapolis, and Houston. The partnership is timely, as Reef will focus on delivery-only for BurgerFi in the new markets.
Businesses have had to cancel orders and non-essential services, downsize, or request deferred or flexible payment terms from their supply chain partners. Franchisors and franchisees should review their contracts to determine how parties' payment or supply obligations may be excused under the contracts' force majeure provisions. Franchisors should also review their insurance policies; the effects of supply chain disruptions may be addressed by business interruption or general liability coverage. Absent an express exclusion, property damage coverage may provide coverage for Covid-19. Making a claim has little downside.
Plan new product offerings and anticipate product shortages and delays
Franchisors have changed what goods and services they offer. For example, on May 4, Wyndham Hotels & Resorts announced that it would begin drop-shipping health and safety items to its hotels across the U.S., including face masks, hand sanitizer, and disinfectant. Wyndham attributed its ability to provide mass quantities of these items – and to defer costs to hotel owners until later this year – to volume discounting. Taco Bell and KFC announced that they would equip all restaurants with contactless thermometers, among other supplies, so that employees will have their temperatures checked before their shifts.
Rather than being in a position to supply additional products, some franchisors have decided to delay new product offerings or seasonal items. Similarly, franchisors may direct their franchisees to build inventories of critical supplies and products. Yet other businesses have found themselves simplifying their manufacturing processes to focus on producing only the most critical goods. Hertz has been negotiating with its suppliers to defer arrivals of new cars and modify existing orders; instead, the company is working with its extensive network of used cars.
Other businesses have found themselves using the supply chain differently to respond to shifts in customer demands. Retail sales at Tyson Foods have increased by almost 20 percent. The company saw increases in beef and pork sales since the onset of the pandemic and credits "market insights, channel flexibility, access to raw materials, and growing demand" as enabling Tyson Foods to pivot from foodservice demands to retail demands.
Where one part of a supply chain reaches a grinding halt, some brands are no longer able to provide the same products they did in a pre-pandemic environment. Wendy's, which prides itself on providing fresh beef fast-food products, has suffered from meatpacking plant shutdowns across the U.S. Wendy's issued a press release on May 10 to clarify that "[w]hile some menu items may be in short supply from time to time at some restaurants, we continue to supply fresh beef to all of our restaurants, with deliveries two or three times a week."
The food supply isn't the only supply chain that has been affected. Businesses with operations in countries that were hit early such as Italy, China, and South Korea, found themselves shutting down production in February. For example, Fiat Chrysler and Hyundai suspended production at their Serbian and South Korean plants, respectively, because they could not get products from China.
Conclusion
Supply chain disruptions in the wake of Covid-19 have proven that brands should be prepared to implement creative solutions. Franchisors and franchisees who develop a geographically diverse supply chain with multiple suppliers who can produce the same or similar goods will fare better than those who cannot. These proposed changes to a franchisor's supply chain may on their face be temporary, but will be more likely permanent if they increase efficiency and create redundancies in the supply chain to better withstand unpredictable events.
Joyce Mazero, a shareholder with Polsinelli PC, a law firm with more than 900 attorneys in 21 offices, is Co-Chair of its Global Franchise and Supply Network Practice. Contact her at 214-661-5521 or jmazero@polsinelli.com. Emily Doan is an Associate with the firm and also focuses on the firm's Global Franchise and Supply Network. Contact her at 303-256-2702 or edoan@polsinelli.com.
Published: May 26th, 2020
Share this Feature
Recommended Reading:
Comments:
comments powered by

Disqus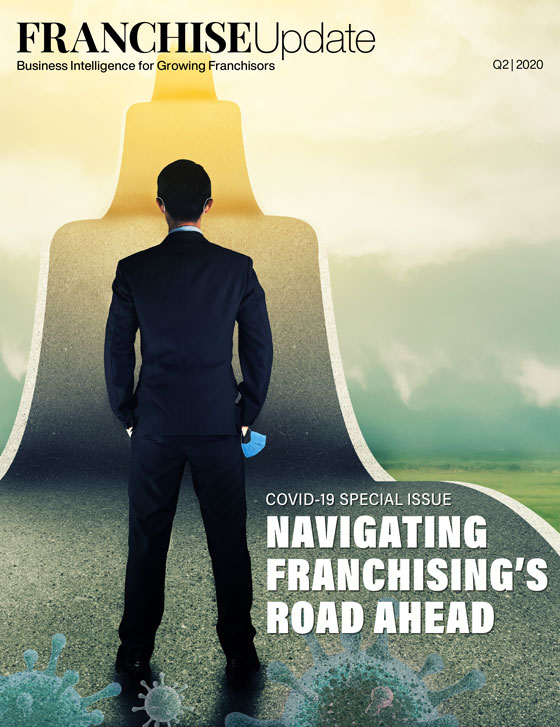 Franchise Update Magazine: Issue 2, 2020
Conferences
InterContinental, Atlanta
OCT 18-20TH, 2023
In 2022 Empower Brands emerged when Lynx Franchising and Outdoor Living Brands united. Empower consists of JAN-PRO, Intelligent Office, FRSTeam,...
Sociallybuzz, founded in 2009, is the #1 Social Media Marketing Agency to help franchisors and franchisees increase their revenues, drive sales, and...