Ingredients for Success: Cinnaholic is on a gourmet roll!
With nearly 15 years in restaurant marketing roles, I've witnessed firsthand how the restaurant space has shifted in its food marketing, customer demands, and menu development. This has meant paying close attention to emerging trends and individual brands as the industry as a whole continues to evolve.
One growing trend among consumers in recent years is the increased desire for more dietary inclusiveness. This has meant that brands—both seasoned and emerging—have needed to keep this at the forefront of their menu innovation discussions as customizable food options are becoming an expectation.
Though customers want menu options that everyone can enjoy, they still want a delicious product. Many still (falsely) believe that healthy food can't also be a delectable treat. Cinnaholic is a "better for you" bakery that constantly considers dietary or allergy restrictions in our menu development. Still, a lot of our customers don't realize that our products are plant-based. We emphasize crafting amazing products, consistently introducing new ingredients and flavors that satisfy audience cravings, while still holding true to our mission of being a bakery for all to enjoy.
Shark Tank to franchise
Cinnaholic's origin story dates back to 2010. Florian and Shannon Radke, a Berkeley-based vegan couple, dreamt of bringing a vegan bakery to their community. Not only did they achieve this at their flagship Cinnaholic store, the couple now offers a better bakery option to 70-plus communities nationwide.
Cinnaholic made its national debut on Shark Tank in 2014, and the Radkes were offered a deal with the potential to change everything. Although they initially accepted, most people don't know that they later backed out. The Shark Tank offer demanded an emphasis on shipping, but the Radkes believed that Cinnaholic needed to be a storefront bakery. They first started franchising in 2015.
From our first franchise location in Texas to our nationally acclaimed status today, growing rapidly over the last decade has been a thrilling journey. While we're well over 70 locations, we're still experiencing several firsts that keep the energy high. Des Moines, Virginia Beach, and Ann Arbor have been some of our most successful openings to date—and were the first locations in their states. We still have plenty of room to continue expanding, and several new bakeries are in development across the country. By the end of the year, we project we'll have 80 locations.
Rolling out innovations
Opening more bakeries in new and existing markets is only one element in our continued quest to grow and evolve. Throughout the pandemic, brands had to shift to survive. With this in mind, we launched online ordering and delivery options in 2020. This contributed to some of our monumental success during those uncertain times. This year, we've officially partnered with DoorDash—another way to better serve our loyal and new customers.
Keeping innovation at the forefront of our brand with technology and convenience is definitely key, but I believe there's another reason customers love Cinnaholic: our desserts are delicious. They love that everything is customizable, and that our menu is mindful of those with allergies.
Limited-time offerings and consistently updating the menu are something we have always done and truly mastered. Menu creation and planning begin months in advance, which allows ample time to see what competitors are doing, identify the flavors of the approaching season, and monitor trends. In the spring, we want to keep flavors light, fruity, and fresh while during colder months, we can go a little heavier and more decadent with the flavor profile.
13 years and counting
As we approach the brand's 13th anniversary—which includes almost a decade of franchising—there's one piece of advice for building a successful brand. While staying on top of consumer demands, updating technology, and crafting a unique menu are crucial, listening to the feedback from franchise partners and operators at the bakeries builds a strong company. Franchising is a unique business opportunity, and our franchisee partners are the ones in the bakeries every day. They have firsthand knowledge of what is working and what needs improvement, which is why corporate teams and franchisee partners must have a relationship backed by trust and teamwork.
Heather Stennis is vice president of marketing for Cinnaholic.
Published: November 21st, 2022
Share this Feature
Recommended Reading:
Comments:
comments powered by

Disqus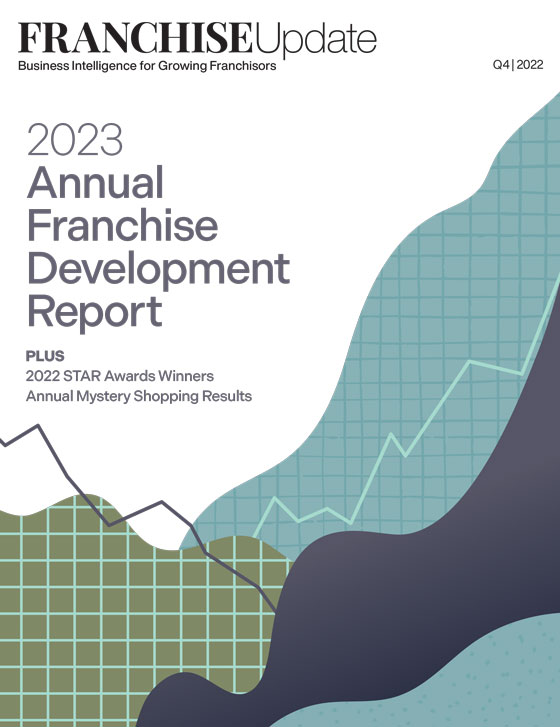 Franchise Update Magazine: Issue 4, 2022
Hub by Thryv is an end-to-end client experience platform custom-built for franchises. Its ready-to-use business apps help franchisees view their...
More than 15 years of passion and fascination with the franchise system. Thanks to having met many Franchisees, today I can help new ones and those...