Insight-Full: Corner Bakery's CMO Loves Neighborhoods
Diana Hovey says she came to know and love Corner Bakery Cafe over a cup of coffee at a unit in her neighborhood. In October 2006, when the opportunity to be a part of the corporate team came along, she jumped at the chance. She's been chief marketing officer for the Dallas-based brand for 8 years now, at the forefront of shaping the branding and messaging strategy for the bakery-cafe pioneer that she says is the "ultimate neighborhood gathering spot."
Hovey says connecting with guests and giving back to the community are paramount to what the brand believes in and stands for. In fact, understanding the hearts and minds of the consumer has always been the focus of her career, first in public relations and marketing with TGI Fridays and later with Brinker International as vice president of marketing for its Mexican Concepts Division and Romano's Macaroni Grill.
As CMO at Corner Bakery, Hovey makes it a priority to discover the needs and preferences of every neighborhood, offering a consistent experience and an ingredient-inspired menu while creating a feel that fits the personality of the neighborhood. It's a philosophy that has proven effective and is a large part of the brand's franchising program, where the goal is to capitalize on the insights of franchise partners to create unique neighborhood cafes on corners everywhere.
Hovey is active in the National Restaurant Association and is a former chair and current board member of its Marketing Executives Group. She's also been a strong advocate for ending childhood hunger in the U.S., has served on Share Our Strength's "Dine Out for No Kid Hungry" board since 2009, and was recognized with the organization's 2010 Leadership Award.
Describe your role as CMO.
My primary responsibilities are listening, evolving, protecting, and promoting Corner Bakery Cafe. Most important, I look at all decisions from our guests' point of view, making sure that we are not only addressing their needs and desires, but anticipating where they may change. Along with our executive team and franchise partners, I look at every aspect of our brand--from product innovation and cafe design elements to promotions and advertising--to ensure we are constantly evolving, protecting, and building the brand. We started as a small bakery on a corner in downtown Chicago in 1991 and have grown to more than 170 locations throughout 17 states and Washington, D.C. to become one of the largest and most successful bakery cafes in the industry. Our successful growth and $2.3 million AUV comes from constant development.
What's unique about the CMO position at Corner Bakery?
I often say that I have the best job in the company and we have the best brand in the industry. I'm pretty outspoken at times, and I enjoy the fact that our entire executive team enjoys challenging each other. I heard a very insightful comment recently: "Marketers are 'promise makers.' Operators are 'promise keepers.'" This really resonated with me. As marketers, we can make the most beautiful TV spots and we can plan the most exciting media campaigns, but results are completely dependent on a strong partnership with our operators and front-line staff. And that's true for all areas of our business. I am joined at the hip with partners in every area of the business: our franchisees, operations, culinary, finance, IT, and training. Making sure we're all on the same page at the same time is critical to keeping the promise. We work with a comparatively small marketing budget, and having these partnerships ensures we get the most out of our investments.
What's the most challenging part of being a CMO today?
I am an insights-driven person. Whether it's a quantitative tracker study, transactional CRM data, or qualitative feedback gathered from sitting on a living room floor with Millennials, I believe we must peel back layers to fully understand our business. There has never been so much data and so many insights at our fingertips. The challenge of any CMO is to filter the most important insights, creating a succinct message that resonates with the consumer.
What are the 3 most important keys to being an effective CMO leader today?
An open ear, an open mind, and the courage to act decisively. The world we live in is moving faster than ever before. The challenge for any CMO is to take time to listen to new and differing opinions. I'm naturally a very curious person and am constantly seeking opinions from new and different sources. We pride ourselves on not only listening, but most important, on being nimble and acting quickly on insights.
How do you prepare a marketing plan and execute the strategies?
I am very fortunate to work not only with a great team, but also some of the most talented agencies in the business. We have "Sandbox" meetings several times a year to review current consumer trends and business strategies, and then collaborate to build on each other's ideas. Much like kids building sand castles, we've all come to really look forward to the competitive collaboration that comes alive in these sessions. From these meetings comes much back-and-forth discussion between our agencies as we develop the plan. From there, the key to success is truly all about being joined at the hip with our franchisees, operations, culinary, training, IT, and finance. It's truly a team effort!
How do you measure marketing results and effectiveness?
When it comes to analysis, I have a strong partnership with our finance team and our agencies. I believe every marketing initiative, whenever possible, should be measured on several levels: guest feedback, growth and retention of traffic, margin growth, product mix shift, and lifts in awareness and first-time trial. Additionally, we use social media listening tools that provide rich insights into new product launches and key brand initiatives.
Discuss your core consumer marketing strategies and objectives.
Based on recent Consumer Picks research, "crave-ability" is the number-one attribute that can set a limited service brand apart. As we explored these findings further, we found that Millennials are especially drawn to brands with crave-able menu items. Within the bakery cafe segment, we lead all other brands for crave-ability. From the first Corner Bakery in 1991 on a corner in downtown Chicago to today, constant innovation and development of crave-able menu items has been core to our success. It's my team's job to make these cravings come alive with "lick-the-screen-delicious" marketing. We recently introduced a new marketing campaign, "Must. Have. NOW." that really embraces our ingredient-inspired menu items and the cravings people have for items like our BBLT (bacon, bacon, local tomato) sandwich, a seasonal favorite that celebrates America's love of thick applewood smoked bacon and local tomatoes at their best. This year, we introduced hot-from-the-griddle buttermilk pancakes to incredible reviews. This new product launch has been very successful and has been supported with our new campaign, reinforcing Corner Bakery Cafe as the place to go for made-to-order breakfasts.
How do you go about creating a "customer-centric" marketing and brand philosophy?
As a brand we have to continue to evolve by looking to our guests for insights, and outside our segment and industry for inspiration. We are much more likely to discover new ideas on a "food storming" trip to small, entrepreneurial concepts or at a farmers' market. Fast-casual consumers are well-educated and looking for crave-able, innovative menu items that incorporate fresh ingredients and flavors not found on every street corner. It's our goal to constantly identify these ideas and,as a marketer, I believe we must tell the story of our crave-able food in a compelling and unexpected way.
Describe your marketing team and the role each plays.
We have a brand marketing team (overseeing strategy, creative, production, and media) in Dallas and regional marketing managers in the field who are working with our franchise partners and company operators. I've worked with many marketing teams throughout my career, but I truly believe that I have the best team in the industry. While my team comes from different backgrounds, they share some common traits. They're curious, always seeking out new ideas. They're all very competitive (not necessarily with each other, but with goals we set). They're passionate about the brand and are perfectionists (almost to a fault) on details. Most important, they realize that marketing is just a small part of the equation. Their focus is on helping our franchise partners enter new markets and on staying nimble to take advantage of opportunities.
Why is it so important for the marketing department to have a "personal touch" when it comes to helping the brand connect with franchise prospects?
We are bringing in a record number of prospective franchise partners each month for discovery days to learn more about the brand. Many of these individuals are coming from other segments of the industry, including casual dining, QSR, and family dining. By the time we are sitting down with them, they have visited us in multiple markets, have seen the brand in the media and in our advertising, and begun to see our many points of differentiation. From our innovative, made-to-order menu offerings to our segment-leading catering business, it's important to all of us that those first impressions are reflective of the commitment we have to protecting and evolving the brand. Marketing ensures that all brand communication and touch points are consistent and accurately represented. After all, the strength of a brand is in the details.
How does this help your franchise sales and development effort?
All aspects of our business are instrumental in franchise sales. Prospective partners often learn about our brand's franchise opportunities and strong economic model after enjoying a dining experience at one of our cafes, visiting our website, or at an industry conference. Our marketing materials and website not only highlight our ingredient-inspired menu items, but also tell the Corner Bakery Cafe story, providing an in-depth look into our heritage and culture, our experienced executive team, and how our culinary team and menu items are best-in-class. These marketing materials often give franchisees a visual look into the brand, ultimately helping them to experience a cafe even if they do not have one in their home market.
What ways/tools do you rely on to do this?
Marketing pieces are instrumental in showcasing our brand to prospective franchise partners. From menus and POP to television spots and mobile billboards, we provide a taste of the brand both inside and outside our four walls. We share a variety of our marketing elements during our discovery days to show how marketing dollars are invested, and to ensure the prospective franchisee that we have the tools to effectively support the brand as they break into new markets.
Do today's prospects expect more from the franchise marketing department? What and how do you provide it?
As we evolve from a predominantly company-owned brand to a 50/50 franchise/company organization, we constantly tap into our franchise partners' vast experience inside and outside the segment and industry. We have worked directly with them to create processes and tools that benefit the brand as a whole. We offer local marketing and sales building training sessions, assist in the development of their marketing plans, and provide them with resources for the execution of the plans, including traditional and non-traditional media resources.
How is technology changing the way franchise marketing is done in terms of one-on-one contact?
Technology is certainly a benefit in communicating with our franchisees and providing them with tools to execute programs locally. We hold quarterly WebEx sessions to share details of upcoming initiatives, and we recently rolled out an online ad builder to allow franchise partners to customize select marketing materials, greatly reducing the lead time required to create local marketing materials. However, we strongly believe that there is nothing better than direct contact and will continue to develop one-on-one relationships with our franchisees.
How are you assisting your existing franchisees with more contact and transparency? What are their immediate needs?
The flow of information is two-way. We have learned from and shared so many of our franchise partners' ideas. This is perhaps one of the greatest benefits of franchising: the ability to partner and think out loud. We continually learn from our franchise partners and appreciate the benefits of sharing ideas and best practices. This is especially important as more groups are opening cafes in new markets and are faced with the challenges of awareness-building and growing their catering business.
How do you work with other internal departments and does technology help?
In today's world, marketing and IT must be joined at the hip. Over the past few years, we've made a significant investment in technology, setting the stage for considerable gains in operational efficiency. As part of our increased investment in technology, we've brought in a new VP of information technology who has become a tremendous partner for me. (See above for relationships with other departments.)
How do you manage costs and budgets for the marketing department?
Our marketing budget is a fraction of our competition's expenditures. Fortunately, we are nimble and I like to say that we are "scrappy" in our efforts. We lean heavily on our agency partners for out-of-the-box ideas that are cost-efficient for both our franchise partners and company markets.
Do you see vendors as business partners? Why/why not?
Our vendors are some of our greatest partners. We challenge them to bring new ideas and ways of doing things to our attention so we can continue to provide our guests and franchise partners with the best possible service. It is not unusual for our vendors to use the word "we" when talking about the brand. They truly feel part of the family, embracing that Corner Bakery Cafe is their brand too.
How have marketing strategies/tools changed over the past decade? How have you adapted?
Our consumer is constantly on the go and on their phone. Last year we introduced a completely new website, incorporating a responsive design that delivers a superior user experience whether on desktop, tablet, or mobile. Our new website has been very well received, generating a 180 percent increase in visits from mobile devices (and a 296 percent increase from iPhone users alone). Catering is a very big part of our business, representing more than 20 percent of our revenues, and online ordering has been key to the incredible growth we've seen in our catering business. With the introduction of our mobile-friendly site and online ordering for to-go guests last year, we've also seen significant growth in our online to-go orders.
As I said, our marketing budget is a fraction of our competition's. Fortunately for us, social media can help level the field for us. We focus on fueling word-of-mouth conversations about the brand. We use listening tools to monitor online conversations and sentiment, engaging whenever appropriate and as quickly as possible. Online community engagement is critical to building our business, and custom programs are designed as core components of every marketing campaign. In addition, we do weekly Twitter chats with our fans where ideas and inspirational thoughts are shared. Most important, we've discovered that our guests just want to share their Corner Bakery experiences. Social media is some of the most influential and cost-effective marketing we do. Looking just at the past month, comments about Corner Bakery Cafe on Twitter and Instagram alone reached more than 7.3 million people, leaving more than 40 million impressions. Now, that's the kind of advertising I love and can afford!
How is your marketing/branding strategy developed, and how does it flow through the system?
As I said, we take a "Sandbox" approach. We invite our agency partners to participate in the process. We look to our guests for insights, to our franchisees for input, and inside and outside our segment for inspiration. The plan is presented to the Franchise Advisory Council and shared with the franchise community through a quarterly WebEx.
What advice would you offer to aspiring CMO executives?
Align yourself with a brand that you truly love as a consumer. Lead with your passion. For my whole life, one of my greatest joys has always been bringing people together. I love to host gatherings of friends and family over great food. As CMO here, my job meets my personal joy. How many people can say that? And I love that Corner Bakery is committed to giving back. In 2008, I joined the Share Our Strength executive team to tour some of the hardest-hit areas of post-Katrina New Orleans, one of the most memorable and emotional experiences I've had in my career. Seeing the floodwater marks left behind on the elementary school walls and crayon drawings of children's storm memories was gut-wrenching. But walking outside, I saw busy children happily planting gardens and enjoying healthy lunches. This was in part due to the tremendous work of Share Our Strength's mission to end childhood hunger in the U.S. In 2008, we joined the first Dine Out for No Kid Hungry, and over the past 6 years our franchisees, our guests, and our team members have raised more than $1.2 million for this great cause. Today, more than 8,500 restaurants across our industry have united to make a difference--one kid, one meal at a time.
Published: April 2nd, 2015
Share this Feature
Recommended Reading:
Comments:
comments powered by

Disqus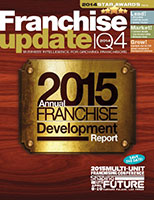 Franchise Update Magazine: Issue 4, 2014
Conferences
InterContinental, Atlanta
OCT 18-20TH, 2022
Location3 Media is a digital marketing agency that delivers enterprise-level strategy with local market activation. Founded in 1999 and located in...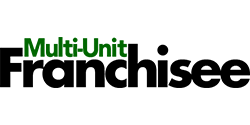 Published quarterly, Multi-Unit Franchisee Magazine is dedicated exclusively to Multi-Unit Franchisees. It delivers vital information and business...