Integration and Collaboration: It's all about teamwork at Jersey Mike's
At Jersey Mike's Subs, technology, marketing, operations, and strategy are so intertwined, "We joke back and forth about who's in charge of who, because there's so much overlap," says Rich Hope, the company's CMO. "We have a super open-door policy with marketing and IT, and try to get operations involved as well."
"Each department has needs," says CIO Scott Scherer. "In this day and age most of those needs involve technology."
The company's POS system, developed by Scherer and his team, is at the core of the inter-departmental collaboration that is a big part of Jersey Mike's culture--and its rapid growth, as the company approaches the 1,000-unit mark. Scherer describes the brand's award-winning POS system as an integrated software suite with the POS system as the hub (see graphic). "Our POS system provides a base technology package," he explains. "Then, depending on which department has a technology need, we'll build it into the program as part of the database."
For example, marketing uses POS data to prove the effectiveness of their efforts; the executive team to look at growth indicators and plan strategy; the customer service team to determine customer opinions and brand image; operations for food and labor efficiency; and development to show candidates how the brand's technology will help them build their business.
"We distribute a KPI report every Monday morning to area directors to compare with the previous week, previous year, the rest of country, and year-to-date numbers so they can see if they're keeping up, falling behind, and make changes if necessary," says Scherer. The executive-level reports are the same as the franchisees get, but consolidated at the group and national levels.
In 2004, Scherer was an outside vendor working on the company's accounting and mail systems. At the time, Jersey Mike's had about 230 stores--all with standalone cash registers, the legacy of a brand that started in 1956. Sales reports still were being faxed to corporate, just a dozen years ago. The next year, he was named CIO but still worked as a consultant, with the goal of developing a POS system to deploy in all the stores.
The brand started with a system from a small company, but that eventually proved unworkable and they began developing their own code. At first, Scherer says, it was more of an electronic cash register, but working with operations, marketing, and other departments, he and his team continually added features until it became a total technology package that today provides everyone in the company a view of the business--whichever view they need for their department.
Franchisees had been complaining about all the different systems used in the stores, but to further encourage them to adopt the new system, corporate provided an incentive: about $8,000 per store for the company's approximately 300 stores when it rolled out. As the company grows, new features are added--as long as they solve a problem and are economically justified. Scherer has a "wish list" of requested improvements from across the company, but anyone who makes a request must prove its ROI, or it comes off the list. "They're not the ones who pay for it--the franchisees do," he says.
Scherer and his 15-person IT team work most directly with Hope and the marketing department, and the two meet almost daily. He also works closely with the executive team, including the senior vice president of strategic initiatives.
Over the years, when looking to add new features for marketing and to better serve customers, Hope would ask Scherer, "Can we add this? Can it come out of your budget?" Says Hope, "That was the impetus to get us to work together--we both had limited budgets and needed to compete with other brands." Because of that, he says, "We're very open with every project. We have a tight-knit executive team here who enjoys working with each other."
Budgeting for IT projects is generally allocated into two areas: 1) customer-facing technology, with two people working in Hope's marketing department (supervised by Scherer) who focus on the brand's website, text messaging, etc.; and 2) franchisee-facing technology (e.g., POS system, food and labor, and reporting systems for sales), paid for by monthly technology fees from the franchisees.
"We have employees now who overlap--regardless of whether they're on the IT, technology, or marketing budget," says Hope. "My people couldn't live without the database people on the tech side, drawing from all the massive databases we have. It's a CMO's dream to have real-time data on sales and tie all our data together. It really allows us to better serve customers because we have all this data about them."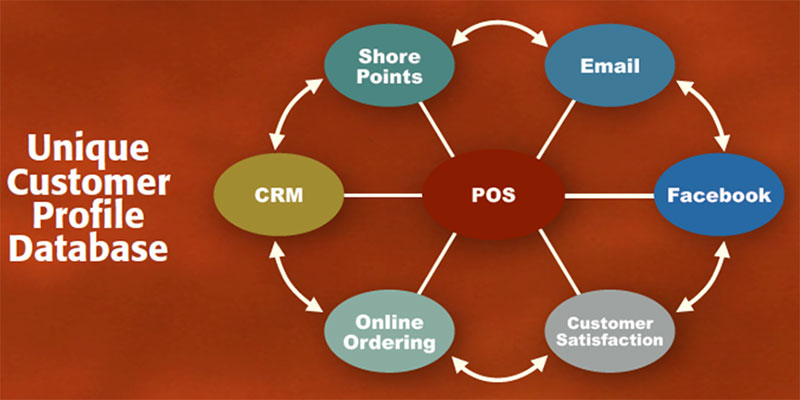 In-house or outsource?
Both Scherer and Hope were outside vendors when they began working with Jersey Mike's. Now inside, they continue to employ third-party vendors--as long as those vendors are willing to work with its API. "We now require our vendors to code to our standards," says Scherer.
Scherer uses third-party tech vendors for two purposes: when the company needs something rolled out quickly, and for functions outside his team's core competencies. Currently that includes online ordering, network security, and video analytics for the restaurants. He had used an outside vendor for the Monday morning reports for about a year, but has since brought that inside; and, after 18 months of using a third party for text messaging, the company is about to bring that in-house as well.
To manage food and labor at the restaurants, the company uses software from CrunchTime. "We'll never bring that in-house," says Scherer. "It not only increases top-line sales and reduces costs, but also helps us with quality control and keeps labor costs as low as possible without sacrificing service." In 2014, the brand was recognized with a Breakthrough Award from Hospitality Technology in the Enterprise Innovator category for integrating CrunchTime into its POS system.
In its ongoing effort to better use the data collected through the POS system, Jersey Mike's continues to seek out tech vendors who can integrate that data for them. "Almost everything we do has some kind of technology application," says Hope. And while the POS remains the hub, he is now preparing for the next stage: figuring out how to use that data more effectively. "We haven't looked at it in terms of executing marketing strategies. We hope to employ that next year."
Yet, he told the audience of 300 franchise marketers and technology suppliers this June at the 2105 Franchise Consumer Marketing Conference (where he served as chair), "Some things don't change. Technology doesn't change strategy." Instead, he said, it's a tool--a powerful tool, but still only a means to a strategic end.
"They tell me what they want to collect and what they want the screen to look like. The brains of the design is from the marketing guys," says Scherer. "Having our own software, hardware, and operators here allows us to be agile. We own it, we control it, and if something comes down from above we can do it."
Jersey Mike's Wins CIO Award
This past June, CIO magazine named Jersey Mike's one of its 2015 CIO 100 companies. The award recognizes organizations that exemplify the highest level of operational and strategic excellence in information technology, said Maryfran Johnson, editor-in-chief. "Our 2015 winners are an outstanding example of the transformative power of IT to drive everything from revenue growth to competitive advantage."
Scherer said Jersey Mike's won for the creation of a single proprietary, fully integrated technology platform for complex franchise operations. "Even though as a brand we're nearly 60 years old, we pride ourselves on the advantages of cutting-edge technology to support our franchise owners."
Ahead of the curve (again)
In spring 2012, Jersey Mike's replaced its punch-card loyalty program with Shore Points Rewards, a mobile-based app that lets customers use their smartphones to order and pay online, manage rewards, post to social feeds, and find the nearest Jersey Mike's. At the time, the company said this was one of the first apps to roll digital ordering and loyalty rewards program management into one, providing customers with a seamless experience. Adoption was swift: 650,000 members in the first 6 months, 1.4 million after 13 months, and membership is pushing 3 million today.
"This was our biggest collaborative operation," says Scherer. "It had to be something the customers used and liked, had to provide data for marketing and operations, and had to be easy to use at the store." It also resulted in the brand's first Breakthrough Award from Hospitality Technology in the Enterprise Innovator category. "Technology is changing at an extraordinary rate," said Scherer at the time. "We built our own customer terminals so we can accommodate existing and upcoming innovations."
Talk about 20/20 foresight. The October 1st deadline for EMV-capable readers is rapidly approaching. Adapting to EMV requirements is not a change directly justified by ROI, but it does allow the company to avoid liability in the case of credit card fraud or a data breach. "There are some things you're forced to do," says Scherer. "It's a cost of doing business."
CIO Advice
Make sure you include all of the stakeholders--operations, purchasing, marketing, development, and of course the executive team.
It's good to have an IT roadmap, as well as a wish list, but make sure that whatever you do has a clear ROI.
Published: December 9th, 2015
Share this Feature
Recommended Reading:
Comments:
comments powered by

Disqus

Franchise Update Magazine: Issue 3, 2015
Slick Marketers is reinventing franchise marketing with a hyper-customized and ultra-localized marketing approach with measurable results and growth...
Atmosphere TV is the world's leading cable alternative, providing free streaming TV for businesses.