Is There Gold Beneath Your Feet?: Unearthing Tax Incentives Can Pay Big Returns
Why would both a franchise capital finance company and the CEO of a retail franchise brand sign on as franchisees of a new concept?

That's what Siegel Financial Group and Gabriel Bottazzi, CEO and founder of Bijoux Terner, have done. They are among the six franchisees who have signed on with RetroTax. Part of the reason, both say, is that it's a great concept. RetroTax, as the name implies, finds tax credits for both franchisors and franchisees--and gets paid as a percentage of what they find.

Another part is relationships, namely, Stan Friedman and the tax credit administration experts at the parent company, Indianapolis-based ACI/RetroTax. The "company store" in Indianapolis is 12 years old, and Friedman's relationship with the principals goes back to 1994.

Friedman--who in the past two decades has held senior executive positions with Maggie Moo's, Wing Zone, Blimpie International, WSI Internet, and Cendant--became a partner and president of the newly formed ACI Franchising, LLC, franchisor of RetroTax, in late 2007. He is clearly excited about the opportunity the concept offers to small businesses.

"Lots of companies are struggling to keep their doors open. We can go back three years and get back taxes they've paid," says Friedman. "In many cases you can uncover five and six figures. They get cash back. And when you get a percentage of that, it's beautiful for you, too."

RetroTax, which administers federal, state, and local corporate tax credit programs, new hire, and job creation tax incentives, began franchising in April 2008. "I'm more focused on the numbers the franchisees will produce, than the number of franchises I can sell," says Friedman. He says all six franchisees "were introduced by one degree of separation."

"It began with our friendship with Stan," says Nate Greenberg, president and COO of Siegel Financial Group. "We've enjoyed a great relationship with him for years." Siegel, which helps franchisees find capital for startup and expansion, has signed on for the Philadelphia and Camden, N.J., territory. And for this company, it's a perfect fit.
"One of the things Siegel Capital does is help people take advantage of federally sponsored programs like SBA lending," says Greenberg. "Our existing clients and professional relationships are already naturally in a lot of this space. This made it a very attractive opportunity."

Siegel has only just signed on, says Greenberg. "So far everyone we've connected with has been really excited about the opportunities we've put in front of them." He felt so confident about the concept that he showed it to his own brother. "It's an opportunity to educate people about the gold that's been lying beneath their feet."

Gabriel Bottazzi says he's already busy enough growing Bijoux Terner, whose "luxury at $10" concept is especially timely in today's economy. The brand has more than 500 stores in hotel and casino resorts, cruise ships, airports, and train stations in 60 countries, but only recently began franchising.

Bottazzi discovered RetroTax through Kay Ainsley, a managing director at Michael H. Seid & Associates. Ainsley, he says, "helped me get my franchise act together" for Bijoux Terner. After a career of many moves and relocations, he and his wife Iraida, were looking for a franchise she could run.

"My wife and I wanted to start something separate from what I do," he says. "We looked at a lot of concepts." During that search, he asked Ainsley for suggestions. "Retrotax was very interesting. It's so timely, so of the moment, and brings almost a secret service that no one else knows exists. It gives people a nice surprise," says Bottazzi.

The couple attended a Discovery Day in Indianapolis, where they first met Friedman, who is based in Atlanta. They were impressed by what Bottazzi describes as the collaborative culture and good skill base in the organization. "We kind of fell in love with it. It's a great business concept, and we wanted to get on board."

They signed on for Florida's Broward and Miami-Dade counties, where they live. Iraida is the primary operator, concentrating on presenting the concept to potential customers. A native of Puerto Rico and former school teacher, she is fluent in Spanish and English, a big asset in South Florida. They recently hired George Romanenko to manage the business and operations side.

"It's very easy for a franchisee. You don't have to be an expert on taxes," says Bottazzi. "In 10 minutes you can catch the attention of any business owner." Franchisees become the sales force, and the administrative work--research into eligibility and the subsequent number-crunching, form-filling, and filing--is done at ACI's headquarters in Indianapolis.

"Everybody's talking about tax credits, but it's complex. How do you know you're entitled?" says Bottazzi. "The first thing we do is help them identify if they're eligible. Then we help them process the benefits."

Friedman says both franchisors and franchisees stand to gain. "Anyone employing people can benefit from these credits, whether for the corporate headquarters, company-owned locations, or franchisees nationwide." Franchisors, he adds, can become heroes by passing this knowledge and opportunity to their franchisees.

The only caveat is that the jobs must fall within the requirements of the IRS rules governing the various federal programs. These include the Empowerment Zone Wage Credit Program (up to $3,000 in annual tax credits per qualified employee); the Renewal Community Wage Credit Program (up to $1,500); and the Work Opportunity Tax Credit (up to $9,000); plus several state programs. These retroactive tax credit programs cover the open tax year and the three prior years.

"At first it seems like a fairy tale, too good to be true," says Friedman. "We tell them to google IRS Publication 954. They see it's real and start digging a little deeper." He says that while large vendors such as ADP provide these services for large corporations, there is no competition in the small business space. He's positioning RetroTax as ideal for executives and business owners seeking a white-collar, B2B, Monday-Friday concept.

Says Greenberg, "If you're a franchisee, multi-unit franchisee, or franchisor, you might be missing opportunities to help your people be and stay profitable. Once you know that gold is there, how can someone afford not to put this in place?"
Published: November 2nd, 2009
Share this Feature
Recommended Reading:
Comments:
comments powered by

Disqus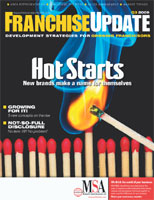 Franchise Update Magazine: Issue 3, 2009
Conferences
InterContinental, Atlanta
OCT 18-20TH, 2023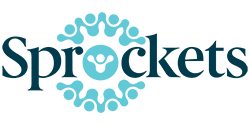 Sprockets is an AI-powered platform that helps franchisees maintain healthy staffing levels and improve employee retention. Our sophisticated...
More than 15 years of passion and fascination with the franchise system. Thanks to having met many Franchisees, today I can help new ones and those...