It's Growing Time! 19th Leadership & Development Conference Raises the Bar
For the first time in the 19-year history of the Franchise Leadership & Development Conference (FLDC), more than 500 top-level franchising executives gathered for franchising's premier sales and development event. The FLDC has become the priority "go-to" conference for sales and C-level franchise professionals looking to sharpen their sales chops, improve their development teams, learn best practices from the pros, and network with the best in the business.
Strictly by the numbers, this year's event at the InterContinental Buckhead in Atlanta attracted 508 total attendees: 321 franchise executives representing 187 brands in the food, retail, and service sectors. Seventy-three companies stepped up to sponsor this year's conference.
Once again two full days were carefully planned to provide opportunities for franchise veterans, panelists, and guest keynote speakers to address and interact with attendees in sessions, roundtables, and large general sessions. The Conference Advisory Board helped plan timely and topical sessions that packed meeting rooms.
A last-minute schedule change brought NFL Hall of Famer, Super Bowl champ, and all-time NFL rushing leader Emmitt Smith as a keynote speaker. Marketing, branding, and relationship expert Scott Stratten was the conference's second keynote speaker.
The Exhibit Hall was sold out once again and remains a popular networking venue each year. Third-party suppliers and franchise executives mingled freely to discuss business strategies, solutions, and products and services to help brands grow.
This year's Platinum Sponsors were FranchiseGrade and Manalto. Gold Sponsors were GbBIS, Hot Dish Advertising, Nimble [is], OneSource Communications, Prisma, and Scorpion. ApplePie Capital sponsored the STAR Awards Dinner.
Day 1: special sessions
The conference kicked off Wednesday morning with the annual CEO Summit, an opportunity for franchise CEOs and presidents to meet with their peers in an exclusive, all-day session to discuss common concerns and work together in roundtable brainstorming sessions to find solutions. Topics included Redefining Operational Support for Franchisees; 20 Practical, Proven Ideas in 30 Minutes on Operational Support Best Practices for Franchisees; Helping Franchisees Manage the Challenges of Today's Workforce; and Franchise CEOs and the Development Process. Discussions included dealing with different types and sizes of franchisees, unit economics and profitability, the value of annual conventions, and communicating both consistency and change to franchisees across the system. Therese Thilgen, Franchise Update Media's CEO, facilitated this year's Summit.
Meanwhile, two all-day sessions were running in parallel for sales and development executives. The two tracks--Smart & Sustainable Growth and Maximize Sales Performance--were each divided into a morning and afternoon session. The former consisted of Right-Sized Growth for Optimum Brand Development and Franchise Sales Process Deconstructed; the latter was divided into Mastering Sales Fundamentals and Lead and Nurture a Sales Team for Optimum Results.
In the Mastering Sales Fundamentals session, Mike Hawkins, The Dwyer Group's vice president of franchise development, facilitated a panel consisting of Kelly Parker, franchise sales and marketing for Walk-On's Bistreaux & Bar, Scott Milas, vice president of franchise development for Wayback Burgers, and Trevor Robinson, director of franchise development for Camp Bow Wow.
Each shared how their brands handle prospect phone calls throughout the lead generation process, spending time discussing when to call, what to talk about and when, and how to create a relationship with prospects that not only informs, but simultaneously assesses their fit for the brand. As Hawkins said, "We're not selling a franchise but helping people find the right opportunity... even if it's not us."
In the Lead and Nurture a Sales Team afternoon session, John Teza, a director at NRD Capital Management, and Jennifer Durham, chief development officer at Checkers and Rally's, facilitated an engaging session that had panelists and attendees alike discussing their own strategies and tactics in this area. The panel consisted of Richard Leveille, vice president of franchise development at Floor Coverings International; Pete Lindsey, vice president of franchising at Sport Clips; Charles Watson, chief development officer at Tropical Smoothie Cafe; and Shawn Caric, senior manager of franchising at Dunkin' Brands.
This session delved into the roles and responsibilities of the development cycle, from franchise sales to real estate to design and construction. As a brand grows, panelists noted, those steps and departments become more complex and brands must focus on finding the best talent they can to fill these roles.
"The right team members and an environment of accountability are important to getting results," said Teza.
"Creating the right compensation and incentives is also essential," said Durham.
Success developing the best sales team for your brand boils down to defining goals, finding the right team members to fit your culture, and fostering an engaged team at every level of the brand.
Following the day of educational sessions, attendees, panelists, and CEOs streamed into the Exhibit Hall for the conference's Welcome Reception. Food, drink, and elbow-rubbing with exhibitors, suppliers, and fellow franchisors made for a great way to conclude the day.
Day 2: kickoff!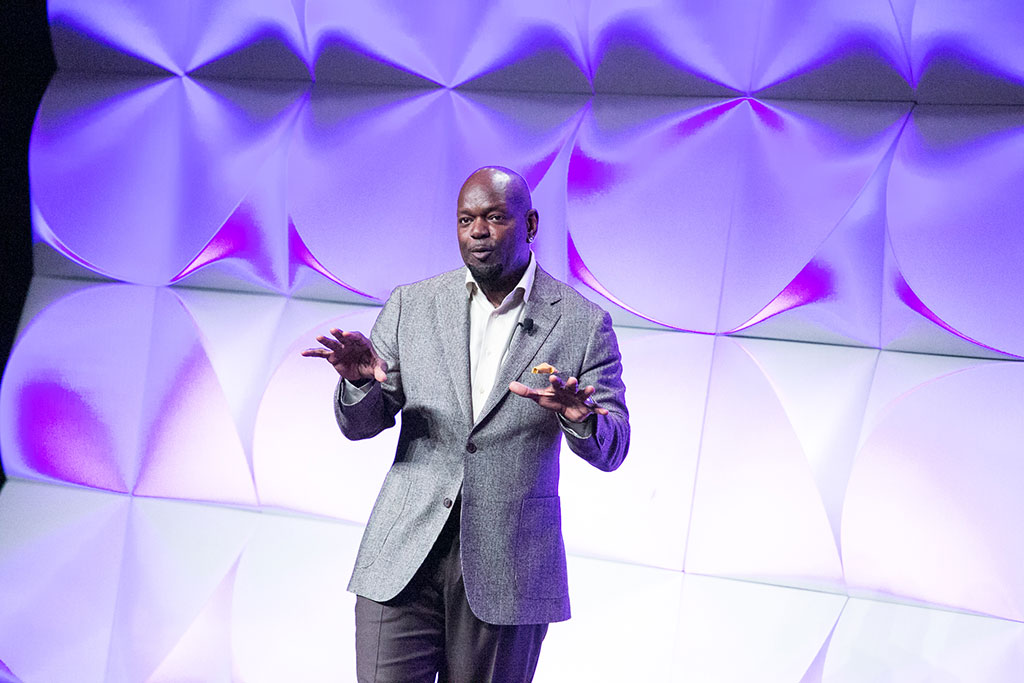 Breakfast awaited early risers for day two before gathering for the conference's Opening General Session. Jeff Sturgis, chief development officer at Fazoli's, served as this year's conference chair. He welcomed attendees and introduced the conference's first keynote speaker, three-time Super Bowl champion and NFL Hall of Famer Emmitt Smith, who proved as captivating a speaker as he was a player during his glory days on the football field.
Last August, Smith became a co-owner of The Gents Place franchise brand. In his motivational keynote, he consistently drew parallels between playing for a football team and being part of a franchise team. In doing so, he recalled his humble beginnings and his drive to succeed. As a nine-year-old growing up in Florida, he saw the Dallas Cowboys on TV and told his dad he was going to play for the Cowboys one day. In high school, already a budding football star, he got to attend a Super Bowl at the Rose Bowl in 1987--and told the friend he brought with him that one day he, Emmit Smith, was going to play in a Super Bowl there. And he did both: Smith went on to play for the Cowboys in a Super Bowl, at the Rose Bowl. (And yes, the Cowboys won.)
"If any of you have a dream about what you want to accomplish in this business, write it down, put it on your vision board, and look at it every day," he told the crowd. "We all have to overcome the spirit of intimidation and fear," he added, whether it's being tackled by a 350-pound lineman, opening a new store if your first one went badly, or being ready to take advantage of the moment if a 5-store territory opens up.
"You have what it takes to be successful," he encouraged, adding, "You have to be patient; you have to be persevering." One of his coaches, he said, told him that his mission was to raise young men and grow them into men so they'd be successful in life; and that football "was a bonus." In fact, it was one of his coaches who taught him about writing down his goals.
"No one becomes successful by themself," he said, in football, in franchising, or in life. To achieve success, he said, "It takes a whole team working consistently for a period of time--and humility. Success makes us all complacent."
And once you've achieved some level of success, turn around and pass it on, he said. "Don't ever lose the feeling of wanting to help someone along the way, because someone helped you. Always extend a helping hand to someone in need. It's part of who I am, part of the human spirit, gratitude and grace."
Finally, he advised, don't take yourself too seriously. "Success is to be enjoyed, not necessarily celebrated, but enjoyed." With that, he left the stage to a standing ovation.
Economic outlook
FRANdata President Edith Wiseman stepped up next to deliver the annual "State of the Economy" report. Domestically, 2018 will look very similar to 2017, she began, as the second longest expansion since the Second World War continues to inch along. Domestically, potential headwinds include uncertainty as the new administration and Congress continue to struggle. Globally, they include the growth of political movements in Latin America; the impact of Brexit on Europe; a slowing economy in China; and the rise of nationalist sentiments in South Asia. On the whole, she said, the economy remains stable, affected by a declining unemployment rate and a slight uptick in consumer spending.
Mapping her economic forecast onto what she called the "8 Pillars of Franchising" (training, brand marketing, corporate financial efficiency, real estate construction and design, business opportunity/unit economics, development, compliance, and support), Wiseman discussed such topics as how the commoditization of services is changing markets (think Uber and Airbnb); GDP growth (stable at 2 percent with a possible rise in Q3); unemployment (down toward 4 percent); and interest rates (flat, with moderate hikes likely in 2018).
AFDR and Mystery Shopping
Franchise Update's EVP and Chief Content Officer Diane Phibbs presented an overview of the findings from the 2018 Annual Franchise Development Report and Mystery Shopping survey. (See full coverage of both starting on pages 32 and 42.)
Sturgis, in his role as chair, facilitated a Q&A panel discussion with two of this year's mystery shopper researchers and two of last year's STAR Award winners. Michael Arrowsmith, CDO at Captain D's and Charles Willis, CEO at Pinot's Palette each won STAR Awards last year. The mystery shoppers were Art Coley, CEO at CGI, and Todd Owen of Alpha Omega Franchising.
The central message? Some brands are handling leads extremely well, while many others continue to drop the ball on fundamentals such as returning prospect calls quickly (or at all) and pre-qualifying. All the panelists agreed there's room for improvement and recommended that franchisors routinely mystery shop their own sales teams.
Day 2: sessions begin
The Exhibit Hall opened back up for lunch and more opportunities to meet, greet, and do business. Then it was time for afternoon breakout sessions.
Topics for the afternoon's first round of breakout sessions included Franchise Prospecting--Engaging & Letting Go; Franchisee Exit Strategies & Resales; Target Marketing for Lead Generation; and Avoid Litigation in Franchise Development.
David Wells, senior director of franchising at Sport Clips, facilitated the session on Target Marketing for Lead Generation. The panel consisted of Shemar Pucel, director of franchise marketing and development at sweetFrog Frozen Yogurt; Lauren Wanamaker, senior development marketing manager at WellBiz Brands (Fitness Together, Elements Therapeutic Massage, and Fit36); and Cassidy Ford, franchise development manager at Huddle House. The session dug into how franchisors identify markets, territories, and target audiences for growth. Panelists discussed how they specifically target leads through strategies such as content marketing, digital, and traditional media.
Ford described the process at Huddle House. "Our definition of targeted recruitment is finding the right buyers in the area in which you want to grow," she said. "Truly understanding our buyers allowed us to target our efforts and kick recruitment into high gear."
When it comes to leads, Pucel said, sweetFrog focuses on "casting a smaller net because it means less time chasing the wrong fish." She also said the brand is very engaged in using new marketing techniques to get the results they want. The results of sweetFrog's more targeted lead search? Lower volume and higher conversion rates.
The final breakout sessions of the day included Sales Measurements for Success, Market Planning for Optimum Market Penetration, and Crafting the Right Message for Your Target Audience.
Day 2: big finish!
The day's educational offerings concluded with a Business Solutions Roundtable Challenge Session, Overcoming Objectives To Seal the Deal, led by Scott Stratten, author of Unmarketing and Unselling. Stratten used his considerable wit and firsthand experience working with and being a customer of numerous brands to weave a tale of how brand image, responsiveness, and customer service focus are essential to creating companies that rise above the competition.
That evening, attendees gathered at nearby Maggiano's Little Italy for the annual STAR Awards dinner and ceremony. Interviews with this year's winners begin on page 50.
Day 3: planning for 2018
Friday morning concluded the conference with a final wrap-up session called Smart & Sustainable Growth--Franchise Development Plan Template. The high-energy session, facilitated by Art Coley, featured a high-powered panel consisting of Steven Brown, COO at SpeedPro Imaging; Tom ("not that Tom Monaghan) Monaghan, chief development officer at Philly Pretzel Factory; and David Bloom, CDO at Capriotti's Sandwich Shop.
Each presented an overview of how they develop their sales and development budgets, teams, and strategies each year. Bloom led off the presentations with "What is the Vision?" Monaghan followed with "Managing Expectations--Building a Realistic 1-Year Plan." And Brown finished with "The Right Team To Implement the Plan." The session featured small group breakouts after each presentation, with attendees tackling the challenge of crafting plans and devising solutions to enhance their franchise development practices in the coming year.
Coley concluded the session, and the conference, with what he called the "gives a damn factor," reminding the room full of sales pros "how privileged are we to do what we do: talk with people making life-changing decisions, matching it up and finding the right fit."
Wait until next year!
"The FLDC is a great conference that packs a lot of content and networking opportunities into just 48 hours," said Dan Stone, chief business and people development officer at Front Burner Brands. "I always walk away with valuable insights of what we should focus on, as well as validation of tactics and strategies we already use."
For Omar Oselimo, CEO of the Reggae Shack Café, "The Franchise Leadership & Development Conference was great. As someone that is getting started, and who lost $50,000 by choosing the wrong franchise development company, I wish I knew about the conference beforehand. I learned so much and met so many great leaders it was a life-changing experience."
To learn more about this year's FLDC and register for 2018, visit www.franchisedevelopmentconference.com.
2017 CONFERENCE NUMBERS
508 Total Attendees
321 Franchisor Professionals
187 Franchisor Brands
73 Sponsoring Companies
Franchisor Profiles
BY TITLE
20% CEOs
3% CFOs, CIOs, COOs
26% CDOs, SVPs development
43% Directors and managers of franchise development
8% Real estate, communications, compliance professionals
BY CATEGORY
Service 51%
Food 26%
Retail Non-Food 13%
Retail Food 10%
BY INVESTMENT LEVEL
Over $1 million 13%
$500,000-$1 million 14%
$250,000-$500,000 28%
$100,000-$250,000 25%
$50,000-$100,000 9%
Under $50,000 11%
BY NUMBER OF UNITS
> 1,000 14%
501-1,000 9%
251-500 13%
101-250 25%
26-100 18%
< 25 11%
0 7%
BY ANNUAL SYSTEM-WIDE GROSS REVENUE
> $100 million 37%
$80 million-$100 million 6%
$60 million-$80 million 8%
$40 million-$60 million 8%
$20 million-$40 million 10%
$8 million-$20 million 10%
$1 million-$8 million 13%
< $1 million 7%
Published: November 18th, 2017
Share this Feature
Recommended Reading:
Comments:
comments powered by

Disqus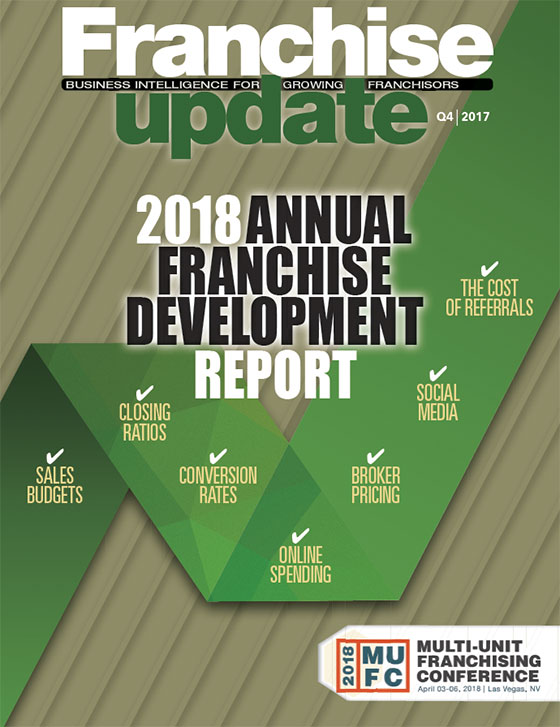 Franchise Update Magazine: Issue 4, 2017
UMI has over 23 years of experience supporting fast-growing multi-unit brands. From strategic planning to design, execution to analysis, UMI...
Atmosphere TV is the world's leading cable alternative, providing free streaming TV for businesses.