It's the Experience, Smarty! Say hello to your ultimate one-to-one marketing opportunity
A great customer experience matters. A lot. More than ever. Why?

For one thing, because there are a lot of coffee chains in the world. Comedian Dennis Miller has a rant about how Starbucks has started opening Starbucks stores inside existing Starbucks stores. Well, it's funnier when he says it.

The point being this: In a world where it's conceivable to have Starbucks stores inside Starbucks stores, along with a Lattéland down the street or a Port City Java or a local coffeehouse chain - or maybe all three - well, in that world, those businesses better be offering something more than coffee. Because they all have coffee.

So what's to cause traffic counts and sales to grow at one place rather than another? Simple: a superior customer experience. An experience "so cool" or "so convenient" or "so fast" or "so high quality" or "so customized to fit me" that once I experience it, it makes an impression on me - and I want to experience it again.

So much traditional marketing is about grabbing attention. What about giving attention to the live customers who are transacting business with you right now? Advertising is buying impressions on people that you don't even know. Creating and delivering a superior customer experience is about making positive impressions on the people you serve now. Impressions so remarkable that your current customers will talk about (remark, get it?) your business.

People trust recommendations from their friends. So I'm talking about designing a customer experience so remarkable that you stimulate positive word-of-mouth advertising. That's a good thing. People like to be informed that way.

But guess what? People mostly don't like the other types of advertising! Six in 10 Americans think advertising is out of control. They feel they're constantly bombarded with messages they don't want or enjoy. They favor more controls over advertising. Seven in 10 Americans are interested in products like Tivo or pop-up blocking software so they can skip advertising entirely. Advertising mostly turns people off.

But a great customer experience - that's always attractive, isn't it? When they shop or dine out or get a haircut, people just never get tired of feeling special or having fun, or being delighted. Isn't that what makes the "popular" places, well, popular?

Gone are the days when big media advertising campaigns drive big increases in business. Broadcast and cable media is now divided by 500 TV channels and 500 radio stations. So good bye to the "mass" in mass media marketing.

Say hello to your ultimate one-to-one marketing opportunity - the interaction you have with customers when you serve them! Think of your customer's experience as a triple-threat marketing opportunity to 1) increase the business you do with this customer on this transaction, 2) win repeat business from this one customer and, 3) generate positive word-of-mouth advertising and multiple referrals from this customer.

So here is the $64,000 question: Exactly how does a multiunit operator create such a high-impact customer experience? The answer I can give you in one word is: execution.

To be the best area developer in your concept, be the best at execution. Franchise concepts don't succeed if they don't offer, at least potentially, a great customer experience. I say potentially because the difference in execution between the best and worst franchise operators is vast. Where do you rank?

Who decides?
Who decides if your units are delivering a superior customer experience? Unit managers? Mystery shoppers? Franchisor executives? No, no, and no. Only real customers decide! Specifically, the customers that you serve in your area decide if their experiences are worth repeating.

If you want to know how you're doing at execution, don't wait for the sales numbers to come in. Check your customer satisfaction numbers today. Sales is a lagging indicator of business performance. Customer satisfaction is a leading indicator.

That's why it's so important to listen to your customers. Instead of telling them how great you are, try asking them how great you are. Every well-managed franchise concept measures customer satisfaction for franchisees. Get with the program! Lead the field in customer satisfaction first. Sustainable, profitable growth will follow.

This might sound like business blasphemy, but your goal should not necessarily be to achieve the highest gross sales. Ever seen a business open with a bang and close the doors a year later? High sales can disguise a lot of execution problems.

A much better measure of your leadership is the percent of same-store sales growth. Same-store sales growth means you are building the business and winning customer loyalty. Customer loyalty drives repeat business and creates word-of-mouth advertising.

If your franchisor offers you a strategic customer experience measurement program, you should be receiving actionable information to improve your execution. The kind that tells you exactly where your customers say you are weak or strong. When you get customer feedback every day, it focuses your employees' efforts. You can have statistically significant measurements of the customer experience with feedback from just 30 customers a month. What does that mean?

It means you should be able to link improvements in your customer satisfaction scores to increases in same-store sales growth. That's why the customer experience matters - a lot. It's the ultimate one-to-one marketing opportunity.

Jack Mackey is vice president of Service Management Group.
Published: October 5th, 2007
Share this Feature
Recommended Reading:
Comments:
comments powered by

Disqus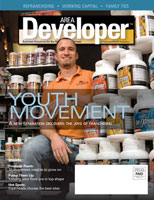 Multi-Unit Franchisee Magazine: Issue 4, 2007
Anytime Fitness makes wellness approachable for millions of members and gives franchisees the opportunity to be a part of a worldwide family of...
Cash Required:
$225,000
Sizzle Your Way to Success with Pepper Lunch: A teppanyaki sensation! Join our proven brand with 500+ global locations. Ignite your entrepreneurial...
Cash Required:
$690,200