Keep On Truckin': David Griffin and his Family Persevere and Prosper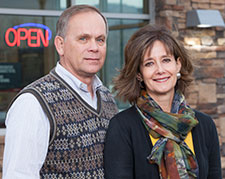 Four years ago David Griffin had just purchased 25 Jiffy Lube stores in Colorado. The stores were underperforming, some were dilapidated, and the U.S. economy still at one of its all-time lows. Those factors created a perfect storm for Griffin to expand--but it wasn't a walk in the park.
"We've spent the last three years reviving those units, and it has been a monumental task," says the 56-year-old today. Griffin says it took millions of dollars to turn around those 25 struggling locations--and the process tested both the company and his family, which is deeply involved in the business. "I'm still working right alongside my wife Joye and my three sons," he says. "We are today's family farm."
The effort paid off, says Griffin. "Sales at those 25 stores had been in a double-digit dive prior to us taking them over. This year, sales are up 5.2 percent."
Numbers like that are not a surprise to anyone who knows Griffin. He has a track record as a successful business operator, both within and outside of franchising. Griffin, in concert with his family and employees, "who are just like adopted sons," makes things happen.
With his Colorado units back in the black, Griffin is looking for more opportunities. "We've bought out competitors, fellow Jiffy Lube operators, and built new locations. We're looking for untapped markets in our Colorado, Utah, and Nevada territories and might even consider expanding into new states," he says.
"It's all about our people," says Griffin. "We are known for raising up strong leadership in our stores and that in turn builds strong stores."
Griffin, along with his wife Joye, was chosen as Jiffy Lube's 2010 Franchisee of the Year and is a staunch brand supporter. He's excited about some new brand initiatives being rolled out by the franchisor and is eager to see what lies ahead.
One of the things Griffin says he has learned over the years is that "Opportunity almost always never comes at a convenient time. It's staying focused on the long term and the future that makes today's opportunities work out in the end."
Despite the challenges and the expense of turning around those stores and expanding his business in today's economy, it's easy to believe Griffin when he says, "I'm having more fun now than I've ever had."
Name: David Griffin
Title: President
Company: Griffin Fast Lube
No. of units by brand: 56
Age: 56
Family: Married 34 years to Joye, wife, business partner, and closest advisor, with three sons, three daughters-in-law, and three grandchildren
Years in franchising: 14
Years in current position: 34
Published: July 2nd, 2014
Share this Feature
Recommended Reading:
Comments:
comments powered by

Disqus
Bad Ass Coffee of Hawaii brings an unforgettable brand, premium coffee products, and a proven business model to a booming coffee scene. We want...
Cash Required:
$100,000
Pizza Factory houses hardworking owners, family-friendly dining and high-quality products. Restaurant design options include a Pizza Factory Express...
Cash Required:
$90,000