Keeping the Old Brand New: These Four Brands Are Built For Change
New franchise concepts spring up every year with dreams of becoming the next McDonald's or Subway. But it's the older brands who deserve a tip of the hat for their staying power over the decades. We asked four of them how they do it.

In every case, success begins--and ends--with the customer. That customer could be a harried housewife in need of an emergency plumbing repair; an urban teen seeking an affordable, hip place to eat; a firefighter starting her midnight shift; or a family hungry for an alternative to burgers and chicken. That customer also includes potential franchisees in search of the American Dream, as well as existing franchisees seeking to improve or expand.


Company                  Founded     No. of Units

7-Eleven                   1927         36,002

Jack in the Box            1951          2,170

Church's International     1952          1,657

Mr. Rooter                 1970            300



While these brands have remained fresh through an unrelenting focus on the ever-changing needs of their customers, they also have remained true to their own core values. Their willingness--even eagerness--to try new products, services, strategies, promotions, technologies, and marketing/advertising campaigns has helped them not only to survive, but thrive, even in these difficult times. All four ended 2008 with more units than in 2007 and are anticipating further growth in 2009.
7-Eleven: 82 years of change
7-Eleven, the oldest of the four, started as an ice house in Oak Cliff, Tex., in 1927 as The Southland Ice Company. Change began that same year when eggs, milk, and bread were added to the mix under the Tote'm store name. The 7-Eleven name appeared in 1946 to reflect the hours its stores were open. Over the past 80-plus years the brand has continued to evolve in response to changing customer needs. Today 7-Eleven, Inc. has more than 36,000 stores worldwide (6,330 total in the U.S.; 4,371 traditional and conversion, and 1,959 corporate).

Jeff Schenck, senior vice president, national franchising and real estate, has been with the company since 1976, starting as a sales associate in a store. "I've learned how to keep the old new, including myself," he says. "The way 7-Eleven has continued to reinvent itself is to start with the customer. If you keep your eye on the customer and change with them, success will follow," he says.

"We have a saying here: 'Live in the basics, but remain flexible to change.'" At 7-Eleven, the basics are a clean store, great customer service, continually changing products, and a focus on value. "You can't stray from these fundamentals," he says.
Product
Best known for products such as its famous Slurpee (1966), as well as its Big Gulp, Big Bite, and Café Select coffee, the brand continues to branch out not only in its food offerings, but also in providing 'round-the-clock services such as automated money orders, copiers, fax machines, ATMs, phone cards, and lottery tickets where available.

Starting in 2006, the year 7-Eleven opened its 30,000th store, a shift toward providing fresh food has been "first and foremost in terms of changing our product mix," says Schenck. A new focus on proprietary-labeled products, he says, facilitates the goal of providing value, as well as convenience, to its retail customers. These now include deli sandwiches, wraps, breakfast sandwiches, and baked goods, delivered fresh daily.
Technology
The brand's proprietary store inventory management system keeps close tabs on sales, allowing each franchisee to swap in new products, shed slow-moving items, and bulk up on the fast movers. Each store offers about 2,500 different items, tailored for local market tastes, with about 30 new products introduced weekly franchisees can choose from. Turnover is key.
Franchisees
In 2005, 7-Eleven launched its Business Conversion Program targeting independent convenience stores, liquor stores, and gas station owners in selected markets. During a recent conversion in Queens Village, N.Y., the company remodeled a store in about 27 days, keeping it open throughout. On average, says Schenck, 7-Eleven invests $250,000 to $300,000 for each conversion, which includes new equipment, its retail information system, signage, and imaging. Schenck says 7-Eleven's royalty system, established in 1964, is a "co-prosperity model" in that royalties are based on gross profit, not gross sales. "We want the franchisee to be profitable," he says.
Leadership team
As 2005 drew to a close, the company promoted Joe DePinto to president and CEO to lead the company through a dramatic cultural shift. In 2006, the new leadership team instituted an inverted pyramid, servant leadership philosophy, with the customer at the top and the CEO and senior management (furthest from the customer) at the bottom.

Management also made a strategic decision to shift from 50 percent to 100 percent franchised units by 2012-13. "A servant leadership culture is the best way to do that," says Schenck. "Everybody in the organization was challenged to understand what that really means: give them what they need, not necessarily what they want, and do it through influence, not necessarily power. The Air Force has adopted this model, and we're bringing that culture into the organization."
Jack in the Box: Refreshingly irreverent
Jack in the Box, founded in 1951 in San Diego, has a well-deserved reputation for innovation and irreverence. The brand claims to be the first fast-food chain to offer a breakfast sandwich (1969), and in 1980 blew up its speaker box clown in a TV commercial--only to have it return in 1995, reborn as its iconic spokesperson and fictional CEO, Jack Box.

This year, the franchisor announced a strategic initiative to reinvent the brand with a new logo, new website, a restaurant re-imaging program, menu innovations, and a push into social networking. In March, Jack, who was hit by a bus on Super Bowl Sunday, came out of his month-long coma to announce the campaign.

During his coma, an online "Hang in there Jack" campaign drew 77,000 get-well wishes, including songs and videos on YouTube and on Jack's FaceBook and MySpace pages. "We had incredible success with this brand campaign. We had consumers engaged," says Terri Graham, senior vice president and chief marketing officer, who has been with the company since 1990.

The key takeaway for the brand and its 2,170 restaurants, says Graham, is "People love Jack. He has this incredible following. His personality is just something that resonates with people."

Social networking is an area continually changing and evolving, says Graham. "What's critical is to understand what is the most relevant way to communicate through these social networking areas--and let consumers run with it."
Website
Two weeks after Jack's recovery, the company launched its new website. "We're very excited about it," says Graham. "It's very much in keeping with the new menu and re-imaging, and it sends a signal to the consumer that you're continuing to evolve and be relevant." After the new, bright red logo loads, the home page offers a one-click step into Jack's office. Click on his desk phone and Jack will call in sick for you, help you break up with a boyfriend or girlfriend, even help you get a raise.
Brand
"The most important thing a brand can do, no matter what age, is continue to be relevant," she says. "It really comes down to differentiating your brand. And it gets tougher and tougher in these economic times." For Jack in the Box, the brand equity is built around Jack, the logo, and its innovative menu. "People are often looking for alternatives to burger and chicken sandwiches," says Graham. "Consumers expect new products from our brand. It differentiates us. It's very much a part of who we are." New product introductions include Real Fruit Smoothies, introduced last year, with a new Tropical Smoothie on the horizon; Teriyaki Bowls; and a new product, Mini Sirloin Burgers, announced in late March.
Re-imaging
The introduction of a new look, both inside and out, is well under way. "We're trying to keep relevant and fresh. You have to invest in your brand. It's very important," says Graham. "Successful franchisees really understand that." Redesigned interiors are complete in more than 40 percent of all stores, with 100 percent completion set for 2011. Redesigned exteriors will be more than 50 percent complete by year-end.

"Consumers continue to evolve and change--that's the reality of the business," says Graham. For this brand, it's all about keeping up--or better yet, one step ahead.
Church's Chicken: Quality and value
Last year, Church's Chicken celebrated its sixth consecutive year of same-store sales growth--and continues to add new units in 2009. The company, founded in 1952, has 1,657 units: 968 domestic franchises, 447 international franchises, and 242 company stores.

"Our focus on strategy is the number-one reason we've done so well," says Farnaz Wallace, executive vice president and chief marketing officer. "When sales fluctuate, people tend to move away from strategy to knee-jerk responses."

The brand's success, she says, is based on three strategic pillars: 1) value, 2) quality, and 3) family and fellowship. "A lot comes from balancing short-term value objectives and long-term strategic objectives; from a balance of driving sales and long-term brand building," says Wallace, who has been with the brand for 15 years.
Customer
While many brands try to be all things to all people, Church's focuses on two groups of core customers: urban families and youths, says Wallace, whose expertise is in multicultural branding.

"We mean a mindset and a lifestyle, the convergence of multicultural people living in the same type of neighborhood. It's about music, fashion, sports, and tech savvy," she says. "We don't want to be big and bright and light and suburban. We're part of the neighborhoods we serve." That means "a little bit of attitude, no frills, and urban irreverent."

The "best secret" in staying attuned to changing customer preferences in the larger economic environment, she says, is this: "It's about executives spending days and nights in the lives of the customers." This means not only quantitative and qualitative studies, but spending time in the stores and hiring people to spend time in customers' homes.
Marketing
While preserving its family-oriented customer base is key, so is maintaining the brand's cross-generational appeal and building a base of future customers. Beyond its traditional advertising, Church's is reaching out to its younger customers with targeted co-promotion campaigns. Following 2008's promotion with video game SoulCaliber IV, this year Church's partnered with another vid game, Afro Samurai, through national radio and TV ads on urban young-adult channels and in-store merchandising. Church's is also collaborating with Coca-Cola in a text messaging campaign, "Be Heard," which seeks to engage a younger segment of the brand's target audience. Texting in a code after answering four questions about their recent in-store visit generates an instant coupon. The brand also keeps fresh through its focus on product quality--and in recent years, letting people know about it. "We're 47 years old, and never got the proper respect for our food," she says. "It's taste and experience, not just price."
Franchisees
"Franchisees want a brand that can drive sales," says Wallace. "At the end of the day, they buy a logo. The royalty they pay is about the sales it can bring them."

She says the brand enjoys a good relationship with its franchisees, built on positive results over the last six years. "When your sales are up, your franchisees are taking more money to the bank, and you'll open more stores," says Wallace. "How they perform is how our brand performs."

Incentives to franchisees include lower fees as they develop more stores, and development and royalty incentives (e.g., buy three get one free) in virgin and strategic growth markets. Financing help comes in the form of bringing multiple financing sources to the table, and by providing a limited number of pre-financed equipment packages
Early To Rise
In April, Church's debuted a modular prototype store. The company claims the modular units will cut the overall cost of a new store by 20 to 30 percent; the cost of equipment about 55 percent by using re-manufactured items; and can be ready for business in less than 3 days, shaving 30 to 60 days off startup time. It also ensures quality, consistency, reduces energy by 10 percent, and lowers insurance premiums. Its smaller footprint can also help with real estate costs. The new units, says Wallace, will have slightly less variety than the brand's larger stores, but compensate with a higher item throughput.

For franchisees, of course, it means a faster return on their investment. "It's been tremendously effective in signing up new franchisees," she says.
Mr. Rooter: "There's a reason they call us Mr."
Mr. Rooter, founded in 1970 and franchising since 1974, added 47 new franchises last year and is on pace to do the same this year. Impressive growth for a brand with about 300 franchises worldwide (258 in the U.S. at year-end 2008).

"The way to stay relevant and fresh is to start with the customer--not end with the customer," says Mary Kennedy Thompson, named president in October 2006. "It's not focus groups before, but after the experience." Thompson, a former Cookies by Design franchisee, says, "The day I forget what it's like to be a franchisee is the day I step out of franchising."
Customer
Mr. Rooter's ideal customer is named Debra, after the wife on the TV show "Everybody Loves Raymond." Why Debra? "To help us personalize with our franchisees who our customer is; to keep the focus there instead of on the transaction, and on how she feels when it's done," says Thompson.

A lot of work goes into training the technicians to not only fix the plumbing, but to make "Debra" feel comfortable, starting with how they answer a phone call from a woman who worked all day, came home to two kids, and finds the kitchen sink isn't draining: "Hi, it's a great day at Mr. Rooter!"

The world, says Thompson, is becoming a ruder place. "People like old-fashioned courtesy and values, as simple as please and thank you. One of the ways we stay fresh is almost going back to things that were very basic 30 years ago in the culture."

Thompson takes a personal approach to market research: she randomly pulls invoices and calls customers to ask about their experience--and tells them she's president of the company. "One guy didn't believe me. I said, 'I'll mail you my business card.'" And if she receives a letter of complaint, she'll call the customer and apologize before passing it on to a customer service representative.
Brand
The most visible change in the brand's identity is the new look of its 1,400 Mr. Rooter vans. An updated Mr. Rooter and red sunburst design now completely wrap the vehicles. "The place our customers and potential customers see us the most is our vans," says Thompson. These mobile billboards create millions of impressions each day. To date, about 800 vans display the new look, which is mandatory for new vans. "They got it. They wholeheartedly bought in," she says. "Franchisees will spend the money if it moves the needle, if it gets their customers to notice them." One help: Mr. Rooter has allocated a percentage of franchisees' contribution to the advertising fund to defray part of the cost.
Franchisees
"We're recession-resistant, not recession-proof," she says. Renovations and improvements may tail off, but sinks and drains always need repair. "A recession like this is never fun. The big opportunity and challenge is to keep our franchisees focused on those things they can control."
Re-imaging
An integrated marketing campaign aims to tie together the public face of the company. "As we re-imaged, there were lots of different pieces, but no thread connecting them," she says. "We wanted one design element in all the pieces that were striking and would catch the eye." This effort includes a revamped website, with a second-phase redesign on the way; all new radio ads, print pieces, and business cards; and four TV commercials that can be used nationally and locally. Both the radio and TV ads (15- and 30-second spots) can be localized by franchisees who want to add a personal touch.
Core
"We remember who we are and what we do best and keep that focus when talking to the customer. We don't try to be all things to all people. The strongest brands, good economy or bad, know who they are and communicate that clearly. That's what last year was about," she says.

"What is our core? Find what we're better at than everybody else, and don't change that," says Thompson. "Never stop and say this is good enough."







Published: June 29th, 2009
Share this Feature
Recommended Reading:
Comments:
comments powered by

Disqus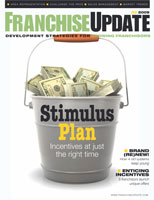 Franchise Update Magazine: Issue 2, 2009
Conferences
InterContinental, Atlanta
OCT 18-20TH, 2023
Gravity Software is a cloud-based, multi-entity accounting solution that simplifies inter-company transactions and financial reporting. Built-in...
Oct. 18-20, Atlanta, GA. An exclusive event for franchisor CEOs, Presidents, COOs, CDOs and Franchise Development Executives.