Laws of Attraction Confirmed: Survey Reinforces What Prospects are Seeking
Occasionally, it's good to confirm the obvious. What attracts prospective franchisees to a particular brand is a combination of expectations and emotions. While this is generally understood, we were able to use personal interviews at the March 2009 International Franchise Expo to delve into this topic further. We are grateful to the Expo sponsor, MFV, for allowing us to do this work.

We interviewed nearly 100 prospective franchisees as they came into the Expo--and again as they left. Expos are but one source of prospective franchisees. However, they do provide an opportunity to engage in face-to-face conversations, which encourages some insights that are tougher to extract by phone or email. In that sense, they are a proxy for prospective franchisees in general. Below, I use our survey feedback to make some generalizations about today's prospective franchisees.
They are more focused, ready, and experienced
More than two-thirds of the people who walked down the aisles of the show had previously researched potential franchise brands and narrowed their interest to particular candidates. Further, one-fifth of the attendees surveyed were absolutely sure that they will open a franchise within the next year; and more than half evaluated their chances of doing so as 75 percent or higher. In other words, prospective franchisees today have not only done their homework researching franchising brands and narrowing their scope, they also are willing and capable of starting their business within a relatively short time. This differs from surveys we have done in the past that showed lower levels of research and preparation.
They look for profitability, uniqueness, and reputation
In a tough economic environment, it is not surprising that franchise entrepreneurs' driving interest in a brand is the brand's profitability potential. Nearly forty percent of surveyed attendees indicated that a store's ability to generate cash is the primary factor they consider in evaluating the brand. The next two most important factors that affect a prospective franchisee's choice of a brand are its unique characteristics and how well recognized the brand name is.

Financial and investment estimates are critical
Half of the attendees felt they received insufficient information about the franchise financial performance at a unit level. Since a brand's profitability potential is a prospect's primary aspect of interest, it is hardly a surprise that many of the prospective franchisees felt they need to be armed with more details about the franchised units' gross sales and bottom lines. They consider historical financial estimates or projections the most essential information they need to know about a brand.

Related to their need for financial information is their wish to acquire specific details on the franchised unit's initial investment requirements. Such information is central for them to find out how qualified they personally are for the investment, as well as the potential return on investment the business can generate. The franchise community should consider providing a combination of investment and sales information in a sales-to-investment ratio to give prospective franchisees a better tool to evaluate opportunities.



Many attendees (and prospective franchisees in general) want guidance in finding sources of financing. As access to capital is constrained and the preferred lending model is largely gone, prospective franchisees increasingly are seeking franchisor help to obtain financing at a time when lending is more available locally than nationally. As I've noted in past articles, franchisors need to change their approach to facilitating such financing.

The message in this is clear: If your brand is in the upper quartiles of financial and operational performance, you need to say it, show it, and prove it.
Interesting concepts and brand representatives attract attention
More than half of the attendees we surveyed were drawn to booths because they thought the concept looked interesting. Their opinion was formed based either on the brand's description in the Expo directory or on the booth's visual presentation. In other words, the way a brand conveys its message, whether on the Internet, in print, or in direct mail visuals, is very important in attracting a prospective franchisee's attention.

The second most important factor in generating traffic to the booth is the brand representative at the booth. Nearly one-third of the attendees were attracted to a booth they had not considered visiting because the brand representative caught their attention. Extrapolating a bit, franchisor representatives have a strongly influential role in the discovery process.

As I noted at the beginning, this particular survey work has restated some of the obvious things we have known all along. In addition to validating that prospective franchisees are more prepared today with prior homework, this survey's value lies in the confirmation and reinforcement that as more information is readily available to prospective franchisees, they are coming in more informed and with better questions and expectations than their predecessors.

Darrell Johnson is President and CEO of FRANdata, an independent research company supplying information and analysis for the franchising sector since 1989. He can be reached at 703-740-4700 or djohnson@frandata.com.
Published: September 21st, 2009
Share this Feature
Recommended Reading:
Comments:
comments powered by

Disqus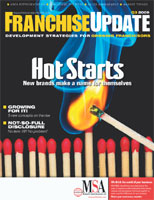 Franchise Update Magazine: Issue 3, 2009
UMI has over 23 years of experience supporting fast-growing multi-unit brands. From strategic planning to design, execution to analysis, UMI...
Leasecake is location management made easy – from lease contracts and licensing agreements to ASC 842 compliance. Never miss a deadline, stay ahead...