Making Your First Sales: Advice for Emerging Franchise Brands
For many emerging franchisors, finding a candidate to take that initial leap of faith can be difficult. After all, you have no validation from existing franchisees that your system even works. Even if you have a great track record of running company-owned locations, there is still no evidence that you can train and support anyone. Worse yet, your financial resources to support franchisees may be stretched too thin to allow you to best take advantage of the franchisee recruitment methods available to mature franchisors.
Rest easy. Most people making the decision to become franchisees of emerging brands often do so with a touch more heart than head. Becoming a franchisee is really an emotional decision for many new franchisees. Often, the first franchisees of an emerging franchisor are customers of your brand or know someone who is. People naturally want to be part of opportunities they know, and the idea of getting involved on the ground floor of a growing brand can be exciting. Their personal experience with you can strongly influence how they view your opportunity.
This personal connection is why early in the franchise development process, even before they can offer anyone a franchise, we recommend to our clients that they tap their existing customer base by making it extremely apparent that "franchises are coming soon." Then, once franchise sales are legally allowed, have every receipt, napkin, packaging, point of sale, outside messaging, website, and social media account scream "Franchises Available," together with instructions on how to find more information.
At this point, training all customer-facing staff is essential. Your team members can be your best brand ambassadors, and, if properly trained, they will know what to say and not run afoul of federal regulations. This will save a good prospect from becoming potentially tainted.
Common stumbling blocks
Not all candidates will meet your qualifications. Two early filters will be their experience and their access to funding. To streamline the process and ensure that potential candidates don't slip through the cracks, it is useful to have a single person act as a screener, responding quickly to every lead, capturing the information you need, and focusing the franchise development process on the qualified candidates. After all, most emerging franchisors will still be spending much of their time on their existing business. Developing a franchise system is not a part-time job.
According to Franchise Update's Annual Franchise Development Report (AFDR), an incredible number of leads--sometimes more than 50 percent--are never followed up by franchisors. It's not because franchisors don't care about contacting every lead that comes in, but simply because they don't have the time or an appropriate follow-through system.
When dealing with today's prospects, response times are measured in minutes, not days. Waiting until it is convenient to get back to a candidate can cost you dearly. It is imperative to have a system in place to process leads efficiently and in a timely manner. In addition to personalizing the process, there also are a number of technological options available that will automatically respond to all incoming leads until a person-to-person contact can be made. People have learned to be impatient, and there are plenty of other franchise opportunities available.
The lack of a proper FPR can also be another major hurdle to overcome. Since the beginning of the Great Recession, the inclusion of an FPR has become more common, even an expectation. For potential franchisees who lack an emotional bond with the brand, information on sales, major areas of cost, and other statistical data is important. Providing financial information and other metrics that potential franchisees can use to develop their own localized unit economics is an advantage over merely giving them gross sales data. Including information such as average ticket amount, customer count, and average weekly employee hours can be just as helpful as revenue and cost numbers.
If you are not able to include an FPR because the information you have does not accurately reflect the franchise opportunity, be prepared to proactively explain why it is not included. Most often, the limitations you have as a new franchisor will be understood--as long as your messaging is honest, your present of the brand vision is compelling, and your existing locations reflect your own passion for the brand.
Be transparent about your limitations and be frank about how you will overcome them. Trying to avoid discussing those issues is not productive, as candidates will discover them on their own anyway. Once a candidate thinks you are trying to hide something, you've lost their trust--and with that the franchise sale. Honesty will give the potential franchisee the ability to trust in your vision, and with that they are more likely to take that first leap of faith with you.
Getting that first franchise sold will not be easy. You will be stressed until you reach that threshold of those first franchise sales. Take a deep breath and remember, every franchisor you admire started with that first franchise sale.
If your offering is properly designed and speaks to the candidate you want to attract; your company-owned operations reflect the passion you have for your brand; you intelligently market your opportunity; you have a system in place to work with candidates; and you execute your strategy ethically and honestly, those first franchise sales will come quickly. Let us know if we can help you get over that first franchise hurdle.
Andrew Seid is senior consultant for MSA Worldwide. Contact him at msaworldwide.com or 860-523-4257.</
Published: January 19th, 2019
Share this Feature
Recommended Reading:
Comments:
comments powered by

Disqus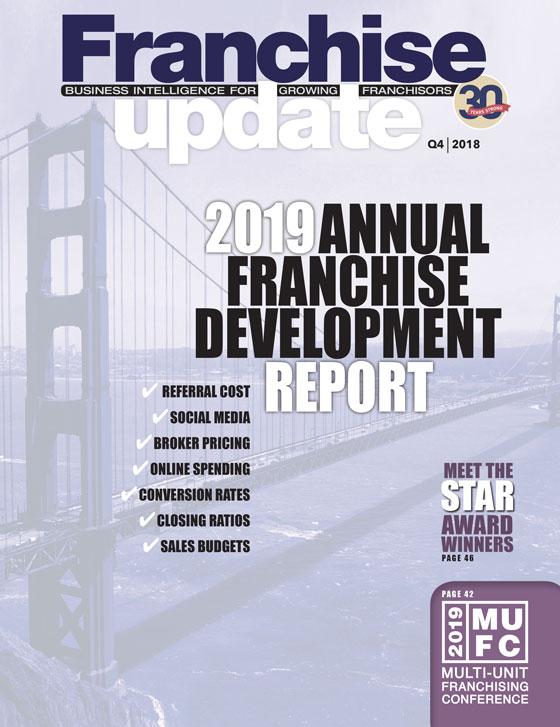 Franchise Update Magazine: Issue 4, 2018
Conferences
InterContinental, Atlanta
OCT 18-20TH, 2023
April 25 - April 28, 2023, Caesars Forum, LV. The Multi-Unit Franchising Conference is the premier annual event for the country's leading...
Leasecake is location management made easy – from lease contracts and licensing agreements to ASC 842 compliance. Never miss a deadline, stay ahead...