Mary Rogers Plays Very Well with Others
Franchising is founded on the concept of replicating success at the unit level. But Mary Rogers is taking that premise one better: she's replicating success at the franchisor level.

In 1984, Rogers founded Computertots/Computer Explorers. In 1997, with about 150 franchises in 11 countries, she sold her interest and left the company. Today,she's CEO of Abrakadoodle, providing after-school arts programs to children from 20 months to 12 years old.

Ten years ago, when Rogers left Computertots, starting another franchise was not at the top of her "To Do" list. It wasn't even on it. "I left thinking I was pretty much going to spend the rest of my career doing consulting and various other projects that were of great interest to me," she says.

But soon after leaving Computertots, Rogers received a call from Bill Cherkasky at the IFA, who was heading up IFA's Educational Foundation. "When he heard I was leaving Computertots, he asked if I'd consider giving some time to the foundation," she says. After a year as executive director, Rogers moved on to work as a consultant for the next several years.

In 2002, however, she found herself developing a new franchise concept. The five-year noncompete she'd signed with Computertots had applied only in the technology field, but Rogers says she felt an obligation to stay out of the children's educational industry entirely for that period.

Still, her reentry into franchising came as a bit of a surprise. "I really didn't anticipate jumping back in," says Rogers. But several factors changed her mind. "First of all, I had this kind of nagging feeling that I wasn't done yet."

Second was the national trend of cuts to art education in school budgets. In late 2005, the National Art Education Association (NAEA) reported that one in four principals said their arts program funding had been cut; one in three anticipated future reductions, with deeper cuts in schools with minority populations. The NAEA also noted that only 55 percent of schools still had a full-time art instructor, and that only 50 percent provided after-school visual arts programs.

"When I saw that art was being cut in the schools because of budget constraints, that was a real concern because I feel children need that," says Rogers, who has a master's degree in education and spent a decade as a special education teacher.

"Art was always a really important part of my life," she says. "Growing up, I was involved in a lot of art education, right through high school, and it was my minor in college. I really felt that portion of my education helped to shape me as a more creative thinker and problem-solver."

Third, she says, is the high level of stress children deal with these days. "There are a lot of fears and concerns, and art is one of those areas children can go into and lose themselves," she says. "It's a marvelous way for children to immerse themselves in an activity that's very satisfying and that also takes their mind off some of the stresses in their lives."

Back in business
So in 2002, she and Rosemarie Hartnett teamed up to start a new franchise company focused on delivering art programs to children. Rogers and Hartnett had worked together before at Computertots. Hartnett also had moved on, to Tutor Time, where she had been vice president of international development.

"I essentially developed the curriculum and Rosemarie went out and marketed the programs in various locations to learn what we could about the opportunities and challenges. We spent a year doing that," says Rogers. To help develop the curriculum, they invited children of different age groups to attend sample classes.

During that year, they were joined by a third partner, children's art book author Lori Schue. Her series of nearly a dozen books, "Artworks for Kids," had been one of Rogers' primary sources in curriculum development.

"It was just by chance that we even came in contact with Lori," says Rogers. "We actually met Lori's husband at an event where we were pitching Abrakadoodle to a group of about 150 investors." He was in the audience. After the pitch, he told them they should meet his wife. The husband didn't invest in the company, but his wife joined it. Learning as they went, the team refined and developed a model program known as Abrakadoodle.

During that year of development, Rogers brought on two more colleagues she and Hartnett had worked with at Computertots: Linda Fortner, who was her accountant; and Joan McGurren, who Rogers calls "our branding and collateral expert."

With four former associates and a new kid on the block, the team was miles ahead of most startups. "We didn't have to go through that kind of startup phase where you're trying to figure out how to work together. We already knew," says Rogers.

In spring 2003, working with the McLean Project for the Arts in Virginia, they offered the first "official" Abrakadoodle classes. In May, they began assembling the elements of a franchise operation-something they'd done before. Abrakadoodle launched its franchise operation in February 2004 in Reston, Va.

Doing it right
Rogers & Co. proceeded to apply their experience and networking skills to the new concept-and seemed to have a knack for finding creative methods for solving any problems that arose.

Staffing. "We brought in a high-quality team by offering them equity in the company," says Rogers. "We had a model that had already been tested in the marketplace because it was essentially our Computertots model with some modifications and improvements. And because of what we did in terms of equity in the company, we had a really high-level staff from the getgo."

Partnering. "We looked at what we were doing in terms of our classes, and we realized we were using a lot of products from Crayola," she says. They approached Crayola (owned by Binney & Smith) about a partnership.

Their timing was perfect. With sales affected by art budget cutbacks, Binney & Smith was looking for new ways to enter the marketplace. An after-school arts program like Abrakadoodle could prove an ideal distribution channel.

"One of Binney & Smith's objectives was to have strategic partnerships in the marketplace in education. We fit very nicely into that," says Rogers. "By partnering up with a company like us, they were able to put products in the hands of children at a very young age and expose their parents to the products as well."

For the young company, this provided several key, early advantages: consistent products in all its classes nationally; lower costs for franchise owners because of discounted prices from Crayola; and the ability to use the Crayola trademark in its collateral material. "Their brand name is known and respected around the world," says Rogers. "We had that partnership in place before we even started franchising."

Incubating. A partnership with the Greater Reston (Virginia) Chamber of Commerce allowed Abrakadoodle to participate in its incubator program. Abrakadoodle received office space, telephone, and Internet connectivity for about $700 a month. "But the big nugget was that we received a lot of help and services," says Rogers. Specialists in marketing, technology, and more would come in and consult with the company for free. The company stayed at the incubator site for 11 months before moving on.

"They were pretty excited to have us because it was a different company for them," says Rogers. Most were high-tech. "It was very much a positive, they loved us." In 2005, Abrakadoodle was named the chamber's Incubator of the Year.

Mentoring was another valuable component of the incubator program. One of those mentors was Darcie Davis, founder of management consulting firm Davis, Kingsley & Company in Reston. Another was Access Bank, beginning a relationship that continues to benefit the company today.

"When we grew out of our space at the incubator and were ready to graduate, they gave us space in their building at under-market rent," says Rogers. "It was a way for us to get off the ground and running, and they kept adding space as our company grew." As Abrakadoodle continued to grow, Access built out an area for the company, which currently has 15 employees. And, of course, Access is their bank.

Franconnect, the company's intranet provider, is another example of Rogers' ability to build and sustain strategic relationships-and of her knack for timing and making deals. "They were just getting started in the field of franchising. They had many customers, but were looking to grow. We were able to set up our intranet with them for a very low cost," she says. "We had that in place before we got started. As we grew, they've been able to add features to our intranet that made it a little more robust as we moved along."

In addition to its intranet, Abrakadoodle had several other key pieces in place before offering its first franchise opportunity: a website, training services, and a solid UFOC. "Because we had experience in building UFOC documents, the UFOC didn't have to go through that trial-test period to see if it was viable. We knew it was viable, because we'd created similar UFOC documents over the years with Computertots," says Rogers.

Doing much of the work themselves saved on startup costs, too. "We did a lot of the writing and then sent it to our attorney and said, 'Okay, now put in all the legalese that you need to,'" says Rogers. "We had had many, many years of UFOCs and development, so we essentially wrote our document the way we wanted it to be. Then we made sure it was all legal and we were covering all our bases."

Finding the right attorney wasn't too hard. Little surprise to learn it was the same person she'd worked with at Computertots. "We had a wonderful working relationship, and I feel like he's been a partner in our business, and at Computertots, right from the getgo."

It seems Rogers has a knack for gathering talented people around her, and building relationships that last. "Franchising is all about relationships, and we've been able to cultivate wonderful relationships with people, companies, and organizations that have helped and assisted us in our growth cycle," says Rogers.

Growth figures prominently in Roger's plans. In its first year of franchising, Abrakadoodle opened 38 franchises in 24 states. As of October 2006, the company had 68 franchisees in 31 states. "That's a huge growth cycle," says Rogers, who is looking for "continued aggressive growth." She expects to reach 100 by the end of 2007.

Growth will provide more presence in the marketplace for the brand, she says. "It also makes us more attractive for partnering up with companies to benefit our franchise owners as we have more of the market share. I think it's imperative for franchise companies to continue to grow."

It's kids, not kid's meals!
Abrakadoodle sells only single franchises, though franchisees can purchase larger territories. "We don't sell area developments. In my experience in education and in franchising, we haven't found that to work very well for home-managed businesses in education," she says. The initial investment for an Abrakadoodle franchise is $40,695 to $72,470, depending on the size of the territory.

So who are its franchisees? "People assume our franchise owners are teachers and artists, and that's not true. Our franchise owners are people who have a background in business-usually marketing, sales, and human resources," says Rogers. They include a CPA (who is a former Computertots franchisee), a financial advisor, an attorney, a real estate developer, and a mortgage lending consultant. About 40 percent are men. "Their role, really, is to market our program and to build a team of talented teachers," says Rogers.

"We have a lot of franchise owners who have been in the corporate world and they're at a point in their career where they want to be in a business that provides them not just a solid opportunity, but the satisfaction of being in a business that does great things for kids," she says.

You can't always be perfect
The one bump in the road for Abrakadoodle resulted from the team's choice of a software vendor. "If there was one issue that was kind of sticking out there, sort of a sore thumb, it was our technology. It was robust but cumbersome," says Rogers. After having owners review alternate products, the company made a switch (see sidebar, A Glitch in the System).

The new software, introduced last May at the company's annual conference, achieved two main goals: more features, and ease of use. New features included online registration and credit card payment for classes. "What it did for the franchise owners is keep their business open 24/7. Parents can sign up for classes in the middle of the night if they wish. That was a big feature," says Rogers.

Second, she says, "We took the complexity factor and made it go away." To test the program, Abrakadoodle brought one of its "low-tech" users to its offices. "We put him in a room with a computer system and the software and said, 'Learn how to use it.' He was able to figure it out, put in all of his class schedule, and within two hours was up and running. It was that easy."

Franchisees were trained in the new system right at the conference. "They really began to see all the features that were available and got an understanding on how to use it," says Rogers. One sure sign of success: a near 100 percent adoption of the new product.

"We've really focused in on ease of use for our franchise owners," says Rogers. "It's easy for them to update, easy for them to maintain, and it's not taking up all their time. They need to spend their time managing their program, marketing and managing their staff, and making sure their customers are ecstatic."

Two new programs
Abrakadoodle is introducing two new initiatives this fall. One is a marketing program to help franchisees expand their client base. It consists of a call center at corporate that takes leads from franchisees, calls prospects to introduce them to Abrakadoodle, and sets an appointment for the franchise owner to make a presentation.

"This supplements their marketing efforts in the community, it doesn't replace it," says Rogers. "We've been doing that in a test mode over the last year, and we found that it's pretty successful in helping people to become acquainted with our program."

Second is an online product site that was set to debut November 1. "Products have always been part of our plan-for corporate to develop a product line and to make it available to franchise owners as an additional revenue stream for them," says Rogers.

Abrakadoodle has created some of its own products, such as FrameDoodles, its own frames for kids' artwork. A series of Abrakadoodle books "that are a little different," is in the works. The first, for elementary school children, is already completed and ready to launch.

Franchise owners are already resellers for Crayola products. This new initiative expands their product line. "The products are mostly our own creation," says Rogers. The initial launch will be online. After that, products will be sold to schools, and then directly to parents as kits they can take home.

"We're pretty jazzed about the new products, and how that's going to affect our classes as well, because we'll have products that feed right into our classes and extend the learning into the home," says Rogers.

Giving back
"We're very committed to helping Abrakadoodle be available to children on a wider scale," says Rogers. "The reality is that our franchise owners need a strong base for their program in the marketplace before they can start cultivating those relationships for additional programs. Their first goal, really, is to build a strong base for Abrakadoodle."

Nevertheless, both franchisees and franchisor are doing it anyway. "All of our franchise owners get involved in the community and community affairs and donate their time for various projects," says Rogers.

If they have a class with an opening, franchise owners often will provide free slots for a child the school recommends, but who can't pay. "That's in terms of a scholarship, which our franchise owners provide," says Rogers. Franchise owners also can apply to a company-supported fund, Arts for All, that provide scholarships to supplement or help pay for the cost of programs for children who can't afford the programs.

Individual franchisee community activities include working with special education students in Cleveland; Autism Speaks in New Jersey; and the YMCA's Thingamajig Invention Competition in Washington, D.C. Franchisees donate time, teachers, and materials to support these and other programs for children.

"Our franchise owners are very active in their communities, and giving back in a wide variety of ways. We really support that and encourage that," says Rogers. "We're looking for populations, or even individual students, who would benefit from our program but can't afford it-or for locations, schools, and sites that would like to have the program but it's just not something they can afford."

Abrakadoodle also participates in the federal 21st Century Community Learning Center grant program to bring enrichment opportunities to underperforming schools, providing 1) after-school art education classes, and 2) character-building skills education through the arts, with lessons on compassion, heroes, and courage, for example.

"We would love to work with programs like Head Start. We feel that our curriculum aligns very nicely with their objectives. So we're working on cultivating ways we can work with those programs as well," says Rogers.

Nearly 25 years after starting her first franchise, Mary Rogers is still building relationships and partnerships. It comes naturally when you're passionate about what you do.
Published: April 24th, 2007
Share this Feature
Recommended Reading:
Comments:
comments powered by

Disqus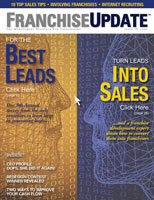 Franchise Update Magazine: Issue 4, 2006
Clayton Kendall provides franchise communities nationwide with comprehensive branded merchandise programs leading to greater brand exposure,...
April 25 - April 28, 2023, Caesars Forum, LV. The Multi-Unit Franchising Conference is the premier annual event for the country's leading...