Mixed Bag: Highlights From The 2014 AFDR
The findings from the 2014 Annual Franchise Development Report (AFDR) were unveiled this October at the 15th annual Franchise Leadership & Development Conference in Atlanta. In keeping with past years, Steve Olson, president of Franchise Update Media Group, presented the findings during the first general session of the conference. This year he was joined by Conference Chair Tom Wood, president of Floor Coverings International, and Greg Vojnovich, chief development officer at Popeyes Louisiana Kitchen for a discussion of the results.
This year's AFDR is based on responses from 101 franchisors representing 34,509 units (31,047 franchised and 3,462 company-owned). The participants were franchisors who pre-registered for the conference and completed an in-depth survey online in advance. Their responses were analyzed to provide an in-depth look into the recruitment and development practices, budgets, and strategies of a wide cross-section of franchisors. In sum, the data, with accompanying analysis, provide the basis of the 2014 AFDR.
Growth plans for 2014 from the 101 franchisors target a total of 4,057 additional units from 2,526 franchisees. Last year, 106 franchisors aimed for 4,675 new units from 3,095 franchisees; and in 2012, 110 franchisors sought 8,262 new franchise units and 4,441 new franchisees.
Overall, respondents said the top five most important factors in franchise development success were, in order of importance, 1) franchisee validation, 2) unit economics, 3) quality leads, 4) sales person, and 5) sales process. Below are highlights from the upcoming 2014 AFDR. (Ordering information is availble here.)
Recruitment budgets. Both average and median recruitment budgets for 2014 ($201,817 and $120,000, respectively) are down slightly from the previous year, although each is higher than in 2010 and 2011, and not significantly different from 2012 ($197,000 average, $125,000 median) and 2013 ($208,625 average, $125,000 median). This likely reflects the slow, steady post-recession shift from a focus on tightening operations to a cautious crawl back toward more of an emphasis on system growth.
Where the money goes. No major changes here--which might itself be considered surprising with all the noise about social media. Overall, the distribution of development spending has remained fairly constant over the past 5-plus years. Internet spending by respondents actually peaked in 2010 at 50 percent, gradually declining to 45 percent predicted for 2014. Planned spending for 2014--print at 15 percent, trade shows at 16 percent, public relations at 12 percent, and "other" also at 12 percent--pretty much mirrors spending in previous years, with just a minor uptick for trade shows.
Top sales producers. No major changes from last year here either. The Internet--at 42 percent--continues to dominate as the top source for franchise sales, identical with last year. Referrals were second at 31 percent, down a point from 2012. Brokers, at 17 percent (up 1 point from last year) and "other" at 10 percent (up 3 percent from last year), accounted for the remainder of franchise sales in 2013.
Top Internet sales producers. As noted above, the Internet accounted for about 4 of every 10 sales. Breaking it down by category, the biggest change from last year is the increase in sales from SEO (31 percent in 2012 to 49 percent in 2013), largely at the expense of online ad portals, which fell from 43 percent in 2012 to 28 percent in 2013. Pay-per click as a sales producer has yo-yo'd in the 5 to 10 percent range over the past four years (11 percent in 2010, 5 percent in 2011, zero in 2012, and 6 percent in 2013).
Brokers. While fewer franchisors reported using brokers in the past 2 years (44 and 48 percent in in 2012 and 2013, respectively, compared with 57 and 56 percent in 2010 and 2011), the percentage who are closing deals through brokers has risen in the past two years, significantly so in 2013. In both 2010 and 2011, 67 percent of those using brokers closed deals through them; that figure rose to 70 percent in 2012, and jumped to 90 percent in 2013. The median broker compensation of $13,500 among this group was level with 2012, falling from $15,000 in both 2010 and 2011. However, said Wood, "The starting point is $20,000 or higher to do deals."
One-to-one marketing. Calling this "today's newest recruiting source" for franchisors, Olson reported that 36 of the 101 franchisors surveyed have used one-to-one local marketing to recruit franchisees. "Twenty-two, or 61 percent of those franchisors have generated sales" using this strategy, he said.
Referrals. Again, no significant change here in the number of respondents using this relatively low-cost method of recruiting leads (59 percent, compared with 58 percent last year) and those providing incentives to franchisees who refer prospects that result in sales (60 percent this year, 61 percent last year). The median referral fee, however, rose significantly, from $3,500 last year to $4,500 this year; and 15 percent said they pay $10,000 or more for successful referrals, most likely reflecting franchisors' increasing appreciation of the value of referrals in making new sales.
Social media sales. The number of franchise sales from social media sources has steadily increased over the years and is certain to continue. Fifteen of this year's respondents reported making 123 sales through social media, nearly tripling last year's total of 46 sales through social media sources by 14 companies. This year's numbers break down as follows: 52 through blogging; 49 through LinkedIn; 10 through Facebook; 7 through Craigslist; and 5 through YouTube.
Overall closing ratios. Something's getting better here. While the numbers for 2013 matched those of the previous year exactly--leads to sales at 2 percent, applications to sales at 13.5 percent, and discovery days to sales at 75 percent--they were up significantly from 2010 and 2011. Clearly franchisors are making more of their opportunities, but it could also be they are choosing candidates more effectively.
Profiling tools. Improved profiling tools, as well as better use of them, also contributed to the increase in closing ratios: two out three (68 percent) of franchisors said their use of profiling tools has helped to increase the quality of their new franchisees, up from 48 percent last year, and 20 to 30 percent in previous years. One in five (19 percent) said they are using profiling tools but don't yet know if that is improving the quality of their candidates; and one in seven (13 percent) said profiling tools have not done so.
Measuring costs. Tracking costs for lead generation and cost per sale has been a sore point for years--as in, why don't more franchisors do it? The news this year showed slight improvement, with 72 percent of respondents tracking their cost per lead, up from 69 percent the year before. Sixty percent tracked cost per sale, down from 65 percent the previous year. That means 3 out of 10 respondents still don't track cost per lead, and 4 out of 10 don't track cost per sale, the all-important measure for franchise system growth. The median cost per lead of $55 rose $5 from the previous year, but is still lower than the $60 reported the year before that. The median cost per sale was $8,000, down significantly from $9,452 last year.
Mobile prospect explosion. It should come as no surprise that more prospects are using their mobile devices to research and contact franchise brands. According to Landmark Interactive, that number nearly doubled from August 2012 to August 2013, rising from 18 percent (10 percent phones, 8 percent tablets in 2012) to 36 percent (23 percent phones, 12 percent tablets in 2013). Desktop usage in this area dropped from 83 percent in 2012 to 65 percent this year. "There is a huge movement toward mobile," said Olson, adding that the financial qualifications of mobile users are higher than for those using desktops to research franchise brands. The message clearly is that franchisors must adapt their website franchise development sites to these mobile devices.
For ordering information on the 2014 Annual Franchise Development Report, click here.
Other Key Findings
Communicating "on the go" is exploding. The percentage of prospects using mobile phones to research franchisors more than doubled from the previous year. Franchisors must adapt their technology to handle the growing use of cellular devices and tablets or be at a competitive disadvantage.
Social media is for more than just finding friends. An estimated 87 percent of franchisors have a Facebook link on their website, and 73 percent have a Google+ corporate page. However, franchisors still must learn how to use social media better to make it work as part of their development strategy.
Profiling tools are powerful. Two out of 3 (68 percent) of franchisors believe profiling tools increase the quality of new franchisees.
"Who you know" still rules. When it comes to getting the deal done, 6 in 10 (59 percent)d of franchisors say referrals have the highest close ratio of all lead generation sources.
Some good news: Franchisors are working harder to align the efforts of their various departments. Olson says research shows that franchisors are "breaking down the silos" to come together as a unit to build a better overall system.
"There is lots of reciprocity between all the disciplines in the company," says Olson. He also recommended leadership at the top must continue to identify performance gaps and make sure they are monitoring and hiring the right sales people.
Looking ahead, the franchisors who are most successful in exceeding their goals will continue to be the brands that use multiple sources--and use them well--to promote their brand. Those who don't should heed this cautionary note from Tom Wood: "The stronger franchisors are going to eat your lunch."
--By Helen Bond
Published: December 30th, 2013
Share this Feature
Recommended Reading:
Comments:
comments powered by

Disqus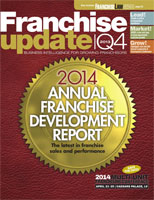 Franchise Update Magazine: Issue 4, 2013
Conferences
InterContinental, Atlanta
OCT 18-20TH, 2023
In 2022 Empower Brands emerged when Lynx Franchising and Outdoor Living Brands united. Empower consists of JAN-PRO, Intelligent Office, FRSTeam,...
Support your multi-location brands and empower users. OneTouchPoint integrates localized marketing services and comprehensive brand management...