New Traditionalists: Give the People What They Want--where They Want It!
About two years ago, at the behest of a friend, Nick Vojnovic, president of Beef 'O' Brady's, made his first foray into a nontraditional franchise location, opening a restaurant at the TradeWinds, a resort in St. Petersburg, Fla., with 1 million annual visitors. It wasn't exactly on his radar, but Vojnovic decided to give it a go.
"We got into the hotel business really by happenstance," says Vojnovic. "He was doing $700,000. We wildly exceeded expectations and are on track to do $1.3 million." He had similar results at the University of South Florida, the Best Western Hotel and Conference Center in Brandon, Fla., and at other nontraditional locations, doubling and tripling expected revenues.
And the cost to get in was "dramatically less" than building from scratch in a shopping center, where it might cost $500,000 to $750,000. Instead, he says, remodeling costs at an existing facility have been coming in at $150,000 or less--and as low at $80,000 if the equipment was in reasonable shape.
The economy was another factor. When the downturn started hitting he says, finding financing for candidates to build new restaurants was a difficult proposition. "Hotels were a natural market," he says, offering a built-in demand from guests looking to dine without having to leave the premises. And the brand's family focus brought in the kids as well.
While his initial entrées into nontraditional locations went swimmingly well, he ran into an unexpected problem at a Holiday Inn in Illinois. It seems the hotel also had an indoor water park. Combine that with the chain's "Kids Eat Free" policy, and you can see the potential for disaster. With all those wet, happy kids eating the franchise into the poorhouse, Vojnovic got the brand out of there as fast as possible--and chalked it up to experience.
Still, he's undeterred: he plans to add 22 new Beef's this year to the brand's 263 franchised locations, about 20 to 25 percent of the new sites in nontraditional locations--a strategy he recommends for other restaurateurs. "If you're in the foodservice business, hotels are a possible solution for growth," he says. And while it's not a done deal, there's talk of adding another restaurant at the TradeWinds, which has an empty restaurant at a nearby property.
Everybody's doing it!
When it comes to NTs, it seems everyone wants to get in on the action these days. While not "everybody's" doing it, it may look and feel that way--especially to cash-strapped franchisors whose growth has stagnated in the past few years, and who are willing to try anything new to increase franchise sales and royalty streams.
According to a report from market research firm Technomic, foodservice sales in 2010 are projected to rise at colleges and universities, senior-living centers, supermarkets, primary and secondary schools, and military bases; remain flat at limited-service restaurants, convenience stores, hospitals, and long-term care facilities; and continue to decline at full-service restaurants.
So why not focus development where the growth is? For many franchise brands, nontraditional locations are the "new new thing" as they seek growth in a faltering economy. Many of today's best-known brands are banking on expansion into new venues to keep their numbers up. But as Vojnovic discovered, it may be lucrative, but it's not a slam-dunk.
On the plus side, nontraditional locations allow franchisors to expand their options within a territory, reach new customers (and franchise candidates), experiment with new formats and footprints, reduce entry costs and risk, open sooner, spread their brand to captive audiences, deal with experienced landlords/operators, and in the ideal scenario, make one deal for multiple locations nationwide (see sidebar).
However, operating in this realm demands flexibility and a willingness to make tradeoffs that may stretch beyond a franchisor's comfort level. These include adaptations to FDDs; restrictions on appearance, size, prices, menus, staffing, supplies, operations, fees, length of contracts; and a shift in the balance of power when dealing with an airport or highway authority, university, hotel chain, or large concessionaire with the power to approve (and often operate) your brand in their venue. There also may be a price to pay for access to the captive audiences they represent (a reverse franchise fee, if you will). All of this must be learned, trained, communicated, and approved by lawyers.
So with all these different obstacles and hurdles, why do it? "Because if you get it right, you can make a lot of money," says Stan Novack--who should know after spending 35 years with powerhouse HMSHost populating airports and highway rest stops with franchise brands, as well as working with well-known brand names to create new concepts for these venues (think Cheers, Jose Cuervo, Wolfgang Puck).
However, he cautions, "You need to know what you're doing, like anything else. A lot of people go in because they see dollar signs, but they don't see what's going on beneath the dollar signs. They may think, 'I operate on Main and Main and have a great store, so all I have to do is plug in the numbers and it'll work.' But it doesn't."
The job for franchisors, says Novack, now president of Novack Consulting, is to increase the appeal of their brand to key decision-makers at nontraditional locations.
What is "nontraditional"?
A nontraditional site, says Novack, is "anything other than a streetside location." He notes three key differences for nontraditional locations (see sidebar for more):
a captive market;
a different process for accessing that market; and
the franchise is not a destination.
Despite the success many brands are enjoying in these locations, says Novack, "What's hard to fathom is that the primary reason the patron gives for using the facility, other than a fuel stop, is to kill some time while they're waiting for something else to happen. They go to fly, drive, or watch an event. The operators just happen to be there."
But any definition of "nontraditional" depends on where you sit. In speaking with more than half a dozen franchisors expanding into nontraditional locations, we found that like Humpty Dumpty in Alice in Wonderland, "When I use a word it means just what I choose it to mean...":
Pita Pit USA. "We have a different franchisee profile," says CEO Jack Riggs, whose brand's bread-and-hummus is the college crowd. "Our view of a Pita Pocket traditional location is right next to a college culture. For us, nontraditional is downtown or in a strip mall." Of the brand's nearly 190 stores, about half are on or near campuses. "I think it's harder getting to define traditional; there is so much change. I think nontraditional may become the traditional."
Checkers Drive-In Restaurants. "We define nontraditional as inline and end-caps," says Lynette McKee, chief development officer for the brand. In addition to its traditional "double drive-thru" design, Checkers and Rally's developed two new building designs: a shopping plaza end-cap unit with a single drive-thru, and an in-line design. McKee says about 20 percent of the brand's growth going forward will be in these smaller-footprint locations.
Radio Shack is looking to make deals to place mini-racks of its products in bookstores at airports, and is experimenting with many other new distribution points for its products. "There's not a space in the USA where we couldn't be operating," says Marty Amschler, vice president of franchising (see sidebar).
Jamba Juice is working with Centerplate (which operates in 250 sports, entertainment, and convention venues across North America) to locate slimmed-down versions of its concept in sports stadiums and music/concert halls/arenas, starting with kiosks. This is in addition to building a presence in college campuses, grocery stores, airports, hospitals, hotels, and theme parks. "It's really important for us, because it's a way of reaching consumers where they have fun, study, and travel," says Thibault de Chatellus, senior vice president, global franchise and development at Jamba Juice.
The UPS Store is making inroads in hotels, military bases, and even self-storage units for small businesses that use these facilities as fulfillment centers and need print, packaging, and shipping services. "It's a venue we're trying to get our hands around," says Kevin Pignone, vice president of domestic sales. "There are not a lot of them, but the ones we have do well."
PhaseNext Hospitality was formed one year ago with the express purpose of locating franchised brands in airports, train stations, military bases, and universities. While the company has no units open yet, they've signed agreements with Corner Bakery Café (12), Smashburger (7), and Zao Noodle Bar and are preparing to open in airports including DFW this year. As a minority woman-owned business, says co-founder Roz Mallet, since there are carve-outs for minority businesses, "We can complete airport RFPs with an advantages."
Whatever your advantage, it's important to bring it out prominently when negotiating for a piece of the nontraditional pie.
Shop-within-a-Shop
Can you boil down a franchise concept into a 3-by-4-foot board? What about a 2-by-8-foot panel? You many not make megabucks from that, but with enough of them, they'll add up--which is one of the strategies Radio Shack will be testing out in the coming months, says Marty Amschler, who joined Radio Shack in November as vice president of franchising.
Think airport bookstores and a display stocked with earbuds, batteries, and other electronic items travelers pick up waiting for their flight. Land a deal with the company that manages all those bookstores, and the sales pile up quickly, providing another revenue stream for the brand.
Or it can be AV cables in an electronics store, headphones at a fitness franchise, AM receivers with headphones at a college football game, or memory cards and camera batteries at a concert.
"We believe there is opportunity in many of those to sell our private brands," says Amschler, adding that this shop-within-a-shop idea is already in place in some Ace Hardware stores. Radio Shack is also evaluating the possibility of expanding this idea into military bases, convenience stores, and more, he says.
"It's appealing. We can go into a marketplace, and whether we dominate 100 square feet or an entire store, we have to figure out what that audience needs. There's not a space in the USA where we couldn't be operating," he says.
Also, he says, experimenting with these micro-sites is a low-cost, low-risk strategy that takes little time to implement and evaluate. "The possibilities are endless. Some may take off, some may wash out," he says.
Support, he says, is still the same as for a traditional franchisee. For example, with the bookstore idea, "It looks like a dealer licensee, but we would call you a franchisee, you sign a franchise agreement," he says. "We're not doing anything different. We still offer new owner training--it's just a smaller segment of our product being carried."
Tips from the Master
Stan Novack spent more than three decades with HMSHost, where he excelled at bringing franchise brands to airports and roadside rest stops. Today, as president of Novack Consulting, an independent firm specializing in helping franchise brands succeed in nontraditional locations, he highlights major areas of difference franchisors must understand to succeed in these venues.
Market. The biggest difference? A captive audience, and knowing that your site is not your customer's primary destination. Also, says Novack, nontraditional markets are continually changing, demanding you keep up with remodeling and fresh offerings.
Landlord. Who is the landlord? It could be the airport authority, a developer, or a master concessionaire; each has different needs and requirements.
Qualifying. Franchisors should keep abreast of RFPs release dates, and review them for requirements such as specific concepts, rents, minimum annual guarantee, local angles, or some combination. If interested in working with a particular concessionaire or venue, he says, call and open a dialogue.
Unit economics. The economics in nontraditional sites "are totally different from operating on the street," says Novack. "Typical UFOC numbers will not work within a nontraditional environment. You have to be prepared to make changes." The usual approach is to do an addendum to an FDD, specific to different types of venues you may be considering.
Marketing. "In a nontraditional environment, traditional marketing doesn't help you," says Novack. "It will not drive more customers to your venue." In an airport or train station, marketing will not increase foot traffic, although it could affect decision-making. Adjustments in marketing fund contributions may be in order.
Rental structure. Street-side, rents are measured by dollars per square foot. In many nontraditional sites, the standard is total sales, divided among several parties (franchisor, franchisee, concessionaire, and host).
Space. Think small, or at least smaller: typical space is 500 to 2,000 s.f. How do you reduce a 5,000 or 10,000 s.f. format to 10 percent of its usual size? Franchisors must identify their brand "essence," the customer value in the brand, and how to convert that into a smaller space. (P.S.--Where will you store supplies?)
Visual identity. In many, if not most, nontraditional locations, a brand's visual identity may have to be compromised or adapted to the requirements of the site. "A lot of times as a franchisor, you have a certain look to the store interior or exterior," says Novack. "Your exterior may come in conflict with the venue's architectural rules. How do you modify your trade dress to fit?"
Labor. Several issues to reckon with here. Many nontraditional venues are unionized locations with higher wage and benefit rates; not easily accessible by public transportation (airports, stadiums, arenas, highway rest stops); and may require security clearances.
A PowerPoint summary of Novack's presentation on this topic at our recent Multi-Unit Franchising Conference is available at www.multiunitfranchisingconference.com/pdf/novack_planestrains.pdf
Planes, Trains, and Automobiles
At the end of the session on nontraditional locations at this year's Multi-Unit Franchising Conference, franchisors swarmed the three panelists, asking them the same question: "How do I get my brand into these venues?"
"Nontraditional has become suddenly popular," said panelist Joyce Mazero, a senior partner with law firm Haynes and Boone. To succeed in this arena, she said, franchisors must modify their mindset--as well as their FDD. "Nontraditional franchising is not just an addendum, it's a different animal," she said (see sidebar).
"Your customer is not the one you have to please, the airport is," said panel moderator Stan Novack, president of Novack Consulting--or perhaps it's the operator of the concession at the rest stop, train station, college campus, or arena. Novack, who spent 35 years with HMSHost filling airports and rest stops with hundreds of concepts, noted that while the opportunities are great, so are the differences. Citing Warren Buffet, he said, "Investment must be rational. If you don't understand it, don't do it."
Ann Marie Solomon, vice president of merchandising and creative services at Aramark, said one of her goals is to match her portfolio with each venue. "Our purpose is to find out the goals of our clients and bring solutions to them," she said. Aramark has about 45 brands, primarily food, in 750 franchised locations, about 80 percent in college and university markets.
With smaller sites and captive audiences, said Solomon, the benchmark for ROI is different. "We look at a capture rate. We're not measuring sales by the square foot." At a college campus, open only seven or eight months annually, "We're looking for $350,000 plus per year." And the stakeholder split is different too, with the campus, operator, franchisee, and franchisor each getting a piece of the action.
Many different factors come into play in nontraditional venues, and players often must move quickly to land a deal. One way to do that, said Mazero, is to avoid using your regular FDD. "Venues will be put off by brands using traditional documents," she said, and suggested a shorter agreement, like a master license, or perhaps no FDD at all.
"There is a price to be paid for access, and that price is flexibility," said Mazero. This can apply not only to size, menu, signage, and business arrangements, but also to paying the venue or operator for the right to their captive audience. "A lot of operators expect a break for access, or reduced royalties: 'I just gave you access, give me $20,000.'" For franchisors used to receiving a franchise fee, this can be a bitter pill to swallow. But when the ROI is there, she said, the price is worth it.
While a willingness to adapt is necessary, Mazero says franchisors also should ask themselves: "'What are four or five values that cannot be changed?' The venue already has theirs."
So how do you approach an Aramark or HMSHost most effectively? "We're trying to make it easy," said Solomon. "Look at it as an opportunity, a strategic partnership versus a one-off."
"Present yourself as being smart for this niche," said Mazero. "Think about agreements differently and you'll be much better received by the operators."
Bargaining Chips
"Nontraditional franchise developers approach franchise relationships differently than traditional, smaller franchise developers and operators," said Joyce Mazero, franchise attorney with Hayes and Boone, in the handout that accompanied her appearance on a panel at Franchise Update Media Group's Multi-Unit Franchising Conference in March.
Mazero has been working for years to educate franchisors about the legal and business differences that come into play when locating a franchise in a nontraditional venue. One of her key points--that developers in these sites are "larger, more experienced, and/or experts at doing business in nontraditional venues"--means that franchisors need to adapt or lose out on these opportunities.
In her opinion, "The changed dynamic means that nontraditional franchise developers are not afraid to seek, and often receive, significant changes to franchisors' form agreements." She lists 10 key areas open for negotiation:
Financial incentives
Performance conditions
Deference to facility
Materiality and cross defaults
Mutuality of obligations
Exit strategy or transfer
Covenants not to compete
Territorial rights
Form of agreement
Predictability and clarity.
Each is explained in more detail at www.multiunitfranchisingconference.com/pdf/novack_mazero2.pdf
For another take from Haynes and Boone on this topic, see Franchise Law News at www.franchise-update.com/article/994/.
Want to know more? Contact her directly at joyce.mazero@haynesboone.com or 214-651-5336.
Published: May 10th, 2010
Share this Feature
Recommended Reading:
Comments:
comments powered by

Disqus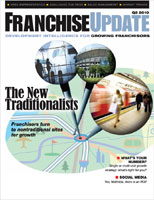 Franchise Update Magazine: Issue 2, 2010
Conferences
InterContinental, Atlanta
OCT 18-20TH, 2023
The Hungarian Franchise Association was founded in 1991 as an interest representation organization of the franchise business community.
ApplePie Capital provides a fresh new approach to franchise financing that is focused on your growth and success.