No More Excuses
The time has come for franchisors to disclose earnings data

The FTC's new Franchise Rule "permits a franchisor to provide information about the actual or potential financial performance of its franchise and/or franchisor-owned outlets." Does this mean it is game-on for providing financial performance representations (FPRs, formerly known as earnings claims)?

An argument used by some franchisors ("We're not allowed to make such representations.") goes away. More than 700 brands, or approximately one fourth of all active franchise brands, make FPRs today, and that number is steadily growing. It remains to be seen whether there will be a rush or a continuing methodical expansion of franchisors making such representations.

Other arguments franchisors often give for not making such disclosures generally are along the following lines:

"We just don't collect such data." How does it look to prospective franchisees that a franchisor doesn't collect such data? Keep in mind that half of all franchised units are in the control of experienced multi-unit operators. Two very reasonable conclusions candidates could make are that (1) the franchisor doesn't have very good systems in place, or (2) that they don't have very good data. Neither is a very good reflection on the franchisor.

"We don't have enough units to develop useful FPRs." Could a prospective franchisee conclude that it's too early to consider a brand that hasn't developed enough company or franchise units from which to make a reasonable assessment of their performance?

"Collecting such data would not be meaningful in our system." The implication to be drawn here then is that this franchise system is so complex or so scattered or so somethingthat the franchisor can't make sense of what the units are doing. That's not exactly a good starting point for a prospective franchisee either.

Clearly, unit economics drive franchising success and are top-of-mind for prospective franchisees. This is particularly true during economic downturns because the margin for profitability is likely to be tighter.

Whether or not a franchisor makes an FPR is an absolute question. The types of FPRs franchisors make is a relative question, and one that bears further discussion. Of the more than 700 FPRs being made, half include information that extends beyond simply giving average sales or sales ranges. Some extend well into the expense side of a unit's performance.

The hotel sector has the highest percentage of brands making FPRs. Two points stand out. First, hotels are big initial investment businesses with a high concentration of sophisticated franchisees. Second, this sector has developed a common metric that is frequently used: Revenue Per Available Room (RevPAR). If there are a lot of sophisticated franchisees and a reasonably uniform type of business, a consistent metric will likely be developed.

Whether a common metric will be developed for every sector will be determined in the next few years. A substantial driver will be the utility of what can be done with the data being reported today. That data increasingly is becoming relevant as an evaluation criterion for prospective franchisees, especially multi-unit franchisees. Understandably, if it's helpful to prospective franchisees, franchisors will quickly pick up on it.

Here's an example of just how relevant this information can be to franchisors and franchisees alike. From a recent report on franchise units in the beauty industry, average initial costs were in the range of $103 to $313 per square foot, a threefold spread from low to high. Average annual sales ranged from $168 to $577 per square foot, a fivefold spread. EBITDA as a percentage of sales ranged from 16.9 percent to 46.9 percent, a 2.75-fold spread.

Armed with such information, franchisors and prospective franchisees can learn a lot about how a brand is performing and extrapolate for even greater insights. For instance, the companies in the sample took, on average, 33 months to break-even. The longest period was more than five times the shortest period.

Certainly it would be a compelling marketing message for the franchise brand with the shortest period to break-even to emphasize that fact. Franchisors with above-average performance data should, and are, moving from a defensive mindset regarding financial performance representations to a marketing advantage mindset.

Who can blame them? After all, unit financial performance always has been the number-one thing prospective franchisees want to know, and it's the single most relevant indicator of franchisee health a franchisor can monitor.

Since the arguments against their use are not persuasive and there are definite benefits in providing this data, I think it is reasonable to predict that FPRs are coming on fast. And it's about time.

Darrell Johnson is President and CEO of FRANdata, an independent research company supplying information and analysis for the franchising sector since 1989. He can be reached at 703-740-4700 or djohnson@frandata.com.
Published: September 22nd, 2008
Share this Feature
Recommended Reading:
Comments:
comments powered by

Disqus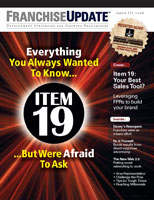 Franchise Update Magazine: Issue 3, 2008
Support your multi-location brands and empower users. OneTouchPoint integrates localized marketing services and comprehensive brand management...
Bring Order to Your Business. All-in-one management, print, and design solutions at your fingertips, on one platform