No Mystery About It: Study Finds Franchisors Still Coming Up Short
There's good news and bad news for franchise sales and development executives. That's the way Steve Olson, president of Franchise Update Media Group sees it after reviewing the results of the company's most recent Mystery Shopper survey.
"My observation from the 30,000-foot level is the good news is that more franchisors are taking aggressive steps to close performance gaps and regrow their recruitment efforts," says Olson. "The bad news is 15 percent of our franchise community refuses to embrace best practices in our new environment. Clinging to yesterday's world, they will wither away."
A bold statement, but Olson says it's backed by the survey results, unveiled in October at Franchise Update's 13th Annual Leadership & Development Conference. Franchise brands that pre-registered for the conference can choose to have their phone response and website evaluated by a team of expert mystery shoppers. The results are used by those brands to measure their franchise recruitment efforts and to provide benchmarks to improve the performance of their sales teams. The results also become part of Franchise Update's Annual Franchise Development Report (See Article).
The mystery shoppers (details below) pose as qualified prospects and go to work making phone inquiries and filling out application forms on franchisor websites. The telephone mystery shoppers call in as qualified prospects and sales teams' performance including their response time, information requested, how they control the conversation, and how they direct the prospect.
On the web side, researchers evaluated performance drivers including SEO and navigation, how compelling, organized, and informative the content is, and how effective the design, multimedia components, and direct response elements are in driving qualified inquiries to the sales team. The researchers record the brands' ease of access, timeliness, responsiveness, and follow-up, which are then analyzed and presented at the conference.
This year's results were based on 92 phone call and 107 website evaluations. New to the study this year is an analysis of how the brands are using social media in their recruitment process.
As Olson said to the crowd during his presentation of the mystery shopping results, "Don't wait for the recruitment environment to change. You need to change your approach to succeed in this environment."
Who's calling (back)?
First up for review this year was a look at franchisors' responses to the good old-fashioned telephone inquiry. Marc Kiekenapp, president of Kiekenapp & Associates, called 92 franchise brands. Surprisingly, he discovered that 20 brands either did not have a phone number for prospects to call in on, or worse, they had an incorrect phone number on their website.
"Maybe even more interesting was the lack of preparedness for incoming calls that we discovered among franchisors," says Kiekenapp. "Very few had a system in place where a prospect could easily get to a live person. It seems technology has now taken over the phone systems for hot leads." (Remember, he phoned in to all 92 companies posing as a qualified prospect.)
When it comes to phone inquiry response, Kiekenapp says franchise brands must get back to the basics. "There should be a live person to get every call," he says--not a recording or a receptionist who simply dumps the call into a salesperson's voicemail. "If you don't get that lead, chances are another brand will."
Kiekenapp continued on that theme, noting that franchisors not only must develop systems that allow prospects to easily and quickly reach a live person, but also must work on the speed of their responses. "It really should be between two and four hours at most, and brands need an auto-responder in place for calls that come in after hours." He says brands should be able to engage candidates quickly and effectively through both phone calls and email.
His final bit of advice on how to improve your responses to phone inquiries: "Call your own recruitment number. How quickly and easily can you get to a live person? This will let you know where adjustments need to be made."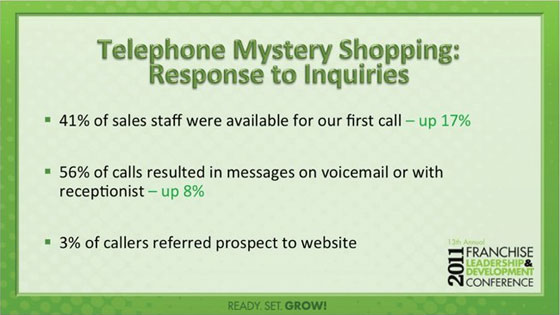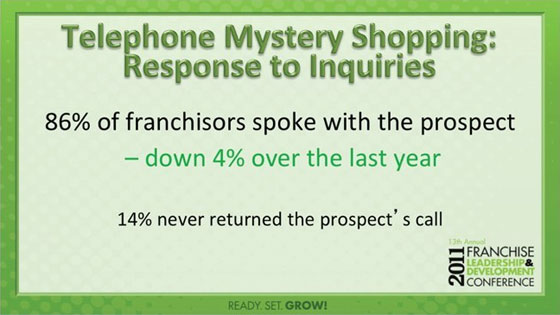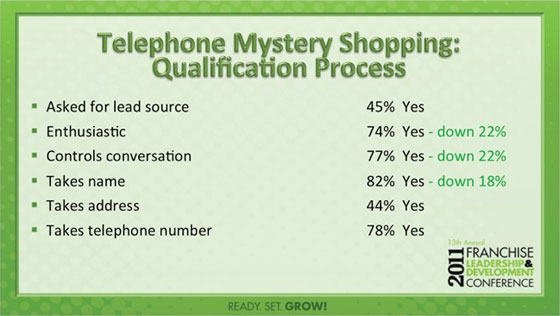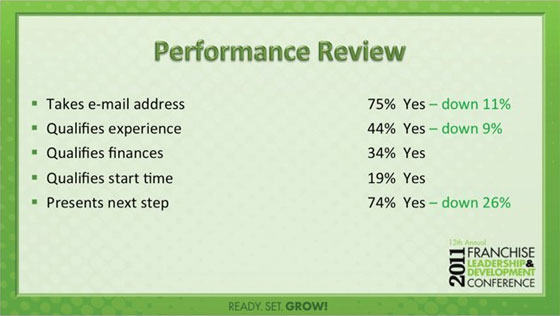 Online evaluation
Moving to franchisors' online recruitment efforts, some of the findings were again surprising. Jeff Sturgis, president of Franchise System Advisors, shopped 107 franchise brands through their recruitment websites. Only three out of four called him back after his initial request was submitted online.
As for the timing of those responses, he says, "Most brands called me back within two to three days and a few got back to me within a couple of hours." And, he adds, the brands did a good job of sending follow-up emails when he completed their forms.
Sturgis found most of the sites were easy to navigate, clear to understand, and included a simple short form to get the process started. The goal of his research was to attempt to fill out the online form and then have one phone conversation with the franchisor. "I found most salespeople to be friendly, ask good questions, and they gave me the next step," he says.
The systemic problem Sturgis discovered time and again was the salespeople's lack of "real, quality questioning on that first call," he says. "They didn't do a very good job of engaging me to find out more about who I was. Rather, they just wanted to get into their process." Many sought to direct him into their system to fill out the next form, missing the opportunity to begin building a relationship.
His overall takeaway was that, from a process standpoint most brands are doing pretty well. "But there's a lack of personalization and relationship-building going on. I believe that good franchise recruitment is based on a conversation, not just a process."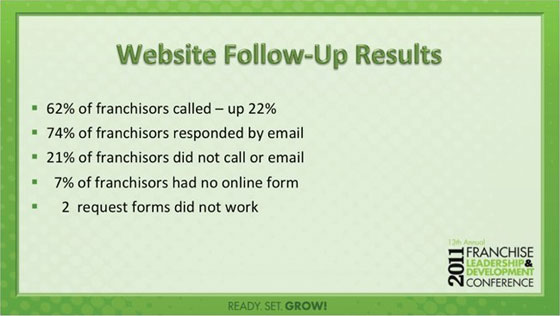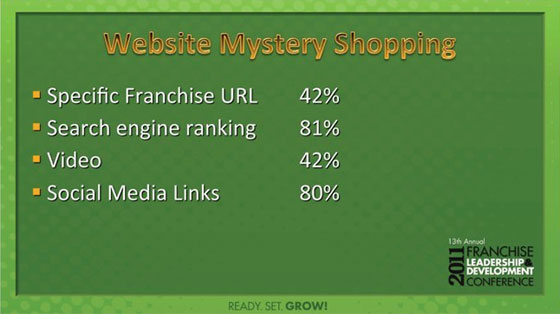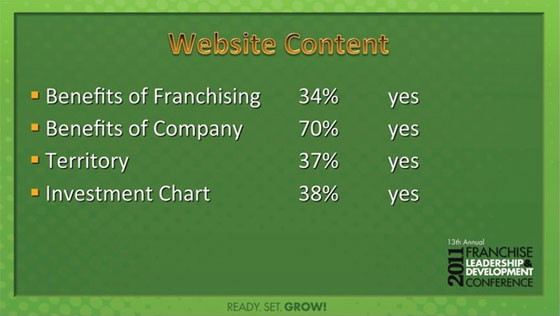 Social mystery
For the first time, this year's study evaluated brands on how they are using social media in their franchise recruitment efforts. Jon Carlston, vice president, social development at Process Peak, evaluated each of the 110 brands. He examined how brands are providing opportunities and information through social media tools such as LinkedIn and Facebook. He found there's much room for improvement.
"Despite LinkedIn being the social network that most franchisors believe has the most direct application to franchise development, 59 percent had never updated their profile," he says. (Kudos to the 41 percent who did.)
He also found that more than half of the brands he looked at don't mention franchise opportunities on their Facebook pages. "Given that Facebook represents the world's biggest online audience, we were surprised to find that franchisors were not taking advantage of this to grow their systems," he says.
Franchisors must be more active in allowing Facebook fans to "take action and inquire about a franchise," he says. Also, he recommends that franchisors should take advantage of the tools Facebook provides. "Facebook allows you to have custom-built applications on your pages to display franchise micro-sites, collect leads, and frame in map locators--all at no charge." Can't beat that! Stay tuned for next year's results.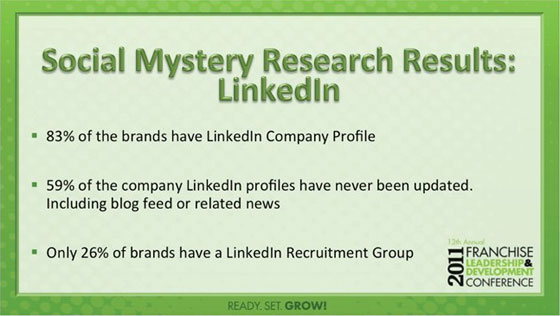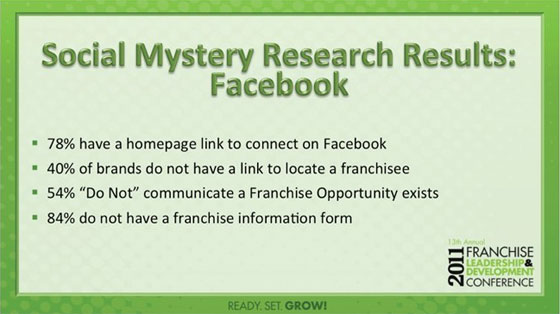 Published: January 11th, 2012
Share this Feature
Recommended Reading:
Comments:
comments powered by

Disqus

Franchise Update Magazine: Issue 4, 2011
Our accounts payable automation platform combines technology with simplicity & affordability. Save time and money, and automate your ap workflows...
More than 15 years of passion and fascination with the franchise system. Thanks to having met many Franchisees, today I can help new ones and those...