Notes from our 9th Annual Franchise Leadership & Development Conference
Finding an edge. Moving ahead of the competition. Emerging as a winner. These were all themes echoed throughout Franchise Update Media Group's 9th Annual Franchise Leadership & Development Conference.

Once again, this leading industry event was conducted over a jam-packed two and a half days at the Ritz-Carlton, Buckhead in Atlanta. This year's sold-out event, held October 3 - 5, attracted more than 350 franchise executives and more than 80 sponsors. Twenty sessions were conducted during the conference in intense time of sharing, listening, networking, learning, and fun.

Attendees convened on Wednesday morning to participate in two special all-day workshops - a new offering on this year's program. One examined the fundamentals of building a successful franchise sales program; the other dealt with performance marketing and how to build sales. Everything from fundamentals to advanced techniques were hashed out during the day as attendees engaged the panelists and industry experts in discussing and analyzing solutions.

That evening, a cocktail party in the Sponsor Networking Area allowed participants to mingle informally and further discuss issues with fellow franchise execs in a more relaxed setting. Of course they also took in many of the latest products and services from industry suppliers and exhibitors.

Thursday began with a light breakfast before the entire group gathered for a motivational opening address by Herman Cain. A well-respected franchise veteran, Cain urged the audience to realize that the "future" is already here. He told participants they cannot predict the future, but must rather navigate it to remain successful. That's something Cain knows a little about: a decade ago he took the reins at Godfather's Pizza and turned the brand completely around.

Cain's address was followed by the annual State of Franchising address by FRANdata CEO Darrell Johnson. Johnson presented his usual concise, 30,000-foot view of the industry and the overall economy and trends. Within franchising, he noted, growth has been significant in non-food service industries. He also reported that 779 new franchise concepts have been rolled out in the last three years, with more than 33,000 units added during 2006 - half of those developed by multi-unit operators.

On the economic front, Johnson emphasized that the market is currently in its second longest economic expansion in U.S. history - healthy for franchising and all business alike. He also said that although interest rates are rising and banks are returning to more traditional (tighter) underwriting practices, GDP is up and consumer confidence remains strong - for now.

Looking ahead, Johnson said that the industry is facing greater economic uncertainty, a shrinking pool of qualified franchisee prospects, and a more sophisticated franchise marketplace.

Next up was a look at the results of the10th Annual Lead Generation, Recruitment & Mystery Shopping Report. Franchise Update Media Group's publisher, Steve Olson, made the presentation. This year's sample included 156 franchises representing 89,000 units.

Therese Thilgen, Franchise Update Media Group's president and chief content officer, then facilitated a panel that dealt with how to profile successful franchisees and use those profiles in franchise recruitment. Panelists were Joe Lindenmayer, president of TSS Photography; Barb Moran, CEO of Moran Industries; Charlie Simpson, COO of Great Clips; and D'Wayne Tanner, vice president of franchise sales for Focus Brands. Each panelist drew on their deep experience and knowledge about how to develop accurate profiles and use them to effectively test and evaluate candidates.

Following lunch in the Sponsor Networking Area, attendees chose from any of four different themed tracks - new this year: Internet, Sales, Development, and Marketing. These 13 hour-long breakout sessions ran throughout the afternoon and included topics such as expanding your system through area representation, selling more franchises to women, getting stores open more quickly, and attracting and selling to the Millennial generation.

That evening, all participants gathered at nearby Maggiano's Little Italy for a multi-course, family-style dinner and the presentation of the 9th Annual STAR Awards, which recognize top performers in lead generation and sales.

A few cups of coffee got the final half day of events kick-started Friday morning. Some attendees headed for the session that reviewed the new FTC rule and state legislation, while others soaked in some money talk and gleaned strategies for financing and funding franchises. A pair of final "mindshare" sessions encouraged participants to brainstorm on ways to achieve high-performance lead generation and high-performance sales generation.

The buzz throughout the Ritz-Carlton was contagious, and many said they picked up more than a few nuggets of beneficial advice - as well as new contacts. The annual conference once again continued to provide exciting presentations with intimate, peer-to-peer problem-solving workshops and lively roundtable discussions. The constant interchange of ideas and advice among peers, mentors, and experts is what many repeat attendees say keeps them looking forward to returning each year.

Franchise Update Media Group's next scheduled conference - the Multi-Unit Franchising Conference & Expo - is set for April 23 - 25, 2008 in Arizona, at the 560-acre Hyatt Regency Scottsdale Resort and Spa at Gainey Ranch.
Published: December 18th, 2007
Share this Feature
Recommended Reading:
Comments:
comments powered by

Disqus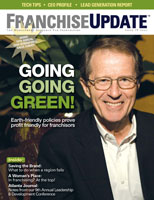 Franchise Update Magazine: Issue 4, 2007
In 2022 Empower Brands emerged when Lynx Franchising and Outdoor Living Brands united. Empower consists of JAN-PRO, Intelligent Office, FRSTeam,...
919 Marketing Co. is a national content marketing, PR and social media agency serving franchise brands. Our proprietary social relations approach...