Pathway To Success: Spencer Smith follows the System and Gets Results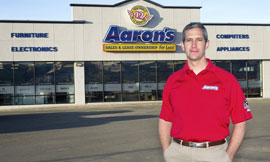 Spencer Smith may be quiet and unassuming but don't let that fool you. On the inside he's a savvy business operator who has been successful with multi-units and multi-brands and has earned his success by following "the program" and the Golden Rule. The 2013 winner of Multi-Unit Franchisee magazine's Role Model MVP Award, he says following the program is a simple, yet powerful concept.
"Years ago, I read an article about franchising and some of the mistakes people make," says Smith, who opened 39 Aaron's and two Big O Tires stores across 8 western states--all in under 9 years. "I gleaned from that article that when you buy into a franchise, you're buying into doing business that particular way. If you have to be a maverick and reinvent the wheel all the time, both you and the franchisor will be frustrated. When I look at a potential franchise, I ask myself: 'Am I fully on board with doing business they way they're doing business?' If not, I keep looking."
Smith, a staunch family man who grew up working in his father's tire store and on the family farm, disputes the notion that to diligently follow the franchise system is to work without innovation or entrepreneurship.
"There's a difference between being entrepreneurial and being someone who wants to be very creative. For me, I was looking for the best system out there, one that was financially viable and would grow rapidly and create opportunities for others. That was my original litmus test," he says, and he found that at Aaron's. "At the end of the day, I wanted to create not just minimum wage jobs, but careers for our associates."
His innovation has taken the form of several employee reward and compensation programs. "We offer so many competitions and reward programs that it takes an associate a full six months on the job before they realize just how many competitions there are at the company and corporate level," he says. "It's almost impossible for them not to win something."
Also part of Smith's litmus test was finding a franchise with units that were closed on Sundays. "That was important to me personally for religious reasons. It is fully up to associates if they want to take advantage of that, but I wanted to make the opportunity available."
Name: Spencer Smith
Title: President and CEO
Company: Smith Group
No. of units by brand: 39 Aaron's, 2 Big O Tires
Age: 40
Family: Five children, 3 to 14, and an amazing wife who makes it all work
Years in franchising: 12
Years in current position: 12
Published: November 13th, 2013
Share this Feature
Recommended Reading:
Comments:
comments powered by

Disqus
With many attractive development territories available for multi-unit growth, there has never been a better time to become a Penn Station franchisee.
Cash Required:
$300,000
Shakeaway is a unique global company with stores popping up all over the world! Get involved in this fun, fast growing and profitable franchise now...