Policy Light: Focus on outcomes balances flexibility with accountability
Name: Brad Hillier
Title: CEO
Company: Re-Bath
No. of Units: 110
Age: 49
Years in franchising: 11
Years in current position: 7
Brad Hillier has spent the last 12 years in leadership roles at Re-Bath, which offers bathroom remodeling from simple bathtub replacements to full bathroom redesigns. He came on board in 2010 as chief financial officer and played a significant role in helping Re-Bath recover from the housing market crash, along with developing and implementing strategies to position the brand for growth.
Two years later, when he became COO, he was instrumental in recreating the company's product offerings to include a variety of traditional, modern, rustic, and transitional bathroom styles not previously offered.
When he became CEO in 2015, he set his sights on three tasks: growing the brand's nationwide presence, providing an unparalleled customer service experience, and attracting entrepreneurial franchisees.
One of the ways he's accomplished this has been through the implementation of what he calls a "policy light" approach. Translation: "Focus on the big picture and outcomes and don't worry about the details," says Hillier.
"With flexibility and creativity reigning supreme, more franchisors are now leaning into a policy-light system as the future of their organization to drive results in the post-Covid era—and that's exactly what we've done."
He says Re-Bath has focused on building a policy-light organization by striking a balance between flexibility and accountability. "By doing so, we're seeing same store sales growth alongside multiple franchise openings."
It's all promising. He says increased demand for bathroom remodeling projects and market share gains drove a nearly 80% year-over-year increase in systemwide sales. Then there's the new partnership with private equity partner TZP Group. Says Hillier, "We will be able to leverage TZP's expertise and resources to further expand our brand to a wider audience and better serve our current customers."
Looking ahead, Hillier sees the company investing in more technology and adding a CTO to the team—and making sure the customer experience remains front and center. "We understand that customers are the lifeblood of our organization and enable our more than 100 franchise locations nationwide the ability to grow and thrive."
LEADERSHIP
What is your role as CEO? To provide the vision and overall strategy for the organization and the brand. To support our team of executives to ensure they have the resources they need to execute on our strategy.
How has Covid-19 affected the way you have led your brand? It has made us more focused on the outcome and less focused on the way to get to the outcome. Franchisors are known for structure, rules, playbooks, and policies, but the Covid-19 pandemic completely changed the traditional workplace landscape. The pandemic has also increased the frequency of our communications to our staff and our franchisees. During the height of Covid-19, we were communicating with franchisees more than we ever had before. Feedback was very positive. As a result, we've aimed to strengthen and enhance that level of transparency moving forward, which has proved immensely beneficial.
Describe your leadership style. Focused on big-picture items and outcomes. Don't worry about the details. By implementing a flexible, policy-light culture, our brand is able to remain future-focused as team members are held accountable to deliver forward-thinking, creative work.
What has inspired your leadership style? I had two notable experiences with two very different managers early in my career that really inspired my leadership style. One manager provided me a lot of flexibility on how to accomplish my tasks. One manager would make me redo work even though we achieved the right outcome, because she didn't like the process or documentation to support it. I found one very rewarding and one very frustrating and inefficient. I made a note to myself then and there on the importance of outcomes and results versus details.
What is your biggest leadership challenge? Continuing to find the right balance between flexibility to get to the outcome and ensuring the task is on track while you are in the middle of a project. The key, of course, is enforcing accountability.
How do you transmit your culture from your office to frontline employees? It is a mix between appearance, demeanor, relationships, conversations, and more. We understand the power of culture and truly believe we've built a culture that drives results.
How can a CEO help their CMO develop and grow? They can help them think about where they want to go in their career, how to manage relationships with peers, how to deal with team member conflicts, and ways for them to mentor their team members.
Where is the best place to prepare for leadership: an MBA school or OTJ? I like OTJ. However, you do need to get yourself up to speed on certain business topics. But I feel that can be done by reading books or attending seminars, as opposed to an MBA program. There are specific jobs and roles where I think an MBA is needed, but generally, in my opinion, OTJ is better.
Are tough decisions best taken by one person? How do you make tough decisions? No. Tough decisions need a well-rounded view of the situation and risk. That means you need the input, views, and opinions of others. I like to get that feedback through one-on-one conversations, as opposed to a group discussion.
Do you want to be liked or respected? Respected. I believe "liked" is a feeling that can be situation-specific, whereas respect comes with time and perspective. I'm not interested in a short-term emotional response to a decision I have to make. However, I would like to think that over time people would see those decisions were made with care for all constituents.
Advice to CEO wannabes: Strengthen your skills on how to understand and analyze data. Data will help you cut through personal agendas, including your own, to get to better, more logical decisions.
MANAGEMENT
Describe your management style: Very similar to my leadership style: focused on results and accountability, not the path to get there. Flexible policies allow employees the freedom to do what works best for them to garner results. Place a strong focus on reviewing the execution that comes from this freedom, and whether it's benefiting the business. If something is working, reward that. But if there is room for improvement, give clear feedback that the employee can practice to produce results.
What does your management team look like? We have a CFO, a CRO, and a COO. We are also adding a CTO to our team.
How does your management team help you lead? They play an essential role in leading our brand. Together, we collaborate on the brand vision and strategy, and they then manage all the execution of said strategy.
Favorite management gurus: Do you read management books? Yes. Not sure I have a favorite as there are so many, spanning different topics. There's plenty of management books out there, so be sure to expand your reach into various topics you may not have naturally gravitated toward to make you a more well-rounded leader.
What makes you say, "Yes, now that's why I do what I do!"? I help people accomplish their dreams and aspirations. There's no greater feeling that that!
OPERATIONS
What trends are you seeing with consumer spending habits? People are spending more time in their homes and want to age in their homes longer. As a result, they are spending more money on making the space in their home work for them, not just on making it look nice.
How is the economy driving consumer behavior in your system? Home prices are going up, so consumers are feeling more confident about investing in their homes.
What are you expecting from your market in the next 12 months? Capitalizing on unprecedented demand, existing franchises are expanding, and franchise development is on the rise. Our goal is double-digit year-over-year growth.
Are your franchisees bullish or bearish about growth and adding additional units? Bullish. Many are seeing now as an opportune time to expand their Re-Bath portfolios. Not only are they are experiencing strong performance, but Re-Bath is embarking on our next chapter of growth with TZP Group. Through this acquisition, we will be able to leverage TZP's expertise and resources to further expand our brand to a wider audience and better serve our current customers. With thoughtful investments in technology and human capital, we'll have a platform positioned for accelerated growth in the coming years.
Are commodity/supplies costs any cause for concern in your system? I think inflation is a concern for everyone to some degree. However, inflation in our space on our projects is less than home price increases, so we are seeing less impact.
In what ways are political or global issues affecting the market and your brand? They are not yet.
PERSONAL
What time do you like to be at your desk? 9 a.m.
Exercise in the morning? Wine with lunch? Yes, sometimes. No wine at lunch, but happy to end the day with a happy hour with the team.
Do you socialize with your team after work/outside the office? Yes, we socialize, generally at dinners or sporting events where work is still being discussed to some degree.
What technology do you take on the road? My cell phone and Surface Pro.
How do you relax/balance life and work? I like to golf and ride a bike.
Favorite vacation destination: British Virgin Islands.
Favorite occasions to send employees notes: Birthdays and anniversaries.
BOTTOM LINE
What are your long-term goals for the company? We want to double the business in the next 4 years. Re-Bath is riding a wave of momentum as we inch closer to our goal of becoming a billion-dollar company over the next several years. Key to achieving this milestone will be the TZP Group acquisition, a strategic continued focus on partnering with exceptional franchisees, strengthening our world-class corporate support, and enhancing the customer-service experience with new technology and innovation. Combined, these efforts will help propel Re-Bath to a household name across the country.
How has the economy changed your goals for your company? It has accelerated them.
Where can capital be found these days? Everywhere. There is a lot of money out there looking for good investment options. You just need to be strategic and stand out.
How do you measure success? Results and relationships.
What has been your greatest success? The cultural change of our staff and our franchisees. It has truly led to remarkable results and strong relationships.
Any regrets? Yes, we should have taken some negative franchisees out of the network sooner. Their negativity was a drag on the transformation process that held us back. Sometimes you have to admit when they simply aren't the right fit for your brand. Remember, fit matters, so be selective in your recruiting efforts and make sure your candidates are being selective too.
What can we expect from your company in the next 12 to 18 months? A lot of investment in technology adding in the consumer experience. There is immense opportunity to deliver exceptional in-person experiences that in turn establish and build relationships that drive brand value and overall performance, and we're prepared to lean into that.
Published: June 5th, 2022
Share this Feature
Recommended Reading:
Comments:
comments powered by

Disqus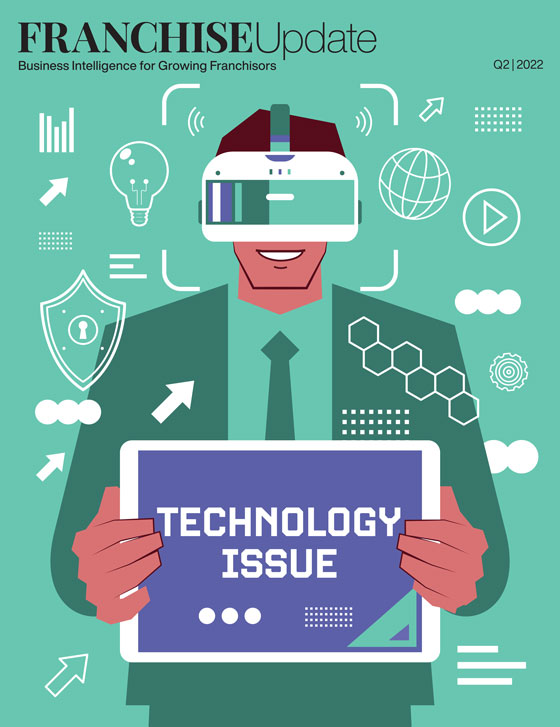 Franchise Update Magazine: Issue 2, 2022
Conferences
InterContinental, Atlanta
OCT 18-20TH, 2023
In 2022 Empower Brands emerged when Lynx Franchising and Outdoor Living Brands united. Empower consists of JAN-PRO, Intelligent Office, FRSTeam,...
BoeFly drives growth by delivering financially qualified candidates increasing lead-to-franchisee conversion, and helping franchisees secure...