Putting Heads in Beds: Value Place's Kelly Poling on Her New Role
This past September Value Place, the largest economy, extended-stay hotel brand in the U.S., named Kelly Poling executive vice president and chief marketing officer. As the leader of Value Place's brand, marketing, and distribution strategies, Poling says she is focused on strengthening the positioning of the brand and driving more guests to its hotels across the country.
The veteran executive came to Value Place from Rosetta Stone, where she led consumer marketing strategy and operations, but her hospitality industry experience runs deep. She spent seven years at Choice Hotels International, where she ran corporate strategy, marketing, and e-commerce. Other experience includes managing brands at Johnson & Johnson and developing IT and corporate strategies as a management consultant with Arthur Andersen.
"I briefly left the hospitality industry to lead consumer marketing strategy and operations at Rosetta Stone, but then couldn't stay away from hospitality and joined Value Place as the CMO in September," she says. Poling has a BBA from The George Washington University School of Business and an MBA from the Wharton School of The University of Pennsylvania. "I also have an amazing and supportive family, including a brand new baby girl," she says.
Today, Value Place has 190 hotels open in 32 states and has garnered national recognition for the success of its franchise operations. The brand was recently named by Forbes magazine as the top hotel franchise in the U.S., was recognized as one of 2014's Top 500 Franchises by Entrepreneur magazine, and has been one of Franchise Business Review's Top 50 Franchises for four consecutive years.
Poling is still new to the job, and we wanted to know more about her--and her plans for overseeing the brand's marketing direction in 2015.
Describe your role as CMO.
My role as CMO is pretty inclusive. My team is responsible for not only the traditional marketing functions like creative development and media buying, but also brand strategy, e-commerce, digital marketing, social media, corporate communications, the inbound and outbound contact centers, email marketing, and online third-party distribution.
What's unique about the CMO position at Value Place?
Given the inclusive nature of the position, my team not only has to optimize our marketing strategy, but also our distribution strategy across the various channels through which we deliver reservations.
What's the most challenging part of being a CMO today?
The marketing function is much more analytical than it has ever been before. Gone are the days when a CMO can be successful relying only on gut creative instinct. One of the biggest challenges of being a CMO today is having to balance both sides of your brain--the creative and the quantitative.
What are the 3 most important keys to being an effective CMO leader today?
To be an effective leader today, CMOs need to: 1) run their business by the numbers--there is more data available to marketers than ever before and we need to leverage it; 2) stay committed to constantly learning and staying on top of emerging trends--the environment is changing rapidly and we need to evolve with it; and 3) ensure brand authenticity--consumers are savvier than ever before with almost infinite access to information, so if you are trying to be something you're not, it's immediately transparent.
How do you prepare a marketing plan and execute the strategies?
We start by gathering data about the customer, the competition, and the contextual environment. We then set marketing objectives that align with corporate goals and prioritize initiatives based on projected impact. Finally, we set clear KPIs, measure them regularly, and use our findings to improve the plan going forward.
How do you measure marketing results and effectiveness?
There was a time when the only way to measure marketing performance was tracking directly attributable revenue. However, today we have at our disposal more sophisticated attribution methodologies, such as regression and algorithmically based media mix modeling. This is the future of measuring marketing effectiveness, as it takes into account the entire marketing spend ecosystem, as opposed to just the direct return of each channel individually.
Discuss your core consumer marketing strategies and objectives.
Our primary objectives are to more firmly establish Value Place as a recognized consumer brand, drive more revenue through our highly profitable central channels, and deliver high-value guests to our franchisee locations.
How do you go about creating a "customer-centric" marketing and brand philosophy?
The key is to clearly identify your target customer, understand their needs, and then laser focus on meeting them.
Describe your marketing team and the role each plays.
I'm currently in the process of building out my team, but we have a brand strategy lead who defines the brand and sets the architecture to which all marketing activities ladder. We also have channel leads, contact center/national sales, and corporate communications. And to the earlier discussion about the importance of data, we have a research and analytics lead who provides cross-functional support.
Why is it so important for the marketing department to have a "personal touch" when it comes to helping the brand connect with franchise prospects?
Developers are making a significant investment in opening up a new hotel, and when they choose to become part of the Value Place family they are indicating that they trust in our ability to drive reservations to their hotels, to put heads in beds. We take that seriously and are committed to doing whatever it takes to ensure their success. The good news is that we are fulfilling that commitment, with occupancy levels that far exceed the category average.
How does this help your franchise sales and development effort?
There are so many compelling reasons to build a Value Place hotel: an extremely efficient operating model and a great product that guests love, all translating into unbelievable economics for hotel owners. Our marketing efforts further build on that strong value proposition by providing access to a recognized brand and driving highly profitable reservations to our owners.
What ways/tools do you rely on to do this?
We've built a lot of trust with our franchise partners. This is in part because we own a portion of the brand's portfolio of properties and thus have skin in the game. Our objectives are intrinsically aligned and that facilitates close collaboration.
Do today's prospects expect more from the franchise marketing department? What, and how do you provide it?
The hotel distribution environment is becoming increasingly complex, with so many ways for guests to search and book hotel rooms: brand.com sites, mobile apps, online travel agencies, social media sites, search engines, meta search engines, affiliates, contact centers, travel agents, corporate accounts, and even emerging distribution channels like Amazon. I think franchisees are looking for us to simplify that complexity.
How is technology changing the way franchise marketing is done in terms of one-on-one contact?
Technology is facilitating our ability to deliver more targeted, personalized, and ultimately effective marketing messages than ever before--whether it's by segmenting the email database based on what we know about previous stay history, buying search terms that are geographically targeted, or using social ad tech specifically targeted at our guest demographics.
How are you assisting your existing franchisees with more contact and transparency?
What are their immediate needs? We work in close collaboration with our franchisee partners. We meet with them regularly to share our plans, provide transparency into how our marketing budgets are allocated, and report out on our results.
How do you work with other internal departments, and does technology help?
We're attached at the hip to the IT team, as they are instrumental to us accomplishing our objectives, whether it's our recent website redesign, evolution of mobile technology, or connectivity to new emerging online distribution channels.
How do you manage costs and budgets for the marketing department?
Unless you're Google, no marketer has the luxury of unlimited budgets. We, as a result, have to be very disciplined about prioritizing marketing investment that is going to have the biggest revenue impact.
Do you see vendors as business partners? Why/why not?
We definitely view our vendors as business partners. The better our objectives are aligned and the more our vendors are functioning as an extension of our internal team, the better our results.
How have marketing strategies/tools changed over the past decade? How have you adapted?
It wasn't that long ago that marketers only had a handful of marketing levers: broadcast TV, radio, and print. Now we have a plethora of ways to reach our guests--social media, display advertising, email, online video, Internet radio--to name just a few. Also, not only are guests receiving information about our brand through many types of channels, they are often doing it concurrently. This makes it more important than ever before that we implement marketing campaigns that are fully integrated across multiple channels.
How is your marketing/branding strategy developed, and how does it flow through the system?
We start by deeply exploring customer data. We then identify the most valuable guest segments and establish brand positioning that meets their needs. This brand positioning then becomes the foundation to which all of our marketing efforts ladder: creative development, on-property design, public relations communications, and so forth.
What advice would you offer to aspiring CMO executives?
Use the data that's available to you to inform your decisions, commit yourself to constant personal and professional evolution, and lead authentically.
Published: September 9th, 2015
Share this Feature
Recommended Reading:
Comments:
comments powered by

Disqus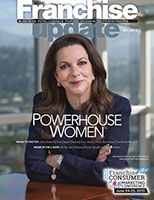 Franchise Update Magazine: Issue 1, 2015
Conferences
InterContinental, Atlanta
OCT 18-20TH, 2023
Our franchise management software helps increase unit growth, reduce opening time, track and improve unit performance, automate financial reporting...
The Titus Center for Franchising, one of Palm Beach Atlantic's Centers of Excellence, offers a concentration in franchising to business students.