Revolutionary Marketing: Schlotzsky's Brand and Sales Revolve Around its Guests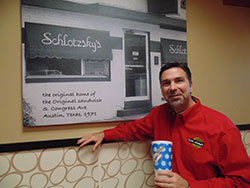 As 2014 dawned, Mark Mears stepped into the C-suite at Austin-based Schlotzsky's to lead the brand's marketing initiatives. By all indications, it's been a great move.

As CMO, Mears oversees the direction of the brand's marketing division, including the strategic management of Schlotzsky's marketing and creative services departments, along with directing brand promotions, advertising, creative design, menu tests, and other initiatives.

Mears, with nearly three decades of experience in QSR, fast casual, casual, and premium casual, is a visionary business leader with a track record of building system value and driving innovation at high-profile brands

.

He came to Schlotzsky's from Mimi's Cafe, where as president and chief concept officer he led the brand through a repositioning strategy, related menu optimization, and new concept development. He's also spent time as senior vice president/CMO at The Cheesecake Factory, executive vice president/chief marketing officer at Blimpie International, and at Pizza Hut where his roles included field marketing, advertising, promotions and licensing.

Like many CMOs, Mears knows the landscape not only from marketing positions within franchise brands but also from having spent time on the agency side with firms including Bozell, Jacobs, Kenyon, & Eckhardt, Leo Burnett, DDB Promotions, and Euro RSCG Retail.

Schlotzsky's now has more than 350 locations worldwide, with plans for aggressive growth this year and beyond. The sandwich and deli concept is looking to expand in both established and underdeveloped markets throughout Texas and around Denver, Kansas City, Nashville, and Tampa. Untapped markets, including Charlotte, Miami, Raleigh, and St. Louis, are also on the radar screen.

Describe your role as CMO.
I am the steward of the Schlotzsky's brand, a passionate advocate for the brand in relation to everything that touches our guests--including high-level strategic thought leadership, marketing calendar development/execution, culinary/menu research and development, mass/micro media, digital/social media and web/mobile interactivity, publicity/corporate communication, franchise and guest relations, and local restaurant/field marketing activities. Overall, my role is to work closely with our franchise partners to deliver a remarkable guest experience that leads to incremental, profitable sales growth.

What's unique about the CMO position at Schlotzsky's?
The opportunity to elevate the brand by building on its proud, 42-year sandwich/deli category heritage through the development of a new fast casual/bakery-cafe experience to become even more relevant to the way our guests dine today.

What's the most challenging part of being a CMO today?
Given the advent of both digital and social media, coupled with the increased level of control enjoyed by today's more tech-savvy guests, the ability to reach a mass audience through traditional means has become very challenging. As a result, we must employ an integrated marketing communication approach that leverages guest information and data to develop more targeted and measureable plans to reach our desired audiences in an effective yet cost-efficient manner.

What are the 3 most important keys to being an effective CMO leader today?
As I see it, there are actually four simple, yet very powerful and interwoven keys to becoming an effective CMO leader that I have learned over many years of working for and with some of the world's most high-profile brands. They revolve around the concept of growth that can pertain to an individual, a team, or a brand, and go by the acronym L.E.A.F.:
• Leadership--providing an inspirational vision based on a values-based mission seeking to influence the team to achieve specifically outlined, prioritized, and well-communicated goals.
• Engagement--enlisting the total and passionate commitment of one's head, heart, and hands to accomplish our stated goals by knowing what to do, why we're doing it, and how to do it in a way that engenders a deep sense of personal ownership.
• Accountability--establishing specific and measurable outcomes, leveraging a best practice mind set within a spirit of continuous improvement, resulting in a culture of excellence.
• Fun!--providing a safe environment for both people and thought diversity, leading to a healthy exchange of ideas where individuals can bind together as a team in a fun, collaborative way.
How do you prepare a marketing plan and execute the strategies?
I have coined the term, "Revolutionary Marketing" as I believe all brand/sales-building efforts should "revolve" around our guests and prospective guests, based on their respective need states by occasion. For example, what a group of business people may want at lunch is totally different from the experience a family may want to enjoy at dinner, and a dining occasion on a Tuesday is different than one on a Saturday.
How do you measure marketing results and effectiveness?
Given the importance and visibility of marketing in building a strong, healthy brand, there are three critical elements that intertwine with one another. However all revolve around our guests: 1) building positive brand awareness; 2) deepening brand engagement among both our external brand (guests) as well as our internal brand (team members); and 3) driving profitable sales. At Schlotzsky's, we develop specific and measurable metrics of performance within each of these areas to help our franchise partners prosper and grow.
Discuss your core consumer marketing strategies and objectives.
While I am not at liberty to discuss specific marketing programs, we are focused on growing the brand by building new restaurants and growing comp store sales. We do this by balancing marketing/menu initiatives that increase guest visits (acquiring new guests and increasing visit frequency among existing guests), building guest check average, and delivering a "wow" dining experience that leads to our guests wanting to return to Schlotzsky's and recommend us to their friends and family. We're looking to develop a cult-like following among Schlotzsky's fans that will build over time through both word of mouth and the amplification of social media networks.
Describe your marketing team and the role each plays.
At Schlotzsky's, I am blessed to work with a very talented, experienced, and dynamic in-house marketing, communication, and creative services team that works together to achieve our brand/sales-building goals. We do this by integrating several marketing disciplines, including strategic planning, consumer research and insights, menu research and development, creative design and production, field marketing and media planning, digital/social media and web interactivity, co-brand marketing, local restaurant marketing, and both franchise and guest relations. We work collaboratively as a team to ensure the best idea wins and is well executed in the marketplace so our franchise partners maximize the value of their investment in our brand.
Why is it so important for the marketing department to have a "personal touch" when it comes to helping the brand connect with prospects?
Quite often, the decision on which brand a prospective franchise partner chooses to invest in is based not only on their financial considerations, but also their perceived "fit" with key members of their support team. They want to see our level of personal passion for the brand and its success, demonstrating that we too have skin in the game.
How does this help your franchise development effort?
By bringing the Schlotzsky's brand to life in a small, intimate setting, we can help a prospective franchise partner envision themself being part of our success story. This supports the efforts of our business development teams in answering key questions about the brand that lead to closing a sales agreement.
What ways/tools do you rely on to do this?
Members of the executive team have dinner with prospective franchise partners the night before a 1- to 2-day presentation. This allows us to know one another on a personal level, while also determining whether or not Schlotzsky's is the right fit for both parties. We only want to bring in franchise partners who will enrich our unique culture, uphold our brand standards, and help us reach our mutual growth objectives.
Do today's prospects expect more from the franchise marketing department? What, and how do you provide it?
Yes, and they most certainly should, given that most, if not all, of our franchise partners have invested their life's savings into our brand. As a result, it is incumbent upon us to help them maximize the return on their investment, treating every single dollar we spend as if it were our own money. We would not have jobs if it were not for the contributions of our franchise partners to our ad fund. We provide all our franchise partners with a comprehensive and integrated support team consisting of both a corporate support center and field marketing representatives, and we have a calendar of national and local marketing programs designed to stimulate profitable sales growth.
How is technology changing the way franchise marketing is done in terms of one-on-one contact?
We use a digital communications suite to ensure our franchise partners are kept updated in real time with news and information, as well as with tools and training techniques to execute key programs and initiatives to help maximize their business growth potential.
How are you assisting your existing franchisees with more contact and transparency? What are their immediate needs?
At Schlotzsky's, we very much value the experience and ideas of our franchise partners and have established various forums to ensure close contact and transparency in every way. Our Schlotzsky's Franchise Advisory Council is composed of elected franchise partners who meet in person four times a year. Specific subcommittees are formed to address key issues, and those groups participate in monthly conference calls. All franchise partners are invited to attend a biannual convention or series of regional road shows that alternate each year.
How do you manage costs and budgets for the marketing department?
Given that our source of funding is based on a percentage of sales, we see ourselves as stewards of this money to deliver a significant multiple on every dollar spent, providing maximum return on the investment of marketing dollars to grow profitable sales for our franchise partners.
Do you see vendors as business partners? Why/why not?
Yes, of course. In fact, we rely heavily on our supplier partners to support our key initiatives, which allows us collectively to achieve our mutual growth objectives.
How have marketing strategies/tools changed over the past decade? How have you adapted?
Again, given the advent of digital technology, the explosion of social media, and the increase in relevant data and information about our guests, we have adopted new marketing strategies and related tools to more effectively and cost-efficiently reach our targeted guest segments. In fact, we are about to embark on a new mobile app-based guest rewards program we're calling Lotz4Me, which features four key benefits: rewards and recognition, exclusive "insider" news and offers, social media sharing and referral bonuses, and guest feedback and surveys.
How is your marketing/branding strategy developed, and how does it flow through the system?
We revolve all of our marketing/branding strategies around our guests. This affects our annual marketing calendar, which serves as the foundation from which all related program strategies and tactics flow.
What advice would you offer to aspiring CMO executives?
The pace of change is growing rapidly and the old paths of traditional marketing thought leadership are blurring. Therefore, it is mandatory that marketing executives who aspire to the C-suite demonstrate a high level of intellectual curiosity and a willingness to listen and learn from a variety of sources (external experts, franchise partners, peers, and subordinates). This leads to both personal and professional growth, which will make you a highly valuable and marketable asset to any organization.
Published: July 24th, 2014
Share this Feature
Recommended Reading:
Comments:
comments powered by

Disqus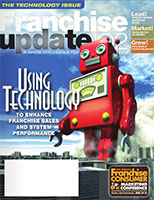 Franchise Update Magazine: Issue 2, 2014
Conferences
InterContinental, Atlanta
OCT 18-20TH, 2023
April 25 - April 28, 2023, Caesars Forum, LV. The Multi-Unit Franchising Conference is the premier annual event for the country's leading...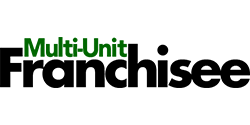 Published quarterly, Multi-Unit Franchisee Magazine is dedicated exclusively to Multi-Unit Franchisees. It delivers vital information and business...