Servant Leader: Building a Company, One Person at a Time
Nader Masadeh didn't like what he saw at one of his franchise locations when we was featured on CBS television's "Undercover Boss" a few months ago. So the Buffalo Wings & Rings president and CEO promptly stepped out of his disguise to handle the problem.
"I will not allow anybody to be bullied," he told a kitchen manager during the episode. In fact, he encouraged the local franchise owner to terminate the kitchen employee over things he had said to employees. That's just part of who Masadeh is.
Masadeh was just 14 when his family moved from Jordan to the United States in search of better opportunities. The family settled in the Cincinnati area and began making the adjustment to life in their new country. As a young man, he got his first taste of franchising at a Burger King, washing dishes. He worked alongside his father in restaurants for years before the two bought into the Buffalo Wings & Rings franchise in 2004. A year later, Masadeh and some partners bought out the franchise concept.
They've spent more than a decade working together to develop a fast-growing, "club level" sports restaurant offering a chef-inspired menu with unique differentiators like serving food on real china plates instead of the paper plates used by competitors.
His servant-leadership style is authentic and effective. He's even taken the brand back to his homeland by opening locations in Jordan, as well as in the UAE's Dubai and Abu Dhabi. The company currently has 67 locations worldwide.
For the past two-and-a-half years, serving as CEO, Masadeh has overseen a new design for the company's stores, featuring a sleeker design and family-friendly atmosphere. "We want to create a new experience for consumers who want the sports experience, but don't want it in a sports bar," he says. "It's not the traditional sports bar--the dark, masculine, fried food kind of concept."
Providing great quality food, a unique restaurant atmosphere, building camaraderie in the corporate office, and fully supporting franchisees will remain a focus for Masadeh who says, "That will continue to be our goal as we push toward reaching 100 units."
Name: Nader Masadeh
Title: CEO, president
Company: Buffalo Wings & Rings
Units: 67
Age: 43
Years in franchising: 20-plus
Years in current position: 2.5
Leadership
What is your role as CEO?
To me, being the CEO is about hiring the right talent and making sure they have all the tools needed to find success both personally and for the brand. I'm constantly working to find ways to continue to challenge the team. It's my job and responsibility to make sure that our culture is strong and communicated clearly throughout the system, while maintaining the strong brand attributes that set us apart from our competition. I come into work every day hoping to lead by example, manage the problems that arise, and instill the same passion for the brand that motivates me in all of our team members.
Describe your leadership style.
It is very much tied to servant leadership. I make sure that the role of CEO is not a self-serving title. You know how you can tell a bad company from the outside? When you pull up to the door and the first parking spot has the owner's name on it. I believe in leading by example and by setting your team up for success. It's important to lay out a clear pathway for success, and then to guide your team along that path. My style is more about helping people achieve their goals or objectives. It's working hard to guide my team to wins rather than staying in a bubble and looking out only for myself. I think that's a recipe for success that works in any leadership position within an organization or team.
What has inspired your leadership style?
I try to take pieces from every leader I meet, and find new motivation in those whose leadership I respect and admire. I've always been inspired by a variety of different approaches to leadership through reading about innovative ways of guiding companies. I had a mentor when I first took on the CEO role with Buffalo Wings & Rings who was the retired CEO and chairman of LaRosa's Family Pizzeria, a hugely successful legacy brand in our home city of Cincinnati. I learned so much about servant leadership from him, and have been able to adopt much of that style to my role as CEO.
What is your biggest leadership challenge?
Constantly looking for ways to create challenges and opportunities for the people on my team. An effective leader hires great people and then looks for ways to help them continue to develop and improve themselves. So I'm constantly looking to create challenging opportunities to give them the chance to shine, and to maintain the passion and excitement to drive the brand forward.
How do you transmit your culture from your office to front-line employees?
That's another one of the biggest challenges we face in leadership. You're only one person, so you just need to take it one person at a time. I have regular face-to-face meetings and check-ins with my executive management staff to maintain a positive relationship and an open line of communication. Beyond the corporate team, I have a variety of ways to maximize the time I can get in front of those who serve throughout the system. Our annual franchise conference is a great way to have great conversations with the franchise owners who are truly the backbone of the brand--and find out what's working, what's not, and how I can use my role and our resources to best lay out a plan for them to achieve the highest level of success. We've also invested a lot of time and money into technology and the digital space to increase our visibility with franchisees and employees at our locations across the U.S. We have produced videos to communicate the brand message, as well as consistently updating our "My Buffalo" platform with news and information to keep all of our restaurants in the loop. Any chance I get to talk about the culture and the brand, I'm all over it! It's one of my favorite elements of being the CEO. I never miss an opportunity to instill the culture and values of Buffalo Wings & Rings, whether it's a multi-unit franchise owner, a cook in one of our restaurants, a vendor, or a supplier. Talk, talk, talk. That's the best way to make sure that the culture reaches every level of the system.
Where is the best place to prepare for leadership: an MBA school or OTJ?
I personally believe that you need a combination of both to be a fully rounded leader. You can't lead with just education, or with just experience. It has to be both. You need the intellectual training and schooling side, but you also need the trial-and-error on the job. After you earn your degree, your experience is going to be vastly different from those you graduate with--different industries, different companies, different goals, different regulations. So you need that experience piece to really thrive. The learning and the education works as your base. I truly believe you should constantly be a student in business and soak in as much new knowledge as you go, but you have to take that learning and adjust it to your own personal style. At the end of the day, they are both equally important.
Are tough decisions best taken by one person? How do you make tough decisions?
Tough decisions are never best made by one person. Never. One person can never be objective enough to make tough decisions. I meet with the executive team on any decision I feel will have a significant impact on the system, and when we meet, majority rules. If it's evenly divided, then it's up to me to make the decision and break the tie. But as a leader, you hire the very best people and then respect their opinions. You can't be the absolute expert on every nook and cranny of the business.
Do you want to be liked or respected?
Respected. It's not a popularity contest. I want to be respected for what I stand for and what I give everybody in the Buffalo Wings & Rings family. It's nice to be liked, but when you earn the respect of your team then you can really make a difference, and that goes so much further when you're leading people and helping them achieve a better life for themselves and their families.
Advice to CEO wannabes:
The CEO role is not about yourself, it's about your people. You have to think of them first because people are not going to follow you until you show them that you care. Until you gain their respect, they will never follow you as a leader.
Management
Describe your management style:
I am clear about goals, and I manage by tracking goals and metrics. If those goals are achieved, great. But if not, then I turn into more of an advisor to find out how to meet those goals. Communication is key in both success and in finding the opportunity in failure. I'm very clear with my team about what I expect and the type of execution we need to grow. Then it's up to me to determine if we are executing at the level necessary to achieve those goals. If we don't, or we are behind on the execution needed, then I have to take a look at how I can set my team up for a better chance at success.
What does your management team look like?
We have a diverse team with a variety of different backgrounds, ages, and gender. It's important to keep a high level of diversity and varied backgrounds on your corporate team because it provides a fuller picture that reflects the guests at our restaurants. We've made a conscious effort to elevate the brand and make it more accessible to women, families, and other people that the typical "man cave" sports bars ignore. So we've created a "club level" sports restaurant experience. Catering to that broader crowd requires input from people with a variety of backgrounds. It gives me the diverse thinking to make fully informed decisions that will benefit the brand and our franchisees. With our management team, we can come up with the best alternative solutions to any problem.
How does your management team help you lead?
My team provides me with a venue for consistent and clear dialogue, which allows me to help resolve challenges to the company. By taking our values and cultures and instilling them into our team, we've established a common ground to approach all problems that may arise. I have a team in place that I respect and feel supports the best interests of the brand and our franchisees. Having a management team I trust helps when I have to approach tricky issues in the system or make any tougher decisions.
Favorite management gurus/books?
Jim Collins is a favorite. I always pull valuable insight from each of his books. I'm almost finished with Good To Great and it's very inspiring. I also enjoy books by Dale Carnegie, such as How To Win Friends and Influence People, and John Maxwell, especially The 21 Indispensable Qualities of a Leader. Another favorite is Turn the Ship Around! by David Marquet.
What makes you say, "Yes, now that's why I do what I do!"?
I am inspired any time I see a team member who has gone through a personal development moment. I take pride in seeing somebody else accomplish a goal and the satisfaction that comes from the achievement. When I feel like I've influenced or changed someone's life, that's my greatest inspiration.
Personal
What time do you like to be at your desk?
At 9:30 a.m., but I like to do a little bit of work at home before I come into the office. I have a specific schedule that I try to maintain, but I leave flexibility throughout the day to leave the office for a variety of activities and conversations to keep things fresh.
Exercise in the morning?
Wine with lunch? I will exercise in the morning before I come to work and I still play soccer on the weekends. I don't drink with lunch--drinks come at the end of the day, after the work is done.
Do you socialize with your team after work/outside the office?
I'll socialize with the team outside of the office on rare occasions; it's not on a regular basis. We'll have the occasional happy hour, business dinner, or golf outing. But it's important not to overdo it, and to allow everyone keep the work-life balance strong.
Last two books read:
I'm finishing up Good to Great, and just before that I finished Turn the Ship Around!
What technology do you take on the road?
My iPhone is always with me. I can do almost everything with it. I will also carry my laptop with me sometimes for the end of the night at the hotel if I need some more robust work to be done.
How do you relax/balance life and work?
I spend time with my family and really like being an uncle to my nieces and nephews. I enjoy watching movies at the end of the night--non-thinking movies where I can just turn the brain off for a bit to recharge and escape for a bit. I play soccer and occasional golf too.
Favorite vacation destination:
I absolutely love the beach. I like the clear water beaches. The Caribbean islands are my favorite.
Favorite occasions to send employees notes:
I make sure to send notes on birthdays and for work anniversaries.
Favorite company product/service:
Apple and the iPhone. What they've achieved and how they continue to innovate is outstanding.
Bottom Line
What are your long-term goals for the company?
We project that we will reach 123 locations by 2021. We are continuing to push toward that goal and would like to surpass 120 units well before the end of the decade--but we want to expand with quality franchise prospects with restaurant experience and an understanding of how to scale to grow the brand with multiple units in key markets. We've enjoyed 20 consecutive quarters of positive same store sales growth, and that's a streak we want to continue. We've also seen 13 percent average unit growth year-over-year for 8 years, so that's an area where we want to continue. We have several franchisees who came into our system with only one location who are opening their second, third, and even fourth locations now, and we want to continue to give our franchisees the tools to expand their footprint and open more successful restaurants. We are also planning to keep looking for ways to invest in the communities we serve with more outreach programs, charity involvement, and spread the "Buffalove" across the country. We've made great strides in our effort to elevate all levels of the brand to create a truly "club level" sports restaurant experience, but there's still more we can do to set ourselves apart from others in the space. We want to be the best, and we want to be a household name in even more markets in the U.S.
How has the economy changed your goals for your company?
When the economy went down, we used it as an opportunity to take a pause and focus on our brand. We created the new G3 (Generation Three) model design, which has significantly enhanced the atmosphere and experience in our restaurants. We refined the menu and took the time to truly elevate our offerings beyond the typical sports restaurant fare. We took the economy's dip as an opportunity to invest in our brand. We knew it would turn around eventually, and we wanted to be prepared with the very best overall experience to grow and expand when people were spending money again. It didn't affect our goals too much--we basically just hit the pause button, which allowed us to take a closer look at our brand and product, and in the past few years we've been able to grow far beyond what we would have been able to without that pause.
Where can capital be found these days?
For a company like ours, it's not an issue. We're conservative and healthy. From what I understand, it's still difficult for single-unit operators out there, though.
How do you measure success?
To me, success is how many people's lives I've been able to affect and change. How many opportunities have I provided for improvement in the lives of others? I generally try to focus on people as a measuring stick for my own success.
What has been your greatest success?
Aligning myself with the right people in my career and in our current business structure. From my partners in the ownership team to the employees who work throughout the system and the vendors and suppliers who help us continue to improve on our success, I've surrounded myself with the very best in the industry.
Any regrets?
As a CEO, you always want to be bigger, sell more, and open more locations. We were able to really redefine the sports restaurant experience and elevate our brand in the last 10 years. So I guess, if anything, I wish we could have gotten to that point even earlier.
What can we expect from your company in the next 12 to 18 months?
We have a lot of new restaurants currently in construction mode that will be opening in the next year. So we are extremely excited about opening a ton of new restaurants across the country, specifically in new markets that haven't gotten to experience Buffalo Wings & Rings yet. We are continuing to focus on the things that differentiate us from others in our space as we work to create a "club level" sports restaurant experience. We are constantly looking to elevate and innovate with the menu, so there will be new LTOs and menu items coming. We are using technology to track and improve in all areas of the restaurant experience. We are finding new and exciting ways to reach our fans through marketing and other outreach methods. We are really looking at as many ways as possible to support our franchisees and help them find success. That will continue to be our goal as we push toward reaching 100 units.
Published: October 6th, 2016
Share this Feature
Recommended Reading:
Comments:
comments powered by

Disqus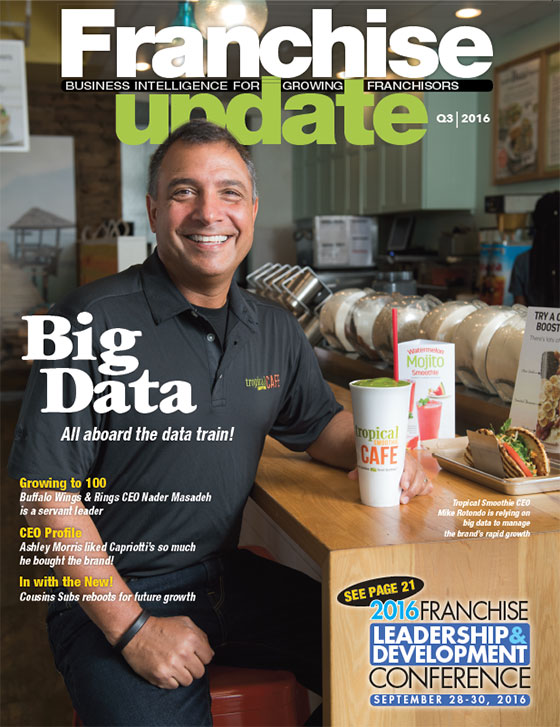 Franchise Update Magazine: Issue 3, 2016
Franchise Update Media (FUM) is the trusted resource for the franchise industry. For 30+ years, FUM has been the leader in providing valuable...
Slick Marketers is reinventing franchise marketing with a hyper-customized and ultra-localized marketing approach with measurable results and growth...