Silent Partner: New VoIP System Puts A Coach On The Line
At PuroSystems, the vice president of franchise development has an advantage his peers would envy--if they knew it existed: he can listen in live on a franchise sales call, privately offering advice and feedback to his salesperson as the discussion unfolds.

"This gives us the ability to do an effective coaching analysis and have a voice-to-voice discussion between the vice president of franchise development and franchise development directors," says Keith Gerson, PuroSystems' president and chief operating officer.

"At any moment, we can get on the phone and listen in on a two-sided conversation," says Gerson. The system's "whisper technology" also allows a supervisor to listen in and privately coach a salesperson while they're on the line with a candidate, without the other party knowing, maximizing the effectiveness of the call.

"This technology allows us to ascertain in real time if the call is unsatisfactory," he says. "You can eliminate obstacles beyond the employee's control, resolve any number of issues, and get to alternative solutions in real time. You can take action to solve the problem right then and there."
It also provides an opportunity to reinforce positive behaviors, he adds. "It's great to catch people in the act of doing good work to foster repeats of those behaviors."

Until now, the only way his franchise sales chief could have participated that directly and immediately would have required a conference call, with awkward interruptions that would likely have derailed any kind of frank and meaningful exchange.

"There's classic coaching, but that's generally taking place in a sterile environment. It's different if you're coaching someone while they're having the conversation," says Gerson, whose company specializes in mitigation and remediation of fire, water, and smoke damage.

The technology is not restricted to the office. "We have two franchise development directors here and a third in the field," says Gerson. "He has the same phone system and we can do that monitoring remotely from here. The Internet phone call comes in, I hit that person's extension, and it's as though he's here in the office."

Working with the vendor, Dale Kern, the company's IT chief, set up the new phone system during a single afternoon with only 15 minutes of downtime. Because it's a hybrid VoIP (Voice over Internet Protocol) system, they could plug their new phones into their old phone jacks.

A lot of versatility comes built right into the system, says Kern. "Because the call is now computer controlled," he says, "you get all kinds of different functionalities that software developers are building into these programs." For instance, he can assign any staffer a number and give them a telephone to use anywhere they can find an Internet connection.

And it's not only for the corporate side of the organization. The technology will be rolled out to franchisees this August at the company's national convention in Denver. New franchisees in the company's training course can adopt it immediately if they choose. A franchisee can get an entire system installed, with long distance and all the technological bells and whistles, for $54 per number per month.

The system also provides additional benefits. "In many franchise systems, if you have a franchisee who leaves the system, it can be a challenge to retrieve the phone number," says Gerson. With the new system, if a franchisee leaves a territory, the company can assign the same number to their successor to ensure uninterrupted customer service.

And it all fits neatly into the company's customer relations management system. "We use GoldMine for contact management," says Gerson. "You can capture the call and plug it into the GoldMine database, assigned to a specific prospect. That way it's something you can address in the future. If someone claims you improperly presented something, you have the conversation to rely upon."

"Everything's in triplicate," says Kern. In fact, he adds, all of their servers are housed in a remote facility protected against all kinds of Florida weather. Even when hurricanes blow through, the offsite backup system guarantees ongoing access to staffers, as well as to the franchisees' web sites, which the company hosts.

Purosystems had used the new technology for only 60 days when Gerson and Kern spoke with us. Initial results for the new system are promising.

"Our guys are doing pretty darn good, but from a closing effectiveness standard, one could always do better," says Gerson. "If our people up their goal or improve by 10 percent, you can imagine how this could drive franchise sales."
Published: June 13th, 2008
Share this Feature
Recommended Reading:
Comments:
comments powered by

Disqus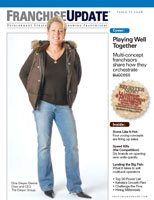 Franchise Update Magazine: Issue 2, 2008
919 Marketing Co. is a national content marketing, PR and social media agency serving franchise brands. Our proprietary social relations approach...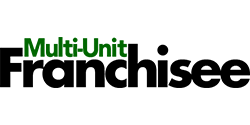 Published quarterly, Multi-Unit Franchisee Magazine is dedicated exclusively to Multi-Unit Franchisees. It delivers vital information and business...