Site Selection Grows Up: Improved Tech Tools Make The Process Faster, Better
There was a time when franchise site selection was as simple (not to mention as rudimentary and often random) as pushing pins in a map on a wall. Maybe they turned out to be good sites, maybe they didn't. But as technology continues to evolve and the tools are recalibrated to further refine the site selection process, the art is becoming a science.

Today, companies like SRC, geoVue, and ESRI offer state-of-the-art tools, analysis, and the most current market data to franchise clients everywhere. SRC offers a product called DemographicsNow, which can be customized for any franchise client. Arby's, Yum! Brands, Chipotle Mexican Grill, and California Kitchen are just a few of their franchise clients.
Integrating Disparate Data
Dean Stoecker, SRC's CEO and president, says the company's web-based application helps customers locate strong prospective locations by providing in-depth market research data from 19 different databases analyzing traffic volumes, concentration of other retail businesses, and even the franchises' own proprietary data. Simply plug in the site characteristics criteria (based on responses to a series of questions) and a proposed location, and push a button. It's all crunched and compiled in maps, reports, and models, depending on how you want the data reported.

"DemographicsNow.com offers franchisees a complete and accurate resource for property data and the ability to quickly visualize and analyze retail locations and competitor sites," says Stoecker. Ultimately, the tool allows franchisees to create more insightful development plans and be better equipped to make strategic decisions on new locations.

Although he doesn't rule out the need to visit potential sites in person, Stoecker says today's technology not only shows how a proposed site shapes up on paper, but also allows franchisees to view aerial photographs of proposed sites and surrounding areas. "Technology can now provide an analysis that's both faster and scalable, yet provide answers in ways everybody can understand," says Stoecker.
Getting Better All The Time
"There's no question that technology now allows franchisors and franchisees to identify the strongest markets," says David Powell, vice president of sales and marketing for geoVue. "There was a time when you didn't have much choice but to rely on the local real estate agent on the ground." No more.

Optimal use of these tools, says Powell, requires a collaborative effort between his company and its franchise clients, which include Dunkin' Brands and Del Taco. "Most franchises know the habits and characteristics of their customers, and that's critical information for identifying top locations."

As the technology continues to evolve, it has moved from basic site selection to a more detailed market analysis that integrates ever more information from formerly separate databases. "It's much more complex and offers a clearer insight," says Powell. For example, geoVue provides a "market ranking and potential analysis" that essentially tells users which markets would be best to pursue based on their set of criteria. The firm's "market optimization" tool sheds light on how best to carve out territories, helping to eliminate encroachment and cannibalization. And its "site screening" tool helps evaluate locations based on demographic and competitive data.

The end result, says Powell, is that franchises are opening up more sites more quickly--and they are higher quality locations.

Based on their "perfect store" profile, franchisors can also use geoVue and similar tools to evaluate performance at existing units, says Powell. "They can help you decide where you might need to close a store because of changing demographics or other factors revealed through site analysis," he says.
More Help For Franchisees
Andy Verostek knows a good deal about site selection technology: he uses it daily as market planning analyst for Del Taco, which has 500 restaurants throughout the country. "We use a desktop program that is also available in a web-based format," he says. "Real estate brokers and our franchisees call us with potential locations and we run the numbers."

Del Taco, which been using the system for about two years, views the service as an added bonus for its franchisees--and uses its company-wide meetings to showcase the system. Verostek says that although Del Taco doesn't charge franchisees a penny for the service, not all of them embrace the technology. The franchisor uses the technology for all its company stores, which account for 60 percent of total units, and corporate ultimately approves every franchised location.

One of the two tools Verostek uses determines optimum penetration in a DMA or region. If he examines a broader market such as Albuquerque, for example, it gives him an overview of the market's potential. The other tool he uses is more site-specific and maps such variables as where competitors and other Del Tacos are located. "We're running these numbers before we ever even consider breaking ground on a location," he says.
He says that although Del Taco doesn't charge franchisees a penny for the service, not all of them embrace the technology. The franchisor uses the technology for all its company stores, which account for 60 percent of total units, and corporate ultimately approves every franchised location.

"We use internal data, licensed third-party data, and other public information sources to create reports. We try to make the reports easy to understand," he says. That typically means an executive summary that explains how the proposed site measures up against the company's profile.

The system, he says, can completely analyze a proposed site and generate a report in as few as 15 minutes, 45 minutes at most (it might take longer if the site is located in a new development without street names, for example).

Verostek understands the technology has its place and its limits. "This was never meant to replace people on the ground visiting potential sites in person," he says. "But it does come alongside to increase accuracy and speed up the process."

Recently, a multi-unit franchisee called Verostek asking for help in expanding his territory. "I was not only able to give him three strong potential sites, I could even tell him which side of the freeway to be on," says Verostek. And of course, he could do it in minutes.

And, as geoVue's Powell noted, Del Taco has used its "perfect store" criteria to evaluate the performance of its existing restaurants. "You can use the tool to examine demographics and other variables and figure out why a unit is underperforming," he says.
Published: December 5th, 2008
Share this Feature
Recommended Reading:
Comments:
comments powered by

Disqus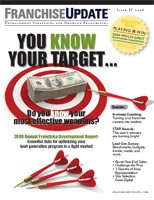 Franchise Update Magazine: Issue 4, 2008
Conferences
InterContinental, Atlanta
OCT 18-20TH, 2023
Hub by Thryv is an end-to-end client experience platform custom-built for franchises. Its ready-to-use business apps help franchisees view their...
The business messaging platform that lets you text from your office phone number directly on your computer, so you can actually get a response.