Smoothie Operator: Wan Kim is Reshaping the 40-Year-Old Brand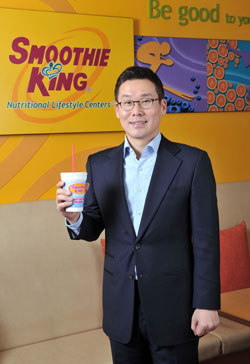 Wan Kim is a quick study. After graduating from Boston University with a degree in international management, he began his MBA studies at the University of California-Irvine at the crest of the investment-heavy dot-com boom of the late '90s/early 2000s.
"I left school to go back to South Korea and chase the bubble," he says. "But I discovered there's no such thing as easy money." It was a career move that left him thinking hard about what kind of business was sustainable.
Kim says he knew people had to eat, and he liked what he saw in the franchise business model. But he wasn't interested in less healthy choices like burgers and pizza. "I had been a regular customer at Smoothie King when I was in college in America," he says. "I thought I could make the concept work here in Korea." He was right, but he had a tough road ahead when he signed on with the brand in 2003.
"Nobody in South Korea even knew what a smoothie was, much less had heard of the Smoothie King brand," he says. But that didn't stop the hard-driving Kim. As the master franchisee in South Korea, he created awareness, assembled a great team, and built the brand to 130 units in less than a decade.
Operating all those franchise locations in his native South Korea wasn't enough, however. In 2008, he began to think seriously about buying the brand. He approached Smoothie King founder Steve Kuhnau several times over the next four years about his willingness to sell. In the summer of 2012, Kuhnau was finally ready. (For a pre-sale profile of Kuhnau, see Franchise Update, Issue I, 2012). Kim secured $59 million in capital from Standard Chartered Private Equity and South Korea's National Pension Fund and inked the deal.
"I thought I could take the brand and replicate some of the successes I had experienced in South Korea," he says. For example, he says, the AUV for Smoothie King units in South Korea was $800,000, while in the U.S. it was just $390,000.
Kim hired someone to take over the South Korean operation and headed back to the U.S. to take over as CEO of the brand. As you might expect, his plans are big.
"First up, I'm trying to create a brand culture that is experienced from the top to the bottom," he says. "It's centered around a concept of 'a healthy and active lifestyle.'" He's pushing this culture with a new logo, new store design, and new training tools.
Of course, continued growth and expansion are a part of the recipe. "I expect us to open 30 more stores in the U.S. by the end of this year, and I'd like to see us at 1,500 U.S. locations in the next 4 years," he says.
Then there's the international component. Kim says the brand opened in Singapore in late 2012. He expects to follow with stores in Malaysia, Indonesia, and Thailand.
For Kim, leadership can be boiled down to some basic essentials. "A founder or leader's vision, beliefs, and culture should always be clearly stated and then communicated to the entire team. That is when it becomes powerful and a business thrives."
Name: Wan Kim
Title: Global CEO
Company: Smoothie King
Units: More than 600 units in 32 states, the Cayman Islands, Singapore, and the Republic of Korea
Age: 41
Family: Married with two daughters and a son
Years in franchising: Almost 10
Years in current position: 18 months
Leadership
What is your role as CEO?
To put the right people in the right places to achieve our goals.
Describe your leadership style.
I prefer to be direct, motivational, and lead by example.
What has inspired your leadership style?
My experience: my failures, successes, and challenges.
What is your biggest leadership challenge?
Ensuring my team is set up for success.
How do you transmit your culture from your office to front-line employees?
We are trying to build our culture as one that is focused on health and an active lifestyle through training, company stores, and our franchise community.
Where is the best place to prepare for leadership: an MBA school or OTJ?
A combination of both, but nothing replaces on-the-job experience.
Are tough decisions best taken by one person? How do you make tough decisions?
I listen to many people that I trust and respect. I take their opinions into consideration when ultimately making my final decision.
Do you want to be liked or respected?
Neither. I don't think you can earn someone's respect or make them like you. I just try to show people who I am and from there it's up to them to choose whether they like or respect me.
Advice to CEO wannabes:
Lead by leadership and have strong beliefs. If you don't believe in anything, your people won't believe in you.
Management
Describe your management style:
I'm direct, goal-oriented, and driven.
What does your management team look like?
Our management team is passionate and driven.
How does your management team help you lead?
When my team works hard toward our goals, it drives me harder, as I don't want to waste their efforts.
Favorite management gurus: Do you read management books?
Managing in the Next Society and Concept of the Corporation, both by Peter Drucker.
What makes you say, "Yes, now that's why I do what I do!"
My team. When they are proud of their achievements, it makes me proud.
Personal
What time do you like to be at your desk?
When it is necessary.
Exercise in the morning? Wine with lunch?
I prefer to exercise in the afternoon. No wine at lunch.
Do you socialize with your team after work/outside the office?
Yes, I socialize with my team and want to do more of it.
Last books read:
The most recent book I read was Business Model Generation: A Handbook for Visionaries, Game Changers, and Challengers by Alexander Osterwalder and Yves Pigneur. Great book about the concept and structure of business.
What technology do you take on the road?
iPhone.
How do you relax/balance life and work?
Travel with my family.
Favorite vacation destinations:
Everywhere. My family and I love to explore new places.
Favorite occasions to send employees notes:
I don't write notes, but I do make it a priority to take members of my team to lunch.
Favorite company product/service:
High Protein Banana Smoothie.
Bottom Line
What are your long-term goals for the company?
To add 1,000 new franchised and corporate locations domestically over the next 5 years. Even with more than 500 locations in the U.S., the brand still has extensive franchise opportunities available in the Southeast, Mid-Atlantic, Northeast, and Texas. Smoothie King also continues to expand internationally through both master franchise and corporate stores in South Korea, Singapore, and the Cayman Islands, and is focusing on identifying partners in several key countries in Asia and the Middle East.
How has the economy changed your goals for your company?
It hasn't.
Where can capital be found these days?
There is money to be found, but the lenders are cautious.
How do you measure success?
The bottom line.
What has been your greatest success?
Achieving my goal of purchasing Smoothie King.
Any regrets?
No regrets. We make the decision and move forward.
What can we expect from your company in the next 12 to 18 months?
We are finalizing our new brand identification, which includes our store design and marketing elements. We are also working on our product pipeline.
Published: December 23rd, 2013
Share this Feature
Recommended Reading:
Comments:
comments powered by

Disqus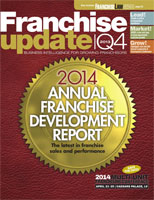 Franchise Update Magazine: Issue 4, 2013
Atmosphere TV is the world's leading cable alternative, providing free streaming TV for businesses.
Franchise Update Media (FUM) is the trusted resource for the franchise industry. For 30+ years, FUM has been the leader in providing valuable...