Social Is Here To Stay: How to Develop and Implement an Effective Social Media Marketing Strategy
Social media is more than a trend--it's a way of life. Take, for example, Facebook. According to statistics, there currently are 350 million active Facebook users. If Facebook were a country, it would be the third largest in the world. YouTube boasts more than 5 billion video views each month--and is the world's third largest search engine. And we can't forget Twitter, which just happened to be the most used word in the English language in 2009. One thing is very clear: social is here to stay.

But what does all this have to do with growing and marketing a franchise? Just about everything. Not only does social media afford franchisors the opportunity to create brand awareness across multiple social media platforms, it also serves as vessel for recruiting potential franchisees.
Let your brand be known
When it comes to creating brand awareness and establishing a cohesive company image across your franchise units, social media is a driving force. Using a website to "show and tell" what your brand has to offer is no longer enough to capture consumers or their loyalty. The emergence of social media sites such as Facebook, YouTube, and Twitter has created ample opportunity for franchisors to reach out and engage with their audience, communicate their brand values, and differentiate themselves from the competition.

According to a study from Cone LLC, 93 percent of social media users expect companies to have a social media presence, making clear that social media is a valuable marketing tool--and critical to increasing brand awareness.

For example, let's say you own a fast food franchise. Your franchise sets up a Facebook page, a Twitter account, and posts an informational video to YouTube. Three months later, you've amassed 200 Facebook fans, 500 Twitter followers, and the video has received 2,000 views.

What do these numbers mean? That within three months, from a base of zero, you now have 200 brand advocates asking to receive regular news and updates through your Facebook page; 500 followers on Twitter who not only view your posts but "retweet" your news and messages to their connections; and 2,000 consumers who have interacted with your brand on YouTube. The numbers don't lie: social media is a powerful way to grow awareness about your company. And that's not all it can do.
Social media as a recruitment tool
There's good news from the social media forefront for franchisors looking to recruit potential franchisees. Nielson Online reports the largest growth on Facebook is in the 35-49 demographic. This is critical to franchising because this age range possesses purchasing power. And the link that ties it all together? Research by the Kauffman Foundation reports that the majority of entrepreneurs are middle-aged (40 years old on average), thus making social media a powerful tool for franchise business development.

Franchisors need to manage, integrate, and promote franchise opportunities across multiple social media platforms. Video sharing sites such as YouTube possess the power to both show and tell qualified candidates about brand visions and values; and branded pages on Facebook and Twitter provide a smooth transit straight toward your franchise opportunity. A well-executed social media marketing strategy is a positive sign of a healthy franchise system--and adds tremendous value to your overall franchise opportunity.
Getting started
It's time to start reaping the rewards that a well-optimized social media presence can garner for your franchise. Here are four steps you can take to ensure that your franchise is harvesting all the benefits and opportunities social media marketing has to offer.
Develop a strategy. Before you dive into social media, it's important to have a plan in place. Determine the purpose of each social media profile. What message is your brand trying to communicate, and to whom? Is it a potential franchisee? What would someone looking to purchase a franchise benefit from knowing? Determine this and implement it into your strategy. If it's brand awareness you're seeking, how can you use social media to amass followers? How will you engage with your audience? Also, be certain that your purpose delivers the same value to your clients and prospects that they seek in your business.
Choose the right audience. With the many options currently available to franchises in the social media landscape, it's important to learn about your audience. Where are they most likely to be engaging in social media? Is it Facebook, Twitter, or YouTube? Do some investigating before you invest your time and efforts into a social media site that's not the right fit for your franchise.
Establish a presence. Establishing a well-optimized presence across multiple social media channels is a smart way to create awareness, reinforce your brand image, and recruit potential franchisees. Social media shows up in search results, and therefore, information needs to be geared toward what your clients and prospects are seeking. Sites such as Facebook, Twitter, and YouTube are exploding with opportunity to familiarize consumers with your brand. But to reap the rewards, it's imperative to establish a strategic presence.
Interact. Remember, social media is all about interaction. Therefore, it's critical to maintain an active and engaging presence within your social media profiles. Keep content fresh, incorporate your brand value and personality, and above all, constantly monitor and respond to what's being said about your brand--positive or negative.
The bottom line
Social media is a cost-effective, wide-reaching method for expanding your audience. It's no longer a question of whether or not to go social. Social channels are where your audience, your opportunity, and your future franchisees live--and it's where you need to be as well.

Lisa Wehr is CEO and founder of Oneupweb, a digital marketing agency. To contact her, visit OneUpWeb.com, email to info@oneupweb.com, or send her a tweet @LisaWehr.
Published: March 1st, 2010
Share this Feature
Recommended Reading:
Comments:
comments powered by

Disqus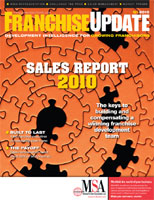 Franchise Update Magazine: Issue 1, 2010
Conferences
InterContinental, Atlanta
OCT 18-20TH, 2023
Sociallybuzz, founded in 2009, is the #1 Social Media Marketing Agency to help franchisors and franchisees increase their revenues, drive sales, and...
UMI has over 23 years of experience supporting fast-growing multi-unit brands. From strategic planning to design, execution to analysis, UMI...