Speed Kills (The Competition)
Six power players tell how they open new units so quickly

In franchising, no one has to be reminded of the importance of making deals and signing fabulous new franchisees. But unless you actually open new units, inking the deal is only part of the story. This important distinction--between units sold and units opened--led us to examine six franchises that grew by more than 100 units between 2005 and 2006 and ask them how they did it.

Obviously it takes less time and money to open a home-based franchise than to open a brick-and-mortar retail site. But there are retailers, such as 7-Eleven, that continue to use their strong brand and infrastructure to assist franchisees in completing site selection and build-out at a rapid pace.

Is there some secret to successfully opening the businesses these franchisors award every year? Some say innovation is essential, while others give a nod to being the right product or service in the right place at the right time. Then there are the fundamentals common to all successful franchise expansion: speed to market, initial and continuing training, coaching and support, excellent customer service, a nose for what consumers want, and the continuing ability to meet those needs by delivering innovative, creative new products and services. But let's have them tell their own stories.
CASE 1: Coverall Cleaning Concepts
Winning through support
The word is out: The folks at Boca Raton, Fla.-based Coverall Cleaning Concepts get the deals done and their franchisees on the job very quickly. They attribute much of that success to their 90-office support network, which provides customized assistance and training to its more than 9,000 franchisees, who serve 50,000 customers internationally.

Rapid growth is nothing new for Coverall. "This is how we operate on a year-to-year basis," says Kevin Derella, senior vice president of master support for the franchisor. So how can Coverall sell--and open--as many as 150 franchises in a year and manage to maintain quality? Adapting a phrase from real estate, Derella, a 14-year self-described "long-termer," says the three most important elements are "support, support… oh, and support."

Says Derella, "When you're dealing with a franchise organization, the cornerstone is the support and training we provide to franchisees--and we happen to do that pretty darn well."

Others agree. Coverall, which offers janitorial, domestic, and specialized healthcare facility cleaning services, was honored in 2007 as a finalist in the American Business Awards' Best Support Organization category. Coverall has been winner or finalist--national and international--in that category every year since 2004. "This speaks highly of what we do for our franchise owners," says Derella.

Coverall provides a comprehensive initial training program to franchise owners and anyone who works for them at the janitorial level. "We give them starter kits of the most up-to-date cleaning chemicals and supplies; we have a large R&D department that is constantly improving our products," says Derella. "It's all about quality and speed. You can't have one without the other, so we spend a lot of time and money working with our franchisees."

Another reason for the 22-year-old company's success, he says, is "We go out and get customers for our franchisees." In the startup phase, based on the franchisee's investment, Coverall guarantees a certain customer base for the new owner. "We're on a pretty unique track. Even with a brick-and-mortar store, no one can guarantee you'll get customers."

Coverall's support for its franchisees doesn't stop there, says Derella. "On an operating basis, we handle all billing and collections at the janitorial level, so the franchisee can focus their time on servicing their customers. We also offer a cash-flow protection program: we provide them with advances against accounts receivable so they have the cash flow to pay their employees and buy supplies."

Coverall also provides customer relations support to its franchisees. "We'll stay in touch with their customers and provide them with feedback from customers so they can make sure they're keeping things top-notch," says Derella.

Most important, he says, franchisees receive customized, ongoing training through Coverall's Franchise Development Program--essential for staying ahead of the competition. At each of the company's 90 support centers in North America, Australia, Asia, and South America, a franchise development trainer answers every call and can provide ongoing counsel to franchisees.

And at the janitorial level, a down payment as low as $3,950 makes the system attractive to many immigrants in the U.S. This allows enterprising franchisees to start small and grow. "Lots of our franchisees are making their businesses quite large. We have one master franchise owner with three offices who started as a janitorial franchisee," says Derella.

Referrals provide an increasing pool of quality applicants. "In the early days, our referral rate from franchisees was in the 30 percent range. Today, 75 percent--the vast majority--of our prospects come from franchisee referrals," he says.

In addition to the janitorial cleaning opportunity, which places franchisees in the commercial cleaning business at the local level, Coverall also offers a master or service franchise agreement in which the franchisee performs the same support functions provided by corporate, and masters are allowed to sub-franchise at the local level. "We have 20 master franchise owners domestically who operate 60 offices. At corporate, we have about 50 of these offices," says Derella.

Coverall's healthcare cleaning services program is one of the most exciting areas for growth today, says Derella. "Since stats from the Centers for Disease Control say that 90,000 people die in hospital settings each year from infections they got inside the hospital, we're talking about cleaning for health." And, he adds, "We're taking some of the same concepts we use to clean healthcare facilities, such as cross-contamination prevention measures, and bringing them to the general office setting."

In the end, a franchise is only as good as its franchisees, and Coverall takes its commitment to franchisees seriously. Since 2005, the Coverall Foundation Scholarship Program has awarded 25 college scholarships ($2,500 each, renewed annually) to children of its franchise owners, says Derella. "We think this is the right thing to do because a lot of our franchisees are naturalized citizens looking for a better way of life, or first-generation Americans who want to see their children succeed. It's a little way to give back."
CASE 2: 7-Eleven
Multi-faceted expansion plan
The familiar sight of a 7-Eleven store has been part of American culture since 1927. Today, there are more than 5,600 franchised and company-operated 7-Eleven stores in the U.S. Approximately 75 percent are franchised, but in the not-too-distant future, all the U.S. stores will be under franchise agreements, says Jeff Schenck, senior vice president national franchise and development.

Schenck says 7-Eleven franchised a total of about 900 stores in 2006-2007, a figure that includes company-operated stores changed to franchised operations, White Hen Pantry stores the company acquired in 2006 and then began franchising, and stores it acquired through its Business Conversion Program. "These are all open and operating," he says. And he doesn't expect the pace to slow anytime soon for the Dallas-based company: over the next few years, 7-Eleven, which was taken private in 2005, plans to open and franchise at least 500 stores per year.

The Business Conversion Program (BCP) is a fairly new component of 7-Eleven's expansion plan, says Schenck. "The BCP franchise provides many of the benefits of our standard, individual-store franchise, but allows an independent convenience store operator the opportunity to convert their existing store to a 7-Eleven franchise." He says the franchisee continues to own or lease the site, and 7-Eleven installs proprietary equipment and helps convert the store to a 7-Eleven-branded location.

On the real estate side, Schenck says, his team works hard to find profitable locations and to secure permits and business licenses in a timely fashion.

The system also helps its franchisees get started financially. For the traditional 7-Eleven franchise arrangement, says Schenck, 7-Eleven Inc. will finance a portion of the prospective franchisee's cost of purchasing initial store inventory. "7-Eleven also provides the land, building, equipment, pays the utilities, pays the franchisee's payroll, and provides advertising and business counseling support," he says. Financial arrangements are different for operators seeking to convert their existing store(s).

Schenck attributes 7-Eleven's staying power and ability to grow quickly to brand recognition, the growing need for convenience, and 7-Eleven's business systems and infrastructure. The future for the 81-year-old company is all about expansion in its existing major markets.

"We've completed several acquisitions in the past two years and will continue to look for others where they fit with our strategy," says Schenck. "We'll also be completing the franchising of our company-operated stores and are now franchising the last all-company-operated area, Florida. And of course, we'll continue to focus on fresh foods, product innovation, private-label products, beverages, and services."
CASE 3: Heaven's Best Carpet & Upholstery Cleaning
Specializing in the "Golden Rule"
If the name of Cody Howard's Heaven's Best Carpet & Upholstery Cleaning implies that franchisees and customers will be treated fairly and exactly as they'd want to be treated, then it's sent the right message, says the CEO of the Rexburg, Idaho-based franchisor. The franchise delivers its low-moisture carpet and upholstery cleaning services through 1,285 units controlled by 400 franchisees.

"Since our units are not a storefront, when we sell the franchise, the franchisee is scheduled into training within the next month and sent right out to work. We seldom have a deal that's not opened, and people who start with a single operation often get multiple areas all around them as they grow and run other trucks," he says.

"We don't set quotas on them. We try to treat these folks the way we'd want to be treated if the tables were turned. It's a good business philosophy, one that's served us well since 1983."

Heaven's Best has doubled in size over the last five years. The only two states without an operator are Vermont and Mississippi, and Howard says the company was working serious leads to remedy that.

The Heaven's Best way of doing business includes offering in-house financing for prospects who want to purchase a franchise--as much as 50 percent of the $28,900 required for startup. Also, through its 24 master franchises, financing can be found in states where the franchises are not company-owned.

Howard attributes much of the company's great success to good customer service. "If somebody has a concern, if there's something wrong with their order, or machinery goes down, we respond quickly and efficiently. That's how we train our people, too," he says.

Howard says he's proud of the fact that for the last three years running, the Franchise Business Review survey on franchisees has named Heaven's Best first in its category, number-one overall, and franchisor of the year.
CASE 4: Home Helpers/Direct Link
Rapid growth through trend-calling
Gary D. Green, CEO and owner of the Home Helpers/Direct Link franchise system, keeps his finger on the pulse of consumer needs and societal trends. That's why the Cincinnati, Ohio-based franchise, which provides non-medical home care to the elderly, sick and injured, and new mothers, sold and opened over 100 franchises during the past couple of years.

"Obviously, senior care is one of the hottest industries today, and between Home Helpers and Direct Link, we're in nearly 600 markets," says Green. And to keep up with the sector's rapid growth, he wants to get his franchisees in business as soon as possible. "Depending on the individual, our franchisees are trained and out working in two to four months," he says.

Home Helpers, ranked by Entrepreneur as the number-one senior care franchise, requires no site selection and no build-out--some operate out of their homes or decide to open an office (not a retail location)--and there is no equipment or inventory to buy. There are no area developers, and all franchisees work through the corporate office. "All this enables us to move forward quickly," Green says.

Direct Link is an emergency medical monitoring service that enables someone living alone to push a button on a pendant or wristband and get an immediate response, any hour of any day. "The call station can then pull up that person's file and dispatch an ambulance or call someone's contact person," he says.

In his franchising career, Green--who also heads up franchises Growth Coach, Fresh Coat, and Caring Transitions (senior moving and liquidation sales)--has awarded more than 2,500 franchises. In each instance, the focus of the franchise is service-related and home-based.

Green says his intent is to introduce a new concept about every eight months. For example, this April he introduced e-Top Dollar, a service-related business that focuses on eBay. The new concept will work with nonprofit organizations and charities and will be available through master franchising. "It's exciting," he says.

To franchisors who aren't finding it easy to get franchises opened, Green says his best advice is to focus on the individual. "You need to look at your operations department and streamline the system to make sure you're providing franchisees with what they need to get the business up and running," he says. "With a new franchisee, there's a lot hitting at one time, so you need to help them prioritize and focus on what's most important."
CASE 5: ACE Express Sushi
Innovation-fueled growth
After more than a decade in business, Harlan Chin, president and CEO of California-based ACE Express Sushi, decided four years ago that it would be to the private company's benefit to convert 80 percent of its units to franchises.

He saw the growing popularity of sushi and was convinced that, in an increasingly health-conscious world, consumers would begin to look even more closely at his low-fat, low-cholesterol offerings.

He was right. Chin introduced freshly made sushi to supermarket shoppers and now has 900 Express Sushi bars in the nation's largest grocery chains across 38 states. He says he's growing by leaps and bounds, and many of his former employees are happier and more successful as franchisees and have long-term ambitions for their business.

ACE Express Sushi is the California-based holding company of the multi-faceted Asiana Management Group; its private-label brand is Asiana Cuisine Enterprises. ACE Express Sushi is the number-one supermarket sushi purveyor in the country in market share, says Chin. Hawaii alone, he says, has 36 units on four of the islands.

Over the past three years, Chin and his team have sold more than 300 units--10-by-10-foot sushi bars in supermarkets--and are in the process of converting another 300 to 400 into franchises.

"We have free-standing restaurants, which are, by far, the most expensive to operate. Then we have the sushi bars, which have good public exposure--people can see for themselves how our chefs make the fresh sushi--and the advantage of supermarket traffic. These are doing extremely well," he says.

Chin, who previously worked as manager of franchise development for a large grocery chain, admits he's amazed at the huge sales figures the sushi bars rack up. The genius of ACE Express Sushi is that "you don't need a big store," he says. "I don't want to disclose sales volume, but it's amazing how much you can generate out of a 10-by-10 cubicle. Some of them do more business than many sit-down restaurants."

What you do need, he says, is a good product. "We serve fresh sushi made on the spot. It's not made somewhere else and brought into the store. Our sushi has a 24-hour shelf life, then we throw it out."

While the innovative sushi-bar cubicle enables new franchisees to get behind the counter very quickly, Chin also attributes the franchise's strong sales and opening rate to successful partnerships. "We've had many of the same grocery partners for years. This has enabled us to move forward in a timely fashion," he says.

Chin also maintains a broader perspective by traveling the globe with his European-born wife to get new ideas for his businesses. After learning that Hawaii sells more Spam per capita than any other state (nearly 7 million cans a year, an average of about six cans for every man, woman and child), Chin and his chefs developed a new item called the "aloha roll"--rice and sushi with Spam.

"This is no different than what people have eaten in Hawaii for many years," he says. "And we're developing more Asian fusion products, mixing Euro-French with Chinese, Japanese, and Polynesian fare. We have new items coming out every three or four months, and we have more variety than some sit-down restaurants."

Educated in Hong Kong, Chin, now 50, came to the U.S.--Venice, Calif., to be exact--at age 16 with his American father. "He wanted his children to learn about their American tradition," he recalls.

Chin, whose fluency in both Mandarin and Cantonese Chinese stand him in good stead when it comes to negotiating products, also takes his sons abroad to learn. "When they were teenagers, our boys went to China, where they learned a lot more about their cultural heritage. We like to go to Europe, too, where they don't tear things down. They let the younger generation learn where they came from."
CASE 6: Budget Blinds
Growing through teamwork
Chad Hallock, president and CEO of Budget Blinds, says the franchise company is experiencing rapid growth. From 730 franchise territories in July 2004, Budget Blinds grew about 50 percent by December 2007 to 1,094 territories in the U.S. and Canada. "Surpassing the 1,000 franchise territory mark ranks us among 4.5 percent of franchise organizations to do so," Hallock says.

"Where we shine is in our ability to clearly communicate just exactly what it will take from each of our franchisees to achieve our common goal. We are so specific as to the effort and teamwork that it will take to achieve our common goals that, in many cases, we actually end up attempting to dissuade them from joining. However, once they decide to include our vision in their own, we train them to hit the ground running."

Budget Blinds has an intense two-week startup training that all franchisees must attend before their official start date. When they return to their territories, the franchisor actively coaches them for their first few months in business. "Beyond that, our franchisees can call our seasoned support staff at any time to ask questions or pitch ideas," Hallock says. "Support staff includes product and installation experts as well as former franchisees who have sold their business but still want to be part of the team," he says.

Hallock says the best advice he can offer is "to constantly spend money and energy trying new things. Be creative and think out of the box. Don't stagnate. Keep evolving so you're ready to meet the changing market head-on. Always be mindful of the fact that if you and your franchisees are not growing, then you are losing ground."
Published: June 20th, 2008
Share this Feature
Recommended Reading:
Comments:
comments powered by

Disqus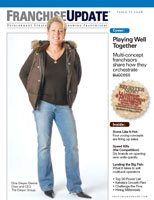 Franchise Update Magazine: Issue 2, 2008
Conferences
InterContinental, Atlanta
OCT 18-20TH, 2023
ApplePie Capital provides a fresh new approach to franchise financing that is focused on your growth and success.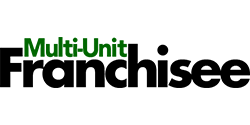 Published quarterly, Multi-Unit Franchisee Magazine is dedicated exclusively to Multi-Unit Franchisees. It delivers vital information and business...